The odds of marrying someone with the same surname as you, unless you're a "Smith", may be one in a hundred thousand or even a million. But odds has never been an issue for these two fated lovers. After connecting one weekend, it was improbable for them to pursue things further because they lived on each ends of the country (Florida and New York) but love moves in an amazing, albeit mysterious, way and Rachel & Seth chanced upon each other again in the airport when she had a small getaway with friends. Right there and then, they knew they were for each other. And what better way to celebrate this awesome destiny two years after but with an elegant wedding in the famous pink Boca Raton Resort in Florida. The luxurious interiors of this hotel was perfect for the gold, white, and pink details of the wedding. Everything looked so grand. Nothing but the best for a match made in heaven right? Congratulations Seth & Rachel!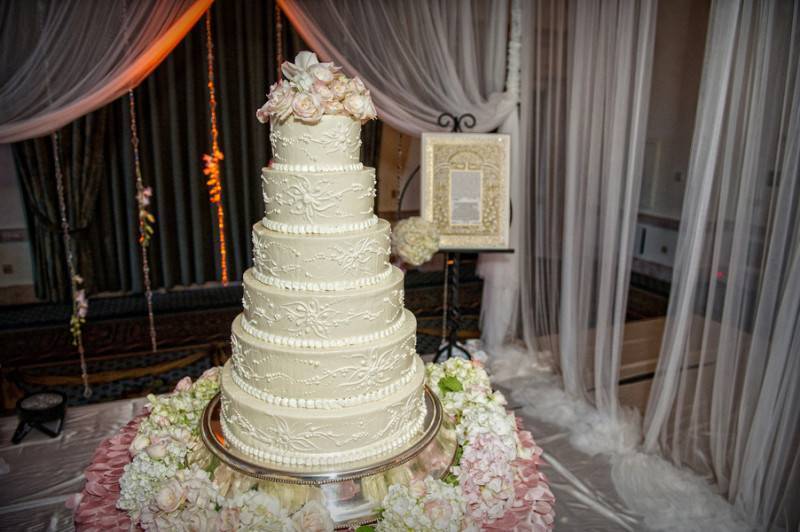 How Seth and Rachel met:
Rachel: My friend from college and I lived together and her family friend, Seth, was coming to stay with us for a weekend. We were inseparable from that weekend on!! The only problem was that Seth lived in Florida and I lived in NYC. After years of having a long distance relationship, we decided to take a break. A year and a half later, me and my girl friend were going to Miami for a girls weekend. That same weekend, Seth happened to be going to Florida to play golf with his dad. We bumped into each other in the airport bar and knew that we had to be together. We went on our second first date on May 31, 2012 and were married on that exact date 2 years later.
Why they selected the Boca Raton Resort
Seth and Rachel had a lot of guests coming from out of town and wanted to find a venue where all of our guests could feel like they were on a mini vacation. They thought the Boca Raton Resort was not only gorgeous, but there was plenty of activities for guests to do during the day. From shopping to dining to swimming, they felt like this was a place where our guests could really enjoy. On top of that, the hotel is absolutely gorgeous! They loved the iconic pink hotel and its classic architecture. They knew it was the perfect venue for them.
Anything else you would like to add ?
They both have the same exact last name, so the bride didn't have to change any of her documents after she was married

Vendors
Photographer:  Jeff Kolodny Photography, Inc
Event Designer:  Boca by Design
Reception Venue:  Boca Raton Resort and Club
Shoes:  Jimmy Choo
Cinema and Video:  Senderey Video
Band:  The Valerie Tyson Band
Event Planner:  Your Special Day by Joni