Good morning our lovely readers! Are you excited for the year 2016? Us here at Elegant Wedding couldn't be more eager to start anew but before we start kissing away 2015 here's a New Year's Eve wedding for you. Matt and Melissa romantically welcomed the year 2015 as newlyweds! The couple together with their family and friends partied the night away in a black tie affair. The soiree held at the Henry Ford Museum surely capped the couple's year and will cap off Elegant Wedding's 2015. Happy New Year's Eve everyone!
You couldn't ask for a unique soiree – a New Year's Eve wedding inside of the Henry Ford Museum. Guests in black tie attire, dancing under the Spirit of St Louis and mingling throughout a plethora of antique cars. A perfect evening topped off with a perfect kiss at midnight. The whole day was a classy and beautiful affair. The bride and her bridesmaids got ready at the established Townsend Hotel in Downtown Birmingham, arguably Metro Detroit's finest hotel. The bridal party looked like they walked off of a runway; they were all gorgeous. Donning simple black dresses, the served as the perfect compliment to Melissa's stunning white dress. Melissa and Matt were high school sweethearts, having been together for over ten years. Melissa, a salon owner, and stylist made sure that no detail was overlooked.
They got married at Our Holy Name, another landmark of Birmingham Michigan. Their black-tie reception was held at the Henry Ford Museum in Dearborn, Michigan. A unique venue where guests can sample gourmet meats and hors d'oeuvres while roaming through a collection of American artifacts and classic cars. The dining area was located in the main atrium and was christened with a 40 foot Christmas tree. Candlelight gently illuminated the room and highlighted the warmth of the decor. The first dances had the perfect backdrop – The Spirit of St. Louis – dangling overhead. The guests partied until midnight when many of them enthusiastically shared a kiss. At the clock struck 12:00, Matt and Melissa dipped, sharing a passionate embrace, which was frozen in time with a series of photos. Overall, it was one of the most elegant and memorable weddings I have ever shot.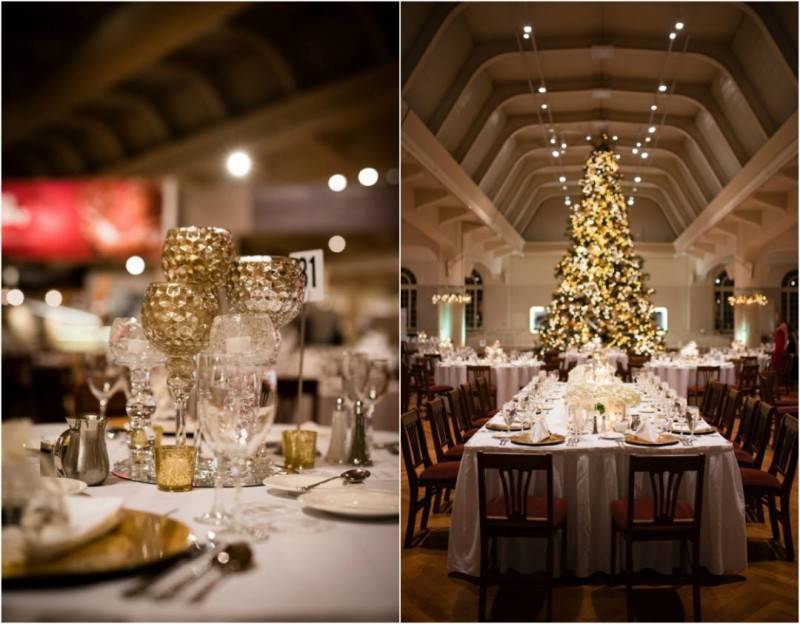 The Theme:
Black Tie Affair.
Favorite Part of the Day:
The first dance under the Spirit of St. Louis.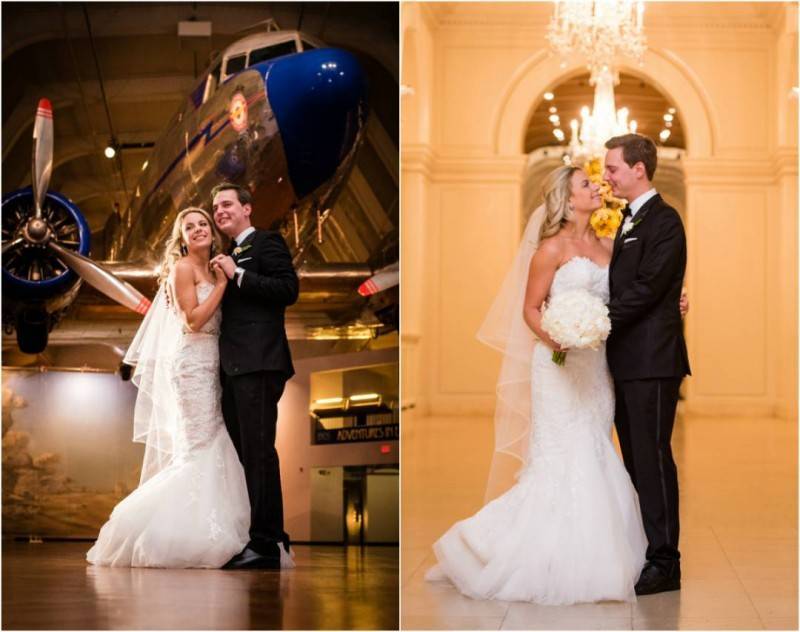 The Highlights from the Ceremony & Reception:
The New Year's Eve kiss at midnight
Most Memorable Moment:
Being surrounded by family. Melissa kept looking back at her parents as well as all of her guests and smiling.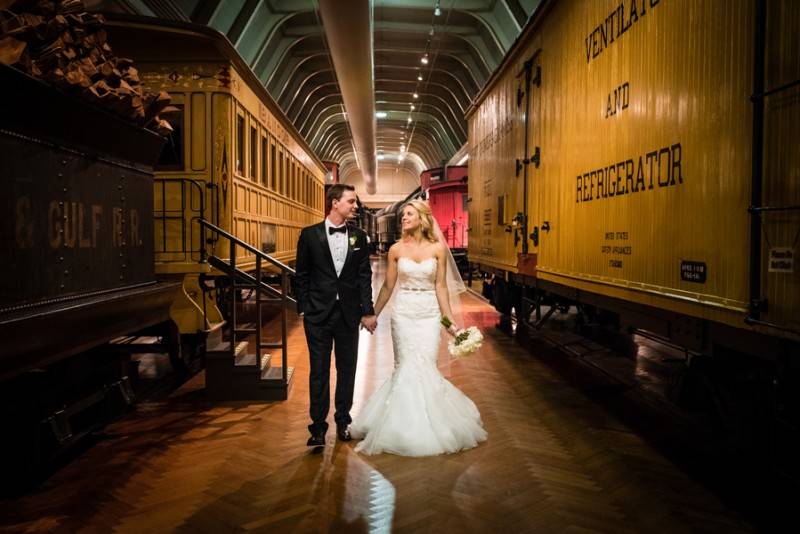 VENDORS
Photographer: BTW Photography
Dress Store: Bridal Couture
DJ: Double Trouble DJ's
Cake Designer: Holiday Market
Floral Designer: Parsonage Events
Transportation: Rochester Limousine
Reception Venue: The Henry Ford Museum