Every little thing rolled with punches in this sparkly pink wedding. Elegance flowed from the well-decorated chuppah, table set-up, especially the chandeliers of the reception venue. The wedding dresses were radiant too, especially when it is paired with the intricately arranged bouquets. Goodness, I felt like I walked out from a modern-day wonderland after I laid my eyes on the photos! And since the couple knew a lot of friends who are unable to hear, they hired interpreters so their dear friends can catch up with the fun and laughter. Aww, what a thoughtful couple! So, to Alana and Roy, continue spreading your love for each other!
The Album Story
Alana and Roy met at work. They are both nationally certified Sign Language interpreters and were working at a video relay center. She invaded his cubicle and threw herself a dance party the second day they worked together! The rest is history! One of the more important things they share is his first and her second language, American Sign Language. Much of his family is Deaf and it works out that they can all easily communicate! They also share a passion for life, travel, and adventure!
We Are A Perfect Match
Roy and I share a joy for life. We celebrate things with humor and love. We understand the dynamics and challenges of our work, and can empathize with one another without much discussion. Roy is genuinely a great guy and truly cares for others. He is easy to love! Everyone who meets him likes him, including Alana!
The Proposal
Roy proposed while I was brushing my teeth on the evening of April Fools Day (following our fake engagement on April Fools Day the year before). That's my Roy! Need I say more?
The Planning Process
We were engaged on April 1st, 2014 and married on March 1st, 2015. We definitely needed that much time to secure vendors (especially band) down here in Miami. We also had a large wedding so it takes longer to plan.
The Best Advice We Received
Enjoy the process! It all happens so fast and often you feel overwhelmed and stressed; but really, the planning is all part of the wedding! Enjoy it! It really is fun picking, working with vendors and friends, and then seeing your vision come to life!
Tips & Tricks For Future Brides
I would say, pick a Maid of Honor and Best Man/Woman who can really help you. Sometimes we pick our best friends and they just are not equipped to handle the responsibilities. You really need a lot of help planning and on your wedding day, so choose people who are ready and willing to assist! Also, choose vendors you can trust and who have a good reputation. Things will all fall into place and you won't have to worry the day of because the vendors take care of everything (including a planner if you can!) They are the professionals. Trust them!
The Challenges We Faced
The challenges were choosing vendors and not feeling bad about saying no to the ones we did not choose. We were also somewhat limited and challenged with the fact that we had 200 people attend. We had to be patient and lead with questions like, "can you accommodate our large party?" It is important not to have your heart set on something until you know if can happen!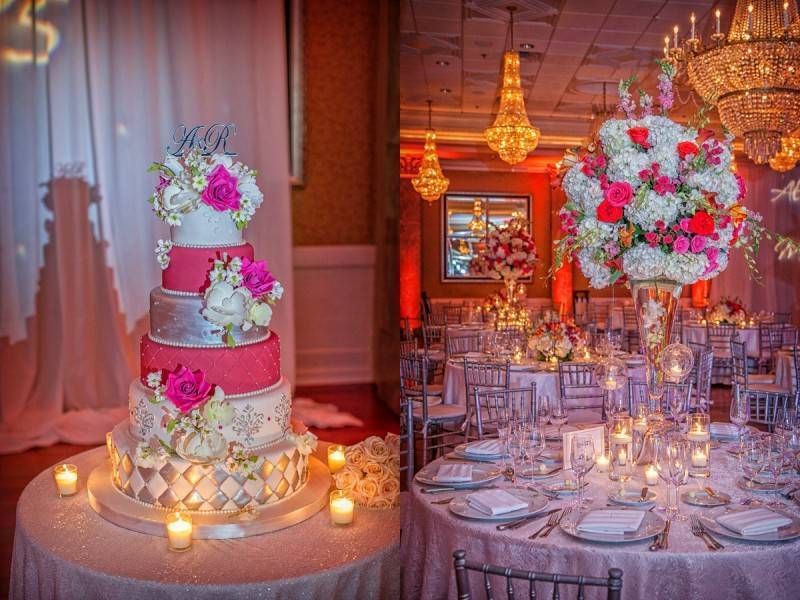 The Theme
They did not exactly choose a theme for the wedding per say, but they knew we wanted something elegant, sparkly, and with a hell of a dance party! The majority of the wedding party came in from out of town, and it was quite a diverse bunch! They had Marines, Israeli Dancers, Deaf folks, Jewish family, and a slew of others! Roy broke tradition and opted for a best woman, Kristen.
The wedding also included Sign Language Interpreters and a special mix of flower arrangements to ensure clear sight lines for signed communication. Petal Productions masterfully created low arrangements for tables with Deaf guests and high arrangements for those with only hearing guests. The room had to be carefully arranged so the Deaf guests could see the interpreters from where they were sitting. This took some extra time and care.
Wedding Decor Inspiration
I wanted a very elegant and classy wedding. I love sparkly decor, but wanted to keep it high end and not kitchy. I also wanted unique table numbers. We decided to use, "Love comes in all languages" and have a different language expressing "love" on each table. For example, we had an "Amor" table and an "אהבה" table (Ahava).
Our Do-It-Yourself (DIY) Projects
We make all of the place/escort cards. We use a sparkly "ribbon" from Michael's to label each person's meal with a different color. My mom also printed out the table "numbers" (Love printed in a different language). We used the large black paper "clips", covered them in the silver sparkly "ribbon" and removed the silver clip part by squeezing them out of the black support. We used them as the holders for the table number cards.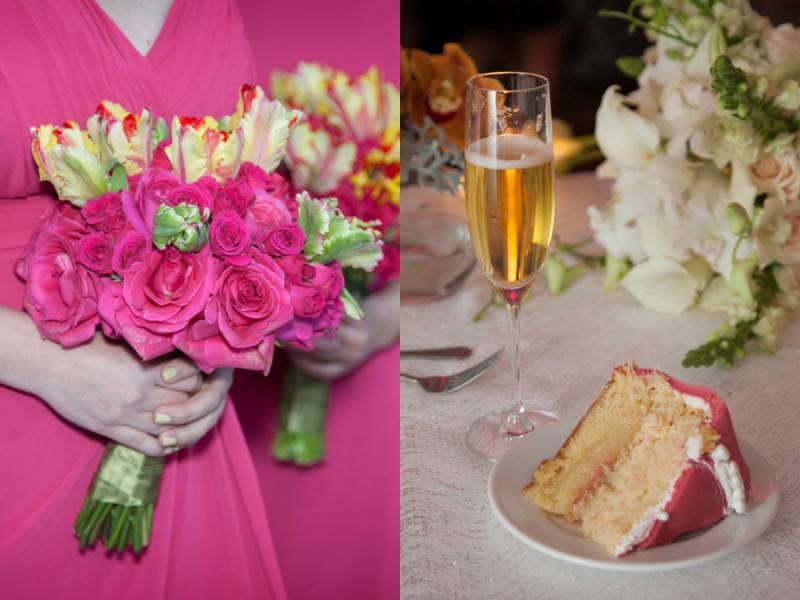 Money Matters
It started out as $35,000 (set by my father) but I think that's what we ended up spending ourselves. My parents funded most of the wedding and I have no idea how high it went. I can only guess $70,000.
Bands in Miami run from $7,500 (on the low end!!!) up to $15,000. I was lucky enough to have a great friend who happens to play in the top band in the area! We still paid them, of course, but much of the cost was covered as a wedding gift to us.
The venue including food and beverages was the most expensive of all! The cost goes up $5 per person every time you add something. The base price may start out as $95/pp but as soon as you want chavarri chairs that's $5 more a person. High end liquor? $10 pp more. And extra hour? $5 per person plus a fee! Of course this depends on your venue, but I think that is generally the most costly part of a wedding. There are places that host events and include everything in one cost. I mean EVERYTHING (flowers, photo, band, food, etc. etc.)! I don't think they are super easy to find, not in Miami at least but they exist if you're on a budget.
The Guest List
We invited around 375 people. It was a destination wedding because Roy and I are the only two who live locally. We had just fewer than 200 attended.
We figured most from out of the country and such would not come. I think it was important to think about how inviting just one person would affect how many others in that circle you would have to invite. (If I include one person from my "dancing friends" group that means I have to invite these twenty other people!)
The Songs
All played by Elegant Musicians
Processional: Kissing You (Romeo and Juliet soundtrack)
Bride Entrance: Cosmic Love (Florence and the Machine)
Interlude: Flatbush Waltz
Recessional: Mazal Tov and Cosmic Love again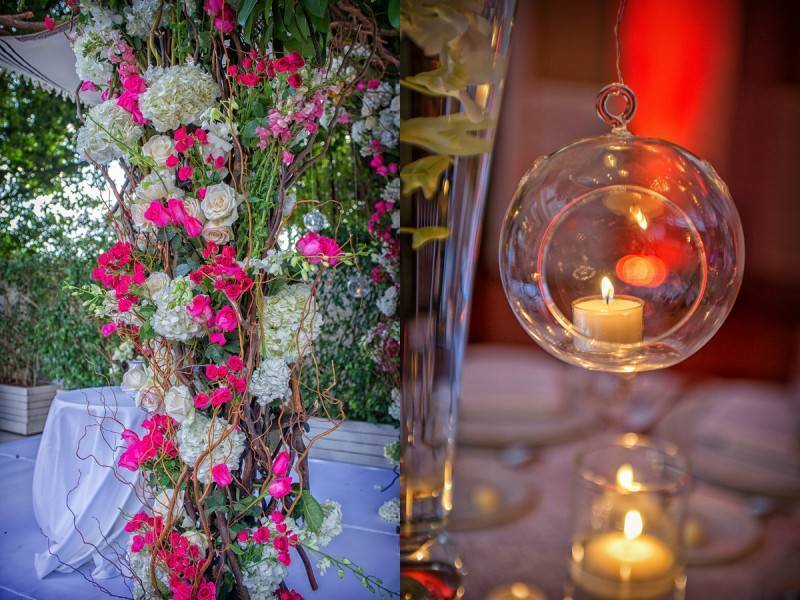 The Honeymoon
We are headed to Israel and then a 12-day European Cruise
The Next Step
I am excited to see what types of things we can conquer together. I am ready to travel and experience all the challenges life can bring. Eventually we will have a family and I know Roy will make a wonderful father!
Planning Advice For Couples
Don't lose sight of your love for one another. Remember that this is about you two and if you forget why you are getting married in the first place, the wedding is worthless! Enjoy and take loads of photos!
Highlights from the Ceremony and the Reception
It was the most beautiful wedding! Our vendors were amazing. Really the band just rocked the house! We were up dancing the entire night!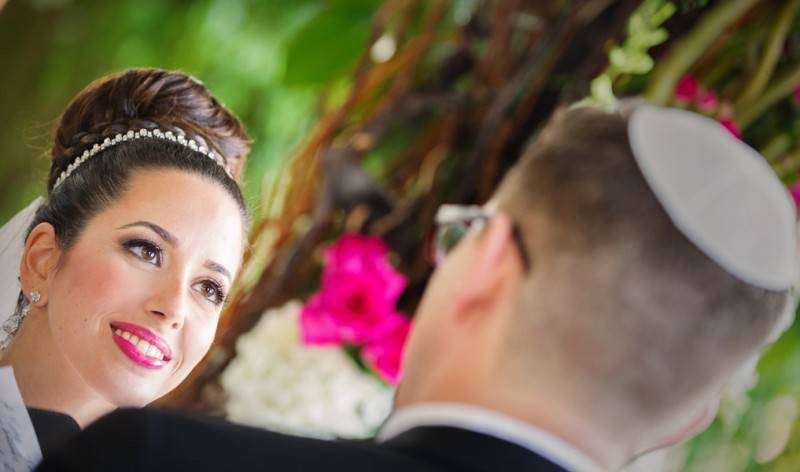 Favorite Part of the Day
Having all of our friends and family with us to party and dance the night away all for us!
A Memorable Moment
Our Rabbi included our unique cultures and beliefs into our ceremony and it made for a special start to the evening. My mother made our Kiddush cups and we used both my father's and my grandfather's Tallit. We used the Flatbush Waltz to remember my grandmother while we did a circling tradition, and Roy walked down the aisle with his grandmother. We recognized his father during the ceremony, which was another special moment.
Our Wedding Video
VENDORS
Photographer:   Jeff Kolodny Photography, Inc
Cake Designer: Ana Paz Cakes
Shoes: Audrey Brooke
Reception Venue: Coral Gables Country Club
Apparel: Etsy
Cinema and Video: Jeff Kolodny Photography  Inc.
Ring Designer: Littman Jewelers
Linens and Coverings: Over the Top Linens
Dress Store: Patricia South's Bridal
Floral Designer: Petal Productions
Makeup Artist: Tatjana Terzic
Musicians: Tropics entertainment
DJ: Vision DJs LLC
Event Planner: Your Special Day by Joni