Like the title itself, Jeremy and Lauren's wedding gave emphasis on the details. Having been to a lot of weddings, Lauren wanted something specific that would represent them as a couple. It's amazing how a detail can make a huge difference on anything really. That is why it's important to be precise on what you really want to see. I advise making a vision board, like that you can see how your dream wedding will look like in a nutshell. From there you can tweak some stuff and balance things out. Check out the gallery to have something to add to your vision board.
Our Story:
He said: Lauren and I have known each other for years. She has been good friends with my sister, Kim, which is how I met her… somewhere along the way. Needless to say, by the time I came of age, both figuratively and mentally speaking, I was ecstatic to see that Lauren was available. So, I attended her birthday party to know her better, and we slowly became friends. Little did she know that I had other plans beyond just becoming her friend. I wanted to be the man of God that she needed in her life, and when God has a plan… who am I to resist?!
She said: The reality is we don't remember the first time that we met! I have always been "aware" of who Jeremy was (Kim's little brother. . .), but never really paid him much attention. I got to know him better through his cousins, Chip, and Tonya and considered him an acquaintance. I must admit, Jeremy was slick! I had no clue that we went on "dates" for several weeks. At the end that was best because he was truly my friend first!
The Proposal:
He is into video games and tried to trick me. He came to my house and said I have a surprise for you. Sitting in a chair was an xBox One. He expected me to get upset when I first saw it but… I wasn't. I thought it was a sweet gesture. When I opened the box, there was a ring sitting inside. My first response, "I look a HOT MESS!" and I did. No, makeup, and sweats. I didn't know when or how he was going to propose, but I thought I would at least be CUTE! When I turned around, he was on one knee and asked me to marry him and of course I said yes. (He even recorded me in all my hot mess glory)
The Planning Process:
About ten month, but I had a planner. GET A PLANNER!
The Best Advice We Received:
Read your contracts. So true! One would like to think that everyone is there to help, but the wedding industry is in a business. Always read the fine print.
Tips & Tricks For Future Brides:
Document everything! Email is the best way to do this. There can be a lot of miscommunication solved by simply forwarding a previous email. Also, use Pinterest! I made boards for EVERYTHING; flowers, gifts, attire, decor, food, stationary. When it came time to meet with vendors I simply added them to my board and DONE!
The Challenges We Faced:
I think the biggest challenge was the B word! The evil, evil, BUDGET! You think you have it all planned out, but there are so many hidden costs. We had to prioritize our needs and wants. We splurged on a few things but had to do some DIY on other portions.
Wedding Décor Inspiration:
I am 35, been on over ten weddings… I went into with the mindset of "I have seen it all!" So we tried to stick to elements that represented us individually and as a couple. We did everything that we loved! In the end, our guests said they saw us throughout the whole evening.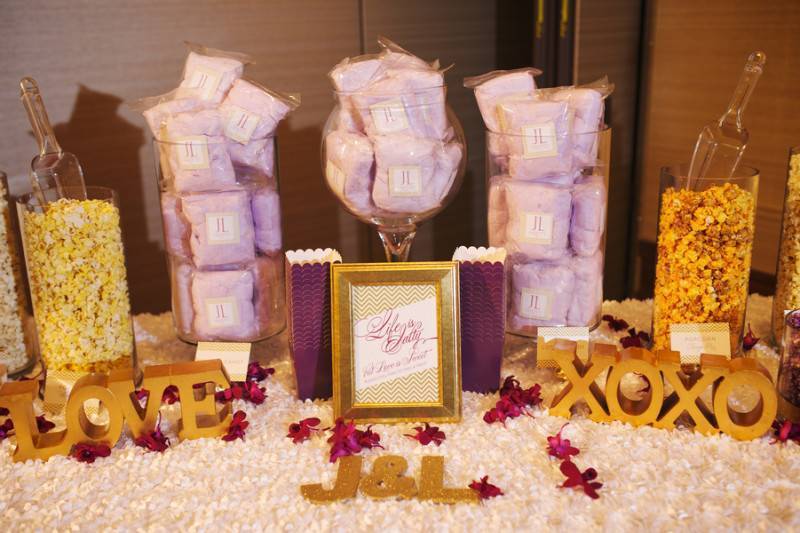 Money Matters:
over $50,000
Attire: we used a website called RK Bridal and saved the bridesmaids a lot of money.
Feeding 350 people is expensive!
The Guest List:
Guest invited was about 500, about 350 showed up
It was hard to cut down, so we eliminated all kids and did not allow a plus one. Out view was that this was a thank you to people who had been a part of our lives up to this moment. A date just for the sake of having a date was not something we could afford.
The Songs: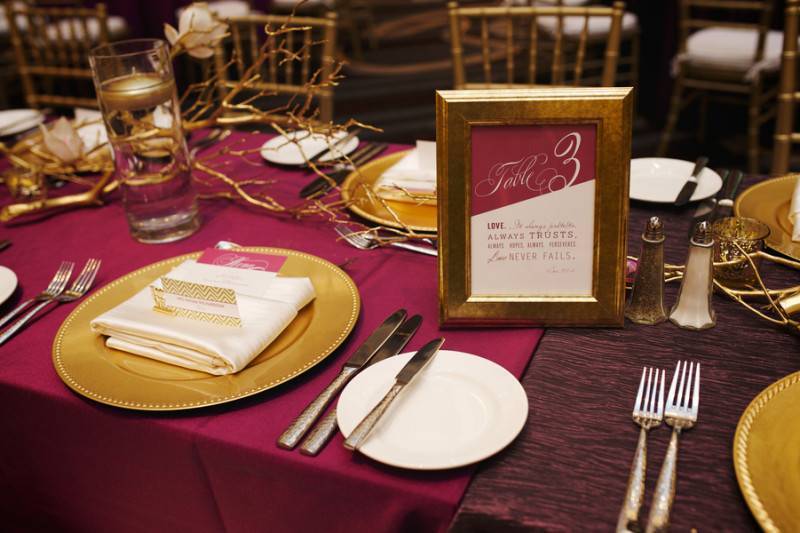 We Are Excited About:
Being together through this journey called life.
Planning Advice For Couples:
Make a budget, communicate (most guys really don't care so don't push it… pick what you like when he says you pick), give your guy a little guidance (we daydream about this for years them… not so much), pray a lot, and don't be surprised by things that may go wrong because something will! Lastly, HAVE FUN! It is the only time when you can say it is about the two of you. Focus on that, be at the moment together, and all the other madness fades to gray in the background!
Wedding Outfit Inspiration:
Bride:

Wanted three things

look skinny
feel pretty
A little be of wow

Groom:
Bridal Party:

Wanted to have rich colors and chose Maid and Matron to have a different colors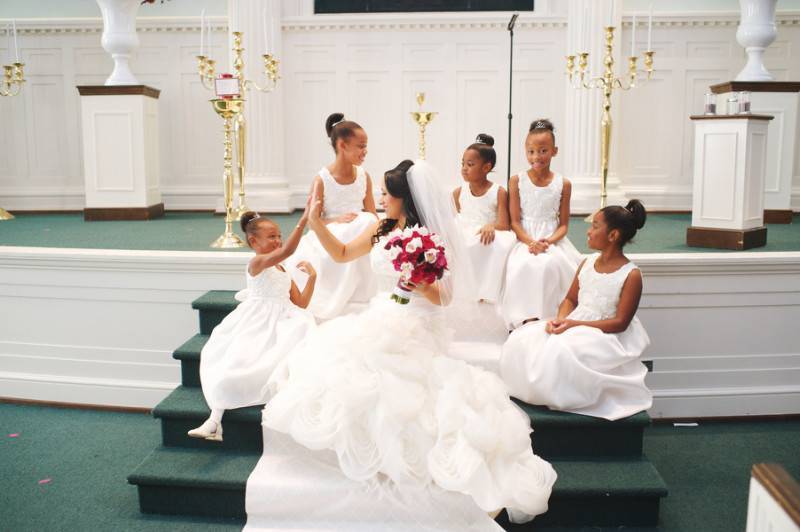 Favorite Part Of The Day:
Walking down the aisle. I had so much peace and was 100% in the moment!
The Do it Yourself (DIY) Projects:
My favorite DIY was the LOVE bookshelf. We used it on our popcorn bar. We made it by hand, cut wood, sanded, nailed, filled holes, and painted. (There should be a picture)
The Highlights From The Ceremony & Reception:
Ceremony: Communion song
Reception: Tribute that my husband did to me and the skit his family did for us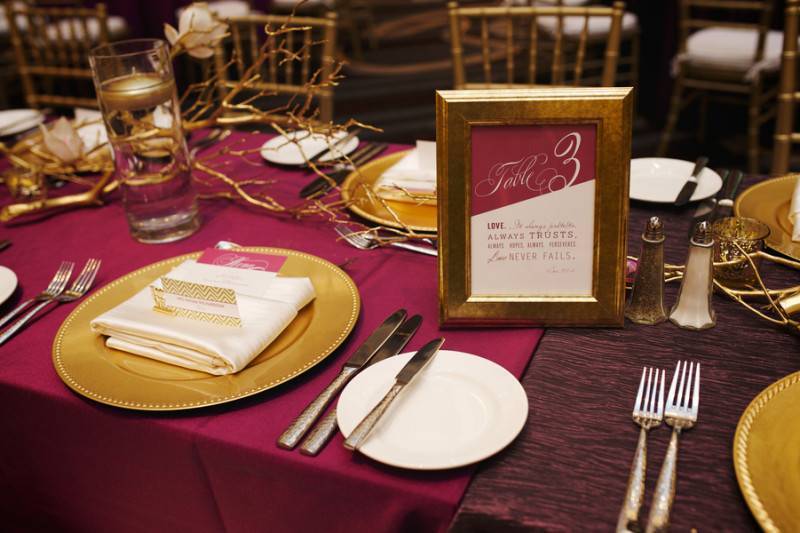 Most Memorable Moment:
I will always remember the look on Jeremy's face during the ceremony. The biggest smile ever! Also, my dad whispered some very sweet things in my ear when we got to the end of the aisle. Reception: the tributes
Our Wedding Video:
 VENDORS
Photographer: Justin Wright Photography
Event Planner: A Delightful Day Event Planning
Floral Designer: Brocade Designs
Equipment Rentals: Classic Party Rentals
Linens and Coverings: Classic Party Rentals Nashville, TN
DJ: Cosmo Creations
Lighting: Nashville Audio Visual
Specialty Foods: Nashville Sweets
Other Location: West End Church of Christ