Aside from the couple, other beautiful things that we notice in weddings are food, music and decors. These things have the power to revive the whole ambiance of any event. At Sarah and Kevin's wedding, mini pumpkins had a unique appearance. They were made romantic and elegant by painting them white. Since they had a fall wedding, incorporating pumpkins made a sense. They were used as pretty card holders. The "Bride and Groom" pretzels as party favors also stood out. Those weren't ordered but handmade by Sarah's sisters and other family members. If you want to DIY stuff on your wedding day, you could ask your family members or bridesmaids to help you with it.

What is your story as a couple, how did you meet & fall in love?
Kevin and I met at UMASS Amherst 2 weeks before I graduated college, very unexpected! He bought me a slice of pizza at 1AM at Antonios and I was in love. What makes the two of you a perfect match? I (Sarah) am very serious at times and Kevin has made me a much easier going person, and vice versa, I have kept Kevin out of trouble :)
How did he (or you) propose?
He took me to dinner on Newbury Street where we had our first anniversary. I knew it was coming since he drunkenly confessed a week earlier when we were on a family trip to Ireland that my ring "wasn't ready yet." But he surprised me after the engagement with a huge party of all of my family in friends!
How long was the planning process? Did you think it was enough time?
A little less than a year. I feel like I could have used more time but maybe would have made myself crazy if I was still wedding planning. What was the best advice you received when you were planning your wedding? Take in every moment on the day because it goes by in an instant.
What tips & tricks (can we use "hacks"?) can you share future brides that you yourself have learned during and after your wedding?
You can't do everything so far in advance. The two weeks before the wedding are crazy no matter how much you've done ahead, so be prepared to clear your schedule (if possible), the two weeks before.
What were some challenges you faced while planning your wedding & what did you do to address them?
I took a lot of my emotions out on my mom and mother in law. They are both the sweetest, most amazing, and helpful people and I think since they were most involved with the planning I would direct my frustrations at them, which was awful of me! It is the biggest regret of my wedding. I don't think I was as bad as some but I really just let my "seriousness" get the best of me! I appreciate all that they did and now that it's all over they know how much stress I was under. Although we joke about my "bridezilla" moments now, I really wish I directed the anger at the treadmill or something else productive.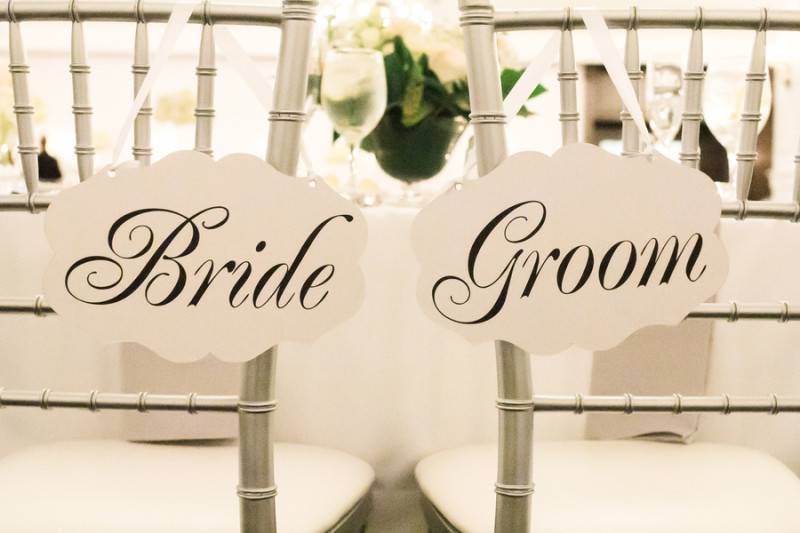 What inspired your wedding décor? Why did you choose the things that you did?
Romantic and elegant.
What was the wedding budget?
We went over for sure, we budgeted for 50K, probably spent more like 60K.
Where did you save the most money?
Surprisingly our photographer who turned out to be the most amazing person of our wedding day. Sarah Ellis was just starting her business so we got her at a great time, and she is incredible!
What was the biggest expense?
The food and open bar.
How many guests were invited to your wedding and what was the final guest count?
We invited about 270 and 249 was our final count.
How did you narrow down your list?
We had to cut some of our parents' requests. (People Kevin and I didn't know).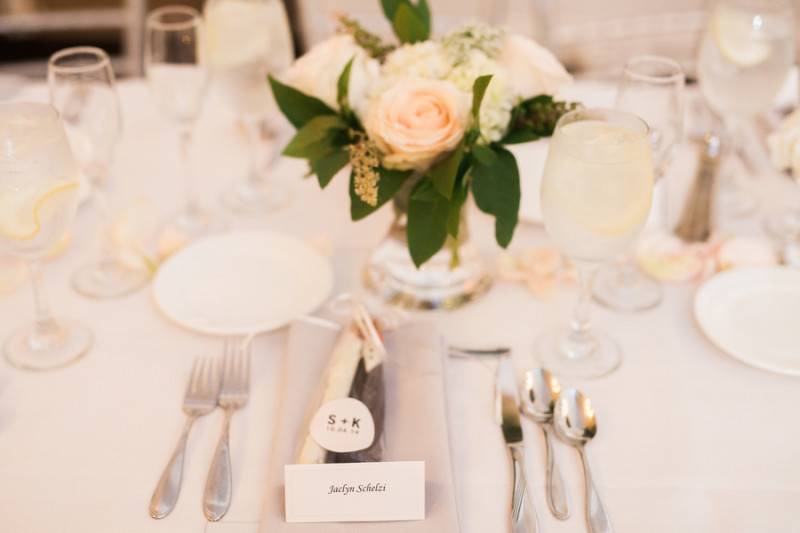 What songs did you use during the ceremony?
Seating of the Mothers (organ): "Ave Maria"
Schubert Procession of the Bridal Party: "Cannon in D" Pachelbel
Procession of the Bride: "Trumpet Voluntary" Clarke
Recessional: "Wedding March" Mendelssohn
Where did you go on your honeymoon?
Mini moon to Puerto Rico for 5 days. We are going to Greece this spring!
What are you most excited about for the future?
Babies :)
Do you have advice for couples still in the planning process?
Take a deep breath when you get stressed. Although it's the most important day of your life it really is only half a day so try to relax and have fun!
What is the overall story for this album?
If we could sum it up in a few words we'd have to say it was just a big dance party with all of the people we love, it was the best night of our lives.
What inspired the wedding day outfits?
Classic, simple, fall new in England.
What was your favorite part of the day?
Getting ready with my girlfriends at the salon, our first look at it all started, and the dance floor.
Was there any Do it Yourself (DIY) projects? If so, can you describe them in detail?
Yes. My sister did so much, she is incredible and extremely crafty and creative! She made over 500 chocolate covered bride and groom pretzels as our favors. She got over 200 small white pumpkins to use as our seating place cards, and she dipped pins in glitter to attach the name cards to each pumpkin. My mother and family friend, Debbie, made our table numbers – they dipped them all in glitter. They did such an amazing job with them the Black Swan actually asked to keep them for future weddings.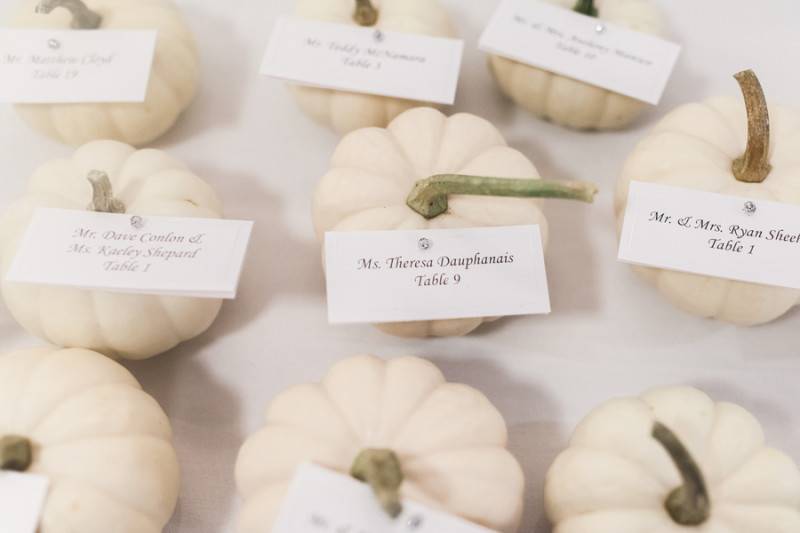 What were the highlights of the ceremony & reception?
The church looked absolutely beautiful and seeing the photos of Kev and I looking so happy, there's nothing better than those memories. The reception the highs were hands down the band and the dance floor! Kevin and I also did a first look due to rain expected in the afternoon and thank god we did – the pictures outside are my favourite and it down poured as soon as our ceremony started the rest of the night! I didn't want to do a first look initially but seeing him before really made me extremely calm.
VENDORS
Photographer: Sarah Jayne Photography
Dress Store: Allegria Bridal
Dress Designer: Anna Maier – Ulla-Maija Couture
Reception Venue: Black Swan Country Club
Cake Designer: Cakes for Occasions
Apparel: Cristina's Bridal
Ceremony Location: Phillips Academy
Invitation Designer: Yours Truly