McKenzie ♥ Brian
Today's feature is a cool wedding popping with pastel colors! I love how upfront the bride is! McKenzie wasn't afraid to try what she had mind for her big day. And, needless to say, everything looked awesome! Congratulations to you both! What a great day of joy when two hearts and lives are united, when two separate people become one family. May you be blessed as your family grows and may your love endure to the end of time!
The Start of Happily Ever After
My husband works for a company called Blender Bottle. About a year ago, he told his coworkers that if any of them lined him up with his future wife, he would pay them $100 dollars. However, if the date went horribly, then they had to pay for the meal. He went on a few dates but wasn't too excited about any of the people he had been lined up with. So, he decided to raise the reward to $500. My friend, who happened to be one of his coworkers thought of me. We went on our first date, and the rest is history!
Extra Special Details
The challenge. I didn't want a dress that was all beaded and puffy. I wanted something really simple but unique. The second dress that I tried on was the one I ended up buying. I didn't love it when I first put it on though. I loved the unique neck line, and I loved the bottom of the dress… but I wasn't crazy about how plain the middle of the dress was. The lady helping us suggested that I put a belt on with it. I didn't think that that would make a big difference. WOW! It did! It completely changed the dress. I went from thinking that the dress was "Ok" to knowing that that was MY wedding dress!!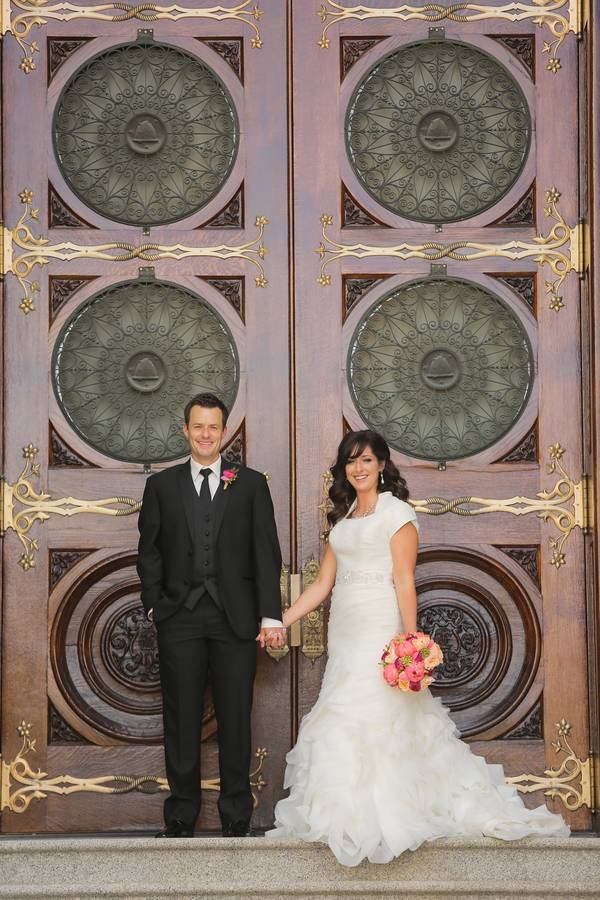 The wedding flowers. Our wedding flowers were beautiful! When I first met with Brenda Robertson, I told her that I didn't really care what flowers we used, I just didn't want a lot of roses. For some reason, I just don't like roses very much! She was incredible. She got so many different unique flowers to make everything look perfect.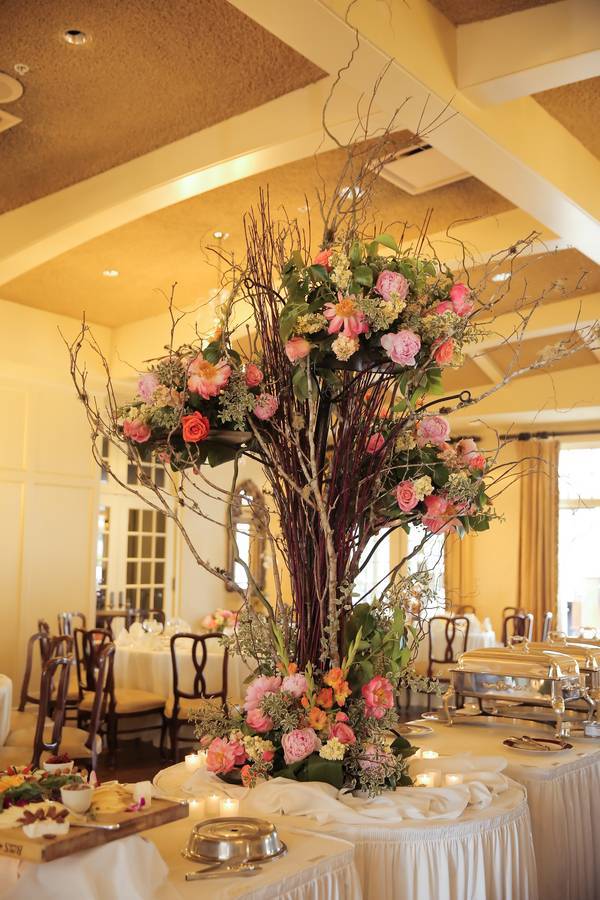 The wedding cake. Our cake was 4 tiers. Two of the tiers were strawberry almond cake, and two were chocolate with a salted caramel frosting. Both Brian and I hate fondant, so we decided to just have buttercream on the outside of the cake. Now for the outside, we decided that we didn't want it to be smooth, so she textured it a little bit, and then she put beautiful ivory chocolate pearls on the bottom of each layer. Brenda Robertson then got some of our flowers to put on the cake to finish it off. It was so beautiful. And, it tasted so good!!!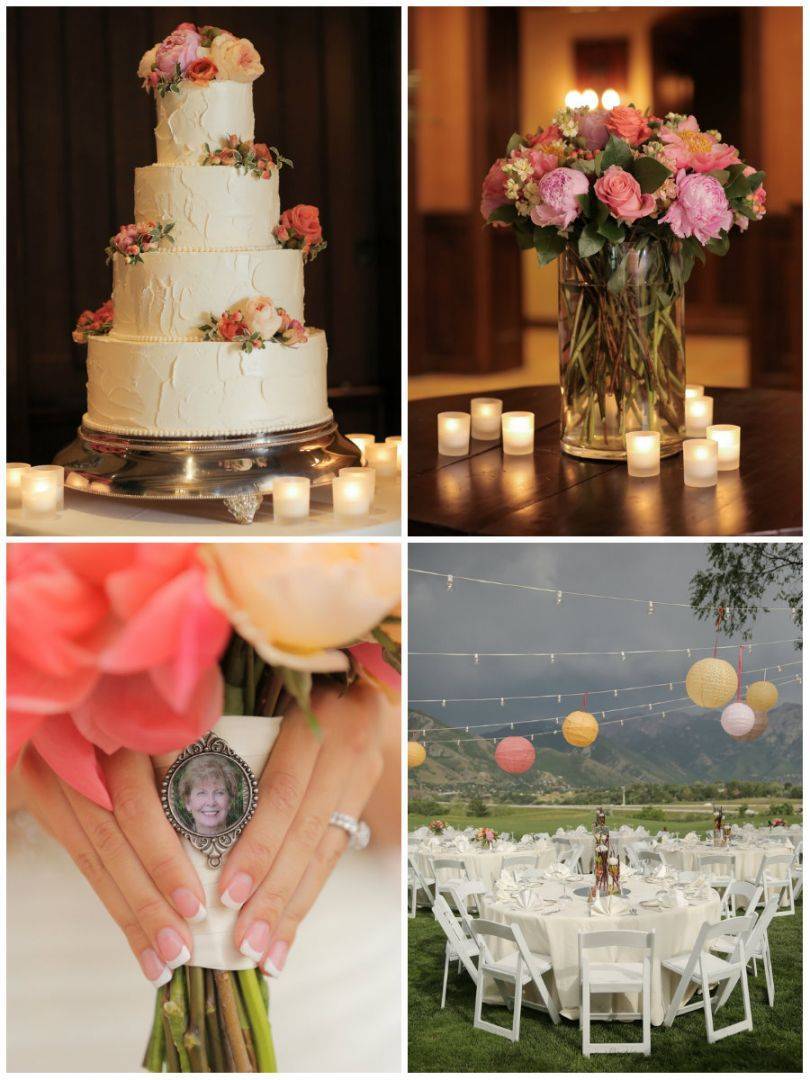 The color palette and decor. Our colors were orange, pink and yellow. I saw a bouquet on Pinterest one time with those colors and I knew that I wanted those colors in my wedding! The woman who did our flowers just completely took over the décor. I told her what kind of flowers that I liked and that's about it! It was so nice to be able to just trust her completely enough to just turn it over to her without worrying about it. Outside, we had string lights, with Chinese lanterns hanging from them. On the tables outside, we had topiary trees with ribbons on them. Inside, we had glass vases with water and branches in them. She also had flowers on the top.
Remembered loved one. I think that the most important thing that I incorporated into my wedding was a picture of my great grandma, "Gram." She was my very best friend in the entire world. She passed away a couple years ago. She is the one person that I was just heartbroken would not be able to attend our wedding. I got a small charm and put a picture of her in the middle of it. I made it stick by using modge podge. I pinned it to my bouquet. I loved this because I could just look down and feel like she was with me.
Advice To Heed
You are marrying the person of your dreams. If the cake falls, the flowers don't show up, it rains, whatever, you are still getting married to your best friend, and that should be the only thing that really matters! The most unexpected event on our wedding day was: The only unexpected thing was how perfectly everything went! I went into my wedding thinking that at least a few things would not go as I had imagined. Looking back, every single part of the day was exactly as I had wanted. It was a perfect.
VENDORS
Photographer:Logan Walker Photography
Apparel: Petals and Promises Bridal
Event Venue: Salt Lake Country Club
Invitation Designer: Ann Elizabeth Custom Graphic Design and Printing
Cinema and Video: David Perry Films
Tuxedo and Mens Attire: DC Tuxedo
Band: Joe Muscolino Band
Cake Designer: Layers Cake Company
Dress Store: Petals & Promises Bridal
Ceremony Location: Salt Lake Country Club
Jewelry: Schubach Jewelers
Jewelry: Sierra West