Have you ever wondered how a wedding with six guests would be like? Many questions on How, Where, and Why. Well, wonder no more because Joey and Sarah's wedding is right in the alley. The couple wanted an intimate wedding where it could be witnessed by the people who have the most relevance to their lives. It's a beautiful change of pace from having tons of guests to entertain. It's not only more relaxing but budget-friendly too!
It was a day made for just the two of them; everything was according to their will. Nothing restricted them from doing one thing because of something. Less is truly more — more time to spend with a guest, more money saved for other stuff, and more sentimental/emotional value. Congratulations, Mr. & Mrs. Hirsch! Love simply and love generously.
Our Story:
I met my husband in college – which naturally means through mutual friends at a bar! We hit it off instantly and talked all night long. After that night, we started having dinner every Wednesday and the more time we spent together, the more undeniable it was how much we cared for one another.
We Are A Perfect Match:
My husband and I are opposite in a lot of ways but I think that's what makes us work, we are the perfect compliments to each other's strengths and weaknesses. One thing we do have in common is how much we love each other-not only are we husband and wife, we're also best friends. I swear I love him more and more every single day, even after nine years! I guess it's true when they say opposites attract!
The Proposal:
It was the best proposal ever! One Christmas morning, the first gift I opened from him was a Build-A-Bear dressed in a tuxedo. He told me to press the hand because there was a message recorded. I heard Joey's voice say, "Sarah, I love you more than anything in the world and I want to spend the rest of my life with you.  Will you marry me?" I couldn't believe what I just heard, so I had to listen again. When I looked at Joe, he was down on one knee, presenting me with a beautiful ring. I still press that bear's hand every once in a while and remember that magical moment.
The Planning Process:
We were engaged for five years after he proposed. His job relocated him to Cleveland and I had to stay back home to finish my degree. During that time I also started graduate school so that left little time for wedding planning and we wanted to spend whatever time we had together having fun-not worrying about a wedding. In December 2013 after I graduated and moved to Cleveland, we decided it was time to tie the knot. The date was set for the following February, that's right, February 2014. We knew we wanted a very small wedding I think we had everything planned in one weekend.
The Best Advice We Received:
Do what's right for you, don't make your wedding about anyone else but yourselves.
Tips & Tricks For Future Brides:
Make sure you have and agenda, and always allow extra time for everything! My husband is the master planner, so we had every minute of the day planned out. It was so helpful and definitely allowed our day to be stress-free.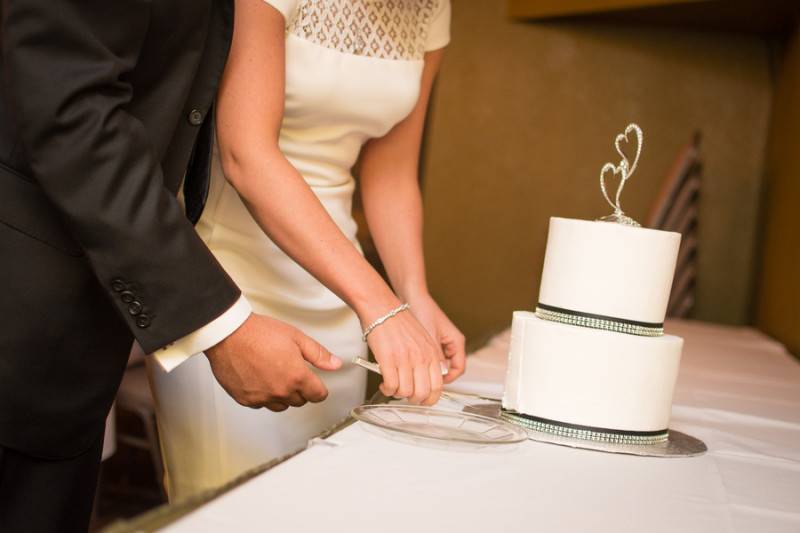 The Challenges We Faced:
I might be the only bride to ever say this, but we honestly didn't face any challenges with our wedding planning! Everything about that day fell into place perfectly.
Wedding Décor Inspiration:
Since we got married in an art museum it was very easy. Our decor was whatever was being featured that month! We were married in front of a beautiful tile mosaic that served as the perfect backdrop for our pictures. Even better? My best friend's father was the one who laid the tile for the piece. Every detail of our wedding was meaningful and sentimental — it was just so right.
Money Matters:
$3,000.00 was the wedding budget. We saved money by having only six guests, and we went to our favorite restaurant for dinner so everyone could order whatever they wanted. The biggest expense was, I think, his suit. He went to a custom tailor to have one made and looked like a million bucks!
The Guest List:
We invited six people, and all of them showed up.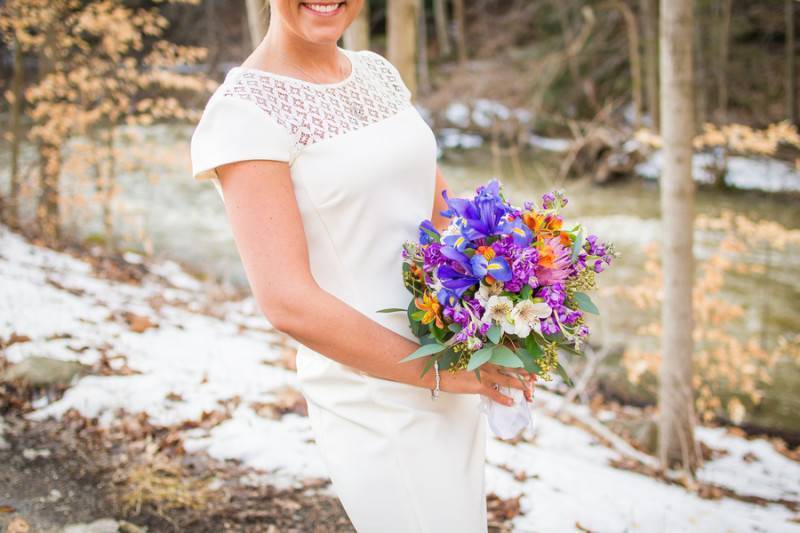 The Songs:
None, since the museum was open for business that day our ceremony took place in a small room at the front of the building. We didn't want any echoing of the music to interfere with the other patrons' visits.
The Honeymoon:
South Florida
Our Future:
We live every day in the moment – I don't know what the future has in store for us but as long as we have each other, we're ready for it!
Planning Advice For Couples:
Enjoy it, don't let the stress and planning take away from the magic of the day. I'll never forget how much love I felt from everyone. Weeks before the wedding are some of my best memories. Also, make sure you have a great photographer! I look at my pictures all the time. Carlyn truly captured the most precious moments, every single detail of the day was documented beautifully through her eyes. She gave us a gift we'll cherish forever.
Wedding Day Outfit Inspiration:
We both love fashion – our personalities were really captured in what we wore. Since I changed dresses for dinner, I wanted a pair of shoes that would work with both. I've gotten so many compliments on my blue pumps! He loves fine watches so naturally a Rolex completed his look.
Favorite Part Of The Day:
I can't pick a favorite, I really loved every single moment.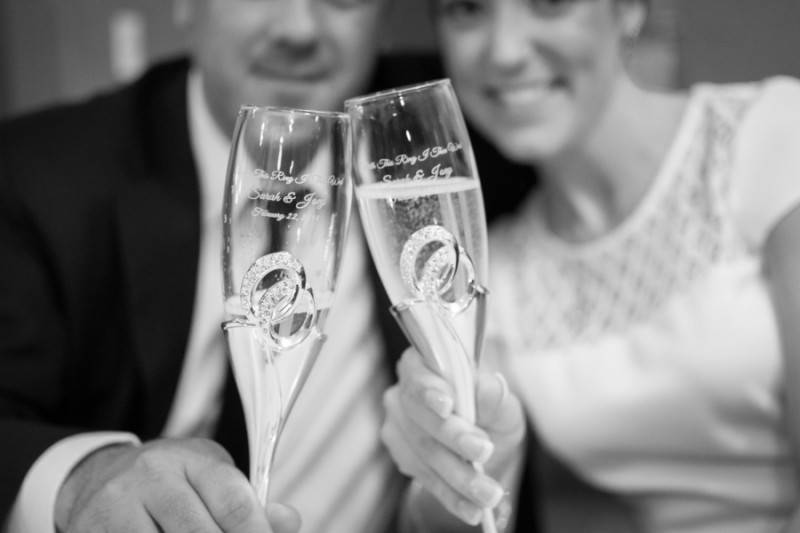 VENDORS
Photographer: Carlyn K Photography
Museum: The Butler Institute of American Art