The countryside feels of the Baiting Hollow Farm Vineyard was madly felt in this Vogue trash-the-dress session. Shannon in her stylized wedding dress and long lace veil was very mysterious. I am a huge fan of the drama that this shoot has and with the right elements, you can be as unique and creative with your trash-the-dress too. Shannon and Al looked like professional models as they posed poetically in front of their photographer.
The Album Story
What happens when a professional makeup artist who loves fashion and fine art requests a striking trash the dress session?
I met this beautiful lady earlier this year through Charles Douglas, another fabulous makeup artist and a good friend of mine with whom I used to share the studio. I did a double boudoir session for her, including a very special book that was a gift for her then-fiancé. Both were ecstatic enough to start dreaming about complimenting their wedding imagery with a dedicated "day after", a.k.a. "trash the dress session session".
"Trash the dress session" is just a term, it may lead to various degrees of damaging to the dress, from just a need for a quick cleanup to, yes, totalling it. We didn't go that far but had no constraints in moving around and getting dirty.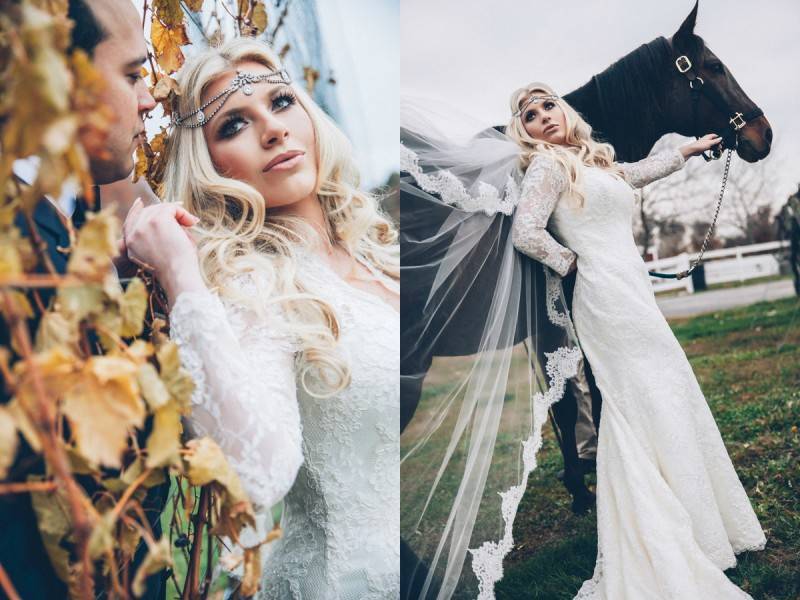 The Location
We chose a marvellous location in East Long Island, Baiting Hollow Farm Vineyard, that not only offers a countryside feel of a vineyard, but also access to rescue horses which you can use after making a donation to the shelter.
I have worked with horses for both trash the dress and fine art sessions, and I have worked in vineyards for engagement sessions and even in Portugal for a wedding. This time, I combined both concepts into a fairytale story of love. Nevermind that it was mid-November and cold, our determination and thrust for beauty beat the cold!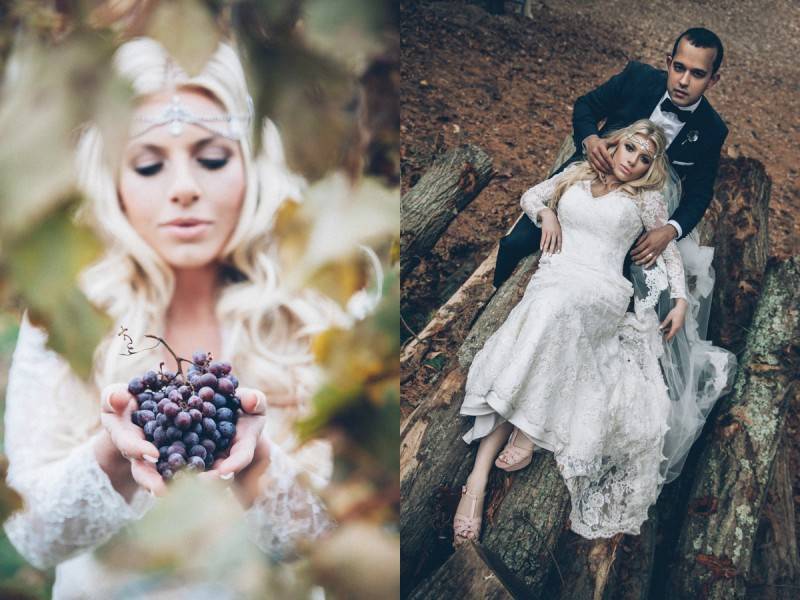 VENDORS
Photographer:   Zorz Studios
Dress Designer: Augusta Jones
Other Location: Baiting Hollow Farm Vineyard
Veils and headpieces: Bridal Styles Boutique
Tuxedo and Mens Attire: Hugo Boss
Etsy Designer: Nevestica
Beauty: Nubest Salon
Hair Stylist: Nubest Salon
Apparel: Simonnot Godard
Tuxedo and Mens Attire: Tom Ford
Groomsman Attire: Tommy Hilfiger
Shoes: Yves Saint Laurent