Nicole is loved, to say the least. Seventy of her closest ladies gathered and showered the bride-to-be with gifts and words of encouragement as she soon starts her new life as a married woman. A bridal shower is like an engagement party but only for the ladies. If you want some intimate time with the special women in your lives before you officially tie the knot or if partying is not really your thing, then a bridal shower like what Nicole and her fellas celebrated is great for you! Find some inspiration below!
Extra Special Details
The story behind the success. Nicole's mother and sister pulled out all the stops putting together this elegant shower. The family wanted the guests who weren't able to make it to the Puerto Rico destination wedding to feel like they were a part of the celebration. Walking into the room felt like entering a reception! From the live music to the extravagant personalized details, every inch of the room was filled with homage to Roger & Nicole's love.
The decor. The dining room was decorated in lavish floral bouquets, diamond encrusted engagement photo frames, and plenty of gorgeous desserts and cocktails.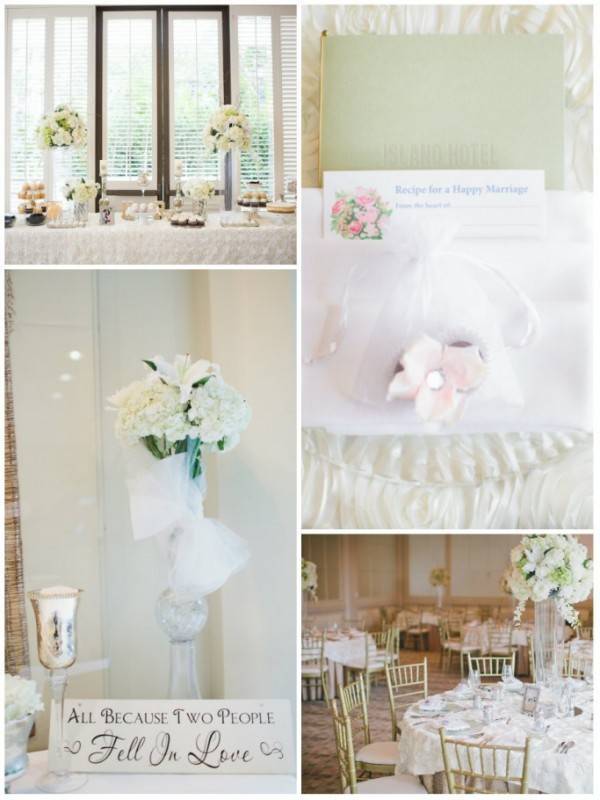 It's a Russian affair. There were hints of Russian flair at the caviar bar in honor of the grooms Russian heritage.
The game.For this bridal shower game, the ladies were each handed a bag of tulle, scissors and flowers for a contest to see which table could create the brides favorite dress and bridal bouquet. The grooms mother joked that though usually this game is played with toilet paper, Nicole is far too lovely to wear toilet paper and so instead they used real tulle. The girls had good laughs and at the end paraded through the room modeling their designs.
Surprise! The groom cut his Park City ski trip short to make an appearance at the end of the day and showed up with a giant bouquet for his blushing fiancé.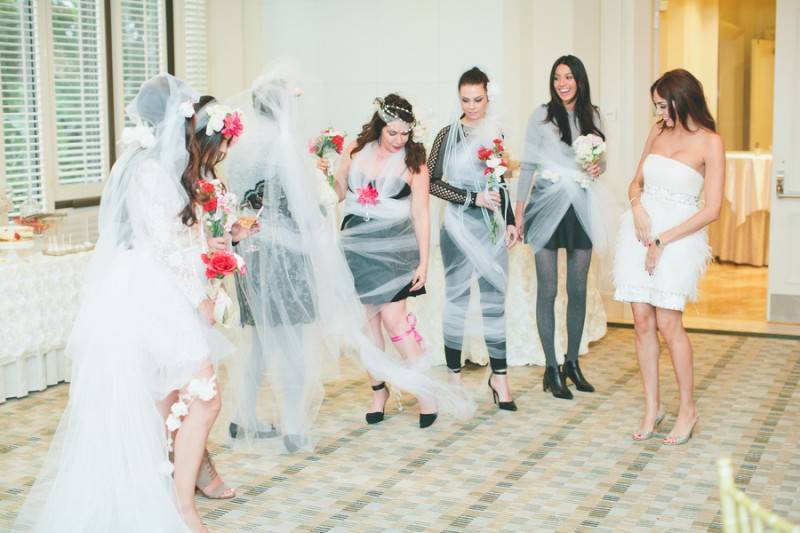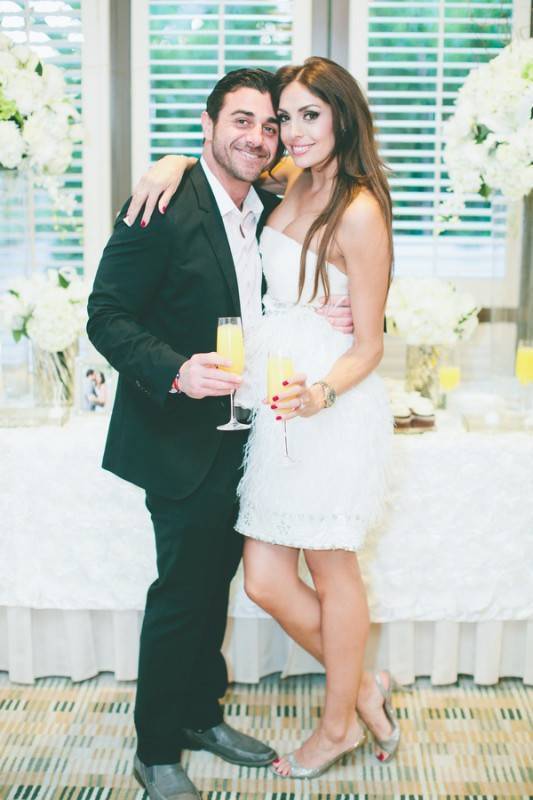 Words From The Photographer
♥ Make sure you have an indoor alternative to an outdoor event! (Even in California!) The bride was so thankful for the warm, dry brunch room when the El Niño came down full force on the day of the shower.

♥ Plan your timeline assuming everyone and everything will run late. This ensures cushion so if people run behind, you won't stress!

♥ Have your loved ones show up at an early scheduled time for family photos. Since everyone's dressed their best you're sure to want to document some family shots, and this way you won't have to worry about it once the guests start rolling in and cocktails start flowing!
-Abbi
VENDORS
Photographer:  Images By Abbi
Event Planner: Cheryl Gipe Design
Favors and Gifts: Debonair By Design
Culinary: Ella's Kitchen
Culinary: Ella's Kitchener
Event Planner: Island Hotel
Musicians: Jesse McLeod
Bakery: Pierre's Cakes