Johana is definitely a vision of grace and elegance. And Fernando must be the luckiest man on earth to marry her. Johana chose a deep purple and lavender combination as a wedding theme. The happy couple, both from Columbia, tied the knot at St. Frances De Chantal church. The reception was held at The Palazzo at Marina Del Rey, which was gorgeously decorated in soft pinks and gold accents. What made it more perfect was the over-looking view of the Manhattan skyline — such a view to behold on such a memorable day!
What is your story as a couple, how did you meet, fall in love…etc?
We met when he was 15 and I was 17 years old. He was playing soccer . It was love at first sight. But we didn't start dating until 3 years after because I was scared he was too young for me. After 8 1/2 years of relationship and 2 years living together he proposed to me on my birthday. Of course I said yes I always knew he was the man I wanted as my husband.
What was the best advice you received when you were planning your wedding?
I have to say the best advice was not to forget the real reason for why I was getting married. To stay calm, relax and to enjoy very single minute of that special day since the moment you wake up ( I have to say I definitely did). Remember not everything will come up the exact way you planned it but you have to always think that the only thing that matters is that you'll be marrying the person you love.
What makes the two of you a perfect match?
I think the fact that we have different personalities. I'm more introvert and shy, he is more outgoing and an extrovert. But fortunately we both have a humble heart and care for others. We complement each other very well.
What inspired your wedding décor? Why did you choose the things that you did?
I love color purple so decided to go with different tones and shades of purple and pink. Also I like modern and contemporary so that's why I chose a venue that had the city skyline and some of the city bridges.

What were some challenges you faced planning your wedding and what would you have done differently to avoid them?
My best advice is to start planning about a year before. Be organized and have a notebook with the information of all the vendors, etc. Most important, not to fight. Believe it or not, planning a wedding can get overwhelming and frustrating and many times couples will not share the same opinion on what cake or color theme to choose or what DJ so always try to please each other. It'll make your wedding process so much easier.
What was the wedding budget?
My wedding budget was 35K, and we went over by 5K.
Where did you save the most money?
I saved the most money on the floral arrangements. Met this guy that did those beautiful arrangements at half of the cost.
Where did you go on your honeymoon?
After our wedding we did a 4 night trip to the Bahamas. But our real honeymoon was planned long time before. We are both soccer fanatics so we decided to attend the World Cup in Brazil and follow our team in four different cities. We were extremely excited to be watching our team but also getting to know Brazil was very rewarding. It is a beautiful city.
What are you most excited for the future?
I'm most excited about continuing to love each other the way we had. Even after we have kids, I still wanna be able to dedicate the same amount of time to my husband and to be as happy as we have been so far.
Can you share some tips or tricks that you learned along the way leading up to the wedding after?
Make a wedding list with all the addresses and info of your guest. You are gonna need it for the save the dates, invites and thank you cards. Also be very organized and keep a notebook with all the info on the vendors. Most important, make a budget and try to stay on it as much as you can.
What would you say, the overall story for this album?
I'll have to say we enjoyed every second of our special day. Even though not everything is gonna come out the way you planned, I have to say it still was a perfect day for both of us and no one can take that away from us.
How many guests were invited in your wedding and what was the final guest count?
165 people were invited and 141 guest attended the wedding.
Was it difficult to narrow down your guest list?
Narrowing down the guest list can be very stressful but my advice is to go with your heart and invite those who are closer to you.
What was your favorite part of the day?
I'll have to say the ceremony. Holding his hand, saying I do, listening to the beautiful words of the priest. And I was just so thankful to God for having been able to share that moment with both our parents, friends and family.
What inspired the wedding day outfits?
He said he wanted to look "sharp" and so he did. He wore a Vera Wang suit that fit him just perfect. He looked very handsome. And I decided I wanted a simple but elegant mermaid lace gown that I designed myself and a close friend of my father in law offered to make the dress for me. I absolutely loved my dress. My husband said I looked stunning.
What were the highlights from the ceremony & reception?
From the ceremony was the moment we shared our vows. It was really emotional to hear him saying that he was the luckiest man in the world. And to tell him that I thanked his parents for making him the man any woman will want to marry. From the reception I will have to say everything from the venue all the guests were amazed by the décor and the food. The cocktail hour had 7 stations to choose from. And then the main course was just spectacular. It had 6 different courses to choose from (salmon, vegan, prime rib, chicken) then the Venetian hour was just out of this world. So many different desserts and fruits and cakes and crepes ice cream.
Was there any Do It Yourself (DIY) projects? If so, can you describe them in detail?
Yes in fact , I had a couple of DIYs. I did the place cards with the help of my maid of honor and also the donation notes that were on every table. Also the presents for the bridesmaids and groomsman, I bought and wrapped everything nicely.
Was there a theme for the ceremony and reception?
There was no theme, just went with what I liked.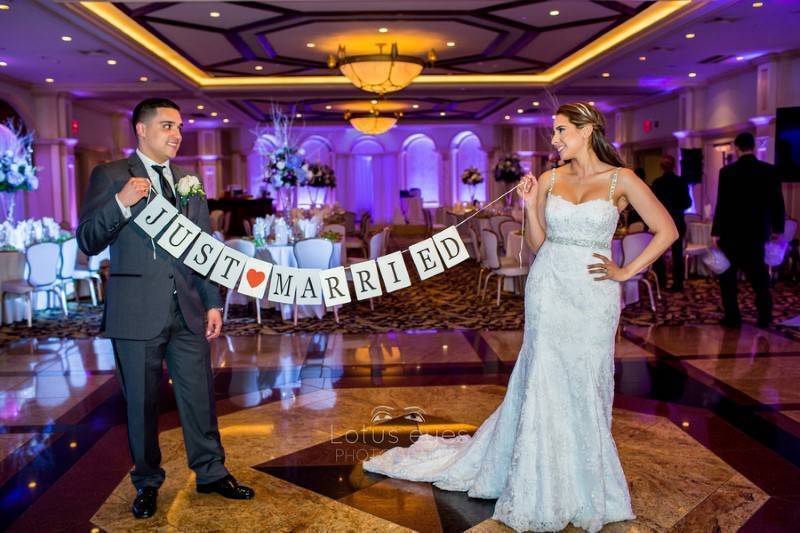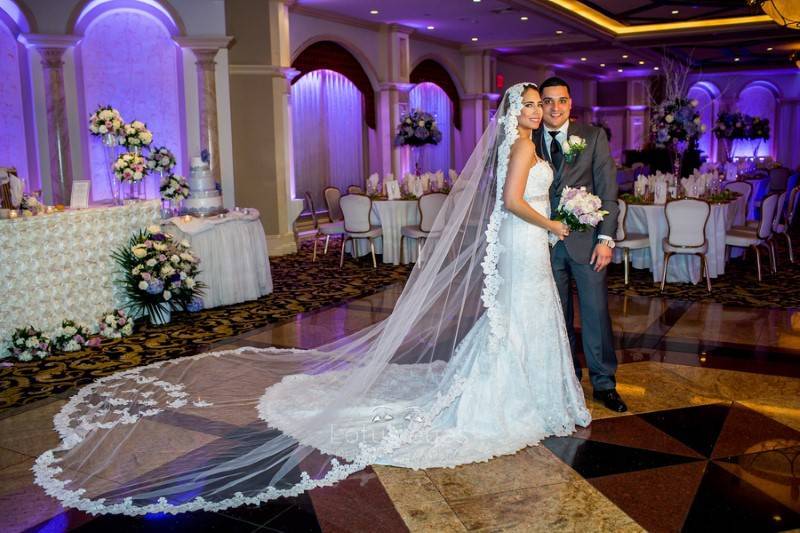 Vendors
Photographer:  Lotus Eyes Photography