Jewel tones have always been associated with love, passion, and romance which is why the month of February, the love season, in particular, is bursting with rich colors. No wonder why shades of emerald green, lush shades of pinks, and deep royal purples make such beautiful wedding motifs. These combinations can exude a range of looks from sensual and elegant to lively and alluring, and will always have an eye-catching pop. If you're thinking about how to put together a jewel toned wedding, here's a sophisticated shoot from RLJ Photography, LLC that will give you some inspiration! See below how he and his amazing vendors came up with clever and gorgeous ways of using jewel tones.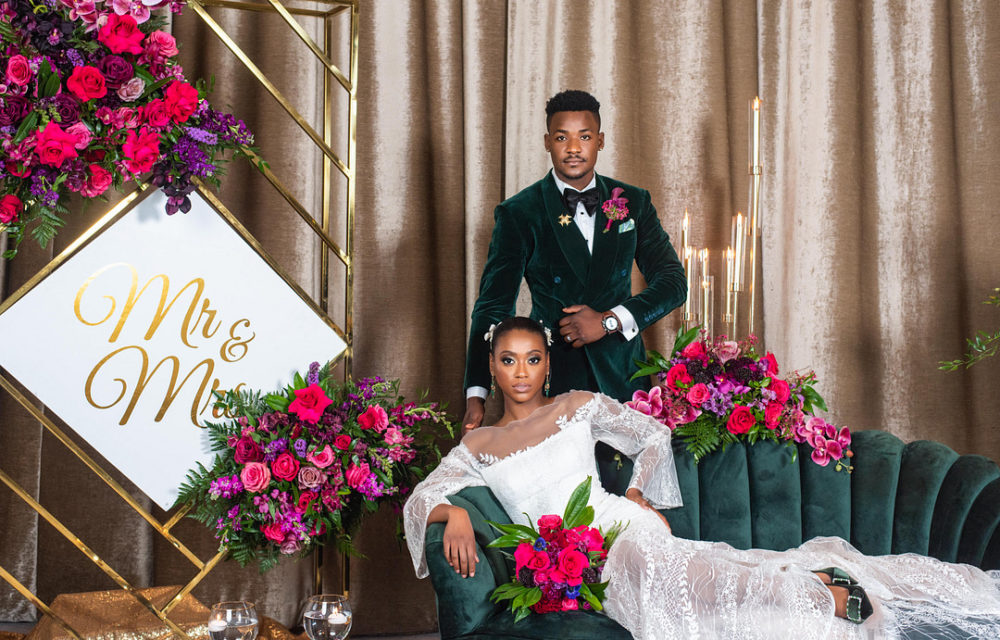 From The Photographer
Welcome to this jewel tone photoshoot inspired by *Love in Colors*. Against the backdrop of a vibrant burst of colors, we are taken on a ride showcasing the beauty and complexity of love through beautiful colors. With the arrival of winter, rich opulent jewel tones of emerald green, lush shades of pinks and deep royal purples set the scene fit for a king and his queen. Exuding elegance and class, this color palette mixes dark tones and different textures to create a romantic look.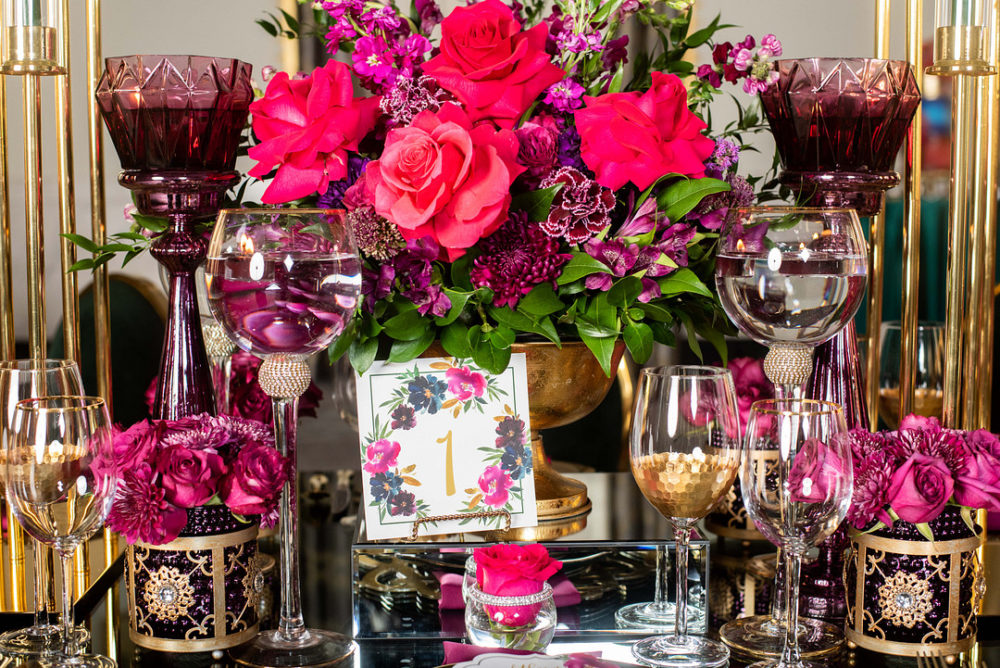 As the perfect muse, the beautiful bride and her love for vibrant colors which tell a story, was the main inspiration for this shoot. An unconventional bride with classic yet modern tastes, her wedding look had to be the foundation from which every other element of the shoot comes together. Her swarovski studded and lace Soliloquy wedding dress was 'a little bit vintage and a little bit glam'. Accenting her simple elegant dress was a statement headpiece made of delicate petals and pearls. A simple bouquet of mostly hot pink roses with decadent green leaves topped off with a little bit of bling, completed this perfect timeless look.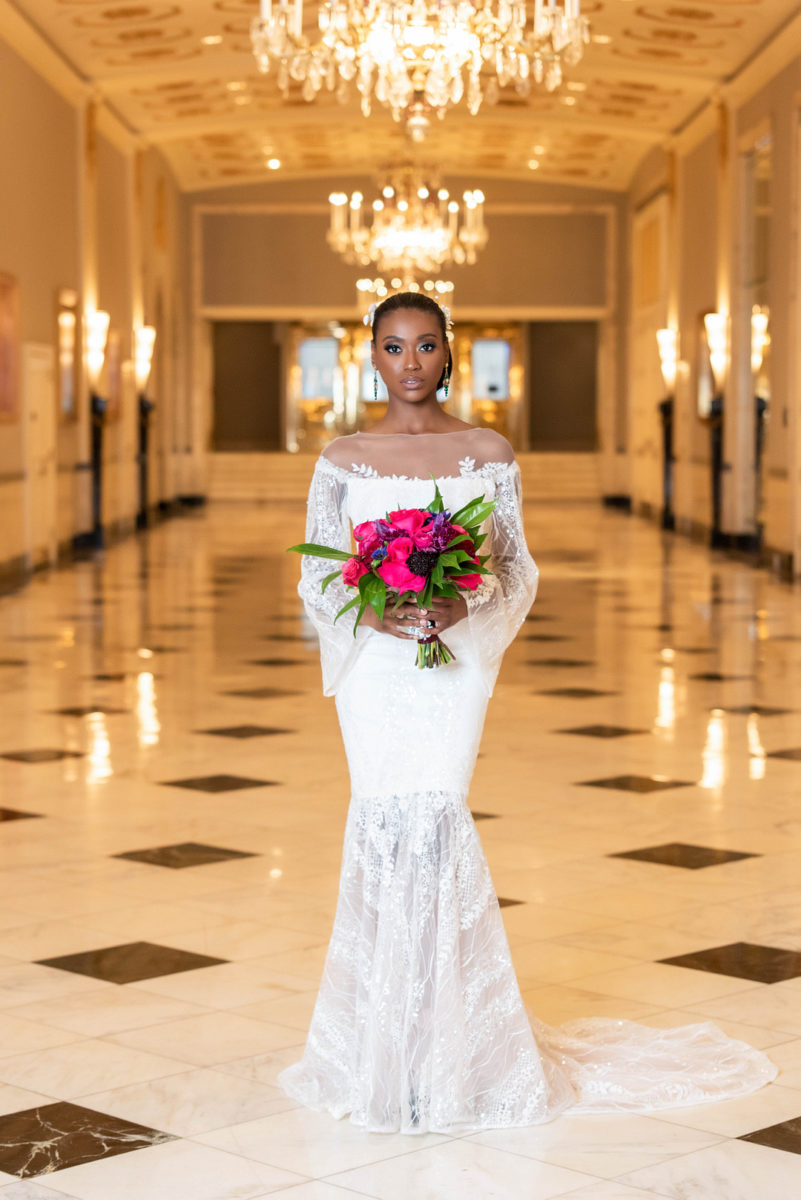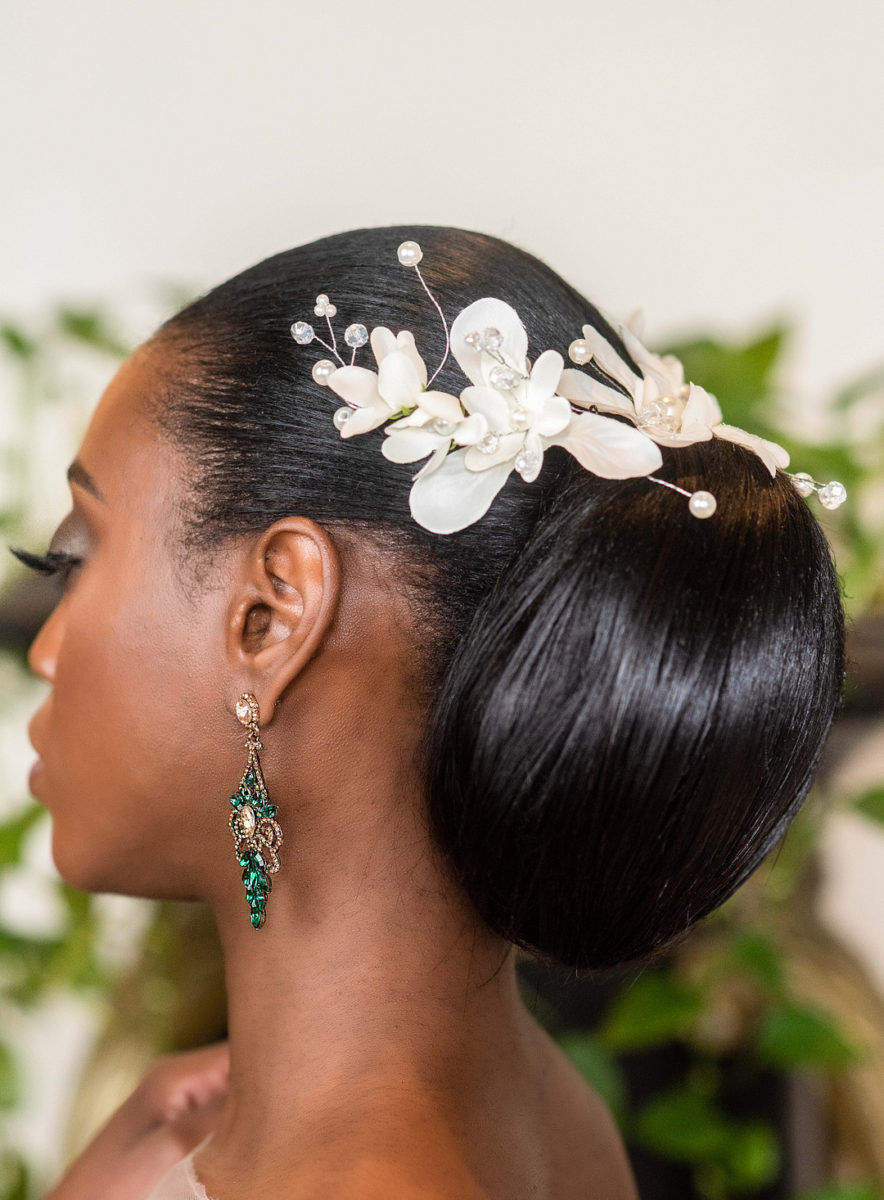 With the wedding dress being intentionally understated, we wanted the colors in the decor to pop and make a bold statement. Custom gold tables were set with towering gold candelabras and clusters of low flower arrangements of lush hot pink roses, purple carnations, purple ranunculus and scabiosa black burgundy. Finishing it off with our gorgeous purple floral charger plates with matching gold cutlery sets, lends texture and depth to the overall look, giving it a truly elegant and romantic look. The backdrop was a sweetheart's dream come true with cascading florals and candles surrounding a bold statement making an emerald green sofa.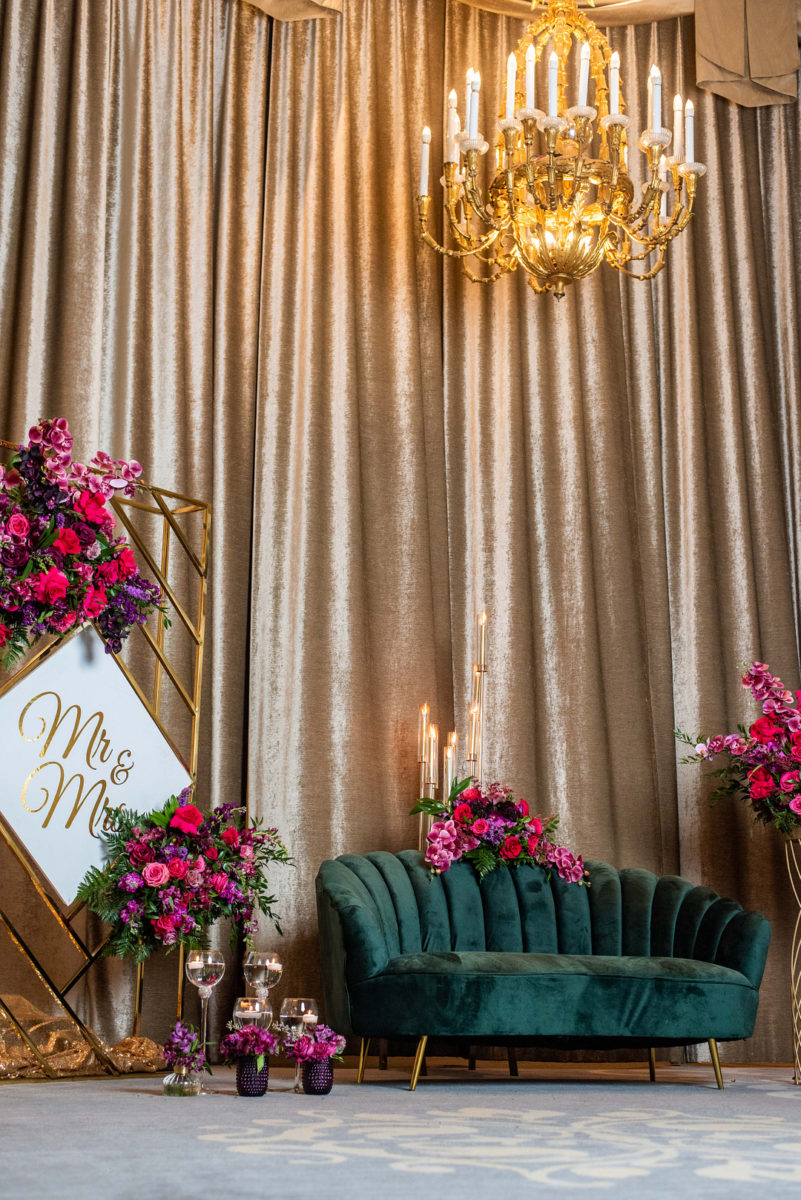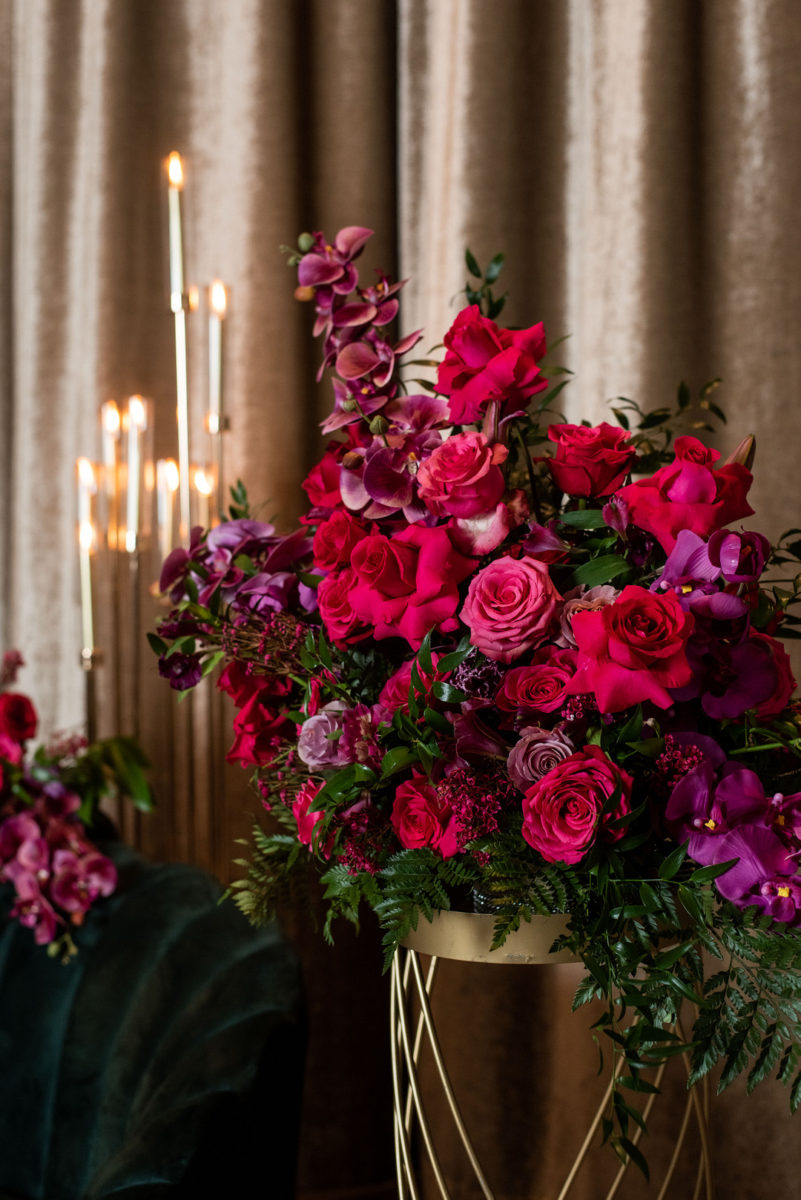 The beauty of a jewel toned wedding is being able to indulge in the elegance and grandeur that the theme exudes, even if it's just for one day. With deep bold tones mixed with bright pretty colors, this shoot pays homage to a classic couple with modern taste. A passionate couple who isn't afraid to show their love through colors.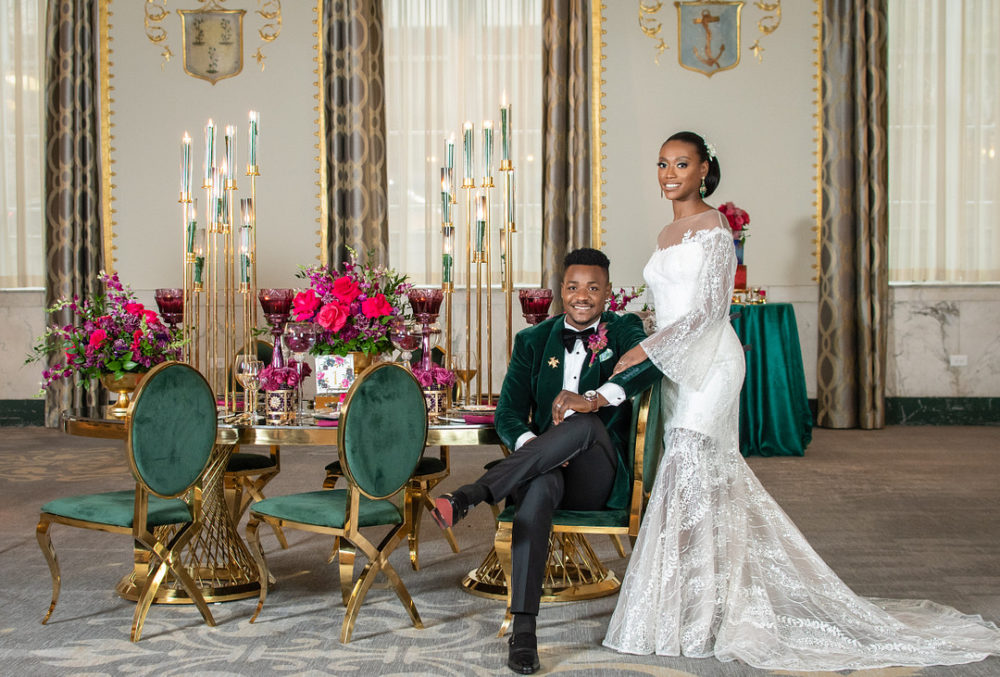 More Eye-Drooling Details…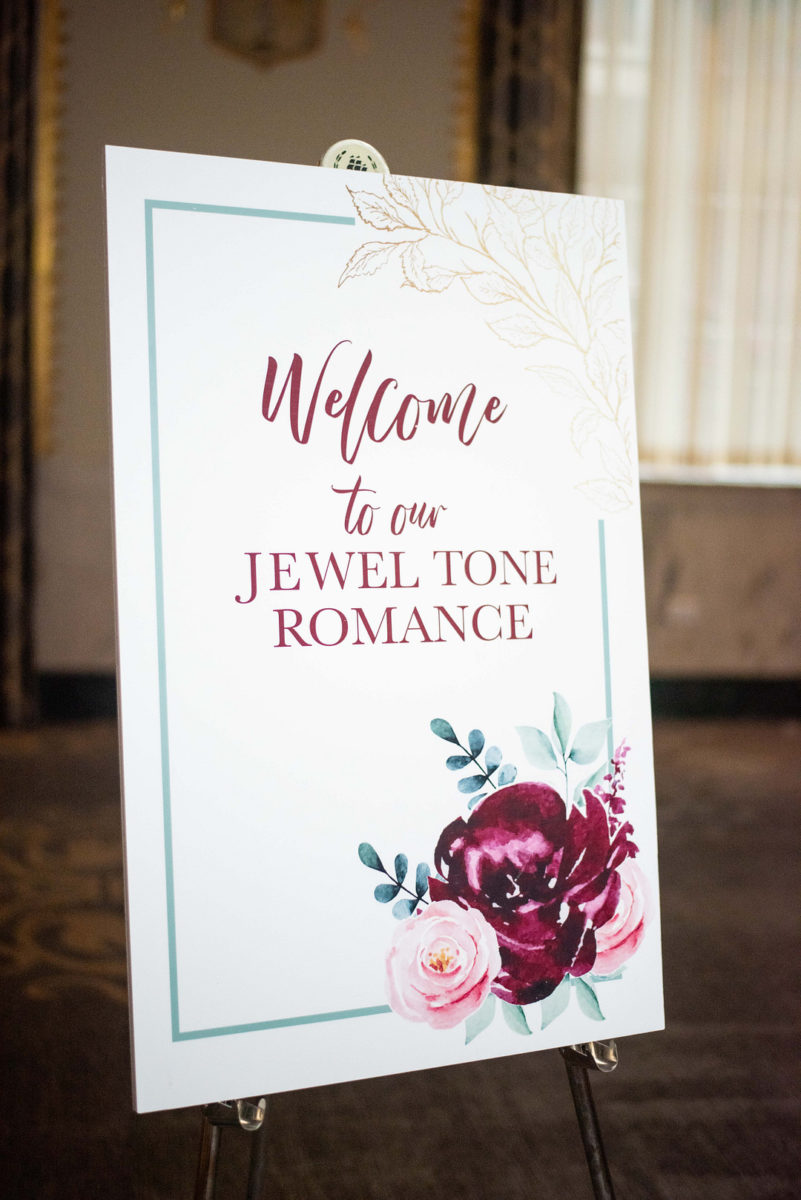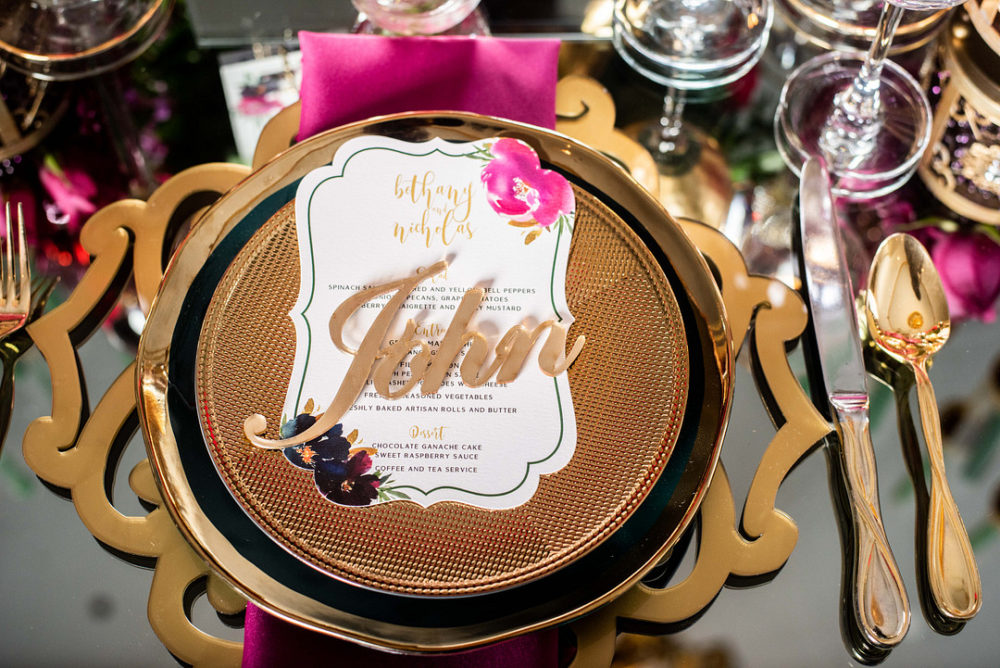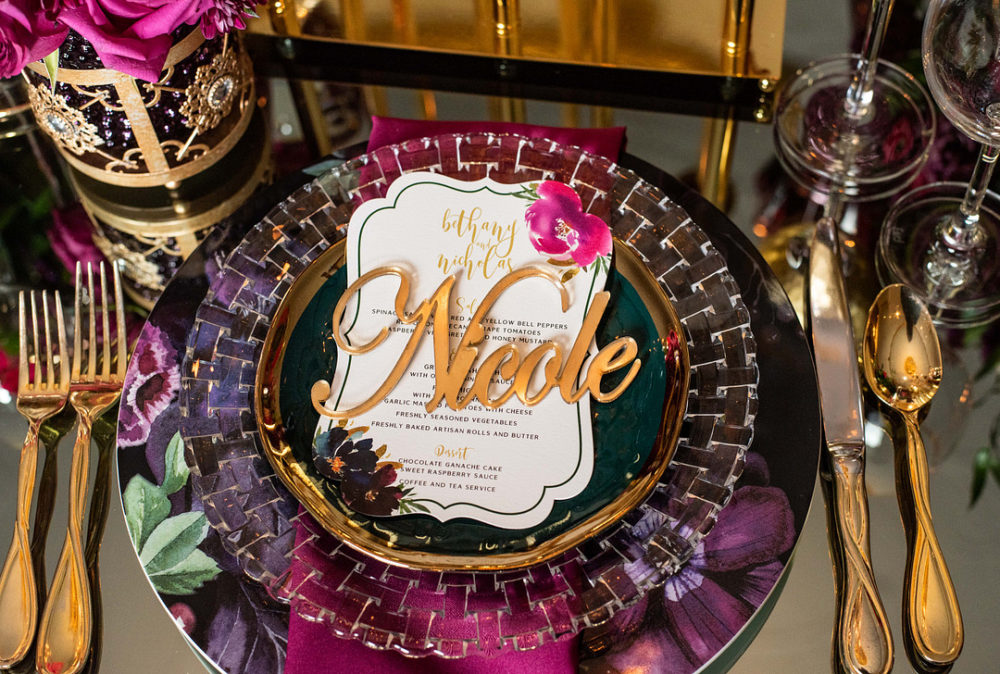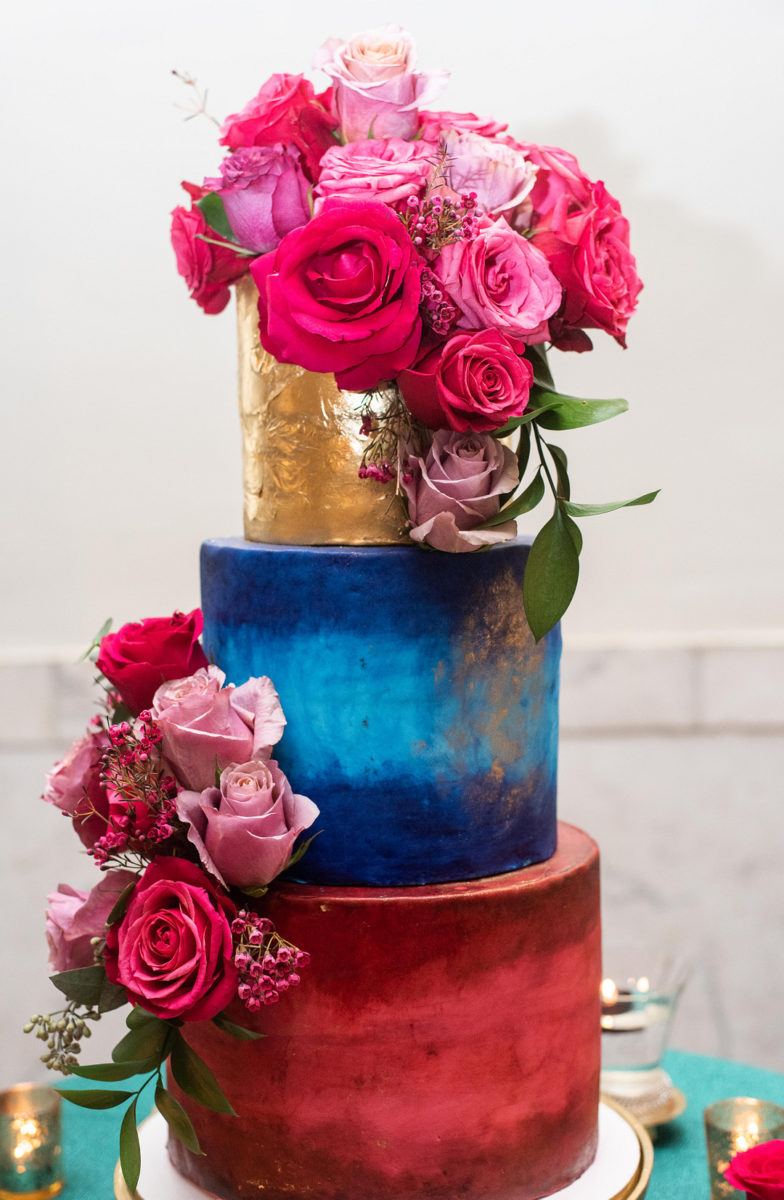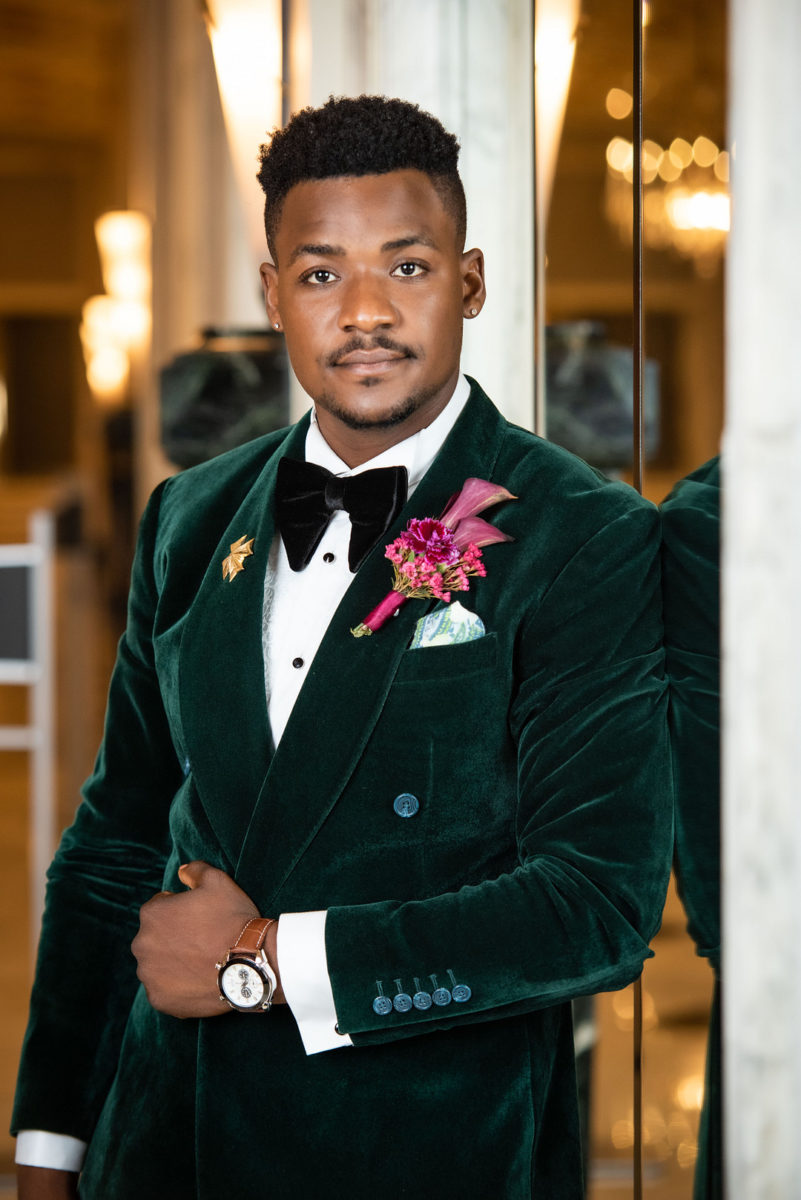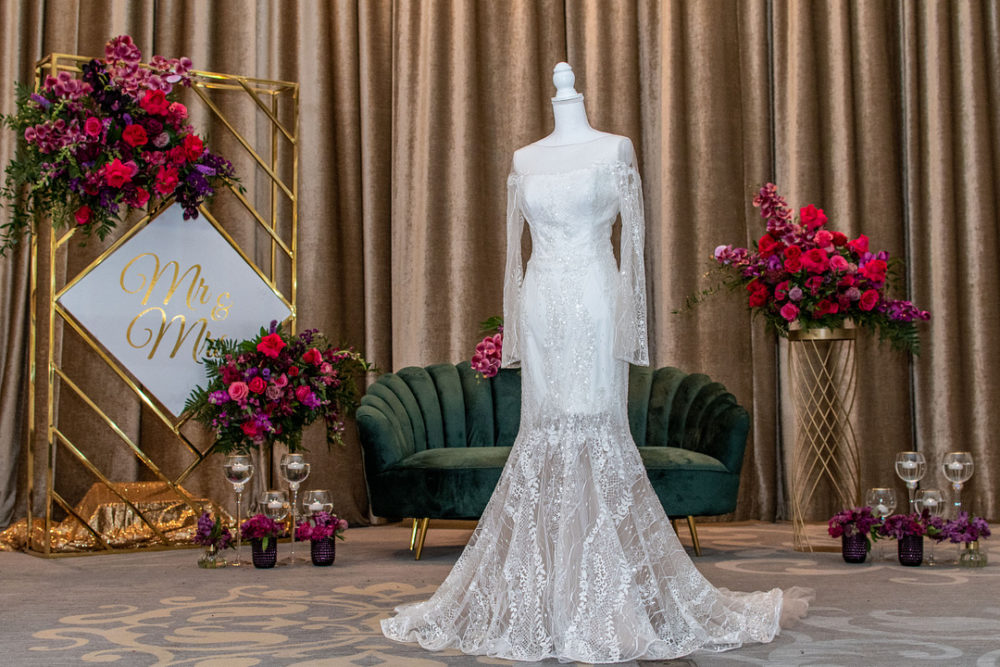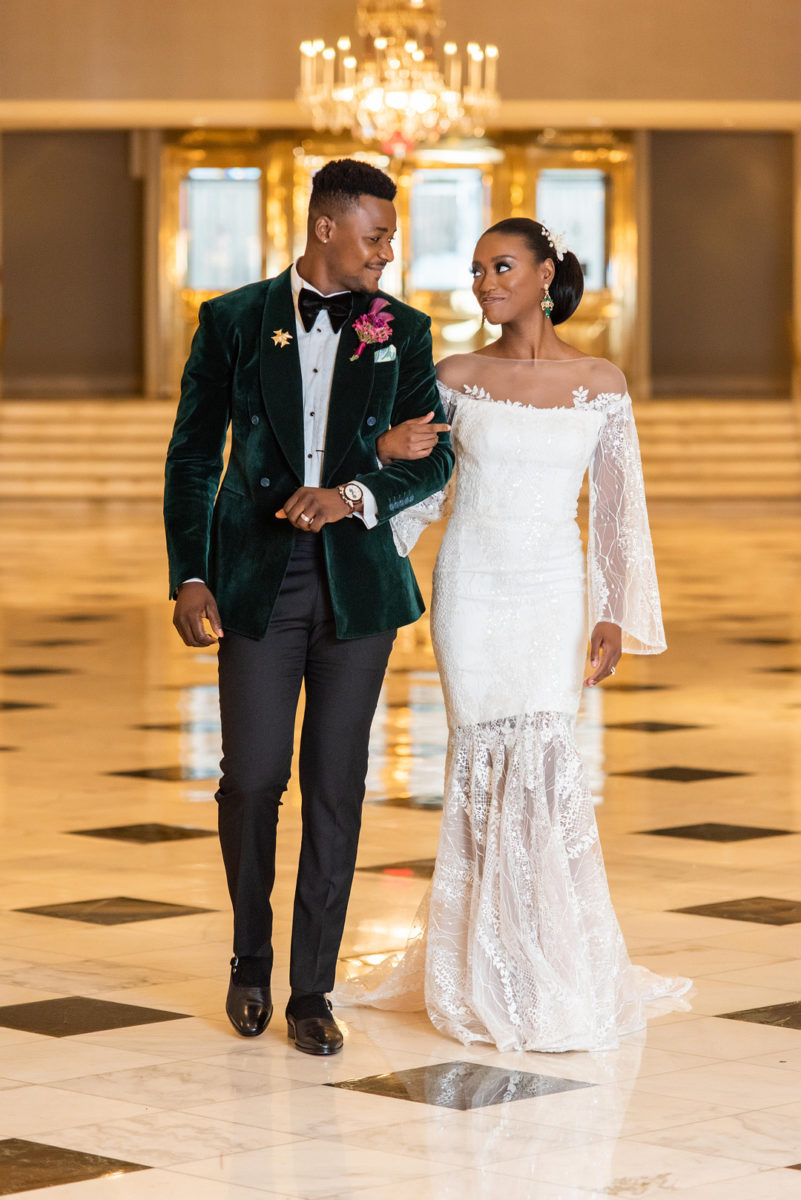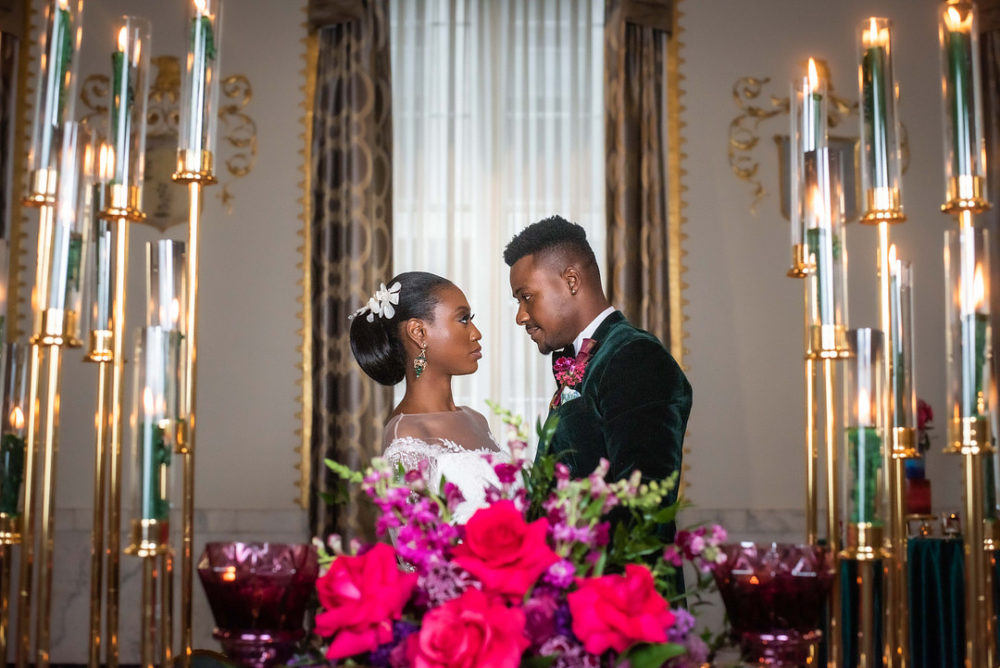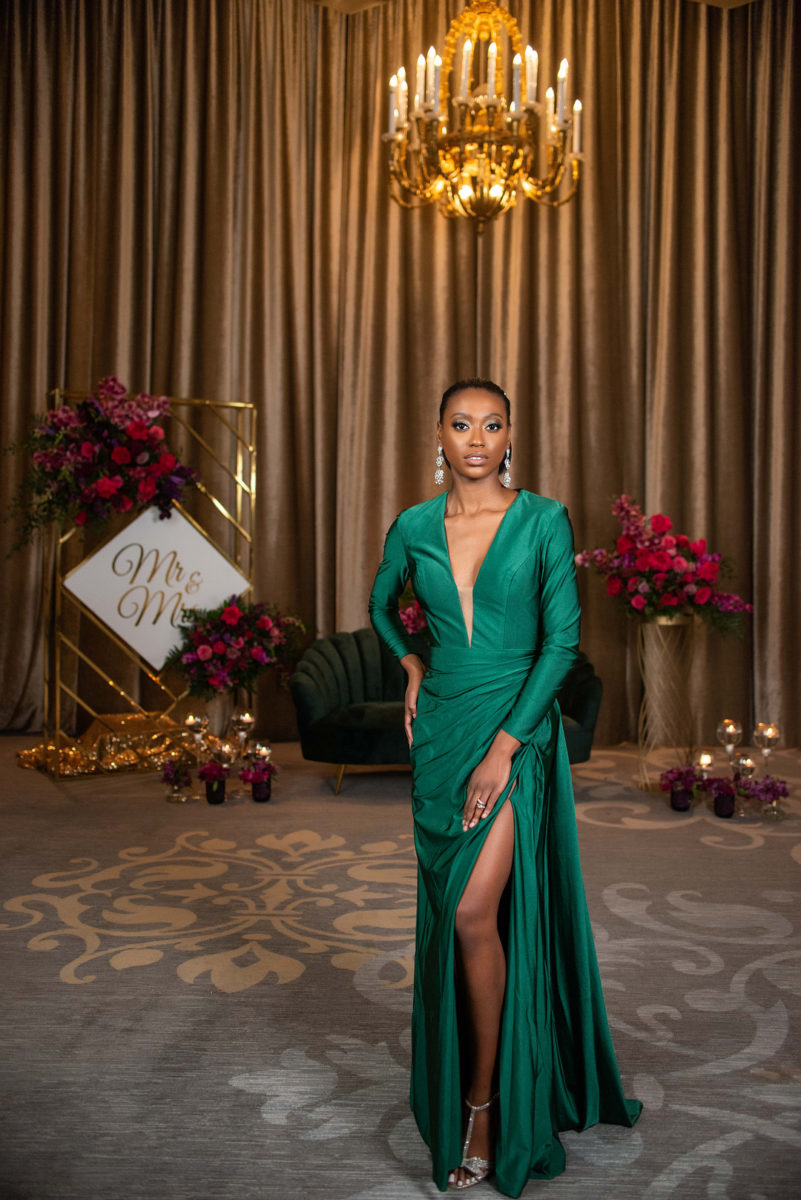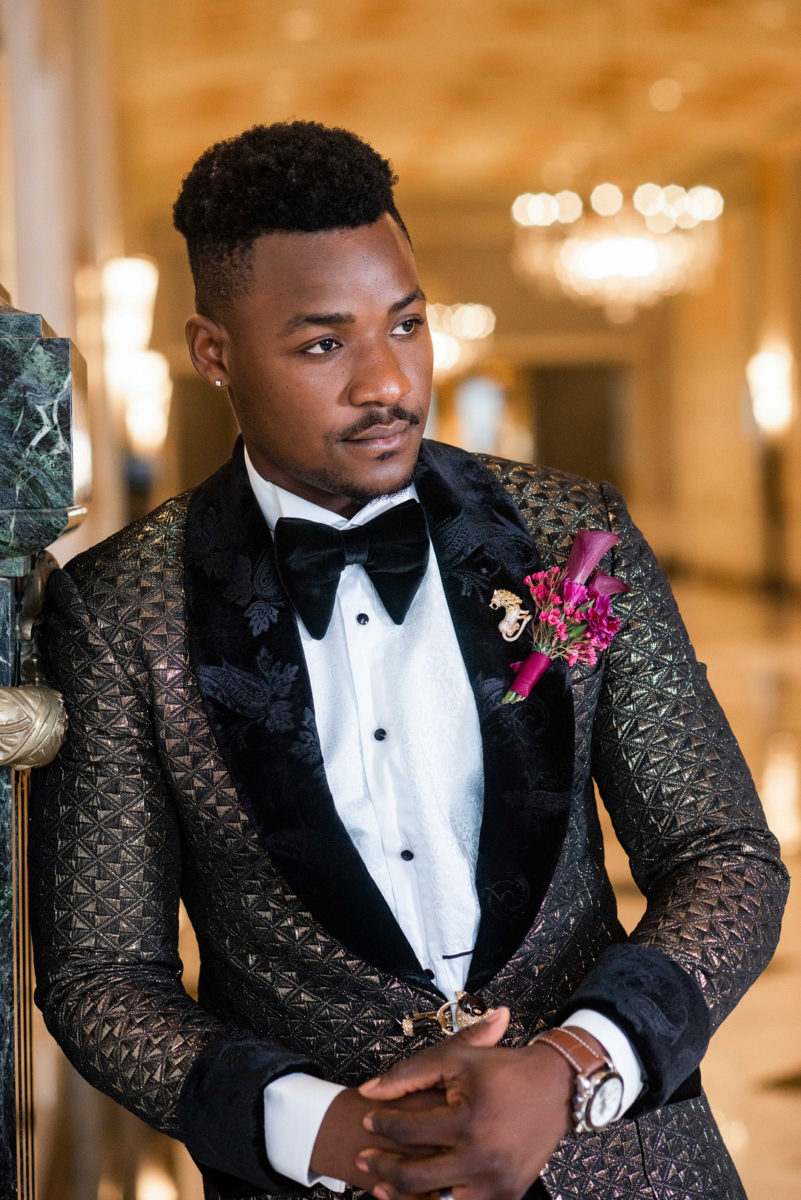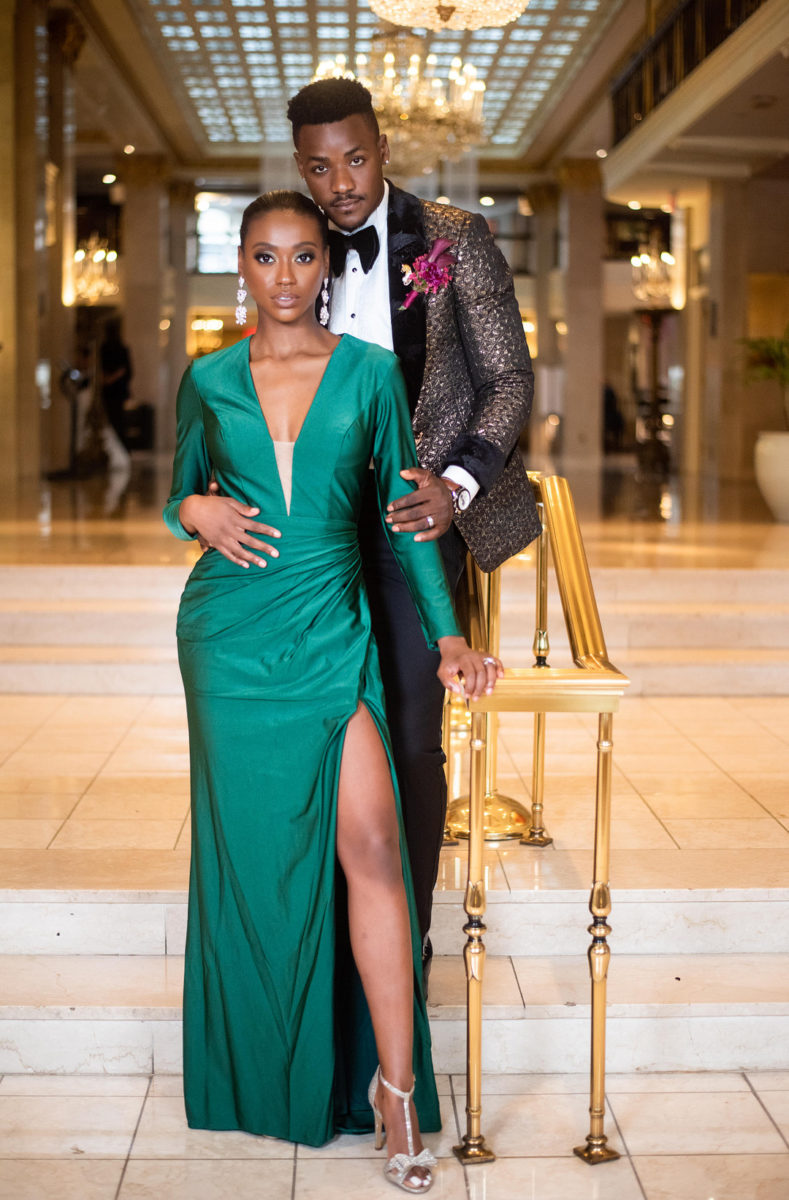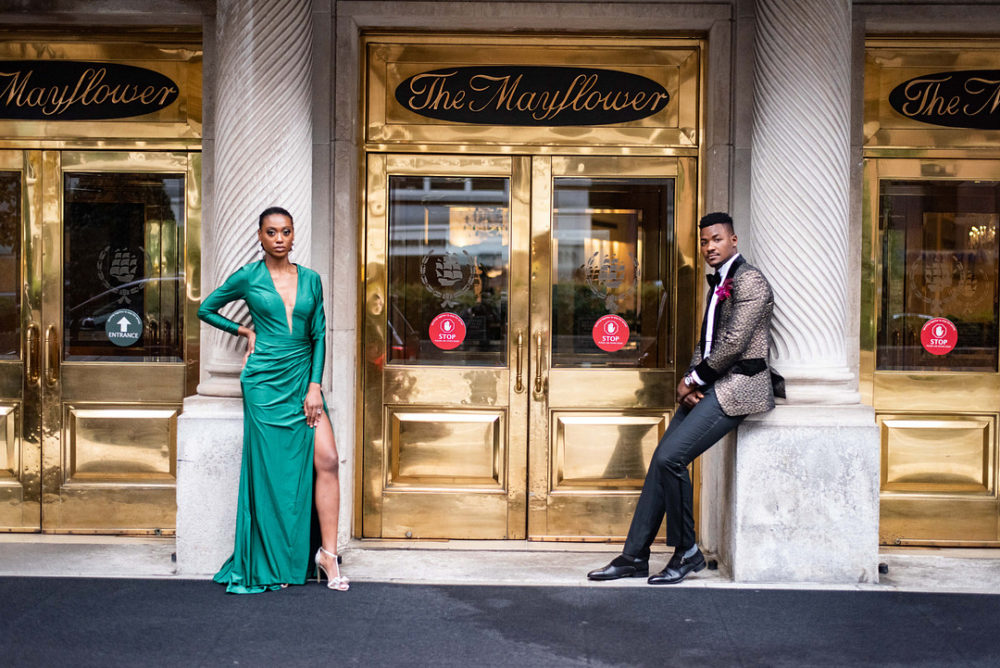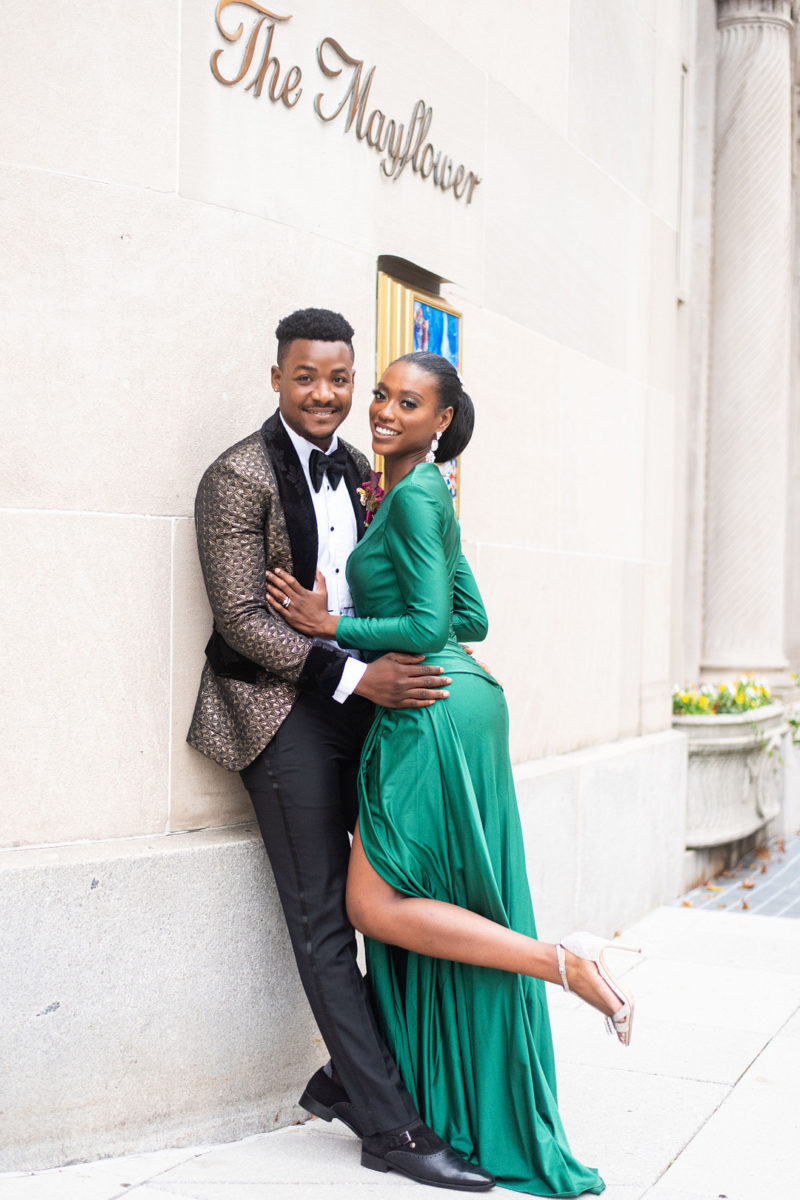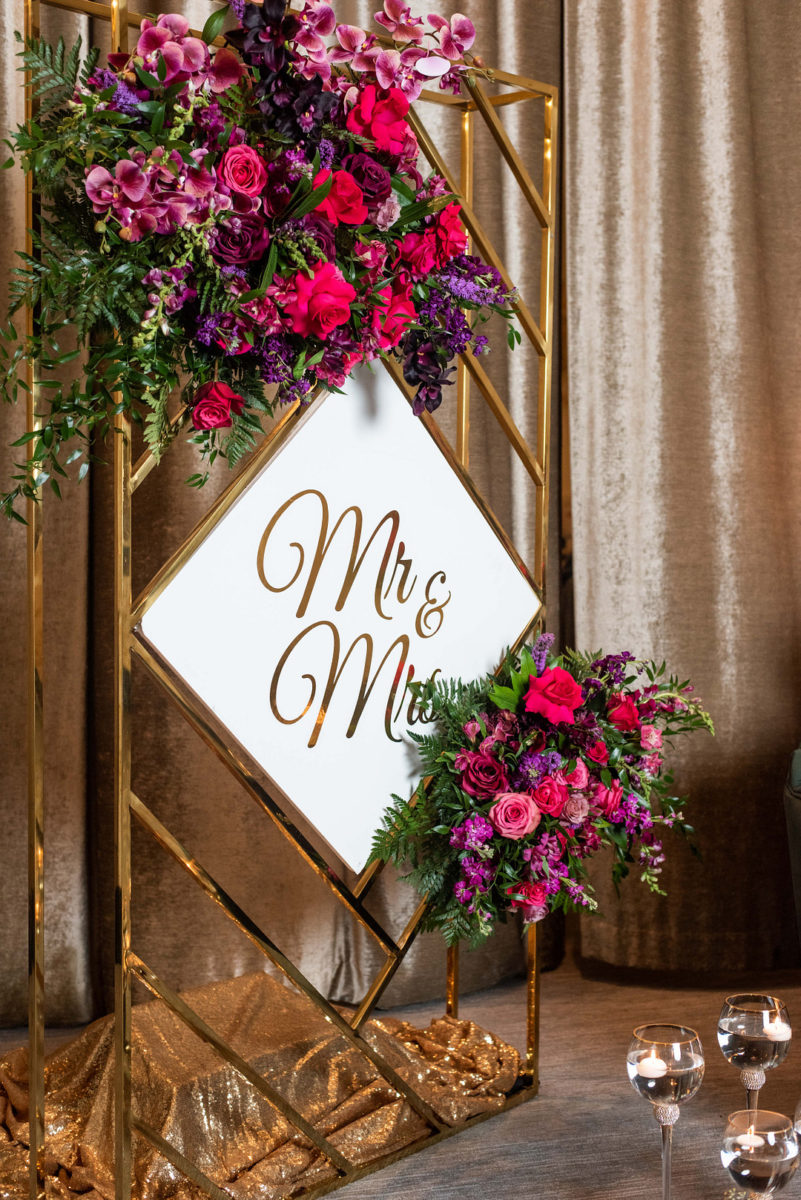 Associated Vendors
Model: jeanpierretov | Model: youkendobetter | Reception Venue: The Mayflower Hotel  | Cake Designer: Alexandra Sweets & Co. | Ring Designer: Moijey Diamond Rings | Other: Phemstar Productions | Invitation Designer: Put It On Paper Stationary | Groomsman Attire: Stanlion | Dress Store: Nordstrom | Dress Store: Soliloquy Bridal Salon | Hair Stylist: Go by Geohaghan | Makeup Artist: Toni Fuqua Makeup Artistry | Equipment Rentals: DC Rental |Other: Nostalgia Event Rentals | Event Designer: TreBella Events and KK&S Events| Hair Stylist: Dolled by Nueye | Event Planner: Phoriah Events | Photographer: RLJ Photography, LLC