Miha ♥ April
Today's feature is the wedding of a professional tennis player and a southern belle – two people who literally came from the opposite ends of the world. Inspired by James Bond movies, Miha was absolutely the man of the day with his white dapper tuxedo. April, on the other hand, was the most beautiful princess on her white strapless gown. Filled with lots of swag decor, glamorous chandeliers, flowers and blush accents throughout the ceremony and reception, I could say that their wedding featured the best of both worlds.  Congratulations for surrendering and succumbing to the greatest and the sweetest thing ever to have happened to you both – LOVE!
Details That Made This Wedding Extra Special
The wedding planner. None other than the bride's mom. Having her mom plan the wedding, it was the greatest gift of all for April. She knew exactly what they wanted and how to execute an elegant, classy, summer wedding. It took a huge burden and stress off of them. She had a timeline for everything and told them exactly what we needed to do each step of the way. She was involved in every single detail of the wedding and it was executed perfectly. She knew how to create exactly what the couple wanted and where to spend resources and where to cut back to make a great event.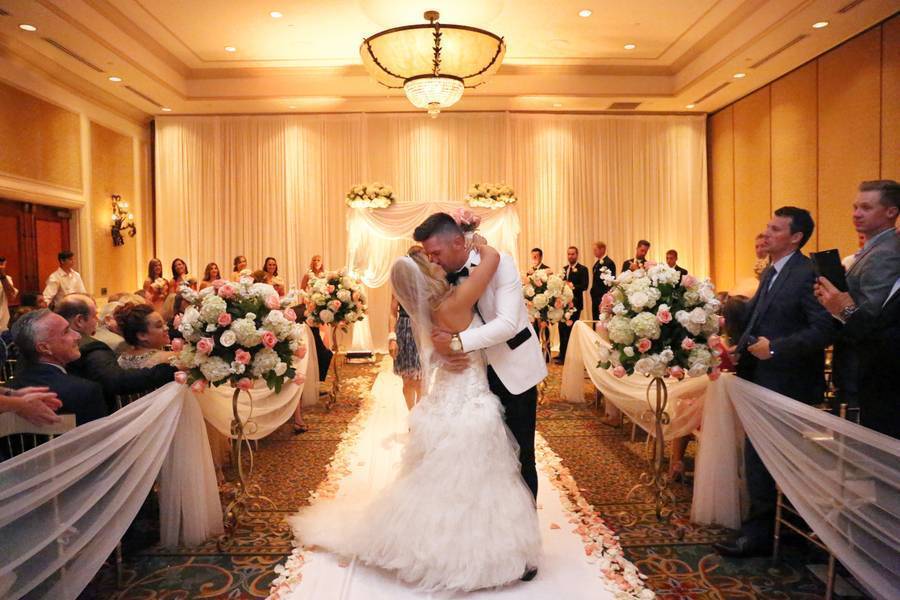 The music. The wedding had 2 opera singers during the ceremony who sang "The Prayer" in both languages during the Candle lighting ceremony. They were accompanied by a string quartet. The string quartet also played while the couple walked down the isle and while guests were being seated for the ceremony. There was also the DJ who switched from American Music to Balkin Music all night during the reception. This made for a great time on the dance floor.
The decor. The reception and ceremony rooms were elegant and beautiful. April and Miha were picky about the Pastel Coral rose pedals in the floral arrangements and were able to bring in the cream and champagne colors with the help of our florist. They also spent a lot of time on the lighting and the "look" of the rooms, which greatly paid off.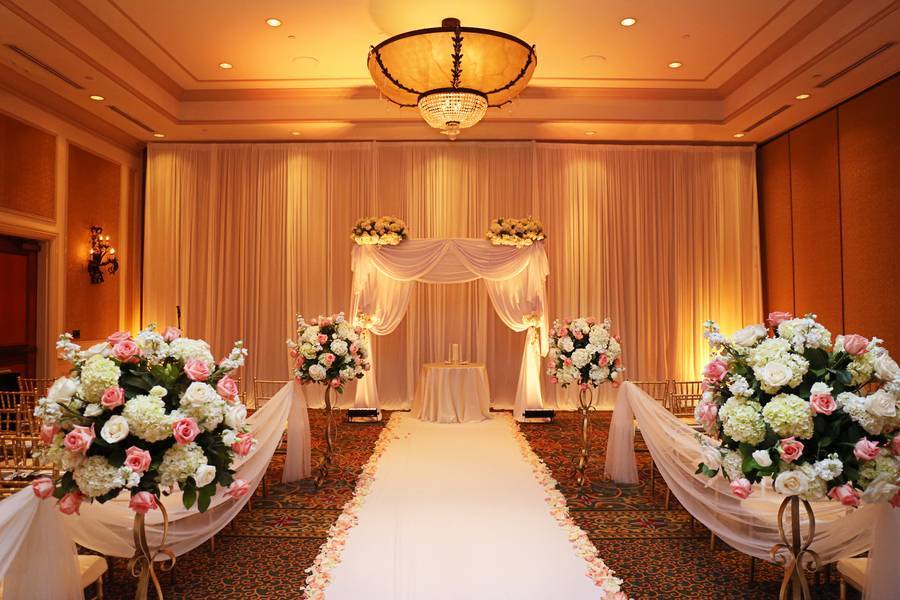 The food. There were plenty of appetizers and cocktails at the reception knowing that people would be hungry. A very upscale dinner menu was served and the couple also worked with the Marriott on substituting different food options. With the open bar, everyone had a good time at the reception.
The invitations. Invitations were custom made and absolutely stunning. Custom stamps were made and each invitation was hand made with a lace overlap.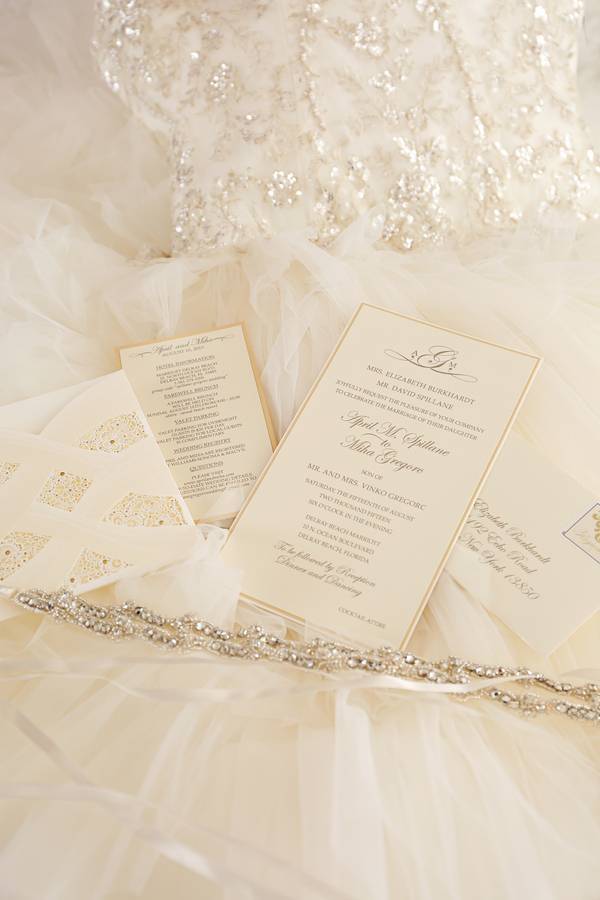 Tips From the Bride
♥ We put a lot of effort into bringing two cultures together and making sure that our guests had a wonderful time. The most important advice we could share is to make your event a special weekend to bring all of your friends and family together. We knew this was a destination wedding for essentially everyone accept ourselves and we made the entire weekend about everyone "wanting" to come and everyone having a "wonderful experience".

♥ Some other pieces of advice are to spend money and resources on certain things that matter and cut back on details nobody will notice. We put the extra resources and time into: INVITATIONS – to set the stage for what type of event guests could look forward to; FOOD & DRINKS – Everyone wants good food and drinks at a party; ENTERTAINMENT – making sure everyone had fun; and DECOR – making sure the room was stunning.

♥ Other advice – Do FIRST LOOK Photos and have a good photographer the day of the event!!! Brides – make sure you love and trust your hair and makeup people and that you have done trial(s) prior to the wedding. Its worth paying a little extra to have them stay for touch ups as well.

-April

Money Matters

Wedding Budget: $45,000 +
♥♥♥
VENDORS
Photography: Heather Rice Photography
Make-up: Alexis Gomez
Music: DJ Mike
String Quartet/Opera: Monty Bloom Entertainment
Floral & Event Decoraters: Dalsimer
Invitations: Nika Designs
Wedding Consultant: Lauren Fishman Events
Wedding Cake: Couture Cakes
Spray Tan Bridal Party: Toast Tanning Spa & Boutique
Graphic Designer: Morin Designs
Wedding Planner: Burkhardt Planning & Consulting
Wedding Venue: Delray Beach Marriott