Persistence is the ultimate key, and KC is the ideal example for it as he pursued Adaline for such a long time. With patience, both sustained their relationship for eleven long years and finally decided to put everything in paper! So, they decided to get married in the place where they met and fell in love – Malaysia. In the ceremony and reception, gold color palette is evident which is perfectly brewed with all the DIY decorations, the colonial feel of the hotel, and their Malaysian culture. This wedding is clear- cut intimate and romantic. Congratulations Adaline and KC!
Our Story
We met at college in Malaysia. We got to know each other through a mutual friend and became good friends. We bonded over food and video games. We were constantly chatting online and would go out for dinner sometimes since we were staying on campus. We'd also go out for drives at times or shopping. I knew from the start that KC was interested in me, but I didn't feel quite the same at the start. I had to say no to him a few times (that's how persistent he was!). It was a yearlong courtship for KC before we actually started dating. I was slowly falling for him but didn't want to admit it to myself at first. I guess you could say I friend zoned him, but love happens when we least expect it and we've never been happier since!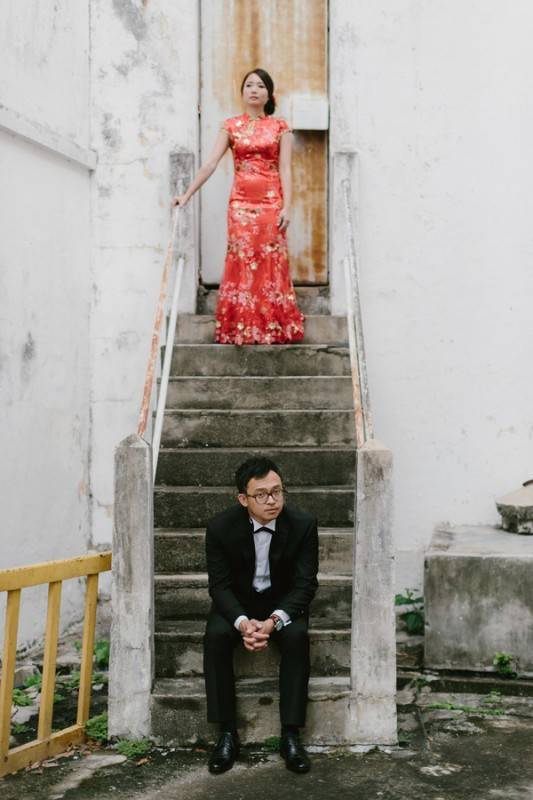 We Are A Perfect Match
I think we are a perfect match because we complement each other in many ways, we share the same vision and most importantly we make each other happy!
The Proposal
We dated for about 11 years before we became engaged. It seems like a ridiculously long time for a lot of people but we felt that it was the right timing for us. The proposal happened at Newport Beach, Sydney. It was a Friday and after a long week at work, I suggested going for a walk. We ended up at the beach and it was a pretty quiet day there. We walked towards one end of the beach and sat on the rocks, watching the waves. I remember looking away for a minute and then when I looked back at KC, he was down on one knee and holding a ring. I was completely surprised! To be honest, I couldn't remember exactly what he said as I was very emotional at the time, but he definitely said he loved me very much and asked me to marry him! And I said yes!
The Planning Process
We took about 1 year to plan the wedding. I think that was enough to have everything sorted and ready before the wedding day without getting too stressed out. Also at the same time it was not too long that one might lose some excitement towards the big day.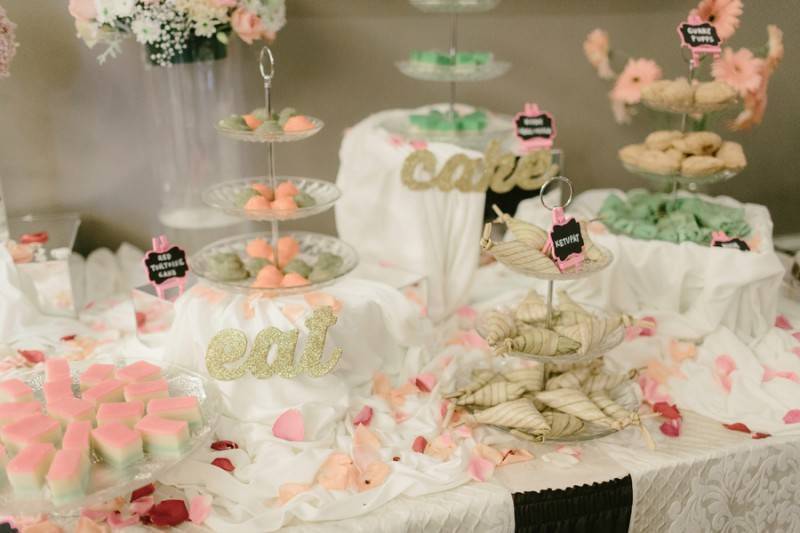 The Best Advice We Received
To not sweat the small stuff if things don't go perfectly as planned. Some hiccups are bound to happen, so the best thing to do is to try and fix any issues as much as you can before the wedding day. Otherwise, delegate to someone who can help. Most important thing is to fully enjoy the day and not to worry about anything!
The Challenges We Faced
Since our wedding was a destination wedding and we didn't have a wedding planner, we had to contact all the vendors ourselves. We thought we could work things out with the vendors via email, but that didn't seem to be the preferred method of communication with vendors there. After some long waits on email replies, we decided to try using Whatsapp. That worked out well and we got the responses we needed much more promptly! The lesson learnt here is if one way doesn't work, one must try to find other alternatives or learn how the local vendors work in order to get things done as planned.
Wedding Decor Inspiration
We had a neutral and gold color palette for our wedding. We wanted a style that will complement the elegant and colonial look of the hotel. We also tried to keep the decoration somewhat simple and minimal since the hotel venue was already beautiful on its own. By keeping the colours neutral with pops of gold, I felt that it'll help to accent the venue and it's also an easy color scheme to work with overall. We had a particular soft spot for draping, so we made sure we had draping as backdrop for our wedding ceremony, photo booth and entrance to the reception. It gave the venue a very romantic and intimate feel to it. We made sure there were just enough flowers around the venue as well to tie up the look.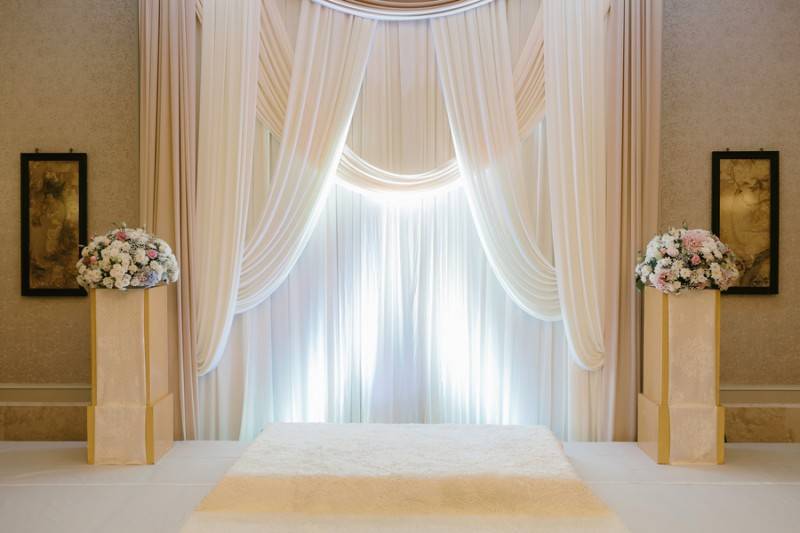 Wedding Outfit Inspiration
I had on a red sequined ankle-length mermaid style Chinese wedding cheongsam for the tea ceremony. I wanted a cheongsam that would reflect our Chinese culture but at the same time not completely traditional. So the mermaid style of the dress was the modern element to the outfit while the rest of it still looks like how a traditional cheongsam would. For my wedding dress, I knew that I wanted a strapless dress, and the Pronovias Ledurne dress I had on made the strapless look more amazing with the feathered neckline. It was also a mermaid silhouette gown with tulle, which is a very flattering look. I kept the accessories minimal (with only a hair piece and ear rings) so it doesn't take too much away from the dress. There were lots of compliments on the dress on my wedding day! As for the groom, he wanted to go for a classy look, so a tuxedo was the obvious choice for him and we had it custom made.
Our Do-It-Yourself (DIY) Projects
We did our own Save the Dates, wedding invitations, ceremony booklets, place cards, seating chart and "Eat Cake" sign for the dessert table.
Save the Dates: We designed the Save the Dates with a map of Malaysia where our wedding was held. We had it printed out as postcard sized magnets so people could put it on their fridge as a reminder.
Wedding invitation suite: We also designed and printed the invitation suite, including the envelope and address label. We used a blush color background for the invite with gold envelopes to match the color palette that was chosen.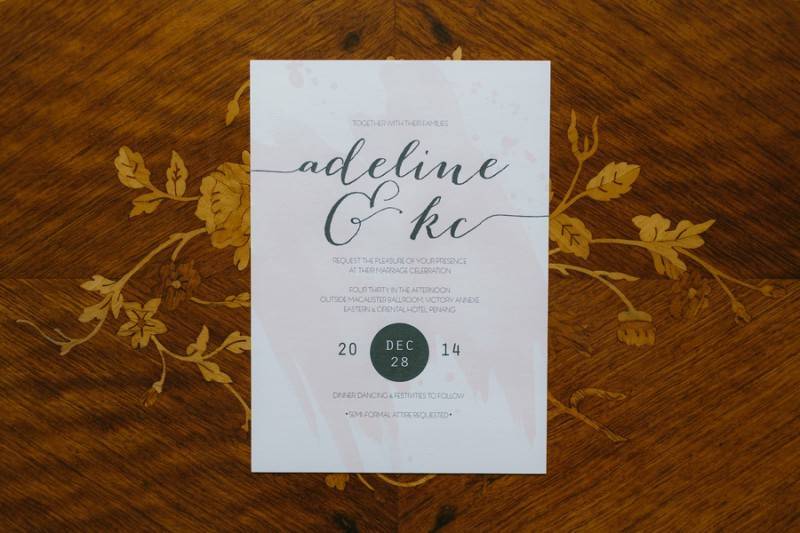 Place cards: We had the place cards attached to the chopsticks that we were giving out as one of the wedding favours.
Seating chart: The seating arrangements for each table was printed on a postcard sized paper and then glued to a gold backdrop to match the color palette that was chosen.
Eat Cake sign: Found a wonderful tutorial for the Eat Cake sign here:
http://liagriffith.com/diy-eat-cake-party-banner/
It was pretty easy to do and the result was quite impressive as well.
Money Matters
Our wedding budget was AUD20000 and we managed to stick to that budget. We saved the most money on wedding stationery. We DIY all the invites, envelopes, ceremony booklets and place cards. However, the biggest expense was the reception dinner.
The Guest List
We invited about 160 people and the final guest count was 140. We didn't have to do much narrowing down because as it turned out, a number of guests couldn't make it. So the final number was close to what we had originally planned for.
The Songs
Processional: Rest of My Life by Holley Maher
Recessional: Love You Madly by Cake
The Honeymoon
We went on a 4-week honeymoon around Europe. We travelled to France, Italy, Germany, Austria and UK. We didn't have much time to plan in detail what we were going to do but that was the best part of the honeymoon. We would just do whatever we felt like on the day and took it easy. It was more about enjoying the time that we had in the cities and appreciating its beauty, rather than trying to see all the touristy sites available.
The Next Step
We are looking forward to moving to our own home sometime in the near future and getting a dog! We've wanted to get a dog for quite a while now but never had the chance to.
Planning Advice For Couples
My advice is to keep things simple and don't get too carried away on Pinterest! It's good to have many ideas but at the same time, it can be overwhelming. Once you worked out what you really like, stick with them and don't second-guess yourself. At the end of the day, everything will somehow fall into place and it's more about enjoying the moment with the person you are marrying rather than how the wedding looks.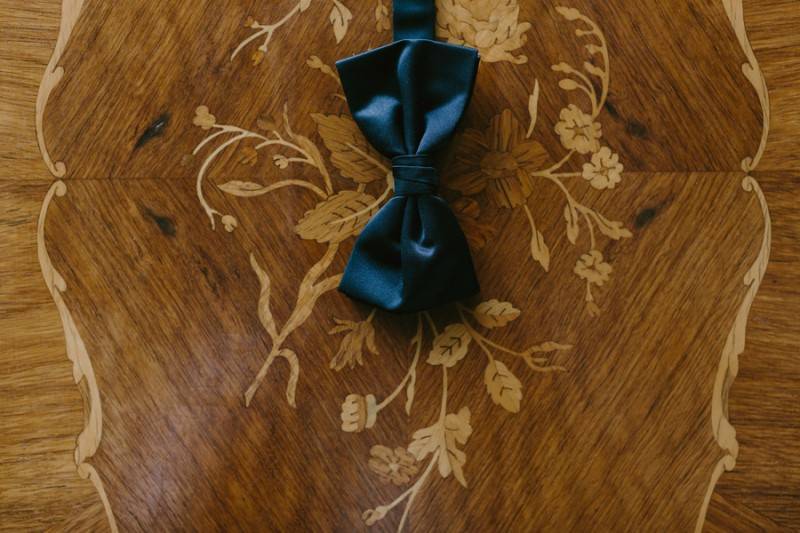 Favorite Part of the Day
My favourite part of the day was when we went on our photoshoot with our photographer. It gave us some time away from the rush of the day to have a little breather and enjoy that moment together. We also got to check out some pretty cool spots near our wedding venue for our portrait shots, which we would have never thought of going to ourselves!
A Memorable Moment
I think the most memorable for me was when we danced into the reception ballroom with the LMFAO Sexy and I Know It song. We are not known to be the dancing type, and we didn't actually rehearse for it either. It turned out pretty good I think and we could see guests were laughing as we were dancing in. It was good fun!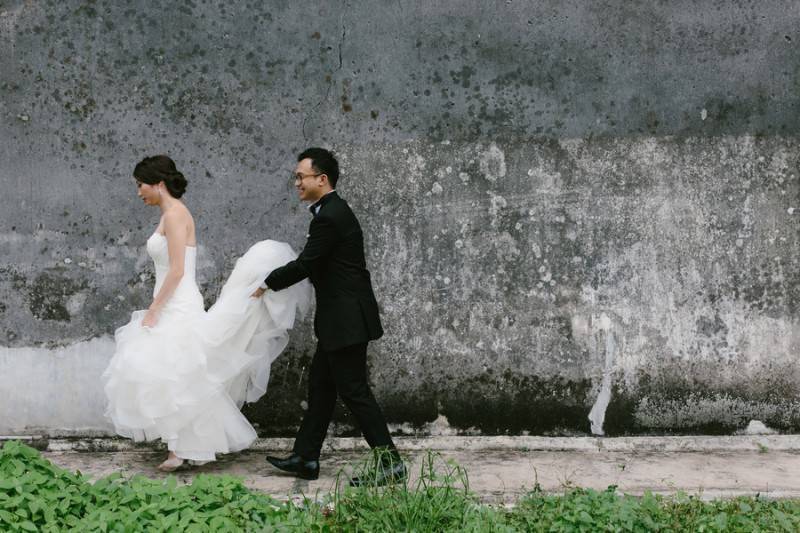 VENDORS
Photographer:  Eric Ronald
Location: Eastern and Oriental Hotel
Makeup Artist: Angela Kang
Ceremony Location: Eastern & Oriental Hotel
Event Venue: Eastern & Oriental Hotel
Dress Store: Fashions by Farina
Jewelry: Glamadonna
Ring Designer: Grand Jewellery
Tuxedo and Mens Attire: Institchu
Cake Designer: Penang Wedding Cakes
Floral Designer: Sofi Bridal
Shoes: Velari
Band: Wedding in Charlie