Greg and Dana's wedding is an example of an enchanting indoor wedding. Dana, the lovely bride, looked like a fairy princess in her Carolina Herrera dress, and Greg too looked dapper in his ensemble. But their chuppah is the one that took my breath away the most. It was made out of flowers and twigs that were so enchanting and sweet. Scroll down to see how Greg and Dana made their wedding romantic and whimsical — get ready to be enchanted!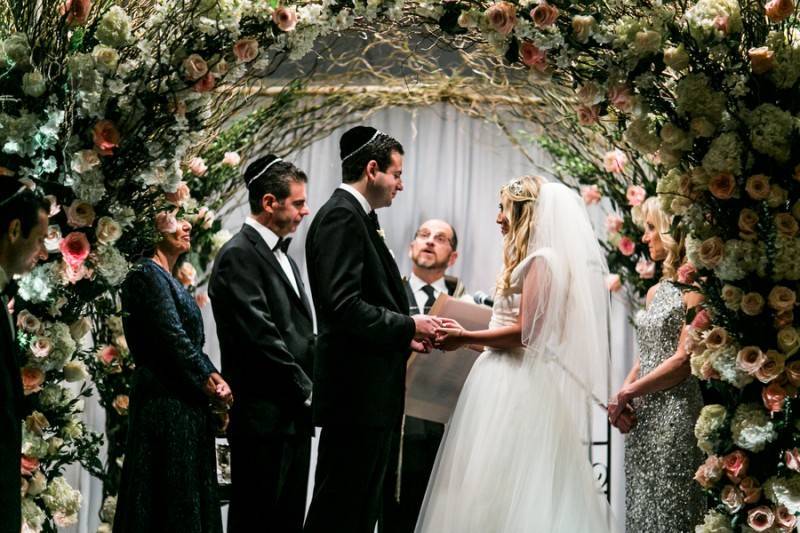 Greg & Dana were wed at Fresh Meadow Country Club on Long Island in September. Dana wore a gorgeous gown by Carolina Herrera– it was perfect on her and Greg's face full of delight at the first look was so fun to capture. The forecast was for rain and we weren't sure what time it would start, but we lucked out and got just enough time to do the couple's portraits together outside before it started coming down. We even got to hop on some golf carts and head down to this pretty spot with a bridge over a little pond for some other scenic pictures out in the grounds. Once back inside we shot the family portraits in front of a lovely floral Chuppah prepared by Bride & Blossom, and then the couple went upstairs to sign their Ketubah with the Rabbi while guests arrived and took their seats in the ceremony room downstairs.

After their beautiful ceremony, guests enjoyed a multi-room cocktail hour with amazing food (there was even a sushi bar!) and specialty cocktails. Meanwhile the staff at Fresh Meadow expertly transformed the ceremony room into a reception area complete with a dance floor. I had my photobooth ready to go for the evening and Greg & Dana's friends and family made wonderful use of it all night long. Highlights of the reception included some very sweet and amusing toasts from parents and siblings, and I must say I was particularly impressed with the band- they were amazing and I've never seen an electric violinist perform with such gusto! Towards the end of the evening I took the happy couple outside (it had stopped raining) to do a night portrait of them– this time we made a heart painted with light over a long exposure. Check out my favorite shots from this beautiful wedding and congratulations to Greg & Dana!

— Sarah Tew, photographer
Favorite Part of The Day:
Violin solo in the middle of the dance floor — the band was fantastic and got the crowd celebrating.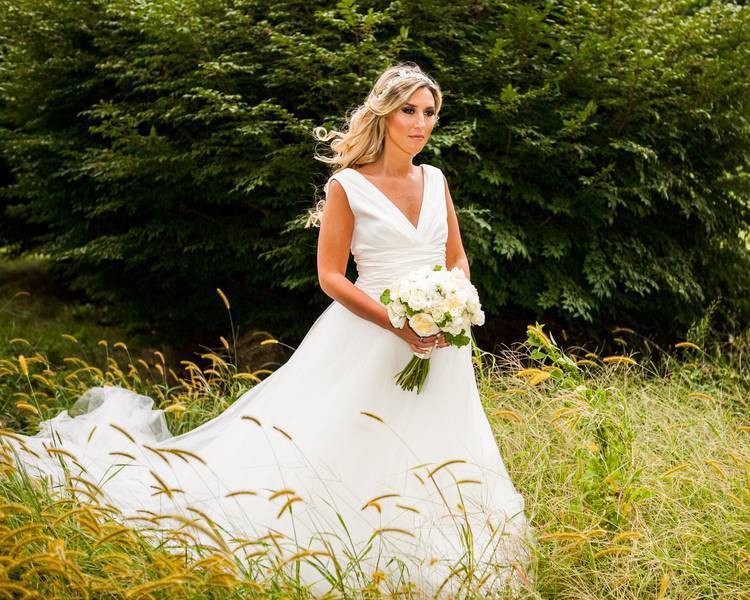 The Highlights from the Ceremony & Reception:
Funny toasts from the best man and maid of honor, amazing performance by the band at the reception.
Most Memorable Moment:
Holding the kiddush cup for each other to drink from. There seemed to be a time of hilarity when Dana held the cup for Greg to drink from, though I'm not sure myself what happened that was funny.
VENDORS
Photographer: Sarah Tew Photography
Other: Community Synagogue
Professional: Fresh Meadow Country Club
Floral Designer: Bride & Blossom
Dress Designer: Carolina Herrera
Event Planner: Dana Kamerman
Caterer: Fresh Meadow Country Club
Reception Venue: Fresh Meadow Country Club
Musicians: Hank Lane Music
Bridesmaid Dresses: Pamella Rolland
Design and Decor: Paper Treasure Designs
Tuxedo and Mens Attire: Tom Ford
Dress Store: Wedding Salon of Manhasset