Christian ♥ Carrie
Every wedding is a fairytale and it's so true in Christian and Carrie's big day. They chose the colors lavender and gray and it gave their wedding an effortless glam. The warmest wishes to a wonderful couple! May your love never fade and only grow stronger!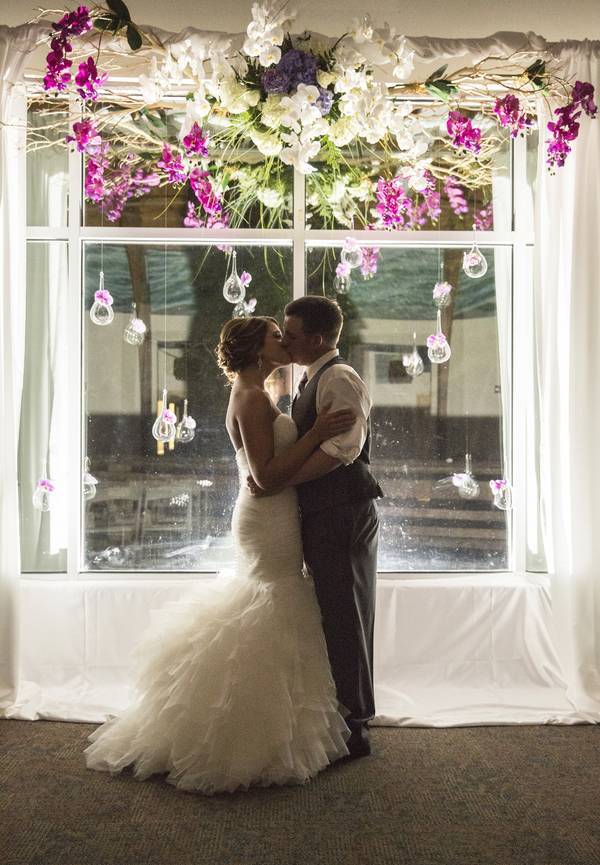 How He Popped The Question
From the bride:
Our engagement is something that we will never forget. Christian secretly planned it out for months and although we had talked about getting married, I had no idea a proposal was coming. About a month before he did it, he told me that he had entered a raffle at work to go tour the Durham Bulls Stadium and then didn't mention or say anything else about it until about 5 days before the date. He called me and told me that he had won the raffle he entered at work and that we were going to go tour the Stadium on the upcoming Sunday. (Side note, I was a softball player, Christian was a baseball player and we are both huge baseball fans and we love going to Bulls games together.) When we got to the Stadium that Sunday morning a "tour guide" met us at the gate and started to take us on our "tour." We went past the locker rooms and Wooly Bull's dressing room and eventually made our way out onto the field. When we got onto the field our "tour guide" told us to just walk around and take it all in. Christian then said let's go to the pitcher's mound first and of course I agreed. When we got to the mound we started pointing to all of the seats we had sat in at games together and then I look over to Christian and he was down on one knee. I had never been more shocked or excited in my life, but the story doesn't stop there. He also had a photographer there to capture it all and he then took me to lunch and surprised me with both of our families being there. After Christian's grand slam proposal, we started planning our wedding and it could not have turned out any better!
The Happily Ever After
Extra Special Details
The venue. From getting married in front of a window overlooking a beautiful landscape with the Sound in the background, to cocktail hour in a room with freshwater fish and otters, to the reception with guests eating next to sea turtles and dancing next to sharks.
The ceremony. You could feel the love in the room and the groom's reaction when he was surprised by his sister singing as his bride walked down the aisle was priceless!
The florals and decor. Everywhere you looked, there were breathtaking florals with various shades of purples, pinks and white. The bride's bouquet, the design of 8,000 rose petals on the aisle runner, the ceremony backdrop and the centerpieces at the reception helped turn this wedding into a picture perfect fairytale. The dragonfly pin on the maid of honor's bouquet had a significance to the family. The florist glued all the petals to the runner down the aisle of the ceremony herself and created it just for this event.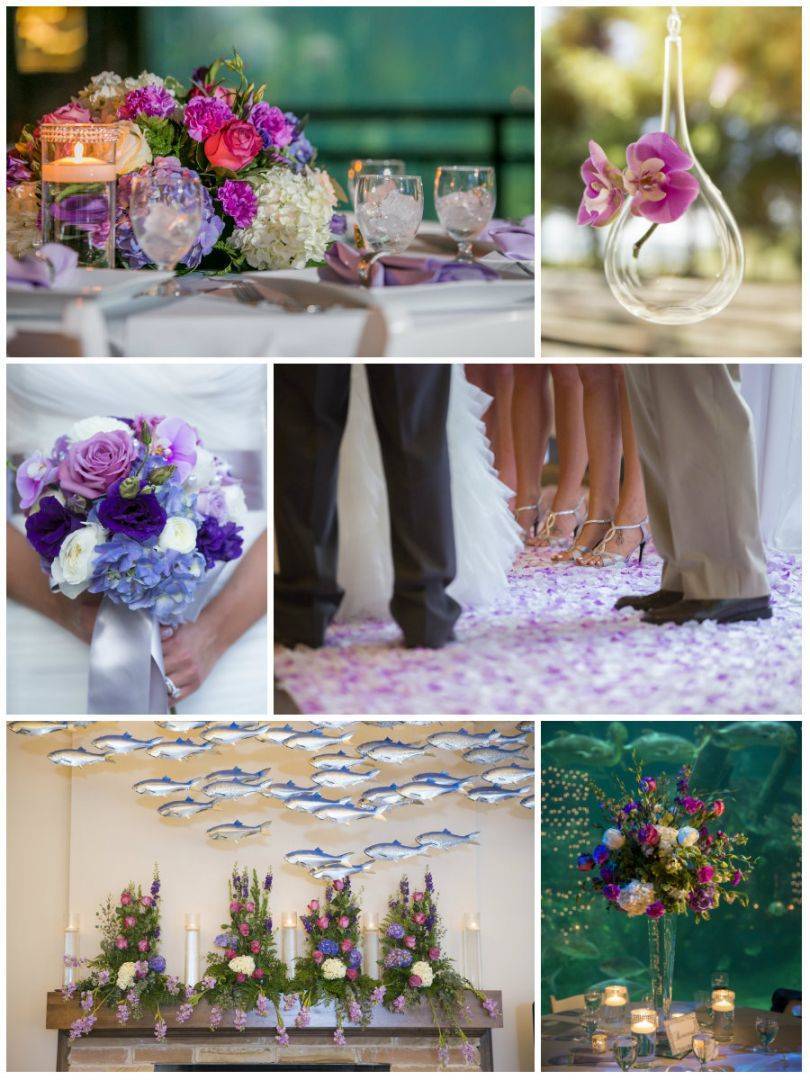 The bridal style. Inspired by modern elegance and a bride who loves fashion.
Something Old, Borrowed and Blue. The bride used items that were very sentimental to her for her something old, something borrowed and something blue. For something old, the stems of her bouquet were wrapped with a piece of lace from her mom's wedding dress. For something borrowed, her MawMaw's wedding ring was tied onto her bouquet. For something blue, two hearts, cut from one of her dad's blue shirts, were sewn to the inside of her dress.
Daddy's girl. The bride had a special moment where she gave her dad a picture from her bridal session that had a softball that said "I love you." This was a sport that they did together as she grew up.
The Bride's Advice
♥ I love the pictures from our wedding and our photographer was amazing, so I definitely recommend finding a great photographer because the day will fly by, but the pictures will last a lifetime.

♥ Do some research to find the best vendors for your big day. All of our vendors were wonderful to work with and we knew we were in good hands. — Carrie
The Photographer's Advice
Be sure to look at a full wedding gallery of any photographer you are considering. That's where you can really see the consistency of their skills. Consistency is what makes a professional a professional. Anyone can take a great image now and then, but don't you want more than 5 great images from your wedding? Your photographer is going to be with you more than anyone else on your wedding day, so take the time to talk with them by phone or in person to make sure you are a good match with their personality. If you feel comfortable around them, it will show in how relaxed and natural your pictures feel. — Ellen
Money Matters
$20,000 – $45,000
VENDORS
Photographer: Ellen LeRoy Photography
Transportation: A Diamond Limousine
Cake Designer: American Dream Cakes
Floral Designer: Blossom Artistry Weddings
Equipment Rentals: Crystal Coast Tent and Event Rentals
DJ: DJ Professionals and Video
Caterer: Floyd's 1921
Dress Store: Maggi Bridal
Invitation Designer: Minted.com
Reception Venue: NC Aquarium
Dress Store: The Little White Dress
Dress Designer: Wtoo by Watters