You know how we hear of proposal stories that always seem to involve a fancy dinner? It's always so sweet and romantic when the guy sets everything up leading to that big question. Bryan was no different and made sure everything was perfect when he asked Lauren to be his bride. His hard work that fateful night in Paris definitely paid off and now we're here to sneak a peek into their beautiful wedding.
Lauren and her bridal party had fun getting ready while wearing matching robes — these robes are always such a cute thing to do with girl friends! They later emerged wearing lovely gray bridesmaid dresses in chic and stylish cuts. Lauren, on the other hand, was gorgeous like a model in her beautiful lace gown with an open back. Standing beside Bryan, who looked very handsome in his gray suit, they looked just like those couples in the magazines. Now, you may think that all that gray might be a bit too drab for a wedding, but with the bright pops of lemon and lime, everything looked perfect! Not too over the top and with just enough fancy details (even with the boat ride back to the hotel). Congratulations, Lauren and Bryan!
The Proposal:
While on our amazing European trip in May, Bryan had a few tricks up his sleeve. Nine days into the trip, on their last night in Paris, they headed to their planned "fancy dinner." Bryan was adamant about stopping on the walk to dinner in order to finish a bottle of wine. After many attempts to get out of it because of the chilly night, I finally gave in. On the Pont Neuf bridge, next to the Seine River, Bryan got down on one knee and popped the big question! The next big surprise came when my mom popped out of the bushes and was there to celebrate with us in Paris! Bryan's grand plans all came through, and we were off to London to celebrate! – Lauren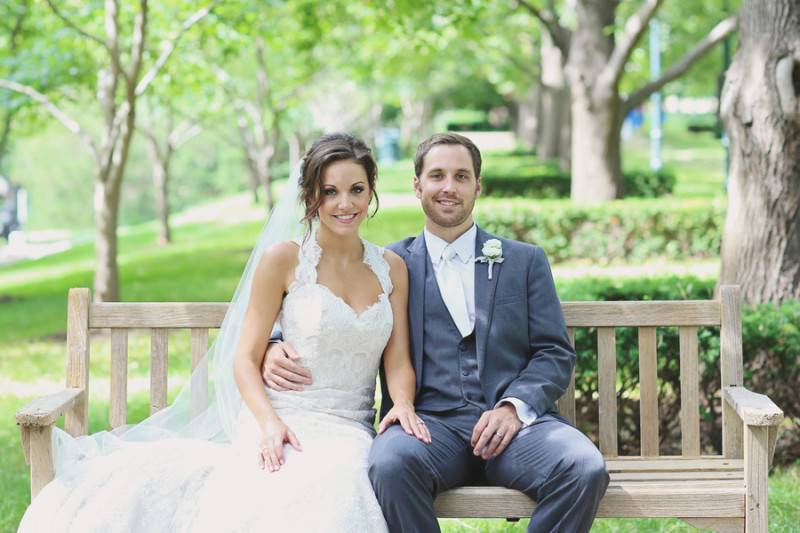 The Album Story by the Photographer:
This was such a fun wedding. The girls got ready in a gorgeous condo in the Kansas City Plaza, the ceremony took place in a beautiful stone church that was a photographer's dream, the wedding party rode in a trolley around town sipping champagne and dancing, the reception venue looked out over the romantic Lake Quivira where the couple spends most of their time, and the dance floor was never less than crazy crowded. Plus, to top off the night, Lauren and Bryan sped away from their reception on Bryan's boat decked out in white lights. Totally "Love Actually." So romantic.
Favorite Part of the Day:
Easily, the trolley ride! Trollies are always so fun. The entire wedding party relaxes, breaks out the champagne, music and dancing.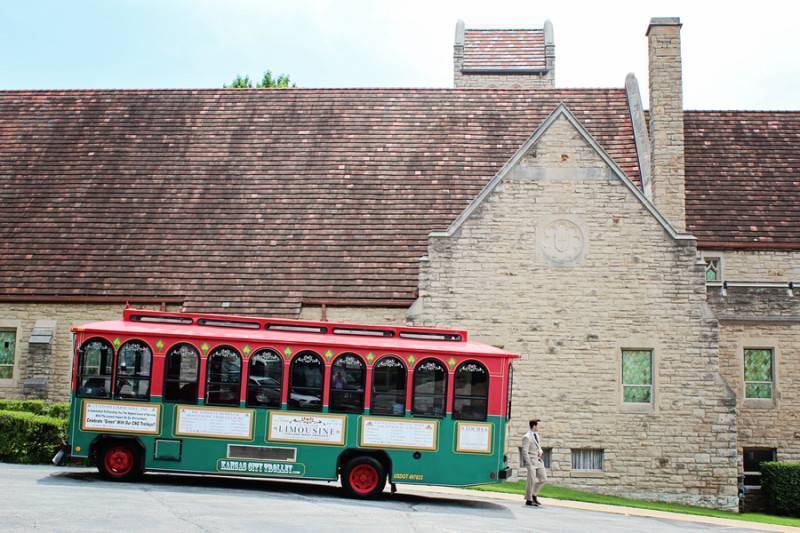 Wedding Highlights:
Bryan and his mother had choreographed an amazing mother/son dance, with a bunch of different songs and dance styles fused together. It was absolutely hilarious.
A Memorable Moment:
The send-off after the reception was incredible. The remaining guests congregated on a boat deck out on Lake Quivira for a gorgeous send off. Lauren and Bryan ran through the well-wishers onto Bryan's boat, completely decked out in white lights, before speeding off to their elegant hotel!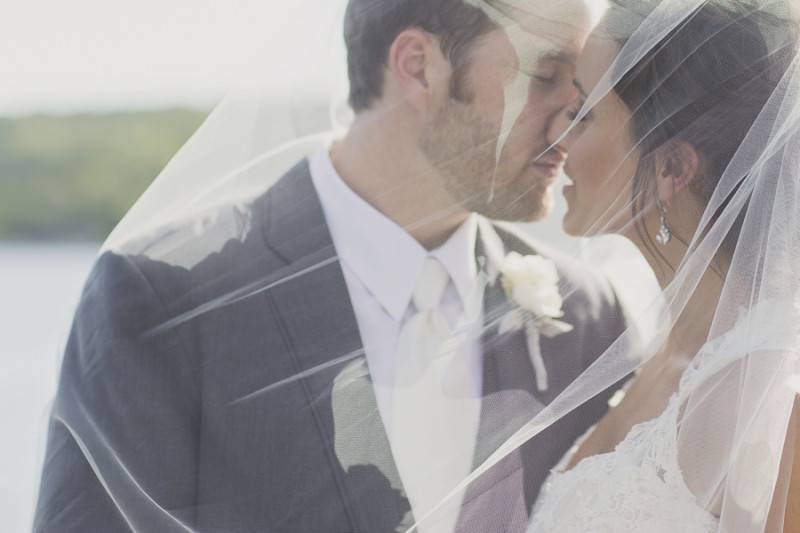 The Wedding Video:
VENDORS:
Photographer: Frameless Photography
Make-up Artist: Blush Spa
Dress Store: Bridal Extraordinaire
DJ: Elite Sounds Entertainment Group
Bakery: HyVee Bakery
Location: Lake Quivira Country Club
Dress Designer: Marisa Bridals
Ring Designer: Richard Dolgin Private Jeweler
Other Location: St. Agnes Catholic Church
Floral Designer: The Flower Girl
Shoes: TOMS