Whites aren't only for summer anymore. Brennen and Kelsey had a fall themed wedding but they incorporated white instead of going all out dark earthy colors we usually see on fall weddings. I like the idea of dressing the flower girls white to showcase purity and youth.  The mini pumpkins that were arranged along the ceremony aisle gave a subtle fall hint, aside from the flower choices of course. Kelsey looked gorgeous in her immaculate white wedding dress. I noticed only a few brides can pull off a white wedding dress. Congratulations, Brennen and Kelsey, on your fall wedding!
Album Story:
Brennen and I were engaged on December 13, 2014. A friend of mine, Meredeth, is a photographer and Brennen asked her if she would contact me saying she needed to update her portfolio and if Brennen and I would take a few pictures for free. We decided to meet downtown at the Myriad gardens. Brennen took me out that afternoon and bought me a new dress and paid to have my nails done.
I had no clue what was going on. Brennen and I met Meredeth that evening and started taking pictures, but it was FREEZING! I was ready to go after a few pictures, but Brennen insisted we continue and take a few more pictures. Then finally Meredeth asked if there were any other poses we could think of and Brennen said he had one, got down on one knee and asked if I would spend the rest of my life with him. I said yes of course!
Planning the wedding was fun and I was thankful for my Mom who helped out tremendously! I wanted a fall theme, because it's my favorite season and Brennen I met and started dating in October. Within a week of being engaged, we had the venue scheduled, and I found my dress. Pinterest helped out a lot with finding different ideas and I was glad I had friends and family to help. I used fall colors, leaves, pumpkins, lanterns, candles and lots of fall colored flowers. We used mostly hydrangeas, calla lilies, and roses. The florist was amazing and knew exactly what my vision was!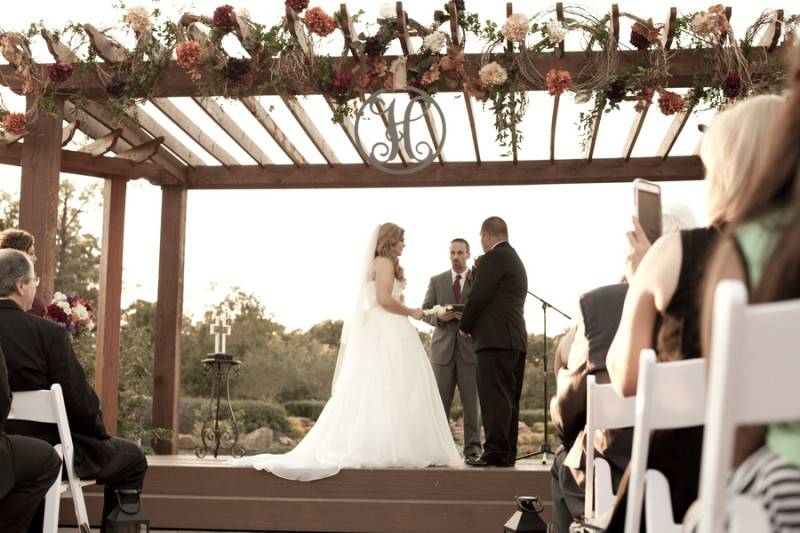 The wedding day was a big blur, but we had a blast! I can honestly say I wasn't nervous but more excited than anything to be marrying my best friend. Angela, the wedding planning did an amazing job to make everything go smoothly, and if something went wrong, I would have never noticed. The food and cake were fantastic and our photographer, Jessi was perfect! She made sure to capture every detail of our wedding. I loved that she focused on us and not take a million pictures of other things. After all, it's about the bride and groom right? The ice cream bar and photo booth were a big hit and kept the party going if people didn't want to dance. Our DJ did a great job keeping the party going all night long and never skipping a beat. I could have never asked for a perfect wedding!
I would recommend Jessi photography. She did such an amazing job capturing our special day. She made sure to capture every detail of our wedding from the bridal party to the decorations and us. I loved that she focused on us and not take a million pictures of other things. After all, it's about the bride and groom right? For my bridal portraits, she went above and beyond when the day was rained out, and we weren't able to use the venue for pictures. She immediately began calling people and places in town, and we were able to take a few pictures at a hotel downtown. She even came to the wedding early to get a few more bridal portraits because she knew I wanted to take pictures at my venue.
Wedding Day Outfit Inspiration:
Fall Colors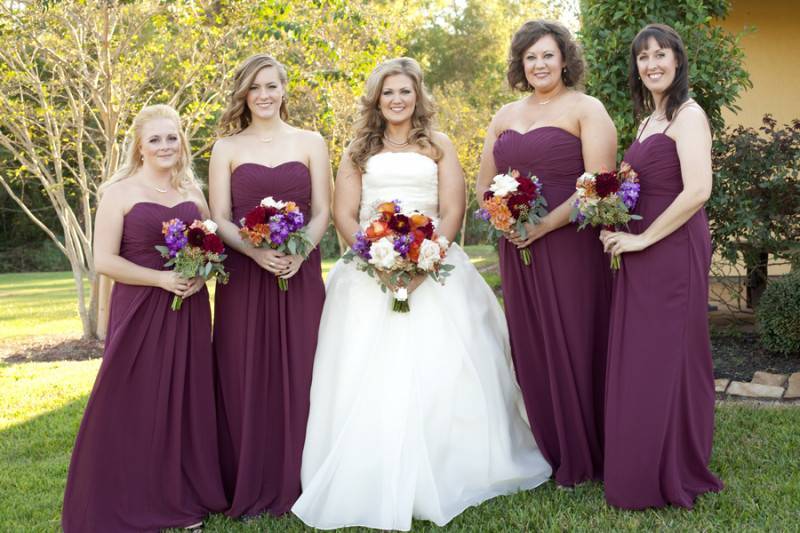 Favorite Part of The Day:
The couple shared a moment together before the ceremony. Pictures were perfect!
The Highlights of the Ceremony & Reception:
Ice Cream Bar and Slide Show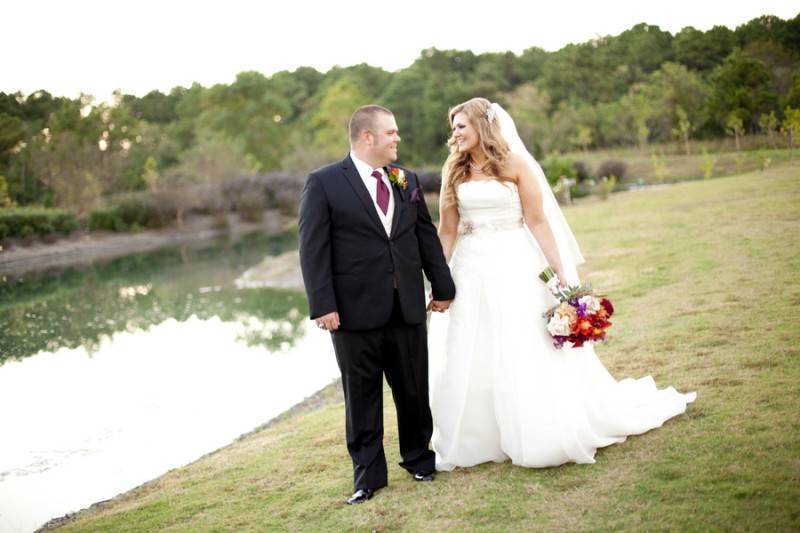 VENDORS
Photographer: Jessi Marri Photography
Caterer: Bailey Connor Catering
Bakery: Chocolate Fountain Express
Dress Store: Davids Bridal
Bakery: Fiona Bakery
Linens and Coverings: Over The Top Linen
Reception Venue: Tuscan Courtyard