Vintage is in this season. You can integrate vintage pieces into your collection by purchasing a beautiful new ring with a vintage feel. Check out some of these amazing engagement rings by Hearts On Fire.
The Beautiful Transcend Dream Engagement Ring
This gorgeous, halo-style square cut ring is absolutely breathtaking and looks nearly identical to the famous vintage engagement rings. This ring, from Hearts On Fire, is romantic and sentimental; perfect for the girl who saves movie stubs, old love letters and photo booth snapshots.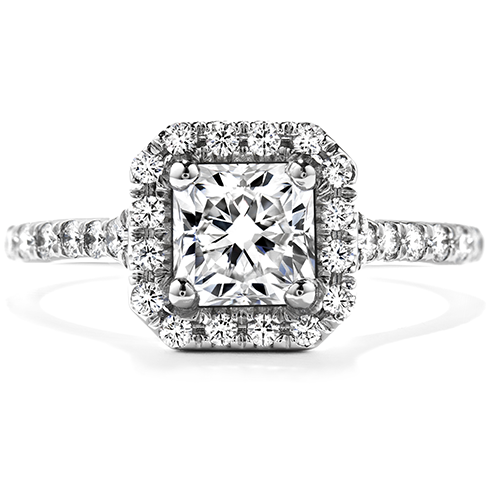 The Brocade Solitaire Engagement Ring
One of the things that makes vintage rings so beautiful and so highly sought after is their immaculate detailing. This Brocade Solitaire engagement ring offers up amazing detailing with a gorgeous woven band and  a sparkling, high-quality diamond solitaire to highlight the vintage design. It's beautiful and unique, so your ring will really stand apart. It's perfect for the girl with discriminating tastes; she who is one in a million.
The Felicity Queen Anne Engagement Ring
Side stones take the simplicity and beauty of a solitaire and super charge it. This ring features clusters of brilliant side stones that flank the large diamond in the center. It's an elegant twist on the classic solitaire ring, and gives it an edge. It's such a beautiful ring that it's perfect for most girls! True to its name, it has a royal feel and is truly breathtaking.
These are just a few of the gorgeous engagement rings available from Hearts On Fire that have a romantic vintage feel. If you love the thought of a vintage ring or are missing a vintage inspired piece in your collection, check them out!