Timeless weddings will never go out of style — of how the memories can grow old beautifully over the years. And that is why Sarah and Chris figured to have such a wedding of synchronized elements. The reception and wedding venues were already pre-decorated with Gothic-inspired structures. Thus, what they did was to choose a wardrobe that would flatter the venues — and they chose really well! Even the floral arrangements and bouquets were perfect against the walls, pillars, and chandeliers.Nothing more, nothing less. Just right. So, to Chris and Sarah, let the timeless love stand forever!
Our Story
Sarah and I met on our first day of medical school. We had both just moved to Norfolk, VA to begin this academically intimidating part of our lives. We found out that we lived in the exact same apartment building. After a time, we also realized we were going to the same church, as well. We became very good friends, thanks in part to many mutual friends. I had always held a flame for Sarah, and after a year and a half of being just friends, I could take it no longer. I asked Sarah if she wanted to go ice skating. Not with our mutual friend group. Just us. The date went well, and the rest followed suit.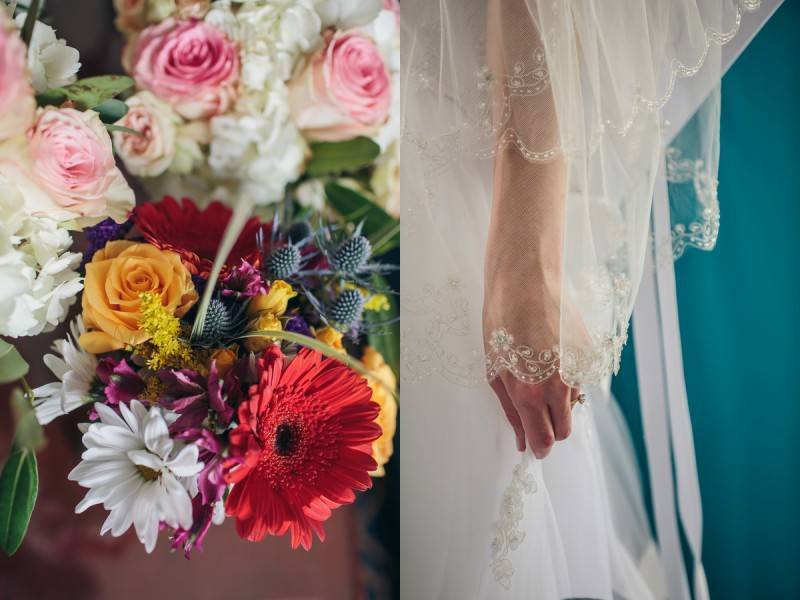 We Are A Perfect Match
We are so often thinking the exact same thing at the exact same time that each of us is convinced we can read the other's mind. More deeply, we share a value system, a belief system, and life goals. We also realize the primacy of love in our relationship, and the responsibility that comes with it.
The Proposal
I took Sarah out to dinner on her 26th B-day to the nicest restaurant I knew of. I had called ahead, and explained that this would be a proposal dinner. Everything went exquisitely well. Just after the entree, I heard murmuring from the staff: "Has he done it yet? Is he going to ask her?" I offered her the ring and asked her to marry me. Luckily for me, she said "yes." This was met with great congratulations from everyone around us in the restaurant.
The Planning Process
Our planning process was about a year and a half. This was enough time for us, but not by a great amount in Charleston, wedding venues and vendors are booked early! A few venues we looked at were already booked solid, a year and a half out.
The Best Advice We Received
"Get a videographer and a day-of coordinator."
The Challenges We Faced
The biggest challenge for us was communicating with vendors and coordinators in the midst of a hectic work-life. Scheduling meetings and phone-interviews which worked for us was very difficult!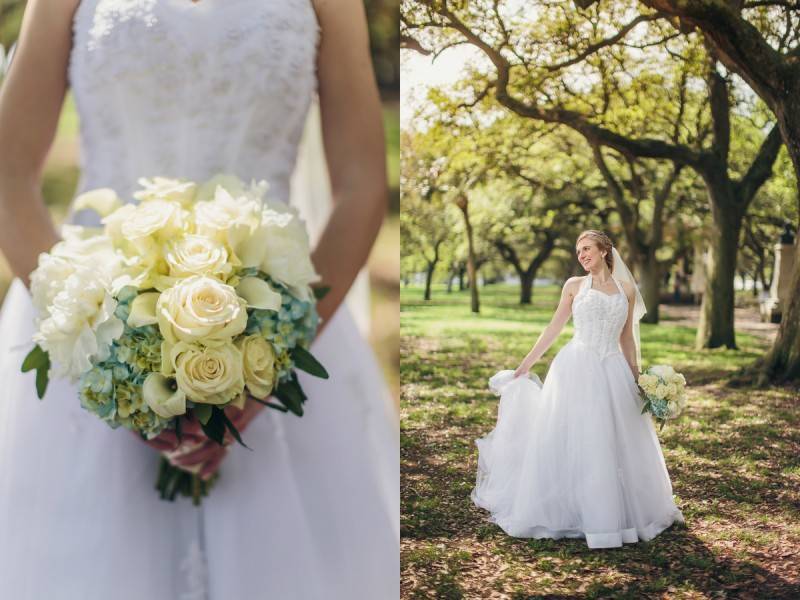 The Theme
Although we have not lived in Charleston long, we have fallen in love with this city, and as most of our guests were from out-of-town, we chose to welcome them with true Southern Hospitality. For instance, we named our tables after famous sights around town, gave benne wafers as our favors, and offered a signature drink with locally-made sweet tea vodka.
Wedding Decor Inspiration
Fortunately for us, our wedding and reception venues came pre-decorated! To that extent, the decor was inspired by the Roman Catholic Cathedral's English Gothic style and by the classic elegance of the Francis Marion's Colonial Ballroom.
Wedding Outfit Inspiration
Inspired once more by the classic elegance of our ceremony and reception venues, we chose outfits that we thought would be timeless.
Money Matters
Our wedding budget was $30,000. Because our reception was at the Francis Marion Hotel, we didn't need to arrange separate catering or furniture rental. This saved us a fair amount of a change and a lot of hassle. The single biggest expense was the reception itself, including a 3-course plated dinner and open bar (limited to beer, wine, and a signature drink).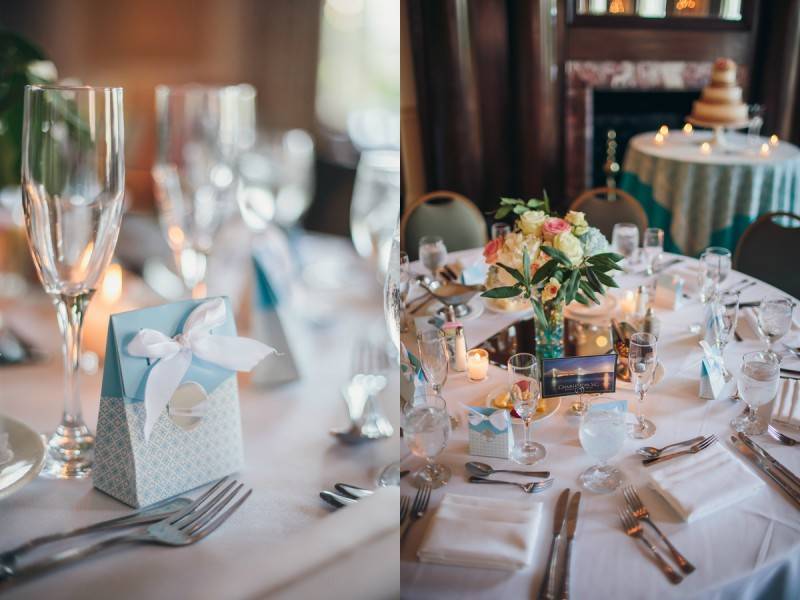 The Guest List
We invited 180, and our final guest count was 120. We narrowed down our list by considering (1) who we wanted to attend, (2) who was likely to attend when asked, (3) who we felt closest to, and (4) who we thought would have the most fun at our wedding.
The Songs
Seating of the Parents- La Grace by Telemann
Procession (Including Bride's Entrance) – Prelude to Te Deum by Charpentier
Offertory – Now with Thanksgiving (Traditional Song)
Communion – Sleepers, Awake by Bach
Recessional – The Rejoicing (Royal Fireworks Music) by Handel
With church organ, trumpet and French horn.
The Honeymoon
We went to St. Lucia, which might be the most beautiful country on Earth. Specifically, we went to Ladera resort in Soufriere followed by Rendezvous Resort in Castries.
The Next Step
The continued adventures, both predicted and unforeseen.
Planning Advice For Couples
Don't worry! You will notice almost nothing that you stressed about once the Day has come. Also, we both decided that it was worth spending a little extra on the photography and videography; everything was over in a flash and we are thankful to have expertly-shot visual mementos of a day both of us want to hold onto.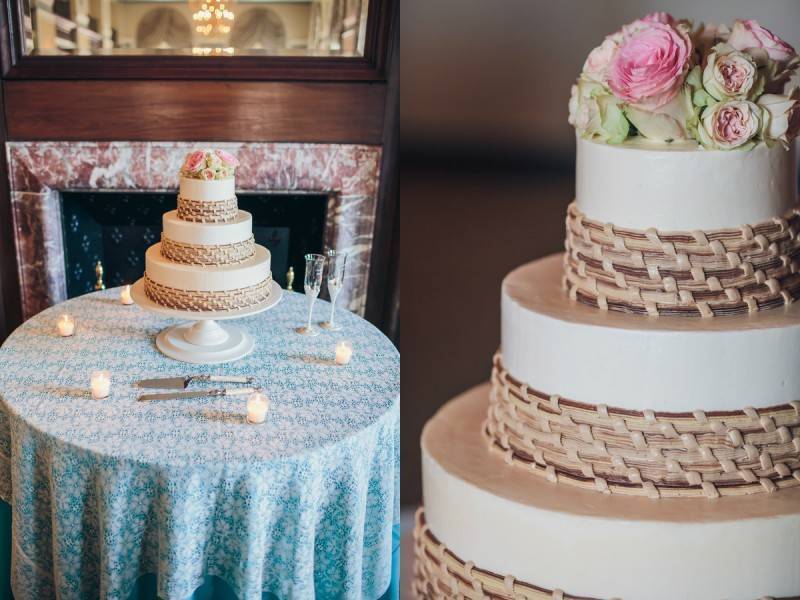 The Album Story
Chris spent the night before at his apartment while I spent the night before in the honeymoon suite at the Francis Marion Hotel. The day of, Chris and his groomsmen got ready at the hotel (well away from me!) while my bridesmaids and I got ready in the suite. We rode in separate trolleys to the Cathedral. The boys got there first and were able to greet our guests and catch up with friends who had arrived just that day. My bridesmaids and I came a bit later, staying in the narthex until "go-time." At 2:00pm, the music started and the procession began.
Our Wedding ceremony was a full nuptial Mass. After the Mass, we came back to the altar to sign our marriage certificate with our officiant, who is rector of the Cathedral. After getting married, the wedding party rode in a (very fun) trolley to White Point Gardens and the Charleston Battery to get some "just-married" photos. In the meantime, our other guests enjoyed a cocktail hour at the Francis Marion Hotel. Once we reached the hotel, the reception began and included first dances, a surprise father-daughter polka (very energetic!), dinner, a champagne toast, cake-cutting, and dancing. The evening ended with rice-throwing as we ran out of the Ballroom and out to the elevators.
Favorite Part of the Day
The entire day was perfect! Declaring our love for each other and finally becoming man and wife surrounded by all those people we hold dear from the many chapters of our lives was blissfully surreal.
A Memorable Moment
I will also cherish the memory of walking down the aisle beside my dad to meet Chris as the altar.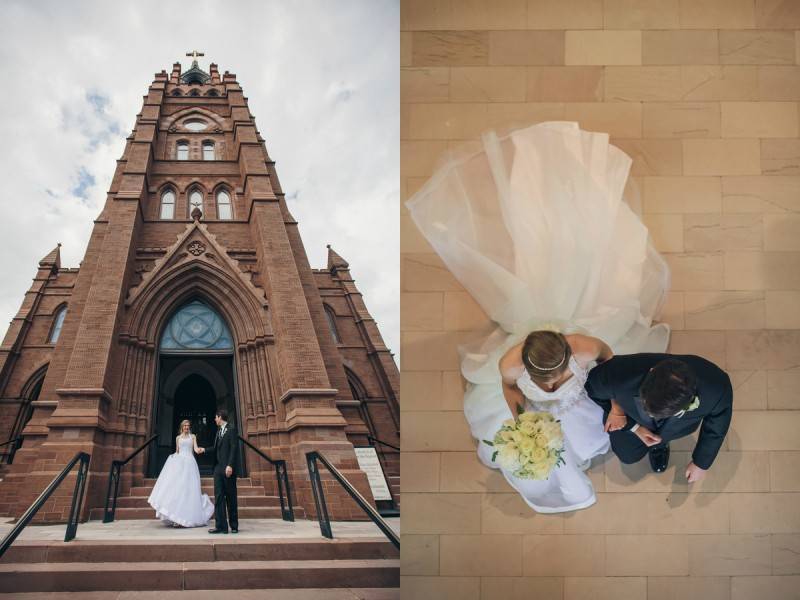 VENDORS
Photographer:   Richard Bell Photography
Transportation: Absolutely Charleston
Cake Designer: Ashley Bakery
Ceremony Location: Cathedral of St. John the Baptist
Bridesmaid Dresses: David's Bridal
Dress Store: David's Bridal
Caterer: Francis Marion Hotel
Cinema and Video: Hart to Heart Media
Hair Stylist: Lashes and Lace
Makeup Artist: Lashes and Lace Bridal Hair and Makeup
Tuxedo and Mens Attire: Men's Warehouse
Groomsman Attire: Men's Warehouse
DJ: Pinnacle Light And Sound – DJs for exceptional events
Floral Designer: Pretty Petals
Reception Venue: The Francis Marion Hotel
Ring Designer: Vera's Fine Jeweler