Ladies and gents, prepare to be blown away by today's featured wedding! Jackie and Nico's enchanted outdoor wedding was just overflowing with dreaminess and elegance. I love how modern and classy the theme was done here, thanks to the styling prowess of LVL Wedding and Events. The couple's rustic and traditional outfits complemented each other, as well as the venue. Plus, my mouth totally watered when I saw the photos of their dessert table. Loving every detail here, and I can't wait to share it with you all! Ready to get inspired? Go ahead and scroll through the pictures of Three16 Photography and enjoy this Enchanted Outdoor Wedding at the Spanish Inspired Rancho Las Lomas.
We're All About the Details!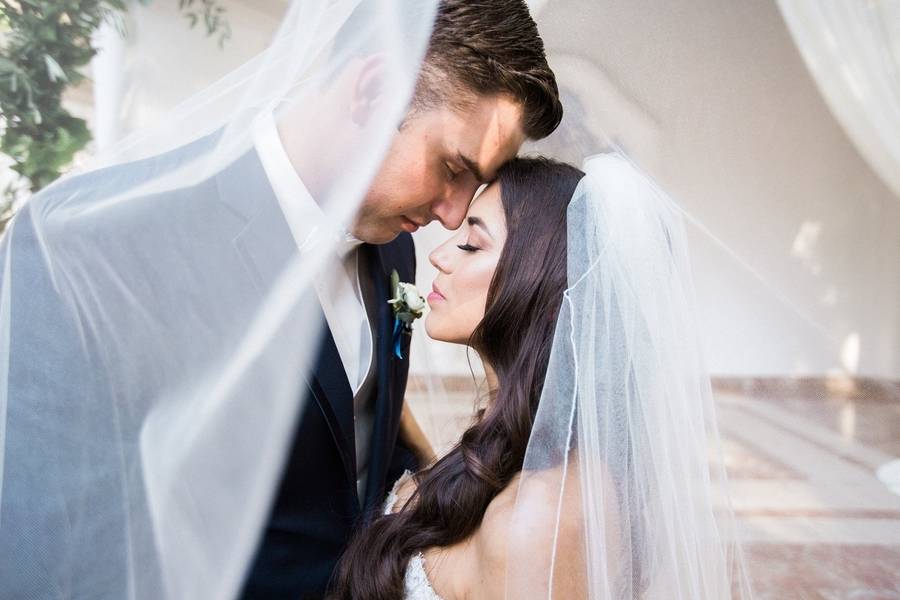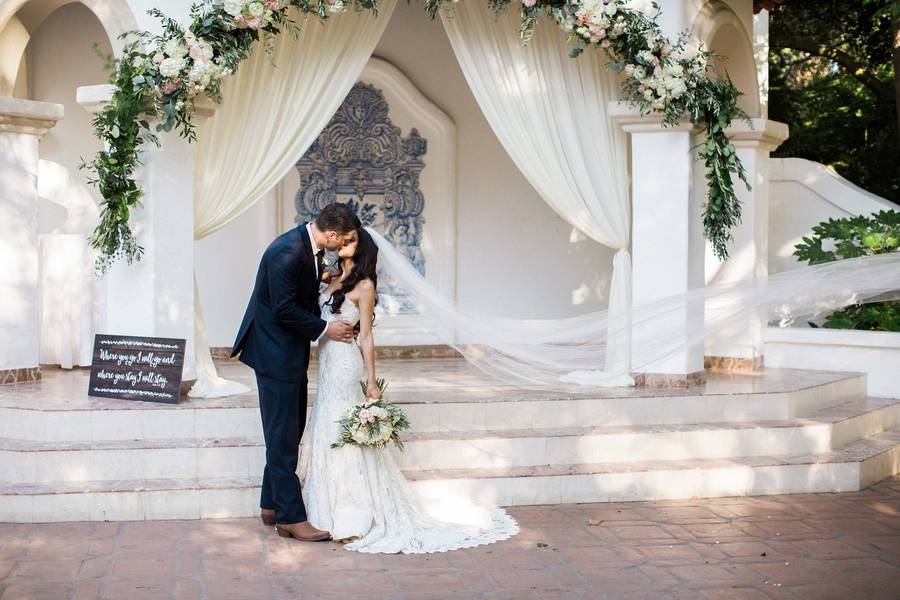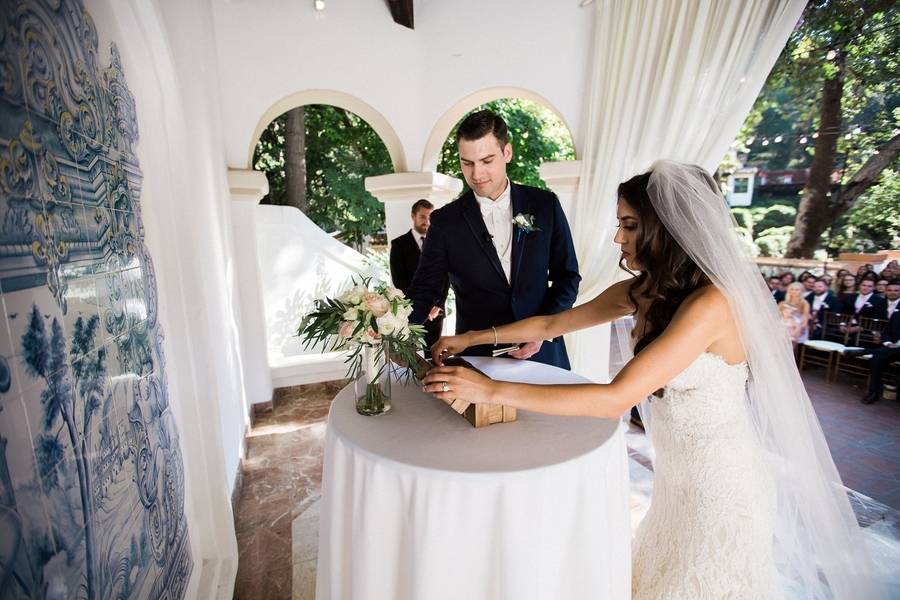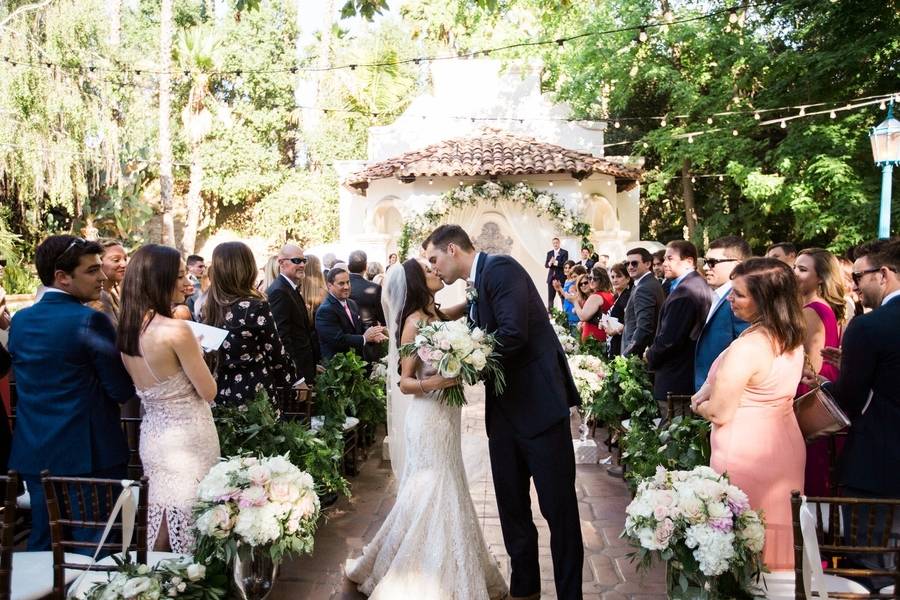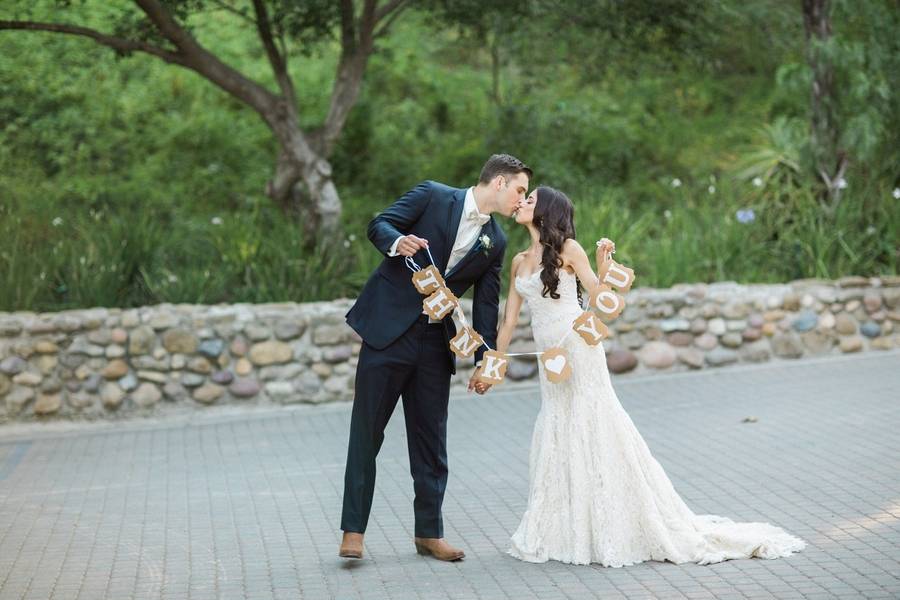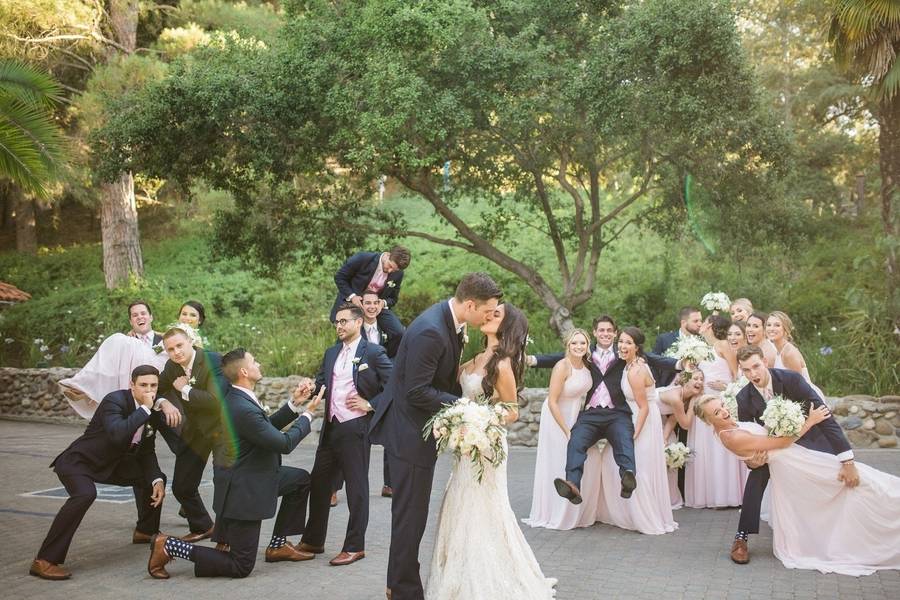 Reception
Jackie and Nico's ceremony and reception – coordinated by LVL Wedding & Events– took place at the charming Rancho Las Lomas located in Silverado, California. Nestled under ancient oak and sycamore trees, the open-air theater with a marble ceremonial stage was a spectacular place to say, "I do."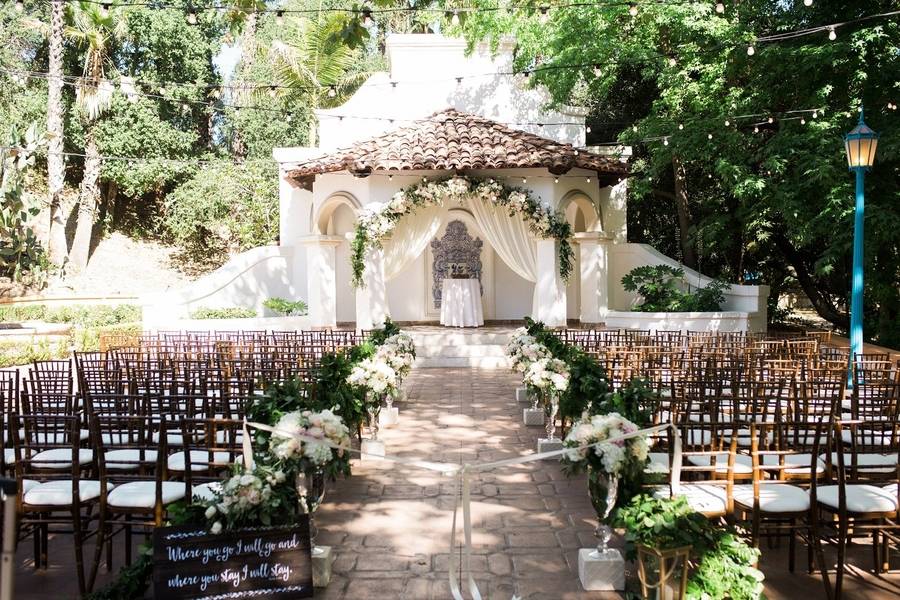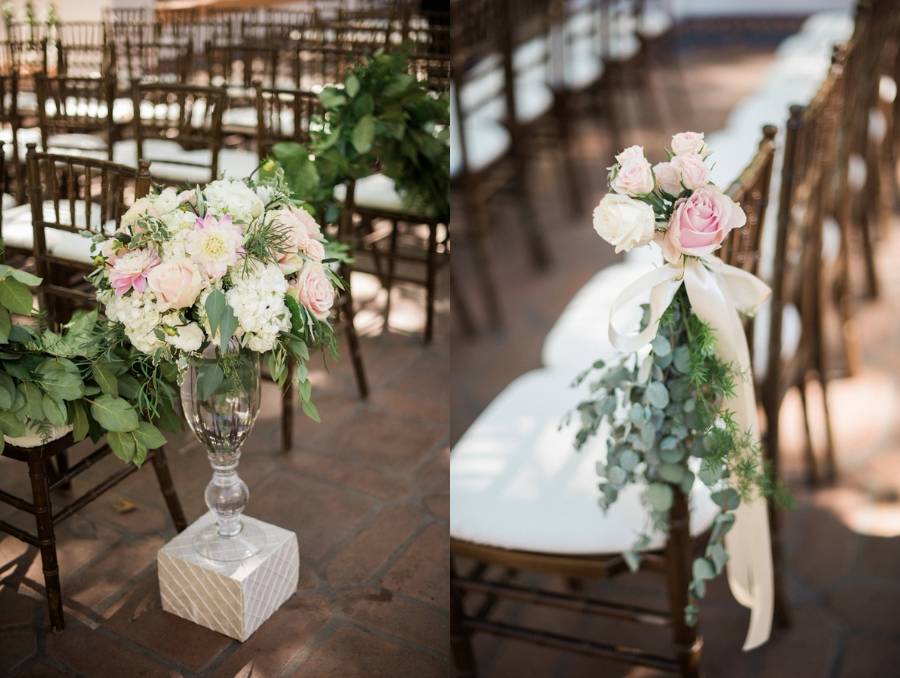 Botanical Gardens
The white stucco, the blue and white hand painted tiles, and the botanical gardens that surround the large patios helped set the mood for a truly enchanting experience. With long flowing white fabric, a perfectly styled arrangement of flowers by Lynne Lucente Floral Designs hanging from the altar, and string lights, the ceremony and reception were dripping with elegance.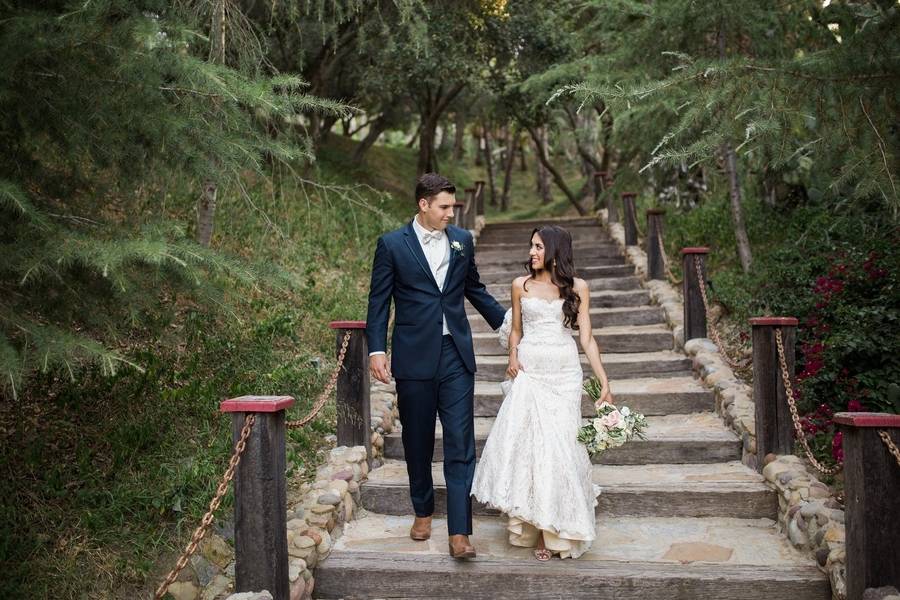 The Color Palette
The inspiration for the color palette came from garden scenes and the bride's personal taste. The light natural blush and navy colors, along with the abundance of greenery set the tone for a sweet, classic, and elegant atmosphere.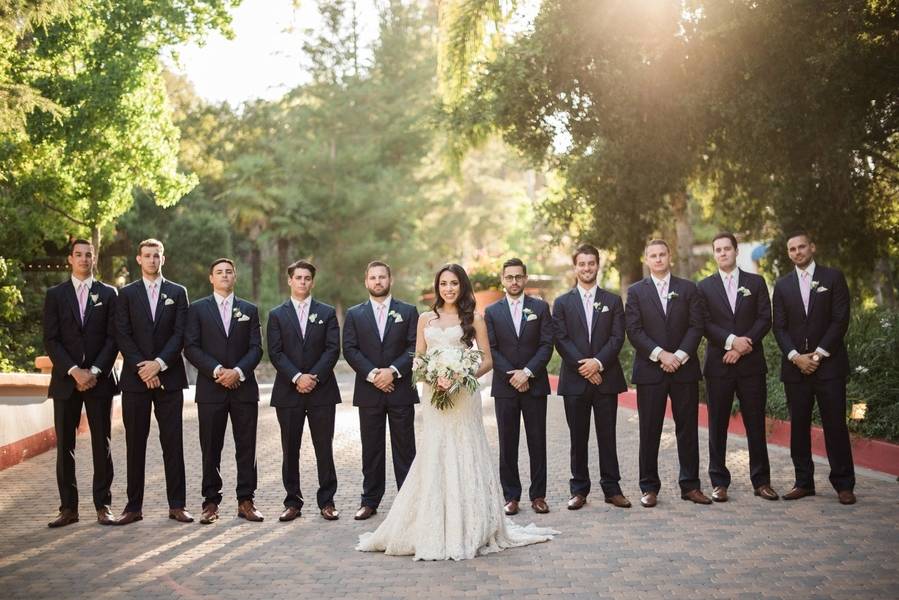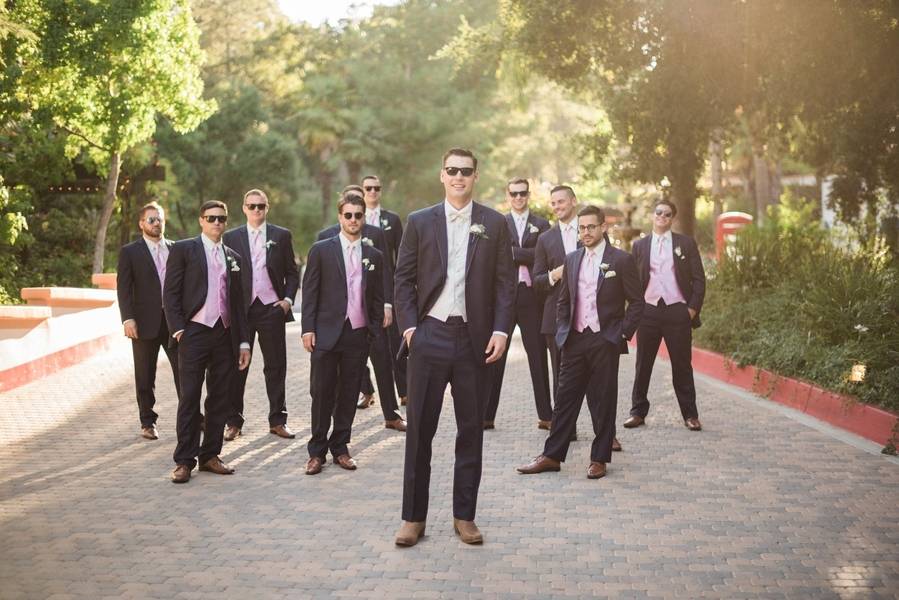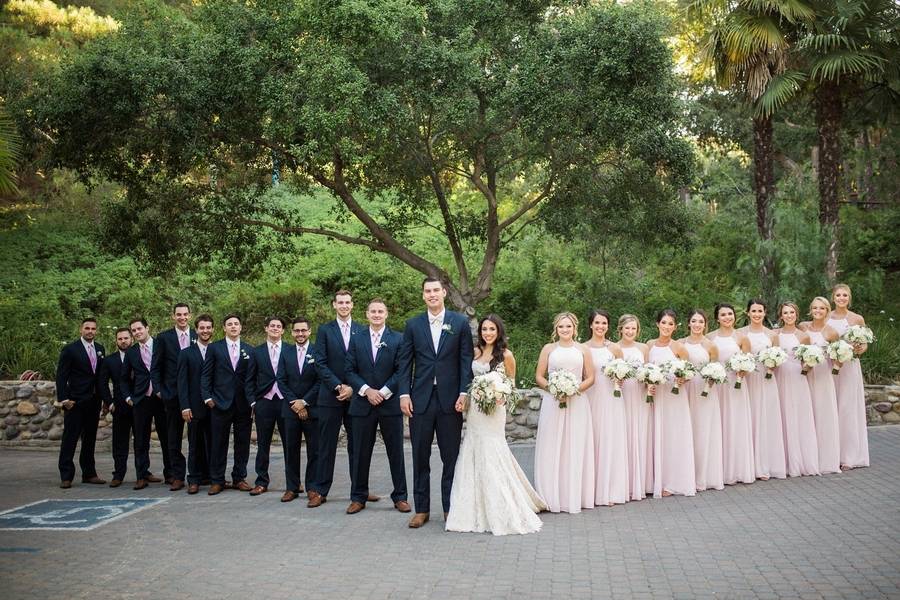 The Wardrobe
The bridesmaids were styled in long, high-necked blush-colored gowns, and the groomsmen wore deep navy suits, to match the groom who was dressed by Men's Warehouse. He added his own flair to his outfit by adding cowboy boots.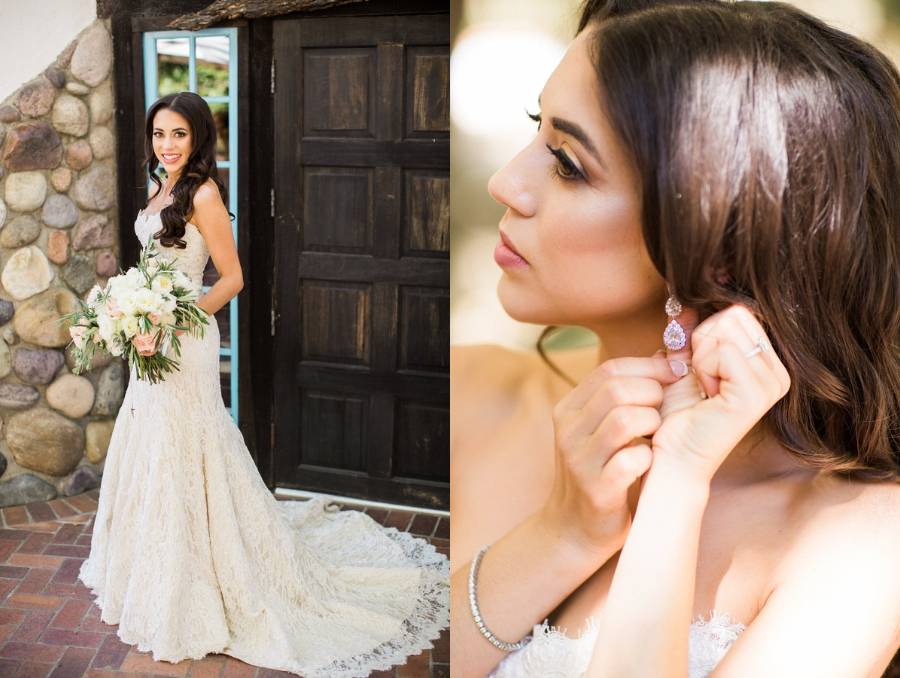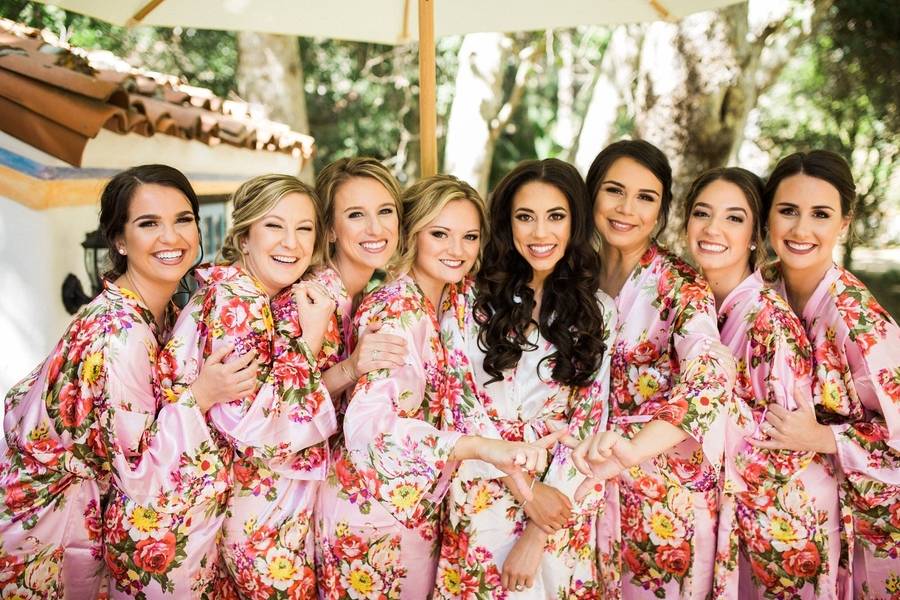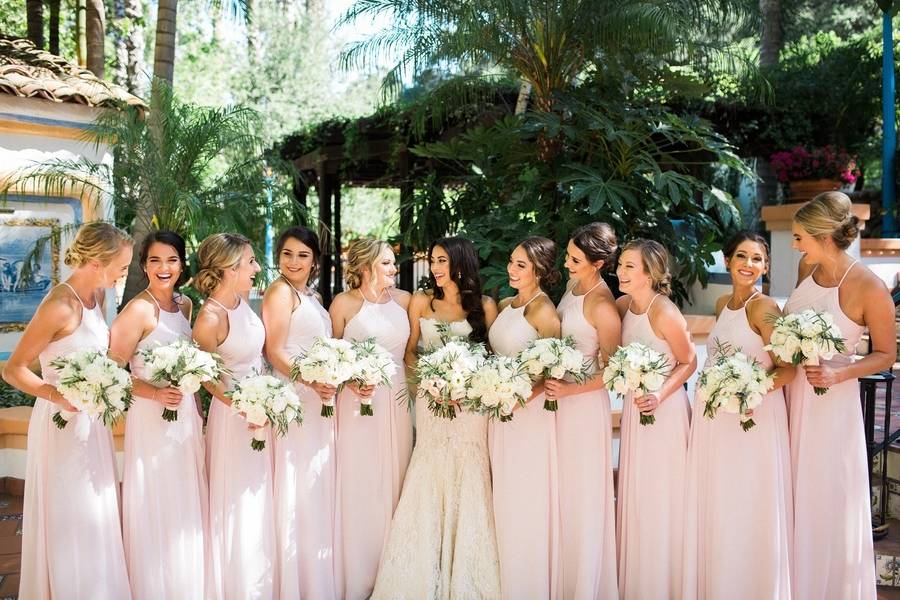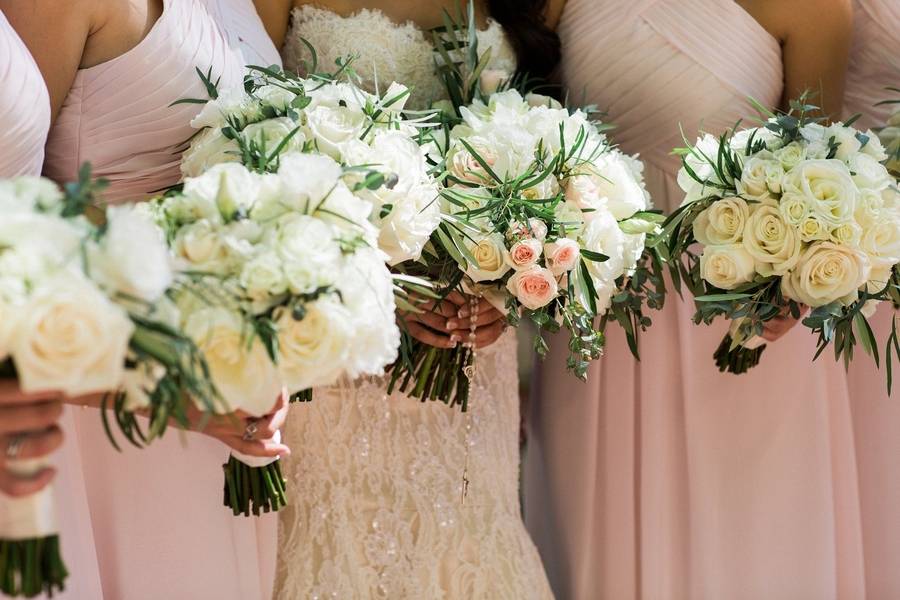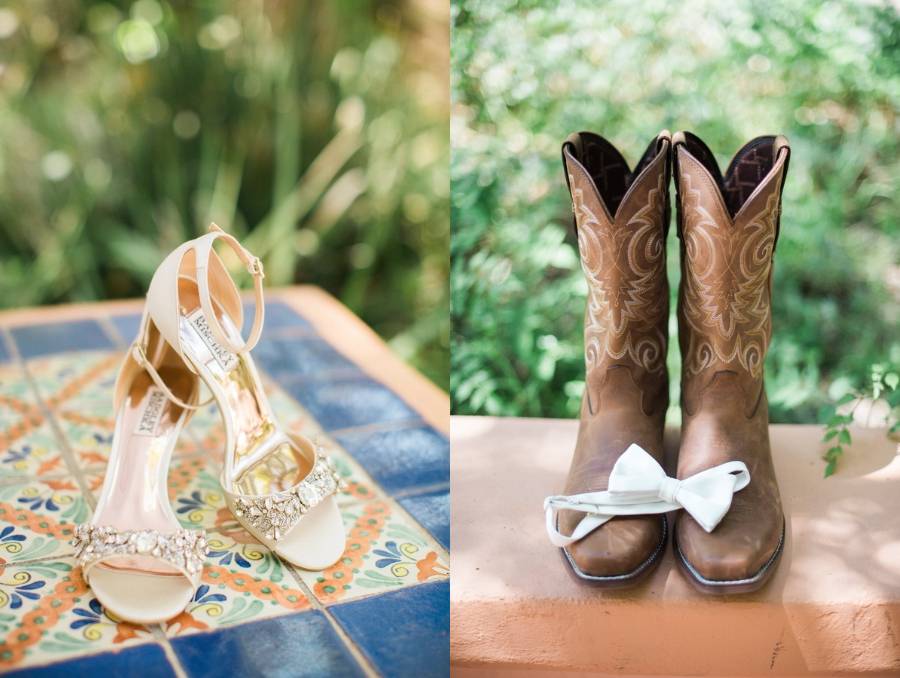 Jackie's beautiful, voluminous locks were effortlessly curled by the talented Vanity Belle Beauty and her makeup done by Karlee Eldridge Makeup. She chose minimal jewelry and dangling earrings to accessorize with. Her stunning, elegant mermaid gown from Kinsley James Couture Walnut Creek, definitely had heads turning. Jackie's flower bouquet was a stunning assortment of ivory and pink, with lush greenery throughout.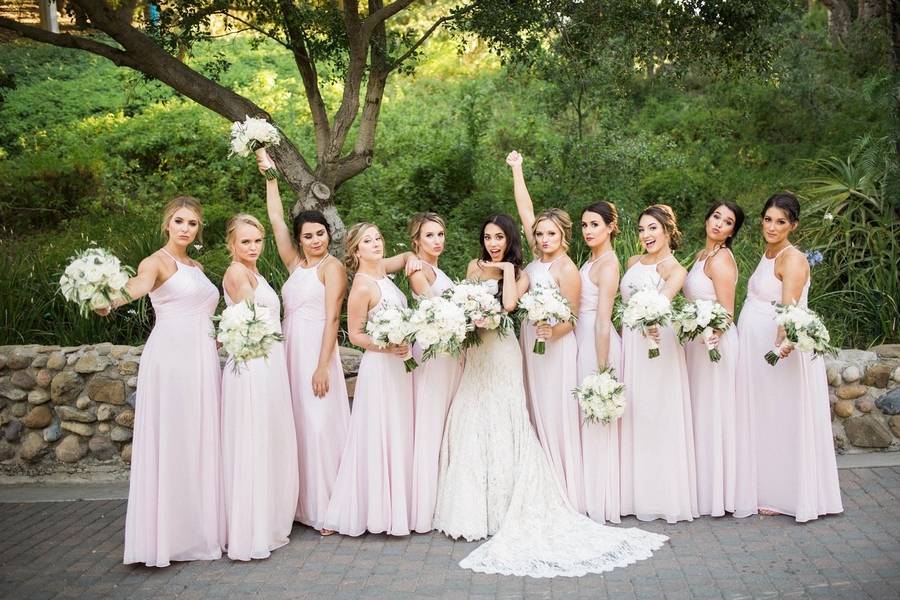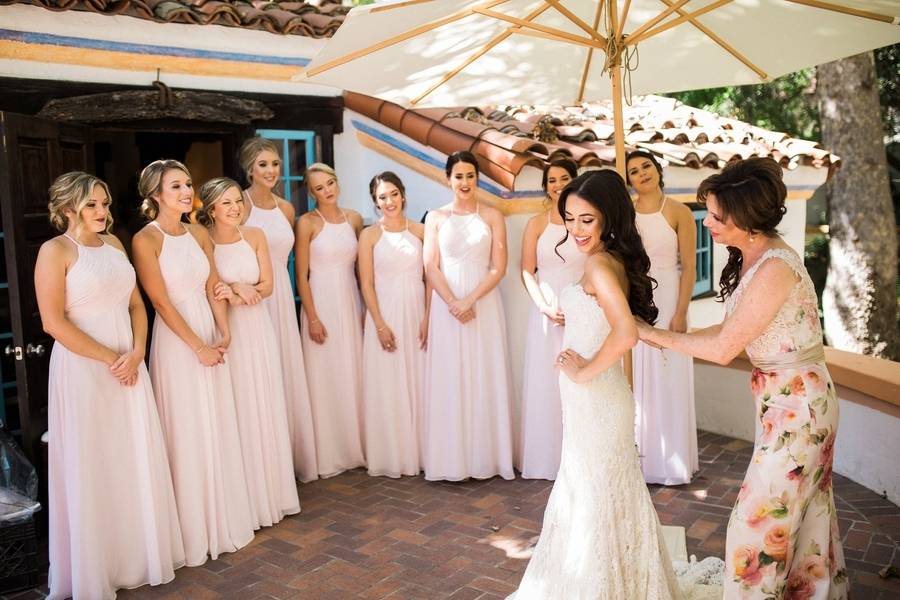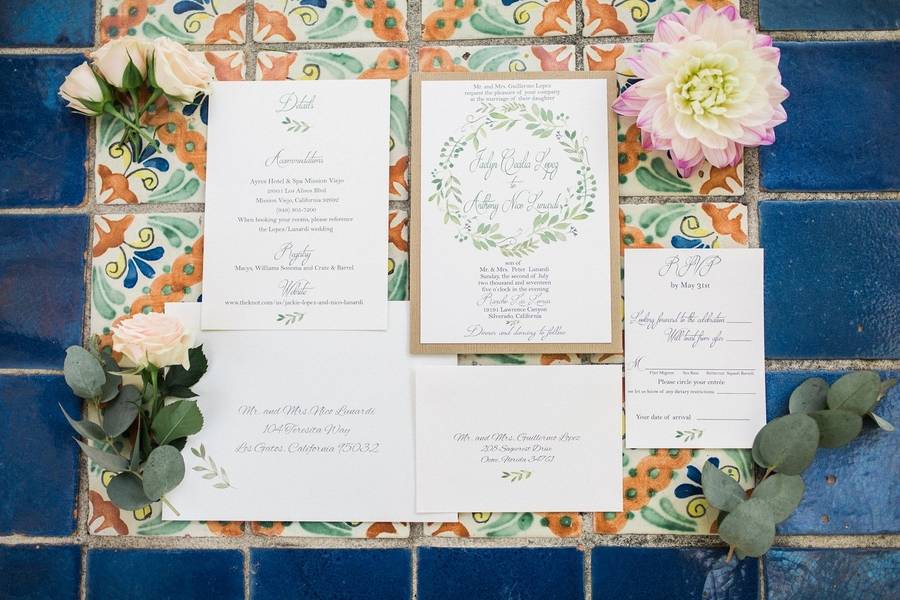 The Dessert Table
Their sweet cake, baked by Donna B's Bakery, with textured icing and an array of flowers, added to the elegant style. Besides dessert, the main courses were provided by 24 Carrots.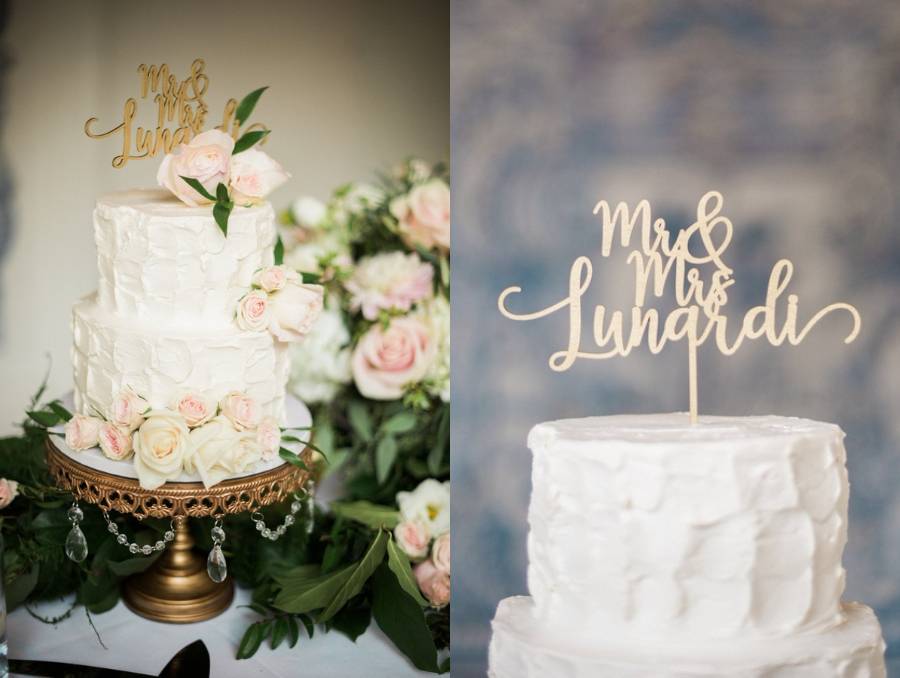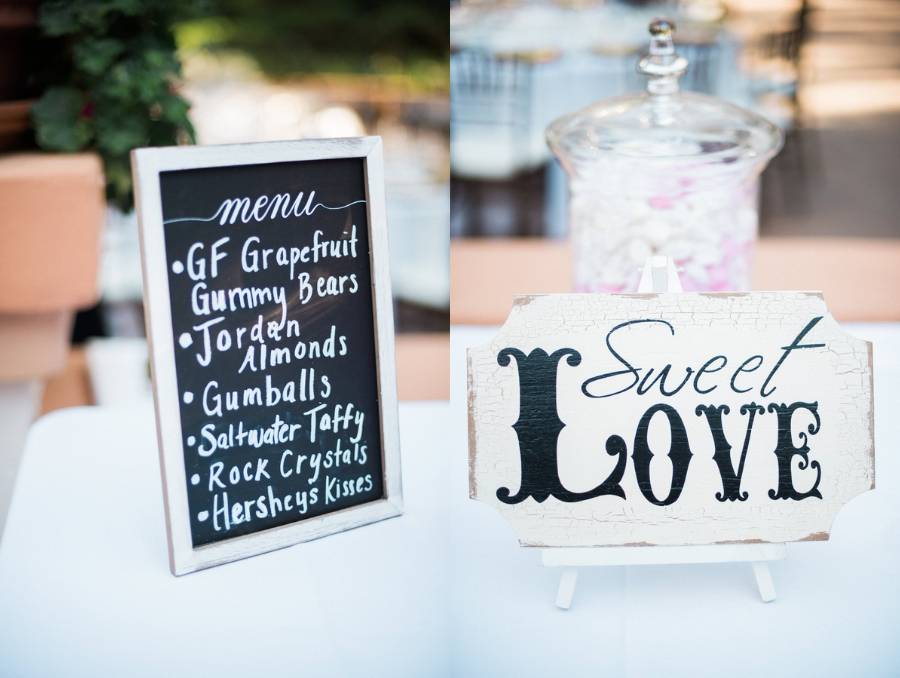 The Reception Tables
The reception tables were adorned with large eye-catching bouquets, plenty of greenery, and gold accents. Photography for the day was captured by Three16 Photography, and videography by Luv in Flying Colors. Last but certainly not least, the wedding invitation set was created by Out of the Envelope.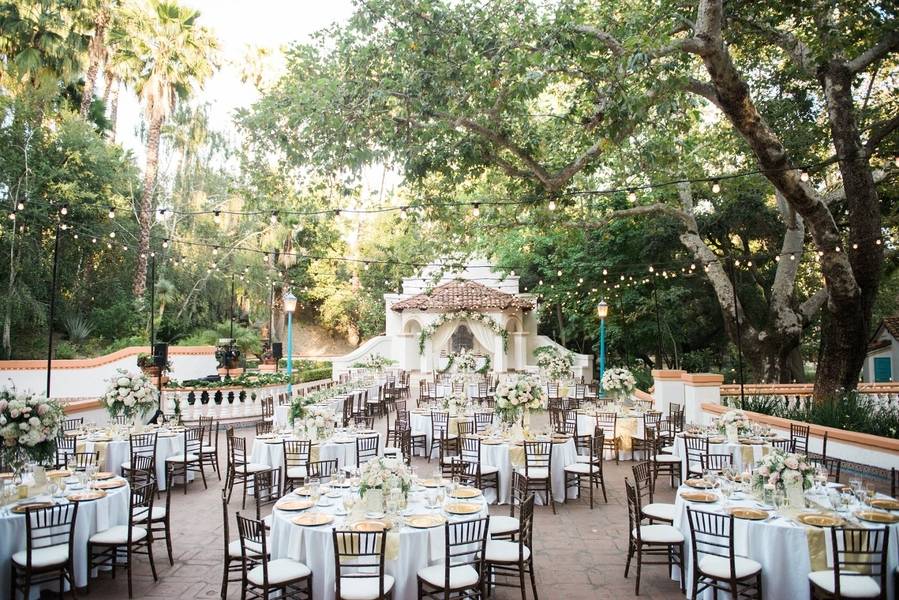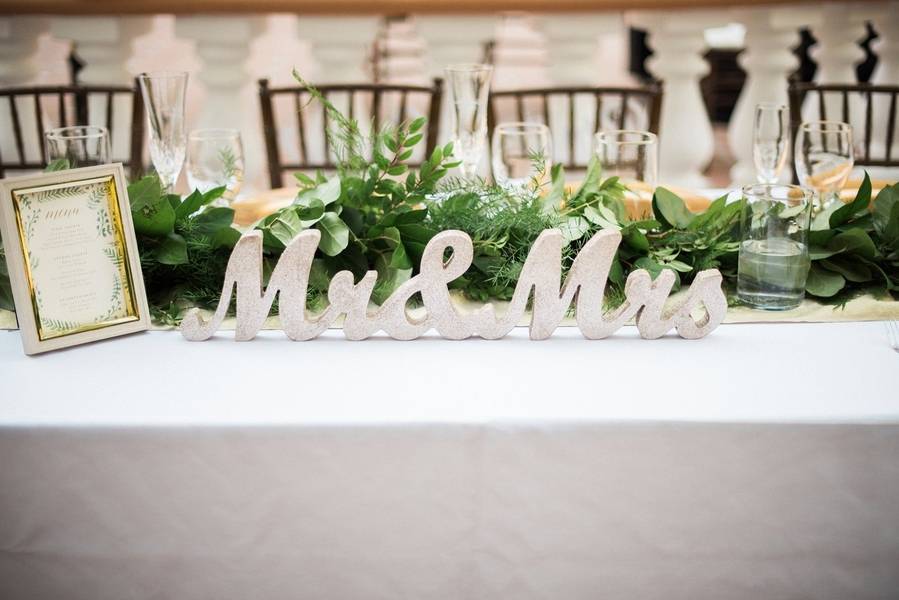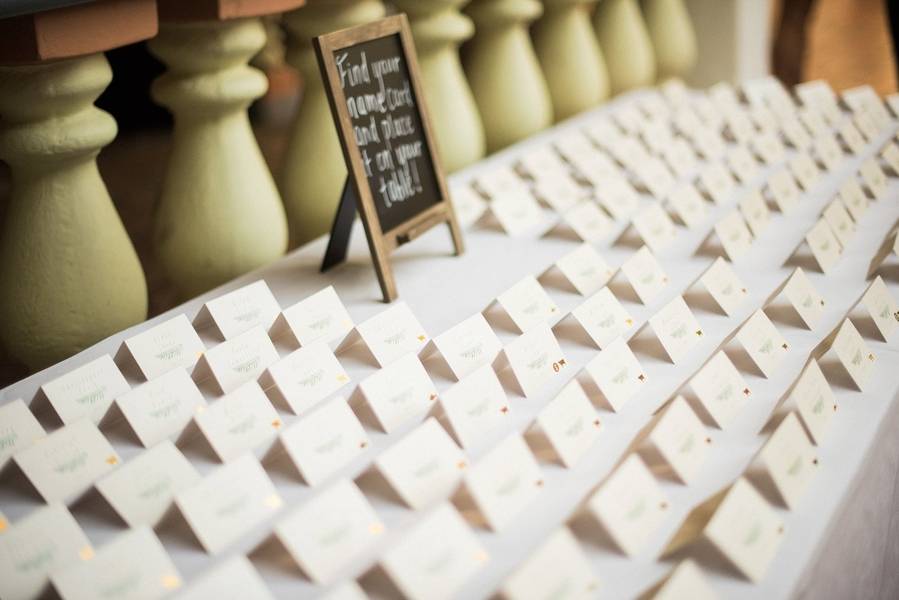 Every aspect of the day came together beautifully to create a stunning, natural, and enchanting wedding!
Take this Advice
Our best advice is to book your vendors well in advance! It takes away a lot of stress, and the vendors you prefer will be more likely available. Two other pieces of advice are in the realm of booking your photographer. We highly suggest booking the same photographer for your engagement session and wedding day, and if that same photographer offers video as well, book it all together! Not only does all of this save you money, but it's also one less vendor you have to be in contact with-which in the long run means less stress! On wedding day amidst the craziness, it can often times be better for the photographer and videographer to be from the same team because they've worked together before and can easily coordinate schedules and be sure to not be in the other's shots. ~Jerrick O'Connor/Photographer
About the Photographer
Our goal here at Three16 Photography is to offer you the absolute best customer service we possibly can. Our team of professional photographers, videographers, bridal consultants and support staff are here to help you ensure your wedding day is perfectly captured so that you can cherish those memories for a lifetime. We believe in the importance of customer care and it truly is our desire to not only offer top quality service to our clients but to also help them find other great quality vendors for their wedding day or special event. We shoot everything from weddings and engagements, to family and senior sessions, business portraits, food, event photography, and everything in between! Our office is located in Orange, California, but we happily travel all over for our clients. At Three16 Photography we strongly believe in custom pricing packages based on exactly what the customer wants. It's our desire that you are only paying for exactly what you want. Therefore, we would like to encourage you to contact us to discuss your photography needs so we can best customize a package specifically for you. Though, we have prepared a price list for you if you prefer to go that route. You can simply email us here or give us a call at 714-408-8428 to ask any questions or get a quote. We look forward to hearing from you!
Vendors
Photographer: Three16 Photography
Event Venue: Rancho Las Lomas
Invitation Designer: Minted
Invitation Designer: Out of the Envelope
Caterer: 24 carrots catering and events
Tuxedo and Mens Attire: Men's Warehouse
Cinema and Video: Luv In Flying Colors
Beauty: Karlee Eldridge Makeup
Dress Store: Kinsley James Couture Bridal
Event Planner: LVL Weddings & Events
Bakery: Donna B's Bakery
DJ: Entertainment Express
Floral Designer: Lynne Lucente Floral Designs