Veronica, today's bride, was keen on organizing their wedding that it took them two years on planning. And all the planning was really worth all the decision making. The classic wedding but without the usual wedding party. Just the bride and groom with a flower girl to shower the aisle with beautiful petals. Everything was so elegant and timeless — just like how they wanted it to be. Congratulations on being married Jason and Veronica. May you two build your own little or big (however you want it to be) happy family!
Our Story:
Jason & I met at Rock~ola restaurant in Asheboro, NC in 2008. We immediately felt there was something very special between us. We moved in together inside of 2 months and have been blissfully happy ever since! We met in our late thirties, and neither of us had been married nor had children, which is very unusual nowadays. He makes me laugh every day, out loud, until it hurts. We shared so many of the same interests from loving the outdoors, traveling, and cuddling up together every chance we get.
We Are The Perfect Match:
I think we just "fit" from our sense of humor, intellectual interests, and together we have harmony and balance. More so, than we did as individuals, we are synergistic, together we add to more than 1+1=2, it's more like 5!
The Proposal:
It was a huge surprise to me. I had been waiting for over two years but wanted Jason to do it on his own, in his own time and in his way. He took me to Myrtle Beach on vacation and at sunset asked to take a walk along the beach. As we were enjoying the incredible sunset colors, he went down on one knee and took a box from his pocket-I began to cry. After I said "yes," I was so elated I was jumping up and down, all around him, making this crazy design in the sand, which we took a picture of before we left. It was wonderful!
Wedding Day Outfit Inspiration:
We wanted classic wedding attire; a tuxedo for him and a HUGE ballgown for me. I asked my guests to be comfortable. We chose not to have any wedding party, best man, or bridesmaids, just a flower girl and my father's brother who walked me down the aisle. I wanted my sisters and best friends to wear whatever they wanted and did not want to worry about micro-managing anyone.
Album Story:
An elegant romance that will last an eternity.
Wedding Décor Inspiration:
I always dreamed of an elegant wedding. The Grand Bohemian Hotel was the Perfect place for it, part of the Kessler Autograph series for Marriott Hotels. Swarovski crystal chandeliers, 14 Karat gold inlaid moldings, and phenomenal marble statues and unforgettable original paintings make this site lavishly elegant!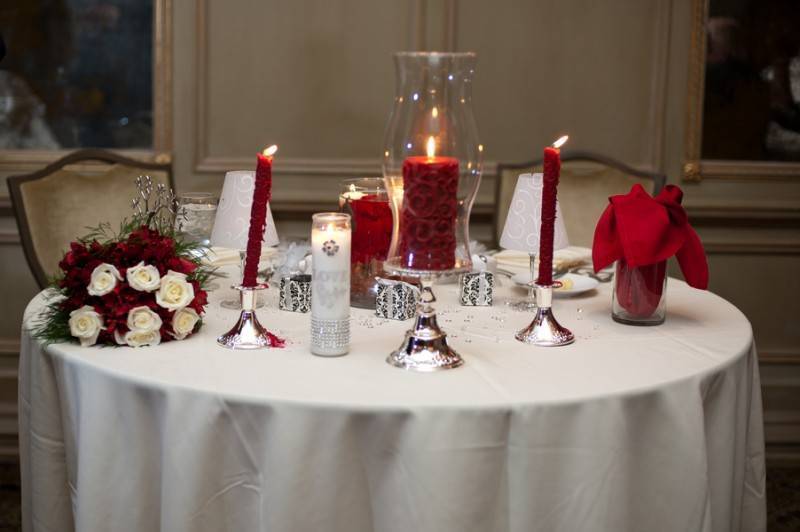 The Do-It-Yourself (DIY) Projects:
I did my centerpieces, created a slide show presentation to honor my parents & grandparents, who have all passed away. I added a couple of embellishments to my dress, (the shoulder straps and the empire waist ribbon). I made the programs, and we bought a bouquet of roses and two boutonnieres the day of the wedding. We saved a tremendous amount of money on the flowers. The centerpieces were silk, floating in water with candles, in large vases.
The Planning Process:
I took two years to plan the wedding. I wanted it to be perfect. I was not sure if I wanted a beach wedding or to be married in the mountains; outdoors or indoors, etc.. In the end we decided on the Grand Bohemian, an extraordinary Marriott property at the foothills of The Biltmore, in Biltmore Village in Asheville, NC. The hotel's top floor provided us with a salon for hors d'oeuvre, a gazebo terrace for the ceremony, banquet room for the reception, and bridal/ honeymoon suite. I would have liked an extra two weeks, but I think all brides would say the same thing;o)
Best Advice We Received:
The best advice was to let go of trying to control anything but my part, being the happy bride, on our wedding day. I had everything in place and entrusted others to handle everything. My friends and family were amazing, not to mention the staff and other vendors. There will inevitably be something that will go awry. However, it is important to focus on the love of those around you and let the details take care of themselves.
What Tips & Tricks For Future Brides:
One of the biggest helpers was our wedding site, WeddingWire.com! I was able to manage RSVP's, hotel, seating charts, accommodations, rehearsal information, etc.. I also found the most amazing real satin, personalized, tailored dress from China on eBay for approximately $200!!!! I took a picture from their site and asked for some simple modifications, and sent my measurements. This dress speaks for itself. http://www.ebay.com/usr/dress686
The Challenges We Faced:
I was in a Radiography program and could not focus on both the wedding and school. I waited to plan the larger details of the wedding until I was out of school.
 
Money Matters:
Our budget was between $8-10,000~we ended up spending just over $10,000.
We saved money on my dress and the flowers.
The hotel, since we had the entire event and partial lodging there were the biggest expense.
The Guest List:
We wanted a small intimate wedding with our closest friends and family, so only 25. Our final guest count was 23.
Narrowing down the list was very hard to do, but since our parents and grandparents could not be with us, it reduced the number. I was not working or in school at the time, which also reduced the number. The people who attended all said it was the most personal, intimate, and beautiful wedding they had ever been to. It even inspired my photographer to have a small intimate wedding in an all-inclusive B&B in Asheville a few months after ours!
The Songs:
Our Honeymoon:
We stayed in Asheville in our hotel room and went out to dinner to BoneFish Grill. We were going to tour The Biltmore Estate, but it was pouring rain.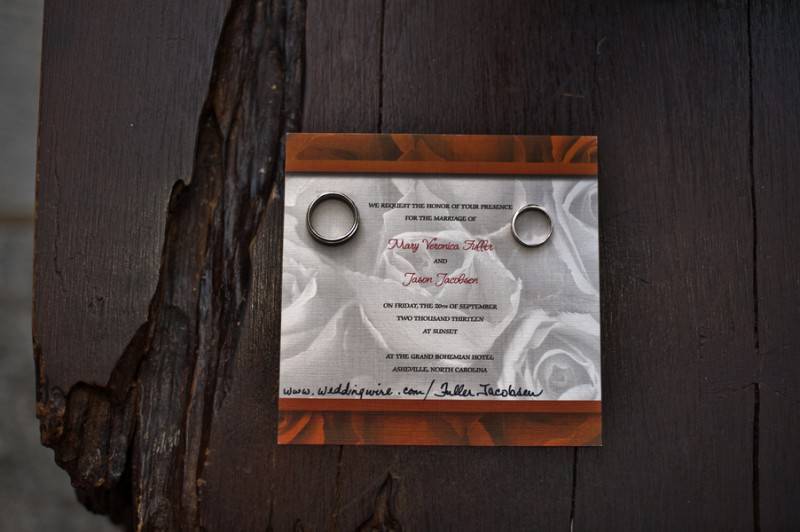 Excited About:
Every single blessed day! He is my miracle! We both feel we won the lottery. We do intend on having our vows renewed in the next two years in Hawaii, with Captain Howie! In lieu of missing out on our honeymoon, something just for us. http://hawaiiweddings.com/
Planning Advice For Couples:
Remember what's important, the love you share-try not to get hung up on fads and the commercialism. Remember, if certain vendors know you are planning a wedding, they will up their prices. If the bride is going to wear a corset, think about wearing it all day or at least 6 to 8 hours before the big day. Mine felt like it was stabbing me and began to fold over towards the end of the evening; not good.
Favorite Part Of The Day:
The entire day! If I had to pick one moment, it was when I looked into my husbands eyes as we read our self-written vows to one another.
The Highlights From The Ceremony & Reception:
The whole ceremony, particularly the exchanging of the vows. There was a moment when I began tearing up during the vows, and my Aunt Maureen discretely handed me a tissue, very sweet. There's a picture of it. Dancing the waltz with my husband, which we had practiced for weeks in advance. The All Souls Episcopal Church, right across the street, church bells began to ring right at sunset. We could hear them from the terrace, and it was a beautiful surprise.
The Theme:
Classic, romantic elegance~ evening wedding, at sunset.
Most Memorable Moment:
The exchanging of the vows, along with the hand knot tying, and candle lighting ceremonies while the sun was setting and the church bells were ringing!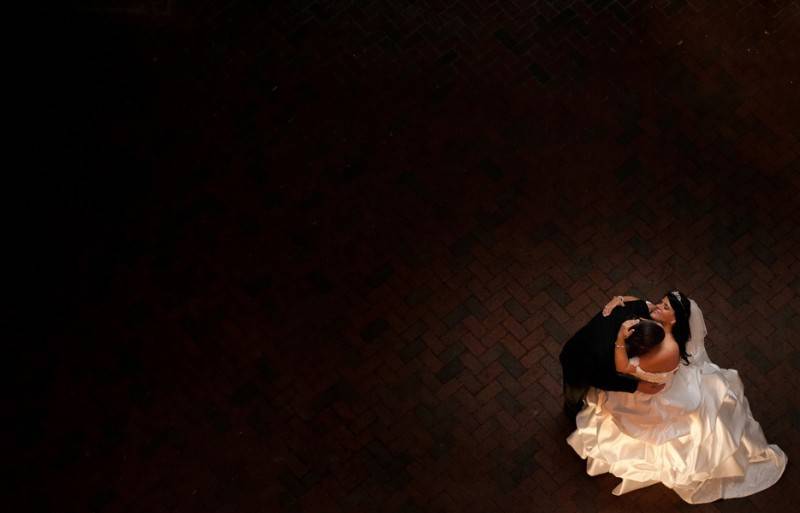 VENDORS
Photographer: Shanna Duffy Photography
Reception Venue: Grand Bohemian Hotel Asheville