When we think of elegant weddings, our minds instantly picture a glamorous and luxurious event. But, in this case, elegance is tied together with warm and comfort. Addison wore a custom made wedding dress but with sentimental touches; the bodice was made from her grandmother's dress. And her bouquet, a mix of warm tones, matched Steve's accessories. I also want to praise Addison on being hands-on at her wedding that she handmade almost all of the decors (read on to know more about details). The couple was very happy with the outcome of their efforts and  for that, congratulations!

Our Story:
Steve and I met in college at the University of Evansville in 2006. Steve was a friend of my roommate's boyfriend. We started hanging out and we clicked right away.
We Are A Perfect Match:
We balance each other very well. I very type A and Steve is more laid back.
The Proposal:
Steve proposed on Valentines Day in 2013 on my favorite pedestrian bridge in Lafayette, IN, where we were living at the time.
The Planning:
We waited until December 2013 to do any planning. We decided on Indianapolis to make the event for convenient for guests, but this was about an hour drive from us. We definitely needed the extra time to get everything done.
The Best Advice:
To stay organized. Also, set up a separate email account specifically for wedding business.
Tips & Tricks For Future Brides:
Shop around and negotiate with sites/vendors. Follow your instincts with vendors, if you don't feel comfortable with someone, keep looking.
The Challenges We Faced:
We wanted to stay away from "Hall" type venues, so this limited our options within our budget. We did a lot of searching to find sites that were right for us. We had help from family members with internet searching and contacting potential sites for details.
Wedding Decor Inspirations:
We wanted to have an elegant but warm/comfortable wedding. We chose our venue because nearly all of it is already beautifully decorated and styled. Most of our energy went to the ballroom where we chose to use golds and deep jewel tones to continue the warm theme.
The Wedding Budget:
$15,000
Saved Money On:
Flowers and decorations. I handmade all of the flowers for the centerpieces, sewed the table runners, painted all the vases and votives, and painted the hanging lanterns myself. We made our cake topper and signs. My sister made our chalkboard signs, and my father crafted our wooden centerpieces and card box from timber from our family farm.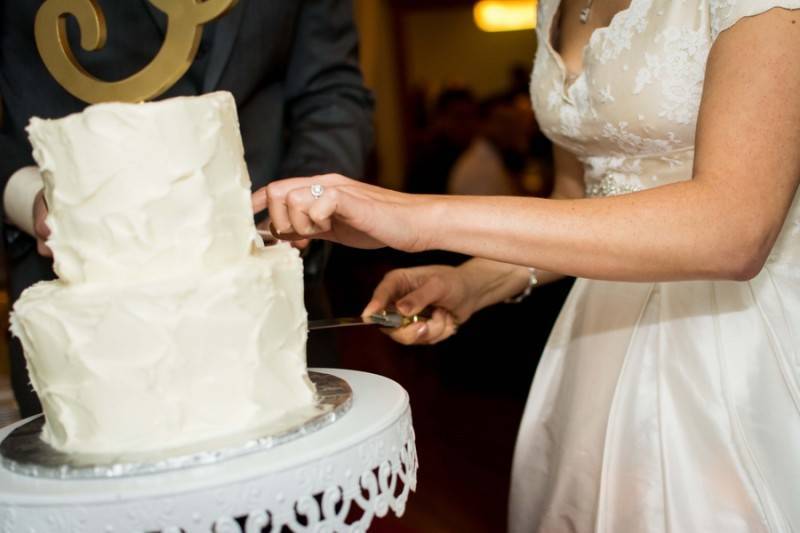 The Biggest Expense:
Catering, however, the venue was willing to work with us to find options we liked within our budget.
Number Of Guest Invited:
We invited approx 120 guests and had a final count of 85. We kept close to family and friends. We wanted to have a smaller crowd, and the venue could only fit 100 for dinner.
The Songs:
Processional: Stairway to Heaven – Vitamin String Quartet
Brides Entrance: Fix You – Vitamin Sting Quartet
Recessional: City of Blinding Lights – U2
The Honeymoon:
Punta Cana-Dominican Republic- Excellence Punta Cana
Excited About For:
NO MORE WEDDING PLANNING!
Advice For The Couples:
Stay organized and focus on what is important to you.
Wedding Outfit Inspirations:
I didn't want a strapless dress and could not find a dress I like in my budget. My wedding dress was designed based on a dress I had found online that is not commercially available. I found a local seamstress/designer that was able to work within my budget. I found the silk for the dress online, and we used the lace and buttons from my grandmother's dress for the bodice. Steve chose his suit and went with gray. His accessories complimented my bouquet and our decorations.
Favorite Part Of The Day:
After the ceremony was over! We finally got to relax and party!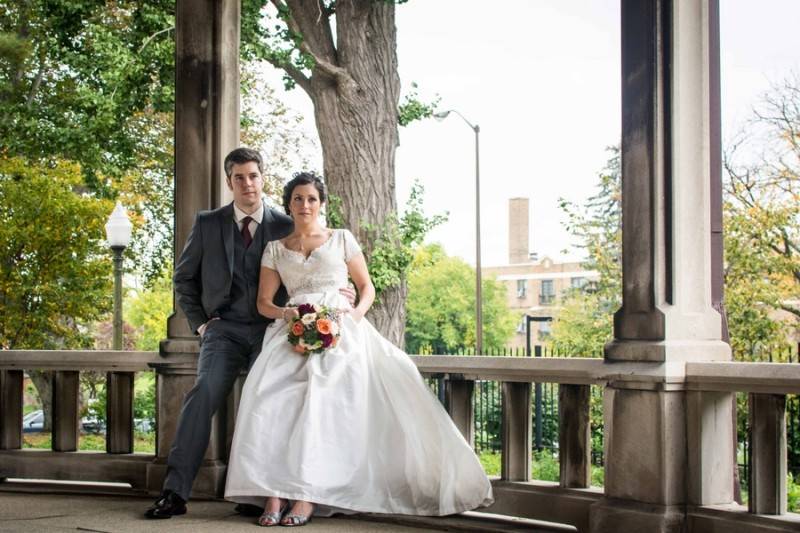 VENDOR
Photographer: Michael Anthony