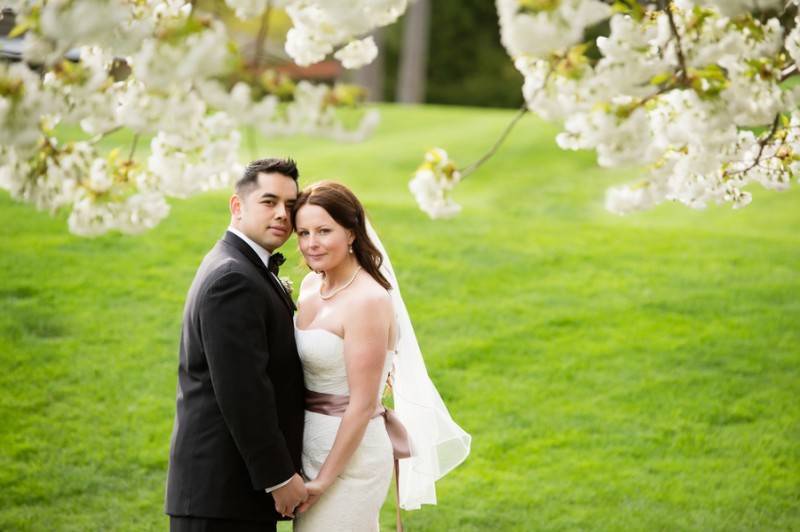 … those are two words that would perfectly describe this wedding. Our bride wanted a dreamy and ethereal wedding. And with all the white, gold and pink highlights, that vision was a breeze. For us, on the other hand, this wedding was filled to the brim with sweetness and we meant that figuratively and literally. Our couple, Ian & Erin, showed us through their wedding pictures together what love is. Their love story is an epitome of the saying "If it's meant to be, it will be" so it's not surprising that these two people are clearly perfect for each other. Now for the "literally" sweet part. There is an abundance of sweet treats in this wedding – macarons, the cake, etc. Not only do they all looked delectable, they even looked like works of art. Truly dreamy and sweet. Congratulations Ian & Erin!
If you never believed in fate before, believe it now. – Ian
What is your story as a couple, how did you meet & fall in love?
Ian and I met at work. When we first met we were involved with other people but after a couple of years working together the stars aligned and we both found ourselves available. I remember the way it felt to cross paths with him at work and how excited I would be to see him. We both would go out of our way to see each other. Ian asked me to go for drinks with some colleagues after work one night. One thing led to the next and at the end of the night it was just the two of us left. I think we both felt the connection right from the beginning and after 8 weeks of dating each other he proposed!
What makes the two of you a perfect match?
Ian and I compliment one another's personality. He is steadfast and hard working. He has high expectations of himself and works hard to live up to his standards both at work and in his personal life. I guess you could say that I am a lot more free spirited than that. I don't take life too seriously and I love to be the social butterfly. Ian helps me stay grounded and helps me "reel it in" when I need to focus. I think I help him to relax and appreciate the little things in life. We both love our family and friends very much and try to see them whenever we can. We both have a great sense of humor so not a day goes by that we aren't laughing about something together
How did he (or you) propose?
Ian and I got engaged on December 31, 2012. The original plan was to take me to the top of Grouse Mt which overlooks the city of Vancouver, BC (one of my favourite places to be). When we got to the top of the mountain there was so much fog that we couldn't see anything. Not satisfied with this, we finished up lunch and Ian took me back down the mountain to Stanley Park where he proposed to me on a bench by the marina with the city in the background. It was simple and sweet and perfect. We celebrated that night with his Mom and Sister.
How long was the planning process? Did you think it was enough time?
I had almost 16 months to plan the wedding which was more than enough time.
What was the best advice you received when you were planning your wedding?
Don't let the finicky little details bother you. No one will ever notice and you will be much more relaxed if you are able to just let some stuff go. Some things are just out of your hands.
What tips & tricks ("hacks"?) can you share future brides that you yourself have learned during and after your wedding?
RELAX. Stay organized by collecting all your ideas in one place. The best tool for me was my pinterest board. I had all my ideas there right from the beginning and it was great to be able to show the florist, hair stylist, decorator, venue, etc. everything that I had in mind. As the time grew closer I wouldn't go anywhere without my notebook. Every time I would remember something else that had to be done I would write it down. I also tried to get at least one thing done everyday. My goal was to finish everything before our family and guests started to roll into town two days before our wedding. I'm happy to say that I was able to do this even though it meant staying up until the wee hours of the morn on the Wednesday night before the wedding. I'm so glad I made this small sacrifice because I was really able to just relax in the couple days leading up to my wedding after everything was done.
What were some challenges you faced planning your wedding & what would you have done differently to avoid them?
I know it sounds too good to be true, or maybe I have my laid back attitude to thank, but planning this wedding was stress free and had very few challenges. I honestly don't think I would have done anything differently.
What inspired your wedding decor? Why did you choose the things that you did?
I wanted something dreamy, ethereal, classy, and simple. I chose mainly a white palette with subtle hints of light pink and gold. I splurged on my bouquet but kept the rest of the wedding flowers simple (read, affordable). I chose navy blue bridesmaid dresses that worked perfectly with the venue and pictures. We chose a venue that could accommodate our out of town guests, and host the ceremony and reception in the same location. The venue had experience with large functions and they managed our wedding beautifully.
What was the wedding budget?
Approx $20,000 all in.
Where did you save the most money?
Invitations – we made them ourselves.
What was the biggest expense?
The venue because we decided to do a "toonie bar" for our guests.
How many guests were invited in your wedding and what was the final guest count?
120 invited. 87 final guest count.
What songs did you use during the ceremony?
Processional / Recessional – generic instrumental wedding playlist
Bride's entrance – Christina Perri, 1000 years
One of my bridesmaids sang and played guitar
Where did you go on your honeymoon?
Secrets Resort, Huatulco, Mexico
What are you most excited about for the future?
Starting a family!
Do you have advice for couples still in the planning process?
Remember that your wedding day is about the two of you as a couple. You don't have to please everyone – they will understand. If you get a chance to sneak off for moment with your new spouse on the day of your wedding, do it – take some time to yourselves to really take it all in. And RELAX. Don't sweat the small finicky details – no body cares about that stuff. Your guests are there to celebrate you and they won't notice if something is out of place or not as it should be.
What would you say, the overall story for this album?
SO MUCH LOVE!
What was your favorite part of the day?
All of it
Was there any Do it Yourself (DIY) projects? If so, can you describe them in detail?
Our photo booth was a project that my brother worked on for us. I don't have many details but it turned out awesome and everyone had such a great time. All of the signage was done by my husband and I. Same goes for the invitations.
What were the highlights from the ceremony & reception?
The speeches were incredible. Also, being surrounded by our family and friends.
What part of the ceremonies do you think was the most memorable for you? Your guests?
It was the first time that most of them had met and it honestly could not have gone any better. We were told by numerous guests that it was the best wedding they've ever been to! I'd have to say I agree with them
Vendors
Photographer:  McKinnon Photography
Event Designer:  All in One Party Shop
Cake Designer: Coastal Cake Company
Event Venue: Crown Isle Resort & Golf Community
Hair Stylist:  Hairpins Salon
Event Designer: Krylea Creative Solutions
Floral Designer: Purely Flower
Outfits: Jim's Clothes Closet & Blush Bridal Boutique