Greg and Paula's wedding reception was beautiful! The contemporary and elegant setting is giving me major goosebumps. From the classic black and white motif to their spectacular chuppah — everything was made perfect for them. I can't express enough how gorgeous and well thought  everything was  It may be a black tie event, but it certainly is  romantic and dreamy. Cheers to a new life as husband and wife, Greg and Paula!
Album Story:
Paula and Greg met on Jdate. They quickly realized that they had several friends in common and so much of their lives overlapped. They both went to Big 10 colleges. He went to Wisconsin, and she would go there every year to visit a friend (that he was friends with too). She went to Indiana, and so did his sister.
The Theme:
The goal for the decor was modern, dramatic, unique, romantic, dreamy. The flowers were my favorite part. The chuppah was a large structure filled with white roses. The table centerpieces were all different. Some were candelabras with flowers wrapped and draping down to the table.
The Do-It-Yourself (DIY) Projects:
The only DIY was the baskets of flip flops I had for the girls. The decor was designed by Marc Hall Design and Carol Singer (Celebrations Party Planners).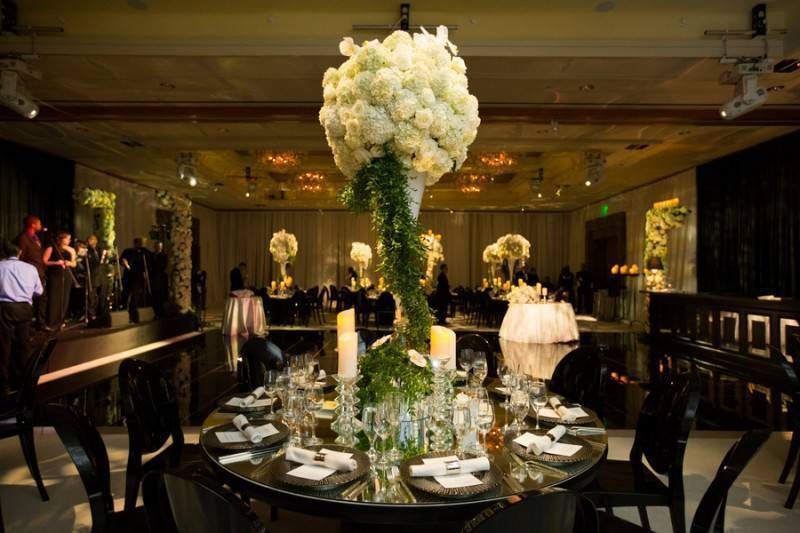 Wedding Day Outfit Inspiration:
I wanted my wedding to be unique. I wanted a modern, contemporary feel, but also very romantic and "dreamy". I wanted it to be a more black-tie affair, and something people had never seen before.
— Paula, The Bride
In Addition:
You'll notice there was not a single outdoor photo. The couple really didn't want to go outside and risk the elements. I think this is a great example of using the indoors to your advantage. I hope you enjoy the submission!
Favorite Part of the Day:
Every part of the day! So hard to choose. I think the parts that really stick out to me were seeing my dad for the first time, seeing Greg for the first time at our first look, and seeing the chuppah and the room. I cried all 3 times. It was everything I could have imagined and more.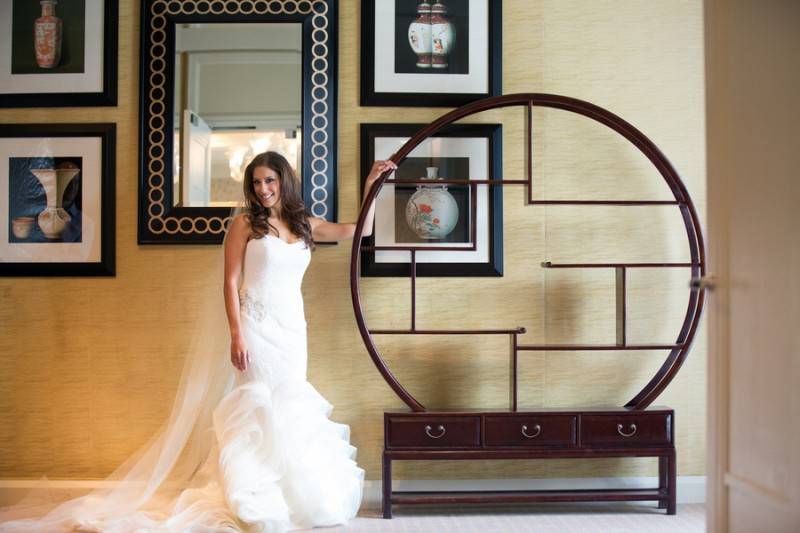 The Highlights from the Ceremony & Reception:
I was just blown away with how well everything was executed- and how amazing it all came together. I couldn't get over the Chuppah- and still can't. It was the most dramatic, beautiful piece of art. The room in the reception was just as incredible. Our band was so much fun and I just remember it getting very rowdy at the end, the band came off stage and was singing in the middle of the dance floor. Also- the food was INCREDIBLE, and everyone was talking about it.
Most Memorable Moment:
The above comments were from the bride and groom. I think they really were amazed by their first look. It was just lovely. They also had a blast during the first dance and Hora.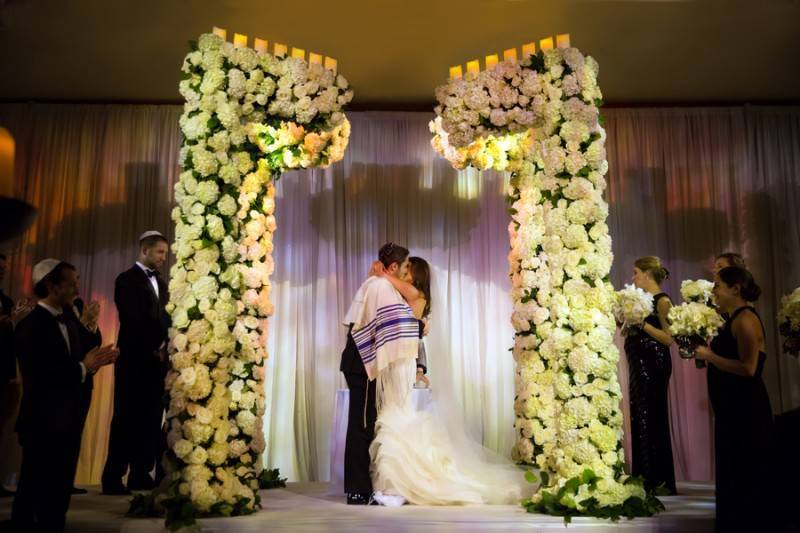 VENDORS
Photographer: Photography by Nikki Cole
Event Planner: Celebration
Floral Designer: Marc Hall Design
Equipment Rentals: Rentals Unlimited
Reception Venue: The Mandarin Oriental Boston