Annalisa and Christopher's wedding certainly brings together the charm of the old world with the style of the new one. A lovely combination of traditional and modern class. The whole traditional-modern combo came together when they took photos at the Vanderbilt Mansion. The bridesmaids wore old rose chiffon gowns that had the dreamy look, but were still stylish because of their up-to-date designs. And although, the colors may seem a bit muted for such a lively affair, they actually go great with the gray suits the guys wore.
The clothes, location, and photography style (I strongly urge you to look at these beautiful pictures in the gallery) all add up to a delicately romantic effect. I don't know about you guys, but this whole thing just makes me dream of an old world romance. Hmm, I wonder if these two were once nobles living in stucco mansions in their past lives…
The Album Story:
The overall story of the album is the very close relationship between the Bride and her family. The couple had a fashion forward style which was evident in the gown selection and the modern suit style for the guys. They wanted to bring the old world feel to the wedding maintaining tradition but interweaving modern style.
Wedding Outfits:
The guys wore light grey suits and the girls had blush pink flowing chiffon gowns. The colors were soft and romantic.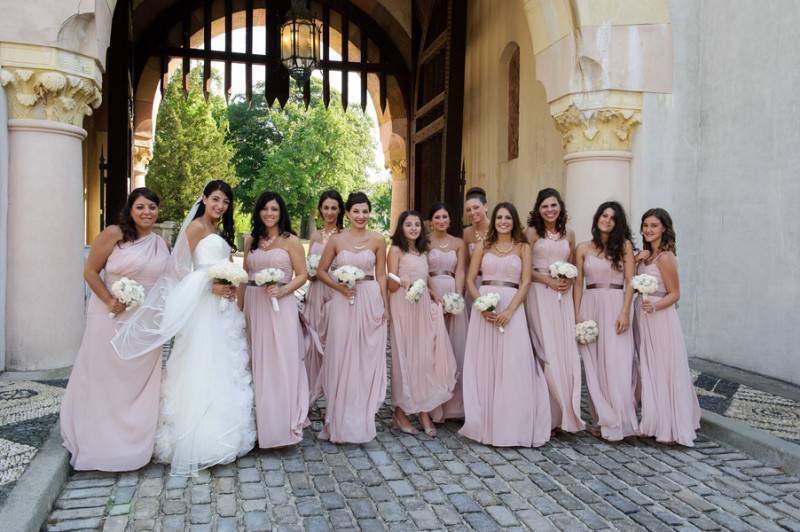 The Theme:
The theme for the reception would be a "hot pink party"!
Do-It-Yourself (DIY) Projects:
The bride gave her Dad a handkerchief with a beautiful letter embroidered telling him she will always be his little girl – sweet.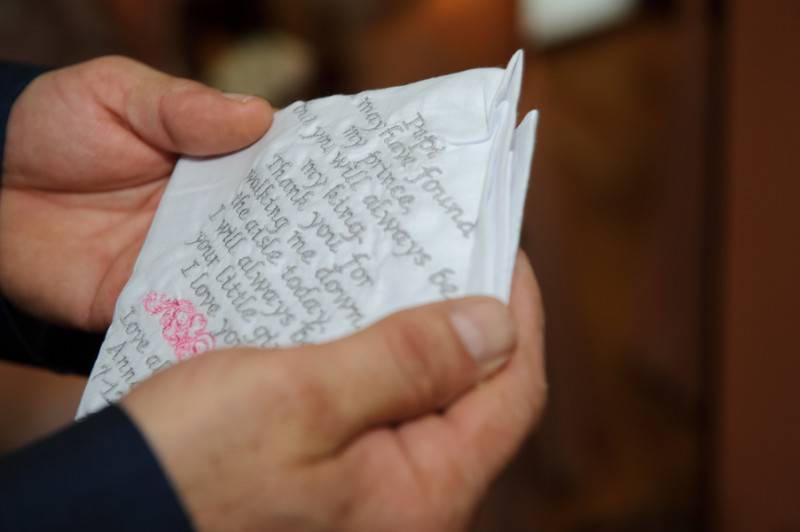 Highlights From the Ceremony and the Reception:
The ceremony was a traditional Catholic mass. The highlight were the excited expressions of joy as they were announced man and wife. The reception was full of non-stop dancing. We even had a chance to sneak out for a few night shots to capture the fading lights of the day.
Favorite Part of the Day:
The photo session at the historical Vanderbilt Mansion. The stucco of the building and the cobble stone paving was the perfect backdrop to the colors of the wedding. The architecture was stunning and allowed for so many interesting images – fun and romantic.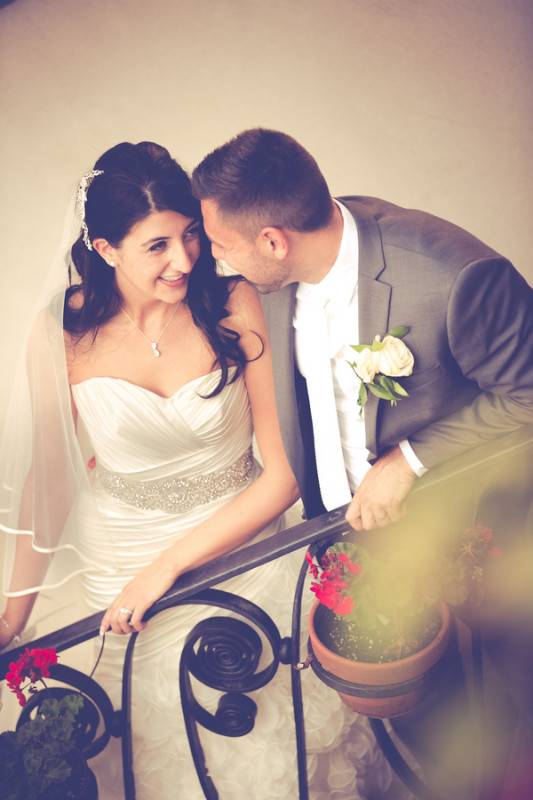 VENDORS:
Photographer: Lana Rowe Photography
Reception Venue: Crest Hollow Country Club
Floral Designer: Jack Rose
Transportation: Mark of Elegance