For the bride who is great in the kitchen, a DIY wedding with an elegant menu is definitely possible. Delicious hors d'oeuvres will keep guests coming back for more. These great recipes can help fill up your wedding menu, or serve as inspiration as you plan your own.
Seared Lettuce Steak Cups
For this delicious recipe that creates a beautiful hors d'oeuvre, simply use small leaves of romaine lettuce. Sear thin-sliced steak and place small portions on top of the leaves. Throw on sautéed garlic, fresh tomatoes and shredded parmesan cheese. A drizzle of a vinaigrette you love will create the perfect flavor for this fun appetizer.
Herb Crackers Topped with Olives, Cheese and Tomatoes
Create your own herb crackers by mixing up a cup of flour, 2 tablespoons of oil, ¼ cup of warm water and a teaspoon of salt. Mix in ¼ a cup of your favorite herbs, from rosemary and garlic to thyme and sage. This will make about 50 crackers, so you'll need to increase your recipe to serve all of your guests. Top the crackers with mozzarella cheese, onions and cherry tomatoes skewered on a toothpick for a fun appetizer.
Chicken Salad Cucumber Cups
Slice a cucumber into thick circles, and use a small cookie cutter to remove the center. Create chicken salad with shredded chicken, mayonnaise, Dijon mustard, sliced grapes and apples, crushed pecans, diced onions, and fresh green onions. Spoon small amounts into the center of the cucumbers for a delightful treat.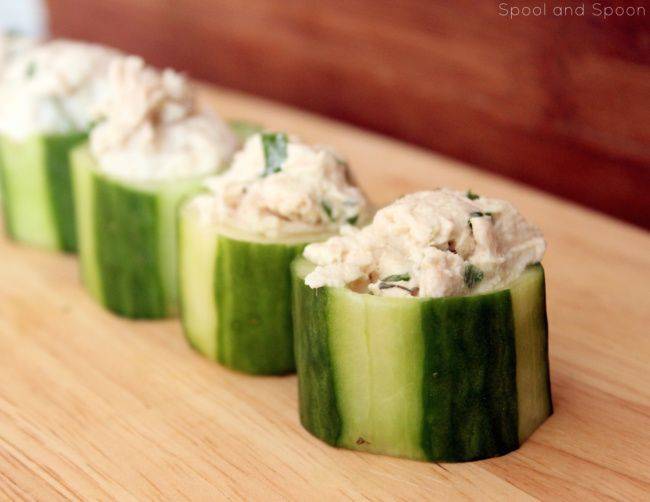 These fun appetizers are easy to create and are sure to be favorites at your reception!