If you're having a destination wedding, there are tons of fun destination theme wedding favor ideas to choose from, regardless of your occasion's location.
Having a destination wedding is a big deal, and something as exciting as tying the knot in a faraway place requires equally exciting destination theme wedding favor ideas to go with it! The destination theme wedding favor ideas you choose for your guests will give you a chance to enhance their stay while they are on vacation with you, and will allow you to give them something they'll actually use. Practical favors are especially appreciated for destination weddings, as many travel products or favors related to the specific locale come in handy while your guests are far from home.
What to Look for
When looking for destination theme wedding favor ideas, you have a few different options. First, you can give favors that are specifically made for guest use, such as personalized shampoos, lip glosses, or sunscreens. Sometimes wedding venues in Cancun Mexico offer different favor ideas for you to choose from. Ultimately you want to give them items that will be useful when they return home, but that offer a special theme that ties in with or location, mainly for decorative and sentimental purposes. Either way, your destination theme wedding favor ideas are sure to be used by your guests at one point or another.
Suggestions
Chrome Seashell Bookmark: If you're having a beach destination wedding or are getting hitched near the lake or seashore, this bookmark is a perfect favor idea. Your guests can use it to sit back and read their book while they are visiting, or they can take it home and put it to use when the party is over.
Brush and Mirror Compact Favors: The Personalized Expressions Collection offers brush and mirror compact favors, which are ideal for travel and for destination beach weddings. Even better, they can be personalized with a special welcome or thank you message for your guests!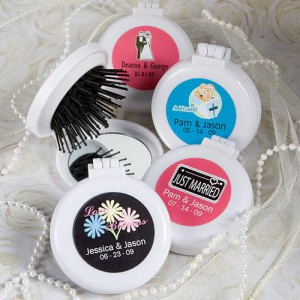 Eiffel Tower Place Card Holders: Are you getting married in lovely Paris? Try these place card holders. They'll come in handy when designating places for your guests to sit at the reception, and they'll serve as wonderful keepsakes after the big day.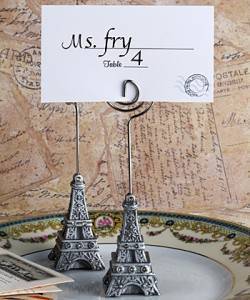 Luggage Tags: There are all sorts of luggage tag favors that are ideal for destination weddings, and your guests will appreciate them when it's time to travel home. Try the Airplane Luggage Tag, which comes in a gift box with cute suitcase tags.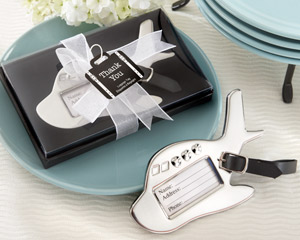 These are some of our favorite destination theme elegant wedding favor ideas!