Cowboy boots at an elegant wedding? YES PLEASE! Kara, the bride, found the perfect pair that screamed elegance for her Rustic Elegance wedding. She also had the same matching boots with her bridesmaids. And they were a perfect match with the red dresses. Who would've ever thought cowboy boots can be this sophisticated?
Of course, that wasn't the only wow factor this wedding had. The CAKE — the six-tiered berry cake. I could only imagine how berry (pun definitely intended) sweet it was. The decors were also on point; the wood stump centerpiece and the artichokes as accents. Love the gold and red combination by the way — very regal! Best wishes and Congratulations, Jaime and Kara!
Our Story:
Jamie (the groom) and I (Kara the bride) were introduced to each other by my cousin, Jean. Jamie and she worked together for a few years, and she knew that we were both single, so she thought we would be the perfect pair together! She told me about him, and I used social media to make first contact. We decided to get together and go on our first date, from there it was history. We live in South Haven, MI, which is an exquisite tourist destination. So, we took advantage of that and went out on the town for our first date. We went to dinner, for a walk on the pier and caught a movie. We both knew after that night that we were meant for each other.
We Are A Perfect Match:
The two of us make a perfect match because, we have SO much in common. We are both very outdoorsy people; we love hunting and fishing. We are also very understanding of each other and know what we each want in life.
The Proposal:
We rented a lake cabin for my birthday; we spent the weekend fishing, tubing and having fun. My mom, dad, cousin Jason and Jean, and our two German Shorthaired Pointers; Moose and Bullet were along with us. On my birthday, we were all outside enjoying the sunshine, Jamie and the dogs were missing for a few minutes. Next thing I know Moose and Bullet are running from inside toward me and Jamie said, "they have a surprise for you." I went to see what they had, and around Moose's collar there was an engagement ring and Bullet had "Will You Marry Me?" written on his collar. Jamie then proceeded to get down on his knee and ask me the big question.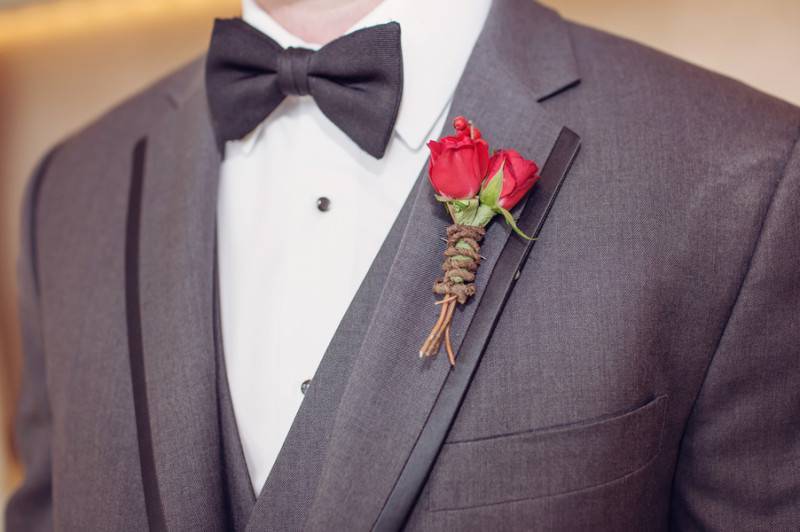 The Planning Process:
We got engaged May 31st, 2014 and were married on January 30th, 2015 (in Hawaii) and reception on February 14th, 2015. If you have the right people helping out, I thought it was plenty of time to get things sorted out. What was the best advice you received when you were planning your wedding? The best advice I received when planning was. Do everything you and your groom would like at your wedding. This is a special day for both of you. And, of course, HAVE FUN with it.
Tips & Tricks For Future Brides:
Tip and Tricks, definitely take advantage of the internet, it has MANY useful tips, hints, etc. Keep calm and talk to your future husband about everything, as much as people think that the groom doesn't want to be involved, secretly he does want to be.
The Challenges We Faced:
Issues will come up, and you just have to go at them with a cool head. We had a huge snowstorm hit the night of the reception, and about 50 people did not make it. We still had a great turn out and had lots of fun. You just have to go with the flow, and everything will work itself out.
Wedding Décor Inspiration:
Our wedding décor was inspired by both our hobbies. We are both from the country, so we definitely had to go with a rustic feel, but we wanted to stay elegant and classy. We tied both the things together, and I don't think it could have turned out more beautifully, our theme turned into "Mystical Forest". We had pheasant feathers and shotgun shell table markers on the tables – we LOVE to hunt. Our centerpieces were simple, yet elegant. We had birch trees in the corners, with lights attached to give it the feeling you were in a forest, along with apple crates with mason jars filled with water and candles; it definitely gave off mystical feeling. Our chair covers were potato sacks (crazy, right), but they looked perfect with everything!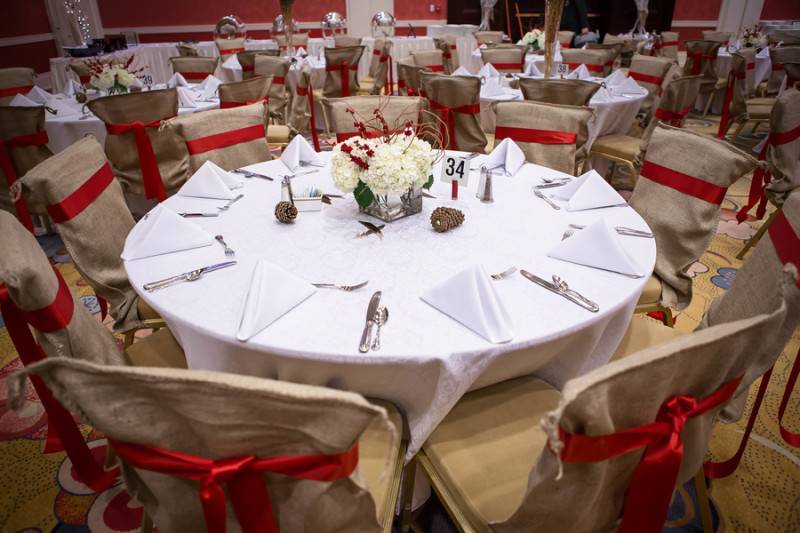 Planning Advice For Other Couples:
Relax. This time in your life should be FUN, not stressful.
Wedding Day Outfit Inspiration:
I wanted a dress that was perfect for me, as every bride does. My dress was very elegant, yet a little country feeling. I wore my cowboy boots with it (I love riding horses) and pearl jewelry. It all fit together perfect!
The Theme:
Mystical Forest. Elegant yet, rustic feeling.
The Do-It-Yourself (DIY) Projects:
I purchased a lot of things from Etsy.com that gave it the DIY feel, but saved myself from the hassle.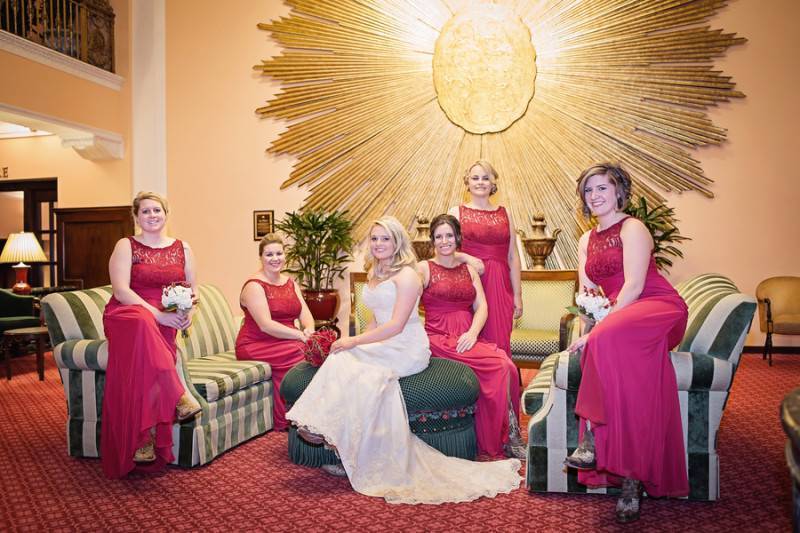 Money Matters:
The wedding budget was about $150.00 per person. The venue and the food were the biggest expense.
The Guest List:
We invited about 400 guests. 300 RSVP'd Yes. After the snowstorm had hit, we figured about 250 people were able to attend.
We chose a large venue because we wanted to invite everyone that was a part of our lives. That way, we did not need to worry about weeding people out.
The Songs:
We had duelling pianos play, it was SO much fun, and we had some many compliments on how entertaining it was.
Our Honeymoon:
We honeymooned after our wedding in Maui. It was absolutely beautiful. What are you most excited about for the future? I'm so excited to create a life with Jamie. We enjoy each other's company and have so much fun together. I cannot wait to make many of memories!
Favorite Part Of The Day:
My favorite part of the day, was being able to see everyone's excitement over our marriage. It was a day full of love.
The Highlights From The Ceremony & Reception:
The highlights for me was the whole setting, I didn't get to see everything all set up until Jamie and I were announced to everyone as husband and wife. Everything was so beautiful, it all came together perfectly.
Most Memorable Moment:
I think being able to visit with everyone that was able to come was most memorable to me. It showed the love they have for Jamie and me.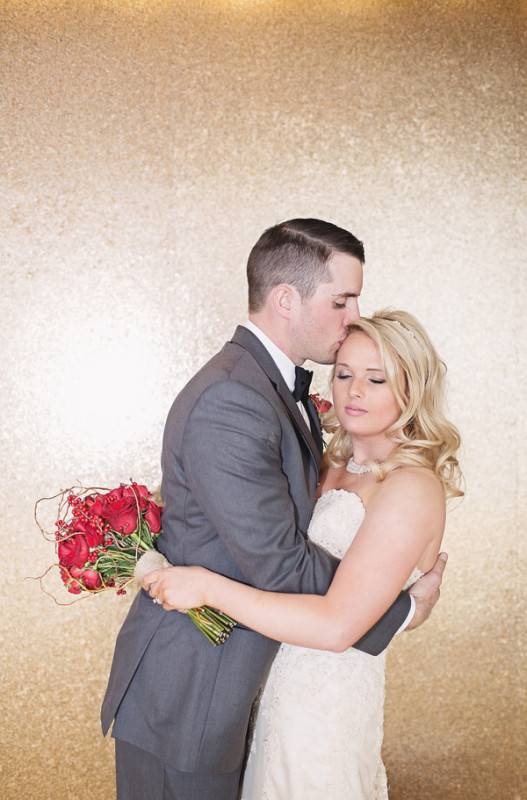 VENDORS
Photographer:  Melanie Bess Photography
Dress Designer: Maggie Sottero
Reception Venue: Amway Grand Plaza Hotel
Shoes: Corral Boots
Event Planner: Divine Divas Event Services
Floral Designer: Flower Girl Floral
Dress Store: Memories Bridal & Evening Wear
Groomsmen Attire: Men's Warehouse
Musicians: Midwest Dueling Pianos