The Indian culture is pretty much one of the most rich, interesting, and colorful culture there is. I really admire them for their ability to sustain and preserve their culture's amazing traditions despite the ever changing times. One of the most famous rituals they have is that for weddings. From what I've skimmed through an article, I am a fan of the symbolism of all the process the bride and groom has to go through. Aside from this, it truly is the most colorful kind of wedding and this feature is proof. And no matter what your religion or race is, we're sure you'll enjoy the pictures and get an idea or two. The purple, red, and gold really looked elegant when it was translated to table pieces, cakes, and stages. So what are you waiting for, browse through the albums and enjoy what this culture and styled shoot has to offer.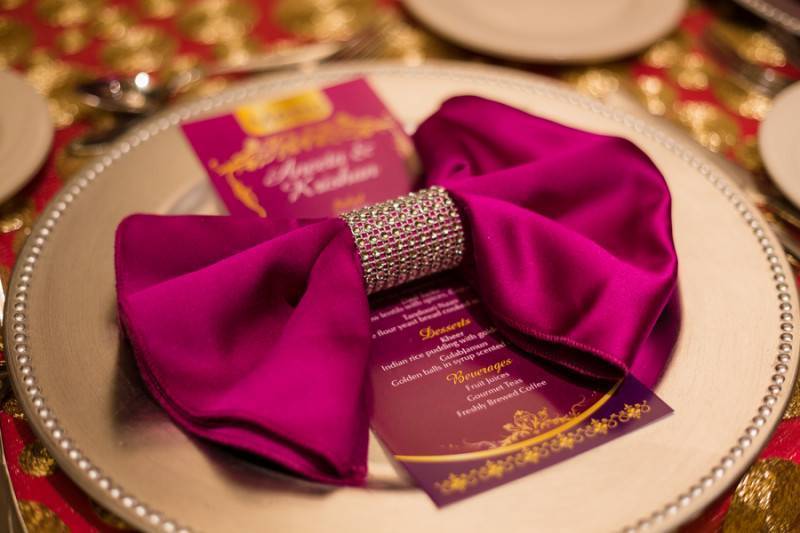 Photographer
This beautiful styled wedding embraces elegance and tradition with gorgeous colors, amazing details and golden natural light. At the Embassy Suites in Tampa, Florida a team of Tampa Bay's top wedding professionals created this styled experience to embraced traditional Indian ceremonies with a modern twist. We wanted to capture the essence of the exotic, honor heritage and embrace love. Talented wedding professionals worked together to create this epic Indian Wedding Inspiration Shoot themed "Jeweled Dance of Love" with the focus on color, texture and the beautiful movement of dance.
We wanted to inspire Brides with a sparkling jewel and precious metal toned color palate, luxury fabrics, gorgeous flowers and a horse named Snowy adorned with gold. YJean Ligon from Amazingly Creative Events describes her creative process for designing the reception decor "This couple's personality was exemplified in their wedding decor. While maintaining the traditions of an Indian wedding, the décor displayed opulent elegance with a modern flair using purple and violet, fuchsia, and a mix of silver and gold. Sophistication and royalty radiated from this shoot."
Fashion designer Kresha Shah, owner of Traditions Boutique explains the attire for the shoot, "We wanted the Bride to display Traditional Red and White Lehanga for the wedding ceremony rituals. So we picked our beautiful Kashimiri work lehanga with some bead and pearl embellishment in an eye catching flower motif. We draped her with an emerald and ruby stone choker and long chandanhar necklace to complete the look. For the Reception look the Bride was dressed in a very glamorous Fuchsia long gown Anarkali with gold embellishments. To give her a very contemporary style we adorned her with a beautiful necklace as a headpiece a unique and creative styling choice."
We created elements from the Mehandi Ceremony, the Baraat and the reception. Throughout the entire shoot we infused elegant movement of graceful dance illustrated by the gentle wrist positions to showcase ornate henna to flowing veils embracing of our Bride and Groom with vibrant color. It was the intricate details that made this shoot so special. Michelle Renee from Michele Renee- The Studio artistically applied makeup and styling to reflect the rich vibrant colors creating a cohesive look. Her talents truly made our Bride and Groom look amazing from all angles.

Vendors
Photographer:  Rising Lotus Photography
Event Designer:  Amazingly Creative Events
Floral Designer:  Bloomingdale Florist
Event Venue:  Embassy Suites USF/TAMPA
Jewelry:  Gold & Diamond Source
Other:  Horse Power
Beauty:  Jen's Henn
Other:  L&L Events
Makeup Artist:  Michele Renee Hair and Makeup Artist Group
Linens and Coverings:  Over the Top Linens
Event Designer:  Rtti Couture
Floral Designer:  Shriji Creations by Hina
Dress Designer:  Traditions Boutique
Tuxedo and Mens Attire:  Tweet's Bridal & Tux