Ken ♥ Stephanie
This lovely couple have a deep appreciation for history and tradition, and wanted their wedding day to reflect this. From the beginning of the planning process, Ken and Stephanie wanted each detail to be both timeless and classic. They were married at the church where they started attending with mutual friends. The Liberty Grand became the perfect venue for the reception as the day gave everyone an unspeakable joy. To Ken and Stephanie from all of us at Elegant Wedding, congratulations on your new life together!
Details That Made This Wedding Extra Special
The dress. Oh my, what a dress! A perfect mixture of class, elegance and timelessness. The luxurious waves in Stephanie's hair were complimented by the flow of her dress. From head to toe, her look was perfect.
The photo location. They opted for Knox College as their photo location. Knox is a history building at the University of Toronto campus and is filled with dramatic lighting. Not everyone goes to Knox for pictures as U of T is quite busy during the summers, but when you plan ahead like Stephanie did, you can get your permit and reserve your spot in a super unique place.
The energy of the day! Stephanie and Ken's bridal party was perfect. Yes, it's hard work being in a bridal party – but these bridesmaids and groomsmen were up for the job! They kept the day positive, the energy high and the dance floor kicking. They were ambassadors for the day and played a huge role in making everything happen. Choosing the right people for your wedding party is so very important.
The cigar bar. After dinner, the majority of the guests made their way outside for a cigar. It created the perfect opportunity for everyone to get up and mingle, setting the stage for a fun and relaxed atmosphere.
The flowers and decors. These have to be another favorite from the wedding. Stephanie wanted nothing more than to have a peony bouquet, but knew it was nearly impossible for a July wedding. Not only did the florist, Katherine from Floral Werx, make sure that she got her peony bouquet, but also pieced together every detail of the couple's vision.
The  massive bridal party. There had seven bridesmaids and six groomsmen, and it made for the absolute best time. Every event leading up to the wedding and every moment of the day itself were made so much better by the fact that they were surrounded by so many of their best friends.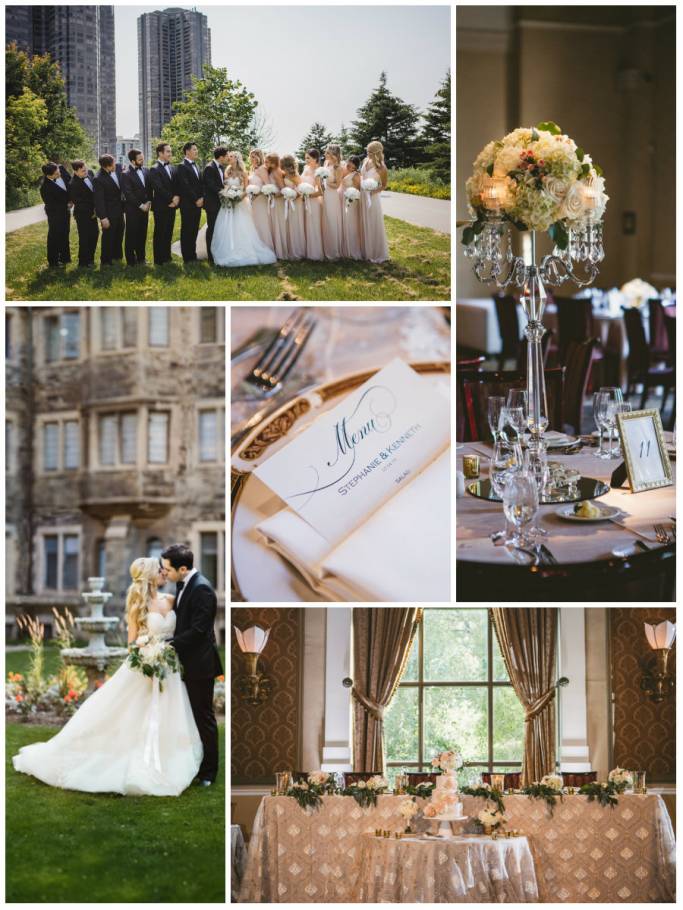 Take It From The Bride
♥ The vendors you choose for your wedding will be so instrumental in helping your vision come to life. These are the people you will be spending so much time with before your wedding and that will be surrounding you on the big day. Make sure that you not only like their work, but that you see eye to eye with them as people. Each of our vendors felt like friends, which made the whole process comfortable.

♥ The day will go by so quickly; make room for a few minutes alone in your wedding day timeline. We had a few quiet moments to ourselves in the dinner room before guests entered. This gave us the opportunity to take everything in and really appreciate the day.

♥ Enjoy the planning process! There is so much pressure to get things done and to feel like everything has to be perfect. Enjoy all the little moments leading up to the day. Things may not go exactly as planned, but in the end it will be.

-Stephanie
Tips From the Photographer
♥ Plan for a wedding photography location that will work regardless of weather. While many couples worry about rain, Stephanie and Ken had a heat wave to worry about. Being indoors for many of our photos provided the couple with a chance to beat the heat (and keep that hair and makeup looking good!)

♥ Also, don't be afraid to invest in a photography permit. By investing into a permit or Knox College, Stephanie and Ken ensured that they were the only ones present during the shoot and we didn't have to share the space with anybody. While permit-free parks are typically most couple's default location, they are swamped with other couples and everyone is fighting for a good spot. A photography permit should be considered an extension into your photography investment.

-Erika
Money Matters
Wedding Budget: $20,000 – $45,000+