A casual day at the park – the concept Cameron and Jessica went with. They were holding hands, kissing at the swing, exchanging sweet stares, and having fun. The sweetness came on naturally because they were comfortable with each other. The outfits they chose were suitable for the lovely-stroll-at-the-park-date style. These two couldn't look cuter and happier. Best wishes Cameron and Jessica!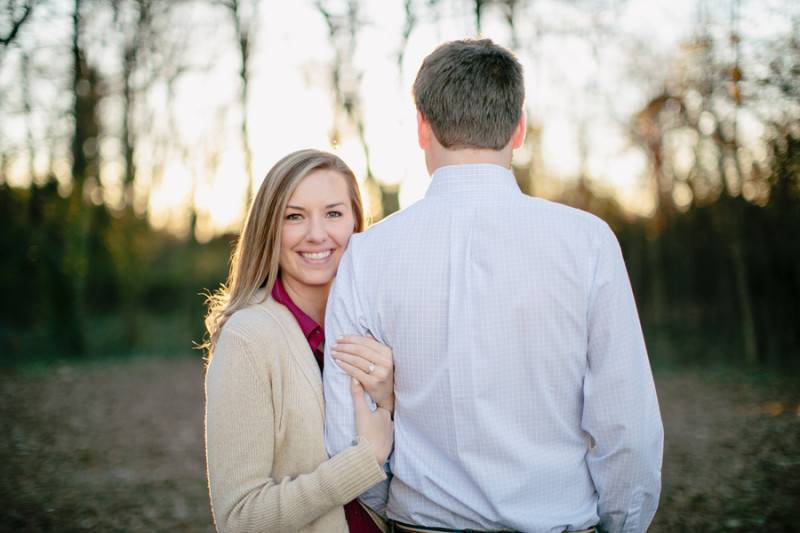 Cameron and Jessica met in 2008 when they worked together for a company in Atlanta, Georgia. In 5 years of working together they became friends, confidants, and some people would even say they acted like an old married couple. About a year after Jessica left for a new job and they no longer worked together, Cameron and Jessica decided they liked it a lot better when they saw each other every day and started dating in December 2013. On Halloween night, 2014 Cameron took Jessica back to a familiar spot, Whittier Mill Park, for what he called an adventure. One of their favorite pictures is of them swinging on the swings there during a company picnic. After a short walk along the train tracks down to the river, he totally surprised her and asked her to be his wife. She said yes. J In January 2015, Jessica and Cameron will be married in the Piedmont room in Atlanta, Georgia informed of all of their wonderful friends and family.
The Concept:
We wanted the pictures to come off as fun and natural. Just a couple of people in-love hanging out in the park on a Sunday afternoon.
The Location:
About five years ago when we were coworkers we had attended a company picnic at Whittier Mill Park outside of Atlanta. There is a picture of us, long before we were dating, swinging on a swing set there that has always been a favorite of ours. Fast forward five years, and after dating for almost a year Cameron proposed at that same park, so it was an obvious choice for the location of the shoot. What inspired your outfits for the engagement session? We wanted to look like ourselves. We had two outfits, one a little more formal and one casual, but they were things that we would wear hanging out with friends or going out to a nice dinner. We wanted the pictures to look like they could have been taken at any time, representing our real lives together, not just a special occasion.
Wedding Day Hint:
Our smiling faces give an indication to how much we adore each other and can't wait to be married.
The Engagement Session Experience:
It was a little awkward to get used to, but we tried to laugh a lot and be as natural as we could. Barbara did an excellent job of giving instruction without make it seem completely unnatural or getting in the way.
Tips to Other Couples:
Don't do anything unnatural. If a pose feels utterly ridiculous and you are uncomfortable, that's going to come across in the pictures. Just be yourself, laugh, talk to each other, and have fun.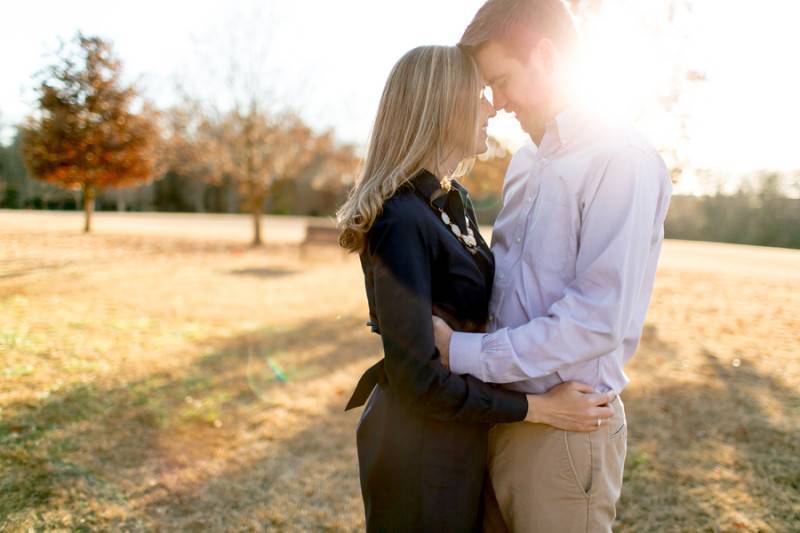 VENDORS
Photographer: Barbara B Covington Photography