Yep, that title is so full of contradictions it almost didn't make sense. But once you browse through the album, you'll totally understand what I meant. Because one amazing thing about this wedding is that even though our bride only had a casual and rustic event in mind, they achieved these goals plus an elegant style too. It's probably because all the details, decors, colors, ensembles, and the location came together so well that they ended up with such an awesome looking day.  Congratulations Katie & Clark!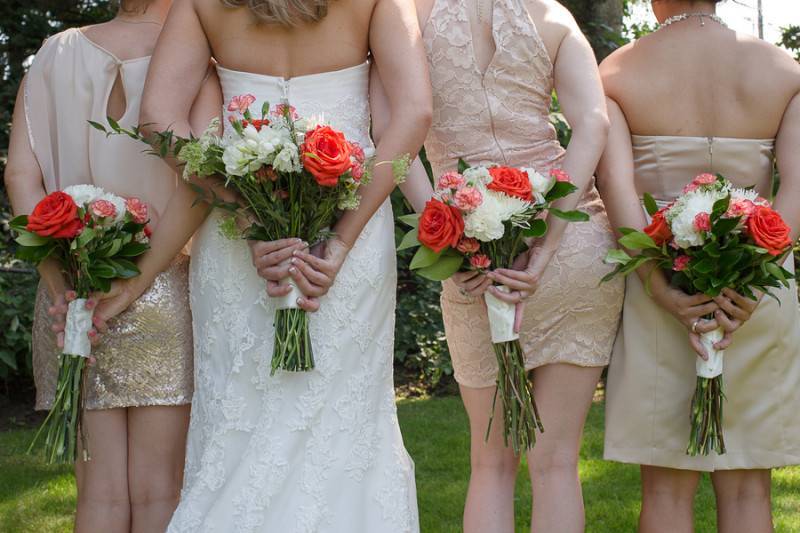 Bride
Our wedding was the most joyous, sunny and memorable day we could have ever imagined. We wanted an outdoor wedding on the river with a very casual laid-back feel. Along Came Trudy in Springfield, Oregon accommodated it all. We fell in love with it instantly! We chose neutral colors with a pop of orange. The venue offered a rustic theme that tied in perfectly with our colors and relaxed atmosphere. The owner of the venue does such a great job decorating with lots of vintage and rustic pieces. Friends and family helped us with a few DIY projects including the flower pot centerpieces and wedding programs. The Ceremony took place on the beautiful riverbank of the Mckenzie River and the reception was a short walk through the filbert orchard to the barn and garden. Our guest had the option of setting in the barn or out on the lawn for dinner. We served a backyard BBQ styled mean provided by Wild Duck Catering. We set up a couple of our favorite lawn games, corn hole and washers. We also had a DIY photo booth made by the MOH's father for everyone to enjoy. It was so special to have all of our family and friends together celebrating our special day!
What is your story as a couple, how did you meet & fall in love?
We met through friends after high school. We both lived in the same area our whole lives but went to different schools. We were friends for about a year and then decided to try dating. It didn't take long for either one of us to fall in love!
What makes the two of you a perfect match?
It's simple, we're best friends who were lucky enough to fall in love.
How did he (or you) propose?
He planned a trip to Bend, OR with several of our friends. I was told it was a celebratory weekend for one of my best friends that had just graduated college. Turns out it was all planned for his proposal to me! I had absolutely no clue, everyone kept it a secret and I was totally blown away!
How long was the planning process? Did you think it was enough time?
We had one year and four months to plan. It's definitely enough time, however I procrastinated quite a bit which led to some stressful times. It's never too early to plan for a wedding!
What was the best advice you received when you were planning your wedding?
Don't stress too much over the small details. They're not as important as you may think.
What tips & tricks (can we use "hacks"?) can you share future brides that you yourself have learned during and after your wedding?
I wish I had hired a wedding planner to keep track of all the small details and was there to help out on the day before and day of. I had a lot of help from family and friends but I still could have used some professional help.
What were some challenges you faced while planning your wedding & what did you do to address them?
I honestly didn't have very many challenges. Everything seemed to just fall in place. The little challenges I did have weren't worth giving much energy to, so I moved on and forgot.
What inspired your wedding décor? Why did you choose the things that you did?
We wanted very casual and rustic decor. I guess it was "in style" and we both really liked it. The venue that we chose was already decorated perfectly and just had that "rustic" feel.
What was the wedding budget?
We didn't set a number, we just did our absolute best at picking out reasonable vendors, decor, attire, accessories, etc. We chose to spend the most on the venue and the caterer. I spent more on my dress than I wanted but it was totally worth it! Those pictures will last forever and I wanted to feel beautiful.
Where did you save the most money?
Trying to do as much DIY work as possible and borrowing items from friends and family. I only rented a few decor pieces just to tie everything together.
What was the biggest expense?
The venue was the biggest expense and most important to the both of us.
How many guests were invited in your wedding and what was the final guest count?
We invited 140 and I think 125 ended up showing.
How did you narrow down your list?
We didn't focus on how to narrow down the list. We just made sure that we invited all of the close/important family and next all of our important friends. We don't have large families so it wasn't a big problem for us.
Where did you go on your honeymoon?
San Diego, CA. So much fun and limitless things to do! We'll be going back very soon, a week was not enough time.
What are you most excited about for the future?
Creating a new life together and starting our own family!
Do you have advice for couples still in the planning process?
Delegate things to do to people you trust. There's always going to be someone willing to help. I thought I could do it all but once wedding day came around I was scrambling for help and asking people to come early!

Vendors
Photographer:  Ashley Cook Photography
Event Venue:  Along Came Trudy
Second Shooter:  Amanda Meg Photography
Dress Store:  Blush Bridal Salon
DIY or Handmade Goods Designer:  Stepping Stone Wedding Rentals and Events
Caterer: Wild Duck Catering