Purple carnations and champagne roses on gold and silver left me speechless. Bo and Nikki's posh wedding proves to us that even the simple things, when put together, can be a masterpiece. From the table arrangements, up-lighting set-up, to the delicate wardrobe of the whole entourage, everything was well-thought of. And hey, as a DIY fanatic, I have my two thumbs up on the guest bench gimmick. I could picture them both sitting on it and randomly read lovely messages that would bring back their wedding day memories. We wish you more great moments to share, Bo and Nik!
Our Story
Bo and I met randomly at the Houston Hobby Airport in the Chinese food line. Bo was travelling back to his college hometown, and I was travelling for work. We made small talk while waiting in line for our fried rice, and eventually parted ways to enjoy our meals. About 15-20 minutes later, Bo walked up to me and asked me about my fortune cookie. We continued chatting and eventually decided to get together for drinks after our trips. We did just that and four years later we got married.
We Are A Perfect Match
I have definitely always been and always will be a "Type-A" personality. If I had my way, everything would be happen according to a plan and meet a scheduled deadline. I like order and predictability. Bo's schedule is quite the opposite – he doesn't really make plans until there's a need to do so. He has taught me that spontaneity is a good thing and the best moments in life are not pre-determined. I love that we challenge each other and balance our personalities. We love to travel and live active lifestyles. We are grounded in the same morals and family life… except that he doesn't want as many kiddos as I do. :)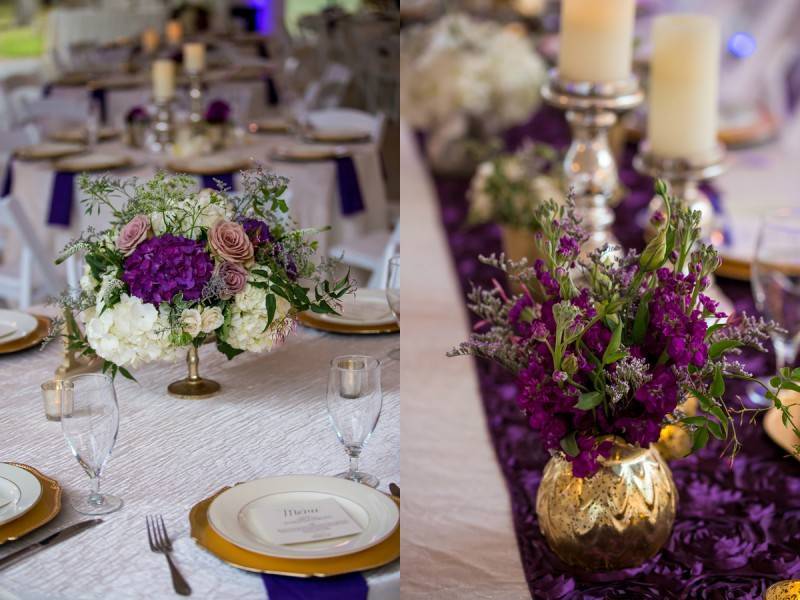 The Proposal
Bo is a pilot, and has to request vacation like a year in advance. We knew we had a vacation coming up – 10 days! It was our longest time blocked off ever. I had never been to Europe and thought this would be the perfect opportunity to get overseas. But Bo insisted that we make a trip to Michigan to visit his parents. I didn't understand why on earth he would want to cut 3-4 days our of our Euro-trip, but decided to go along with the agenda. I remember asking Bo if I needed to pack anything nice to wear, to which he responded 'Nah, we will just be outdoors the whole time.' We had such a great weekend – kayaking, biking, night golfing, hiking.
The weekend was winding down on Sunday evening and I got freshened up after a hike that day. Bo's parents were out for the evening for an event, and they would be back in time that evening for dinner. I decided to sit on the porch as the sun set and read. Bo came down and asked if I wanted a drink – sure! We sat and chatted about all sorts of things on the porch, but I remember him being short on his responses (come to find out it was the nerves!) I stood up and told Bo that we better get moving if we wanted to make it to the beach before sunset, and before I knew it he was down on one knee asking me to be his wife! I was ecstatic of course – just me and him at sunset on that beautiful porch.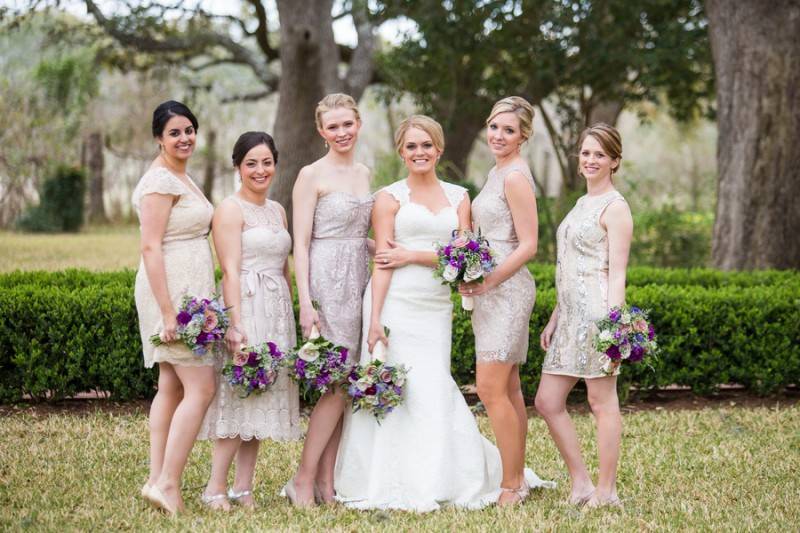 The Best Advice We Received
Nothing will go the way you plan, so don't sweat it too much.
Tips & Tricks For Future Brides
DIY your own paper goods (menus, programs, welcome cards, etc) – no one will remember them.
Find a good friend or family member to be your 'pit-bull'. If something isn't going your way the day of the wedding, you want someone who is willing to deal with it.
The Challenges We Faced
Biggest challenge was the wedding date. There is huge music festival in Austin that normally takes places the 1st two weeks of March so I originally booked my venue and vendors for the 3rd week in March. Well, once the official dates were announced, the festival was now the 2nd and 3rd week of March, overlapping my wedding.
Fearful that guests would have problems with accommodations, I bit the bullet and changed our wedding date to the 1st week of March. Most vendors were willing to accommodate with no additional charges.
Ended up that the first weekend in March was abnormally cold. I worked with the venue to make the decision to bring in additional heaters and leave the siding on our outdoor pavilion. It dampened my vision of the wedding, but ultimately made guests more comfortable, which is what matters most.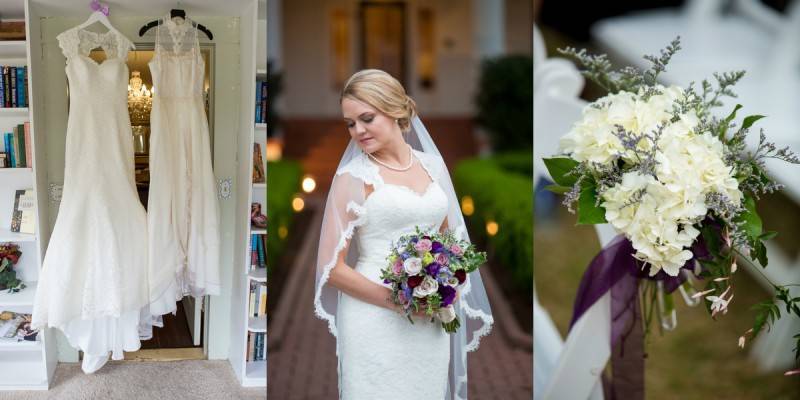 Wedding Decor Inspiration
I love the color purple and all things metallic. Classic, elegant, timeless. I didn't want things to be too 'matchy' so we mixed it up with golds, silvers, champagne, and various shades of purple.
Wedding Outfit Inspiration
Lots of pinterest and advice for fashionable friends! Lace also became a common thread.
Money Matters
Our budget was $40.000 – $50,000. Saved the most on Alcohol sincewe bought bulk at Costco and the venue provided bartenders. By far, the biggest expense was the venue and catering.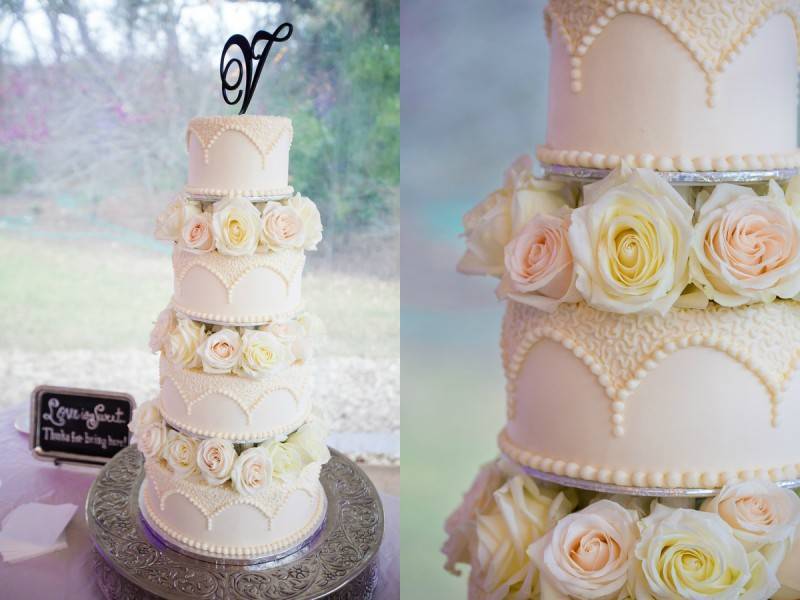 The Guest List
220 friends and families were invited but 150 is the final guest count. We were fortunate to be able to invite our entire list with our budget.
The Song
Walked down the aisle to our song, Next to Heaven by Aaron Watson.
Planning Advice For Couples
Don't do it all yourself. Have a few trusted people – MoH, mom, family friend – and keep them involved in as much as possible so that you don't have to worry the day of the wedding. You can trust it's in their hands!
The Album Story
Elegant Texas Wedding.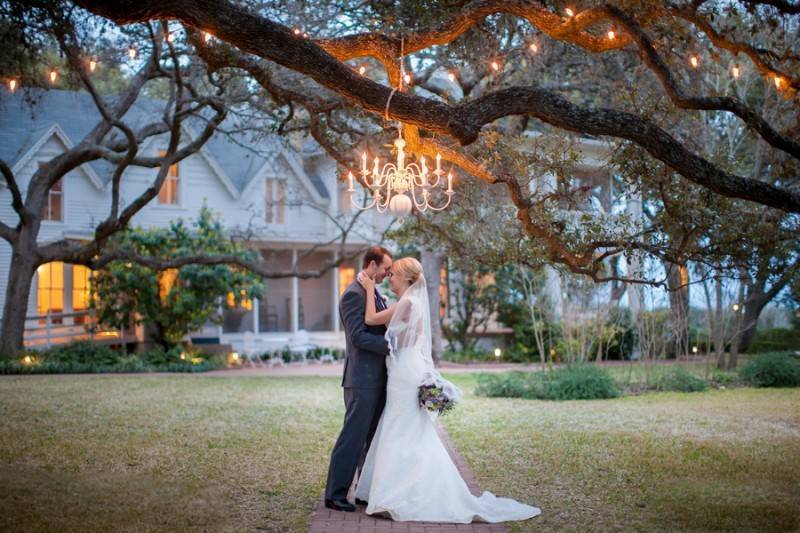 Highlights from the Ceremony and the Reception
When exchanging rings during the ceremony, Bo was looking at the minister when he said "I do". The minister said, "Tell her, not me!"
During the reception – MoH and BM speeches were pretty memorable. Father/daughter dance was good. One of our guests wore a red cigar coat (like Hugh Hefner) and got a little crazy.
Favorite Part of the Day
We chose to stay overnight at our venue.  We loved sitting on the balcony watching our guests depart. We ate donuts and recounted the nights events together as the evening unwound. I will never forget the peacefulness of finally just being husband and wife.
Our Wedding Video
https://www.youtube.com/watch?v=lMnLoHB_5gw
VENDORS
Photographer:   Jennifer Weems Photography
Location: The Winfield Inn
DJ: ATX DJ
Floral Designer: Bouquets of Austin
Cake Designer: Classic Cakes by Lori
Shoes: Figgie Shoes
Dress Designer: Matthew Christopher Bridal
Event Venue: The Winfield Inn & Events