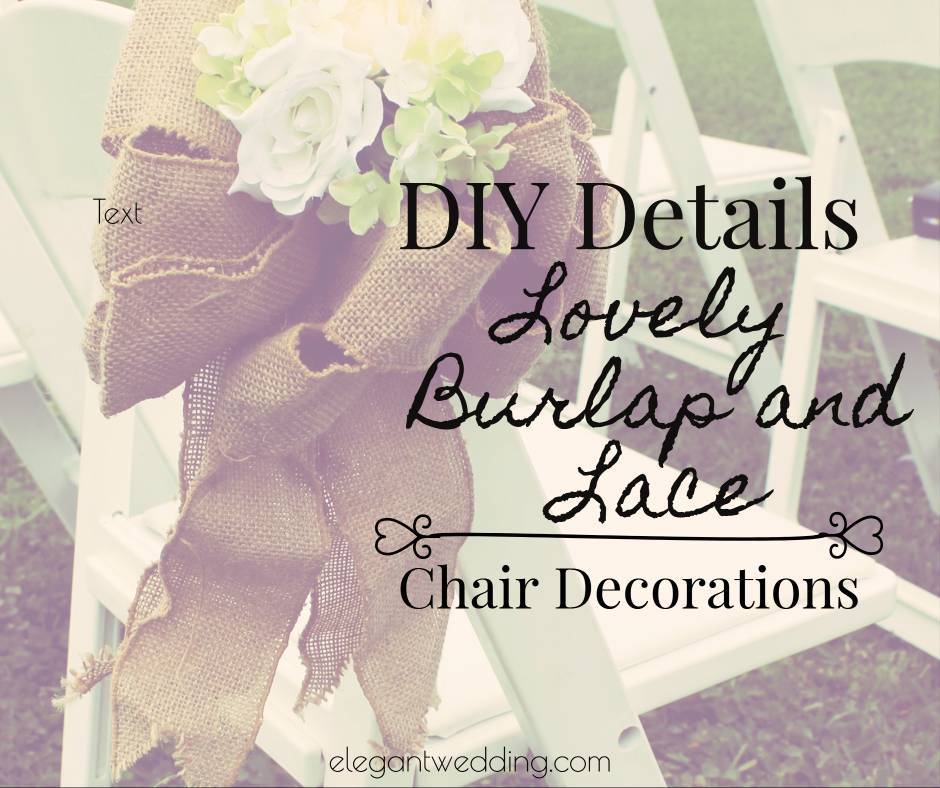 Burlap is a fabric with so much character! For instant texture and style for your wedding, add a splash of this country chic fabric topped off with elegant white lace. A touch of babies breath is all you need to complete this rustically dainty look! In this post I'll share how to create this D.I.Y. project so that you have the perfect chair decor for your wedding.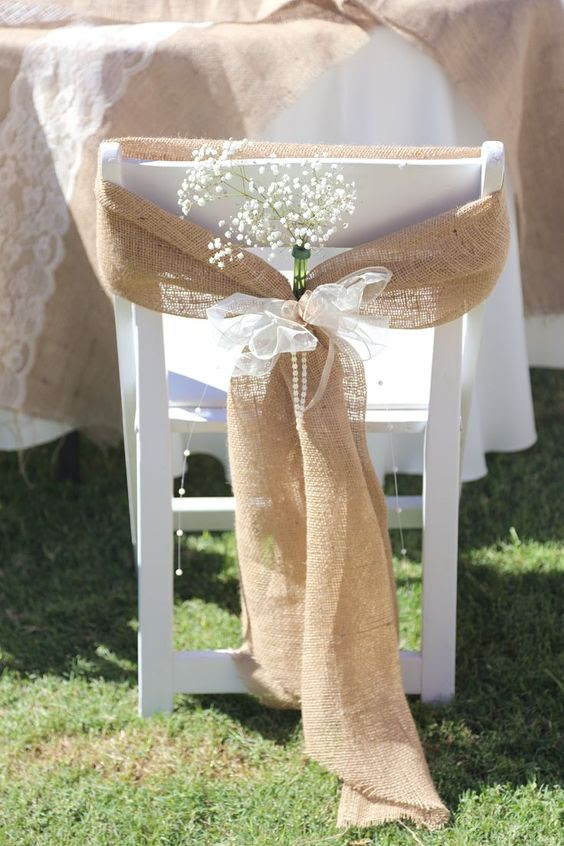 Step One: Get Everything Together
You will need to know how many chairs will be at your wedding, and what the dimensions of your chair backs are. These decorations can be made in advance, if you know these numbers, so that when you are setting up for the wedding all you have to do is loop them around the back. In addition to this information, you will need the following: Rolls of burlap, lace ribbon, white thread, a needle, scissors and a measuring tape.
Step Two: Measure and Cut
Each piece of burlap should be about 8 feet long and 8 inches wide. One roll of 72″ by 100′ burlap can be used for approximately 100 chair decorations when you use these dimensions.  Cut your burlap in straight lines (Celeste shows us a cool trick in the link above). Next, take the width of your chair back and multiply it by two.  Subtract this number from 8 feet.
For example, if my chair backs are 15 inches wide, I would do 15 times 2 is thirty, and 8 feet minus 30 inches is 66 inches. Split this in half. In my example, I would get 33 inches. Make an "X" on your burlap pieces 33 inches (in my example, you will use the number you found) from each end. This will be the point that you will sew!
Step Three: Sew The Burlap And Add Your Lace Bow
Make a loop with your burlap so that the little  X's on each and match up. Tack the burlap together at this point with a few sturdy stitches. Create a bow with your lace ribbon, and attach it at this point with a few stitches Now your decorations are all ready for the wedding set up! You might have to set them aside and wait for the big day.
Step Four: Top It All Off With Flowers
When you are ready to set up your chairs, loop one burlap and lace decoration around each chair, and center the bow to the back. Add in a touch of baby's breath by sticking it through your lacy bow.
This project costs around $200 to $250 to put together for 100 chairs, so it comes in at about $2 to $2.50 per seat. It is well worth it! This rustic chic touch will add personality and beauty to your wedding theme. I hope that you find these instructions helpful. Let me know how your project goes in the comments section below!