Today's wedding feature has two of my favorite things — DIY and Brunch! Josh and Dawnielle arranged a classic neutral and rustic wedding that was adorned with the things that represent them as a couple. I love every bit of their big day. It was simple but classic and all sorts of romantic. They chose baby's breath to accentuate the venue and cute lamps as the table centerpieces. It was indeed a classic and timeless wedding Josh and Dawnielle, Congratulations!
Album Story:
Josh and Dawnielle are two of the most genuine and kind friends I've ever had. Josh and Dawnielle met through mutual friends who happened to live in the same neighborhood. They're both incredibly down to earth and have a deep, fun, adventurous love for one another. Josh is an 8th-grade science teacher and Dawnielle is a first-grade teacher, they both love their jobs and have hearts to serve and care for their students. Their wedding is a real portrait of who they are, simple and timeless. They surrounded themselves with their closest family and friends for an intimate brunch wedding at Tre Bella in Mesa, Arizona.
The Outfit Inspiration:
Josh and Dawnielle had a classic and timeless inspiration for the bride, groom, and the bridal party. Dawnielle's gown, from David's Bridal, was chosen because it reminded Dawnielle of Audrey Hepburn, someone who is vintage and classy all at the same time. The bridesmaids dresses and groomsmen's suits are effortless, pulling together a charmingly stunning bridal party.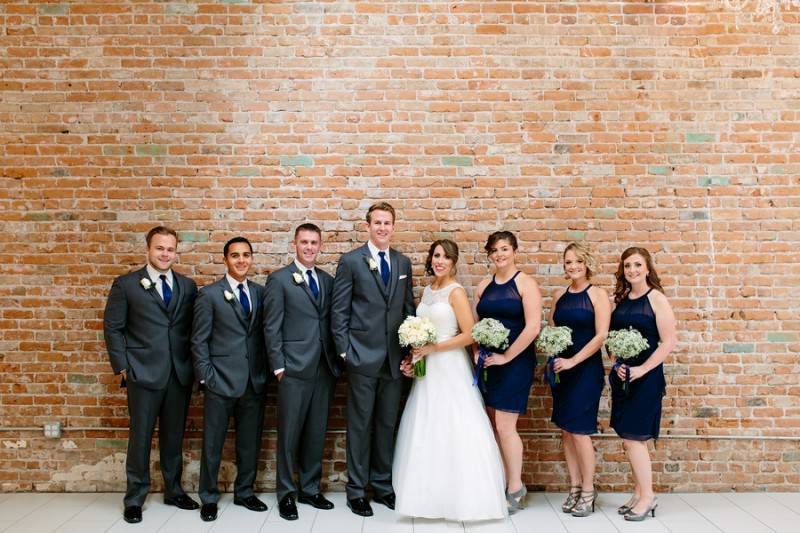 The Theme:
The inspiration came from a classic wedding, where simple neutral colors gave way to a palate of opportunity. There were hints of rustic backgrounds that contrasted well with the bridal party's elegant and classy attire. The reception tables included vintage lanterns mixed with timeless cream rose petals, topped off with darling baby's breathing florals.
The Do-It-Yourself (DIY) Projects:
Josh and Dawnielle created one of my favorite DIY projects I've seen as a photographer. Josh and Dawnielle are both teachers, and Dawnielle had her first-grade students answer simple questions about marriage, love, and relationships. She asked questions like 'How much does a wedding cost?' 'Is it better to be single or married?' 'What makes a good wife?' and 'Where is a good place to find the person you should marry?" Her students answered in adorable, simple responses; she took the cards and framed them and created her table numbers with them. It is a simple reminder of the genuine love that exists between the bride and groom on her wedding day. Josh and Dawnielle are an adventurous couple who made every wedding related decision with intentionality. They both loved donuts and created a 4-tiered wedding cake with dozens of Krispy Kreme's, talk about a yummy wedding cake!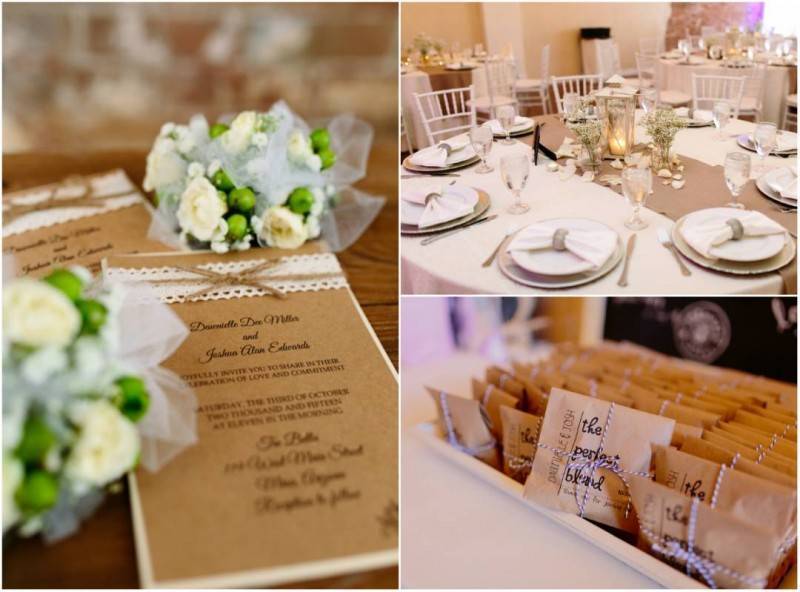 Favorite Part of the Day:
As a photographer, my first job is to photograph the day as it unfolds naturally; however, it's also a main priority to curate a beautiful scene. Josh and Dawnielle were married in early October in Mesa, Arizona where the sun never ceases to shine. During their brunch wedding, our outdoors photo locations were limited, so we chose to host their first look at the ceremony site, a beautiful white room lined with exposed brick. A first look is meant to be as special, and even more intimate, than a first look at the ceremony, and these two didn't disappoint. They shared laughter, hugs, and kisses as they embraced one another for the first time on their big day. It was a beautiful moment to witness as it unfolded.
The Highlights from the Ceremony & Reception:
Josh is an incredibly funny guy, and it came as no surprise when he pulled out a giant, 8-foot long scroll to read his vows from. He is often said to be long winded, and this event just played into that even more. And although his vows were short and sweet, it was a moment of laughter in the midst of beautiful tears as Josh and Dawnielle share their vows. During the reception, it was comforting to listen to their best friends give heartfelt and tearful speeches. Josh and Dawnielle are incredibly loved and supported, and even I teared up as the toasts were given.
Most Memorable Moment:
Josh and Dawnielle didn't just choose anyone to be their officiant; they chose a friend and long time supporter of their relationship, Mike Goodrick. And although I am biased because he happens to be my husband, he delivered an intimate and sweet ceremony that was written specifically for Josh and Dawnielle. I know that it meant so much to them to have not only a supporter but a real friend officiate and help begin their new journey together.
Anything else you would like to add?
Josh and Dawnielle created a beautiful brunch wedding on a budget, but you'd never know by their images or decor. I'm so grateful that they entrusted me with their wedding photography.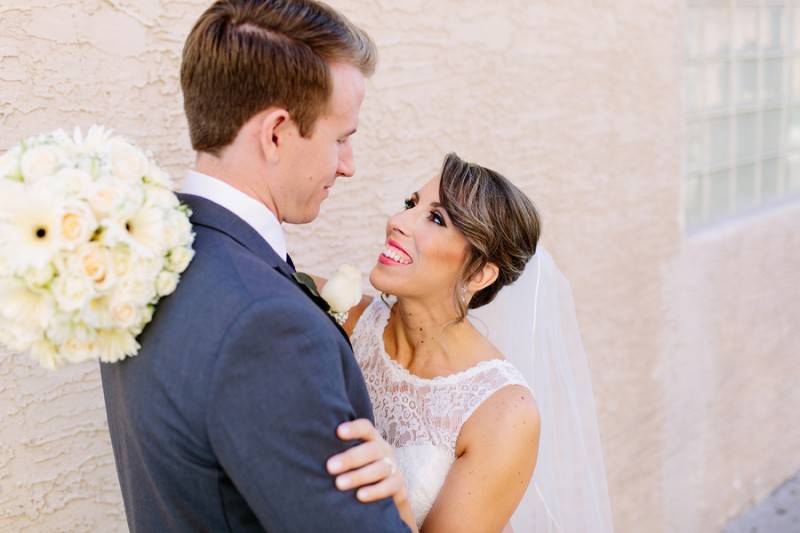 VENDORS
Photographer: Suzy Goodrick Photography
Cake Designer: Krispy Kreme
Tuxedo and Mens Attire: Men's Wearhouse
Makeup Artist: Erin Jessie MUA
Reception Venue: Tre Bella AZ