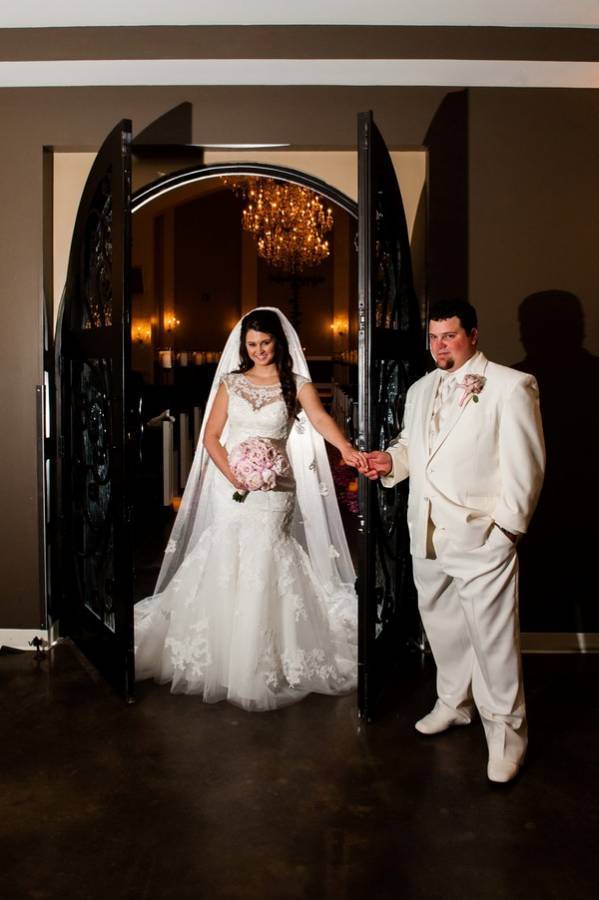 "Never forget about the person you are marrying", turned out to be the best advice that Brooke had received when she was planning her wedding. And I strongly agree to that. I've always believed that weddings should be centered between the bride & groom. Celebrating it with family & friends is just another bonus to the perfect happy ever after. But before & after the wedding, it will always be you & the person you are marrying.
The bride was looking for a venue that had chandeliers. She wanted that instant romantic elegance for her big day. And imagine her excitement when she stumbled upon the Piazza which had beautiful chandeliers hanging all over the place. It was like a dream come true! And using her mother's old veil was like the icing on the cake. When her mother got married, she had the women in her family each sew beads into her veil. Brooke's sister did the same thing during her wedding so it was only fitting that Brooke did the same thing. I think it served as a very intimate detail to the entire event. We are honored to be featuring this amazing set by Shawna Hinkel, we are definitely looking forward to seeing more of her creativity!
What is your story as a couple, how did you meet and fall in love?
I moved to a private school in eighth grade-the same time my future husband was moving to another private school nearby. I had been around him a few times without knowing who he was or what his name was. Senior year of high school, he moved back to the private school I was attending. We met and started dating the third week of senior year. We spent a majority of our almost 5 five years together being long distance.
What was the best advice you received when you were planning your wedding?
Never forget about the person you are marrying. The cake, venue, dress, flowers, and photos can be so overwhelming that it is easy to let your relationship slip. I also learned that my husband did not always want to talk about the wedding details-it is important to have a life outside of wedding planning.
What inspired your wedding decor? Why did you choose the things that you did?
Chandeliers! I was determined to find a venue with a chandelier or find a way to incorporate a chandelier in my wedding somehow. I really lucked out with the Piazza-it is dripping in chandeliers. I also wanted the decor to be very romantic.
Do you have advice for couples still in the planning process?
Learn to accept help from others, but don't feel like you need to incorporate their opinion in your wedding.
What were some challenges you faced planning your wedding & what would you have done differently to avoid them?
Choosing the number of bridesmaids and groomsmen. I was the first of my friends to get married and I did not want to hurt anyone's feelings. We had 5 bridesmaids and 6 groomsmen.
What are you most excited about for the future?
Starting a family! My husband is great with our friend's kids and I can only imagine how great he will be with ours!
What would you say, the overall story for this album?
I think it was very personal. My favorite aspect of my wedding was all of the personal touches I included. My late grandmother used to tease me about how I always wore bandaids when I was little and she said I would get married covered in bandaids if I could. I used a blue bandaid as my 'something blue'. We used a jar with three flowers in memory of mine and my husband's family members who passed away. I also used my mother's veil. When my mom got married, she had the women in the family sew beads on her veil. My sister decided to use my mom's veil when she got married three years ago, so she too had more women in the family sew beads. Obviously, I was desperate to use it in my wedding as well. The neat part about the veil is that it includes women from the bride and groom's family. I think those personal touches make such a difference in a wedding.
What was your favorite part of the day?
My favorite part of the day was eating breakfast with my father the morning of my wedding. He gave me great marriage advice and I know it is something that I will never forget. It was so nice to have some alone time with my dad. At breakfast, I gave him a pocket watch that had lyrics from our first dance song. Looking back, I wish I had photos of that breakfast.
Was there any Do it Yourself (DIY) projects? If so, can you describe them in detail?
Yes! We assembled 200 invitations, addressed and stamped them over the course of a month. We also made goody bags for the guests who stayed in the hotel-the goody bags had koozies, personalized playing cards, chips, waters, mints, and tissues. We also included information about Colleyville, Texas so the guests could find activities to do before and after the wedding if they wanted.
Vendors
Photographer:  Shawna Hinkel Photography
Cinema and Video: 2nd Generation Video Productions
Cake Designer: Annie's Culinary Creations
Floral Designer: Antebellum Design,LLC
Transportation:Imperial Limo
DJ: LeForce Entertainment
Reception Venue: Piazza in the Village
Hair Stylist: Sean Lauren Salon