Summer is the perfect time to take advantage of a tropical-themed wedding. Whether you are getting married at a resort or right on the beach, tropical wedding favors will enhance any tropical theme.
When you think of tropical wedding favors, you may automatically picture a beach wedding or a wedding on the coast somewhere. While tropical themes are definitely ideal for waterfront weddings, they are not limited to waterfront locations.
Many brides and grooms opt to host a sleek, chic tropical-themed wedding indoors, whether it's at a local resort or a restaurant. The trick is to pick the right kind of décor and enhance it with subtle, stylish details, like tropical wedding favors. Favors are tiny details, but they make a big difference when it comes to your wedding's décor.
If you've opted to host a tropical wedding this summer, then you'll need some fun, fashionable ideas for tropical wedding favors to go with it. There are countless different types available, and many can be personalized, but some are more versatile than others.
If you want to send your guests home with tropical wedding favors that they can actually use, consider any of the following suggestions. All of these favor ideas are either subtly or overtly tropical looking, so you can choose one that best suits the overall theme of your occasion.
"Seashell" Gel Tealight Holder
You can never go wrong with candle wedding favors. Place these charming gel candles around your reception tables and light them up for the party, and place them with your place settings so your guests can take them home.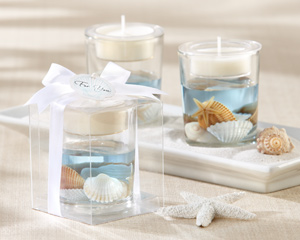 Ocean-Themed Place Card Holders
Place card holders are necessities, and they are the perfect little extras to use if you want to spice up the look of your reception. These pretty silver holders come in fish, starfish, and shell shapes; designed to make your guests feel like they are under the sea.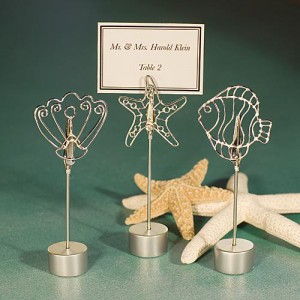 Stylish Beach Bag Favors
These mini-tote bags are the perfect favor bags for a tropical feel. Clear with handy drawstrings, they are decorated with cruise-related designs, such as ships, starfish, and palm trees. Fill them up with sweet treats and leave them with your place settings so your guests can take home the tropical romance when they leave the party. Bag favors such as these are definitely some of the most versatile types of tropical wedding favors.