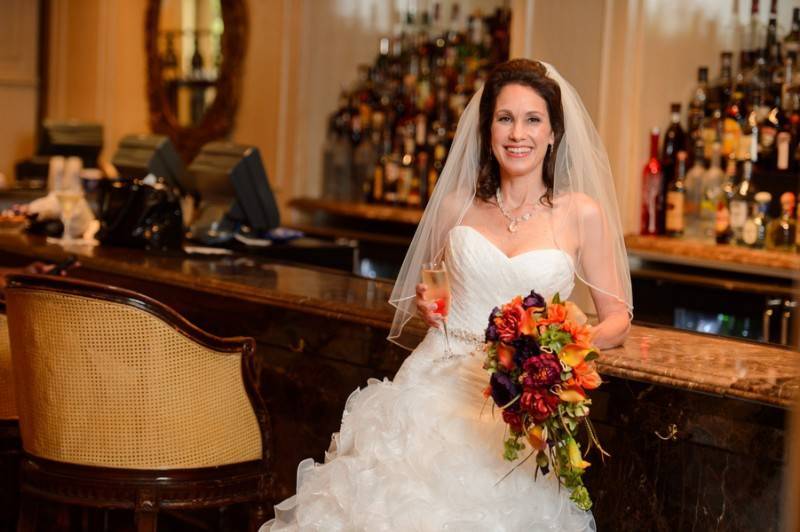 Our bride today has so graciously given us her experience on wedding planning and even though we only have photos of her (equally) lovely bridal shoot, we felt like we need to share her insights with you. But before we get on to that, can we just stop and appreciate the beauty of our bride and her wedding gown. Not everyone can pull off ruffles but she did it so elegantly that it just looked sophisticated.
Not only will you get an idea on how to have an elegant bridal shoot but you'll also have an informative read regarding our bride's journey from the beginning of their romance to sealing of their love. Two birds in one stone!
What is your story as a couple, how did you meet & fall in love?
Chuck and I connected on Match.com and realized we graduated from high school together 25 years earlier. We are totally opposite in personality and didn't feel it was a good match initially. After several months of hanging out and swapping dating stories we became best friends. We had nicknames for our dating disasters and shared lots of laughs. Over time we realized our connection was unique and special even with our differences, and felt we could just be ourselves. The best part about our relationship is our inside jokes and friendship. We dated for 2
years and were engaged for one year. Chuck proposed after we both tested and were awarded our 1st recommended black belts in TKD.
What makes the two of you a perfect match?
We are so opposite in personality and with that, balance each other out.
What was the best advice you received when you were planning your wedding?
I don't remember any specific advice but we gave ourselves a year to plan and took our time. We also had a wedding planner friend that gave us her services as a wedding gift. She gave tons of good advice as well as kept the whole event running smoothly. Priceless!
What tips & tricks ("hacks") can you share future brides that you yourself have learned during and after your wedding?
Enlist the help of someone that can make sure you stay on track with your to do list. Get most of the to do list done month before the date of the  wedding.
What were some challenges you faced planning your wedding & what would you have done differently to avoid them?
The challenge was not ever having planned for a wedding event before, little knowledge and so much information to sort through. Having a wedding planner to advise and keep you on course, as well as having enough planning time made the event a slam dunk.
What was the wedding budget?
Wedding budget was $22k. We paid for our own wedding.
Where did you save the most money?
We saved the most money on the reception venue. They provided everything; food, music, some decorations and most importantly a place to dance with our special request music.
How many guests were invited in your wedding and what was the final guest count?
We had around 170 invited and 137 attended.
How did you narrow down your list?
Not really. We decided to invite everyone because we knew not everyone would be able to make it.
What songs did you use during the ceremony?
Pre-ceremony – Harpest and slide show
Bridal Party Entrance – "Canon in D" Pachelbel.
Bride's Processional – "Trumpet Voluntary" J.S. Bach
Special Music – Chuck, my husband, sings. He performed "Sunrise Sunset" from Fiddler on the Roof. The significance there was it was an old favorite song of mine that I learned to play on the piano as a kid.
Recessional – "Trumpet Tune" Purcell
Where did you go on your honeymoon?
We took a train ride called the Crescent from New Orleans to New York. Explored the area then went to New Hampshire and on to Maine. We wanted to the see the foliage color change. The train trip was awesome and gave us time to chill out and rest after the wedding.
What are you most excited about for the future?
Exploring life and new adventures with my best friend.
Do you have advice for couples still in the planning process?
I'd advise couples to understand its a team effort and to take your time, don't rush. Enjoy all of the bridal shows and do lots of research. What you start out thinking you want may change. Be flexible. Use the to do check off lists on several websites to stay on course. Interview several vendors and take notes and go with your gut. Have someone review your contracts that knows what needs to be in them to protect you. Most importantly, have someone coordinating all of the vendors on the day of the wedding to make sure it goes smoothly and there is a main point of contact other than the bride.
What would you say, the overall story for this album?
This is my bridal photos that are being submitted. These photos were taken at the Ritz Carlton in New Orleans. It was an elegant venue and cool because the pictures were taken in July.
What inspired the wedding day outfits?
I wanted a wedding dress that was fun, flirty, elegant, and comfortable that was in my price range. It took three months and trying on over 35 dresses before figuring out the perfect one for me.
What was your favorite part of the day?
The ceremony was very meaningful and the everyone had a great time at the reception. It was fun and efficient having a police escort after the ceremony and pictures to get to the reception venue timely.
Was there a theme for the ceremony and reception?
Sweetest Day. We got married on Sweetest Day 2013 and had chocolates as a one of our wedding favors.

Links to Wedding Videos?
https://www.facebook.com/EyeWanderPhoto/posts/10151743669566883


Vendors
Photographer:  Aaron Hogan of Eyewander Photography
Catering:  Chad of Antebellum House
Wedding Planner:  Annette Peterson, Wedding Planner, at Forever I Do Weddings
Make up:  Rachel at About Face
Hair Stylist:  Ulla Gaudin
Cake:  Creme de le Creme Bakery