The bride is most beautiful on her wedding day, true in Kate's case. And the husband, Julian must have been awestruck with her entire look. Kate wanted a wedding dress that would stay timeless after all the years that will pass by. And yes, she got that one thing. She even had a fun time posing in the meadow, near the lake, and behind blue doors and victorian walls! Check out the photos and take a glimpse of how gawker her choice is! Stay classy, stay in love. To more and more years, Kate and Julian!
Our Story
Julian and I met our last semester of college in Wilmington, NC. He was in a band that was opening for a band of a friend of mine and after he played, we talked all night and had our first date shortly after. After we graduated we went back to our respective home towns and our relationship blossomed long distance. We took every chance there was to visit each other before he was able to move to Durham after two years.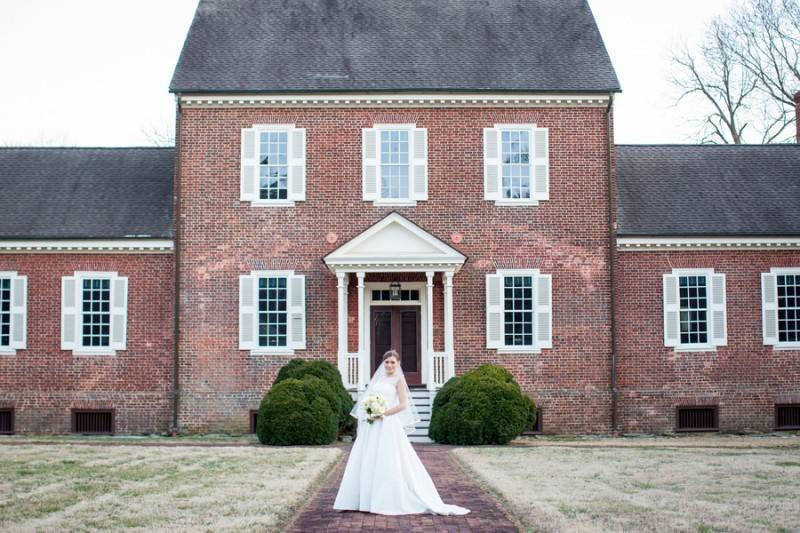 We Are A Perfect Match
Julian is very patient, understanding, and kind. He is a really grounding force for me. I am more outgoing and will get him out of his comfort zone when needed. I can't imagine a more perfect husband. When he was a little boy he used to eat jelly sandwiches, no peanut butter! I would only eat peanut butter sandwiches. His mom said it best: "You are the peanut butter to his jelly!"
The Proposal
We were at Figure Eight Island near Wilmington for the weekend. On Sunday I woke up feeling the beginnings of a fever. He insisted that once I got dressed I'd feel better and that we had to go on a walk on the beach before we left. I grumbled and made myself go. When we got there it was a beautiful sunny and surprisingly warm March day and there was not a single soul on the beach that we could see. After walking for a little while, he knelt down and asked me to spend my life with him with his grandmother's ring.
The Planning Process
We were engaged for 14 months. Since we were planning everything ourselves, I knew I wanted a decent amount of time to do it. I also knew I wanted a spring wedding. I will say there is always something that doesn't get done, so the more time you give yourself, the better.
The Best Advice We Received
My sister in law told us that we should go on a date night a week or two before the wedding and not talk about anything related to the wedding. It was a nice thing to have one last date together before we got married.
Tips & Tricks For Future Brides
I am an interior designer and knew I wanted to plan everything myself, but Julian insisted that I at least get a day of coordinator. I am so glad I did because I got to just sit back and enjoy our wedding day.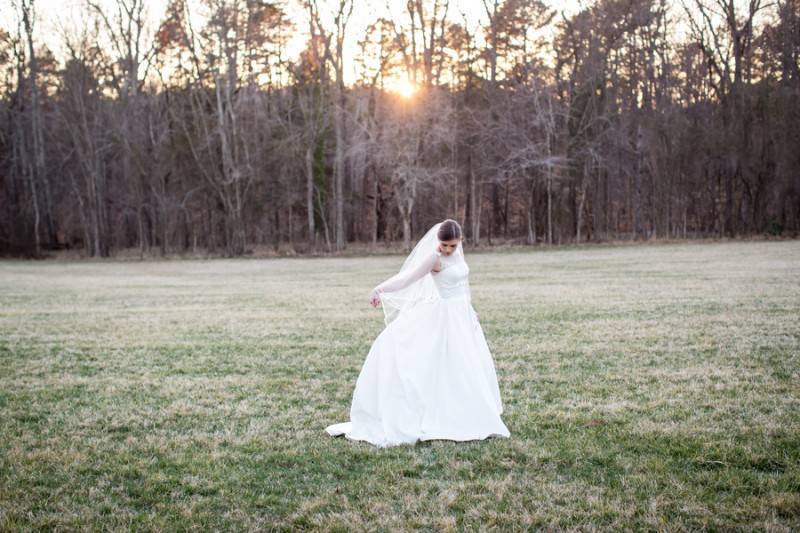 The Challenges We Faced
The band that my husband had booked a year prior to the wedding pulled out one month before the day! He didn't tell me until after he had figured out a solution. It really worked out for the best because Swift Creek was amazing and created the most beautiful rendition of "Real Love" by John Lennon for our first dance.
Wedding Decor Inspiration
I love all things blue and white. To me it is such a timeless look. We wanted the day to be laid back, but elegant and preppy. I went all over the area searching for blue and white porcelain pieces for the tables and knew that I wanted to do a crisp, striped table cloth with accents of gold and blush pink. It was also Kentucky Derby day, so of course we had to have mint juleps!
Wedding Outfit Inspiration
With my dress, I knew I wanted something that would make me feel like a lady and that I would always love and never grow tired of. It was the first dress I tried on and I knew right away. I asked myself with every dress, "will I still love this fifty years from now?". I also wanted something that was modest, since we had a church ceremony. This dress was perfect because it was still light enough for the reception outside.
My best friend and maid of honor, Megan, and I tried on several dresses before we settled on the bridesmaids' dresses. We thought they were comfortable and that they complemented the overall feel of the wedding.
Julian and I both love blue, so we got some handsome gingham ties for the groomsmen and one in Carolina blue for the groom.
Our Do-It-Yourself (DIY) Projects
I picked magnolia leaves from our yard and wrote on them with gold paint pens for the place setting cards.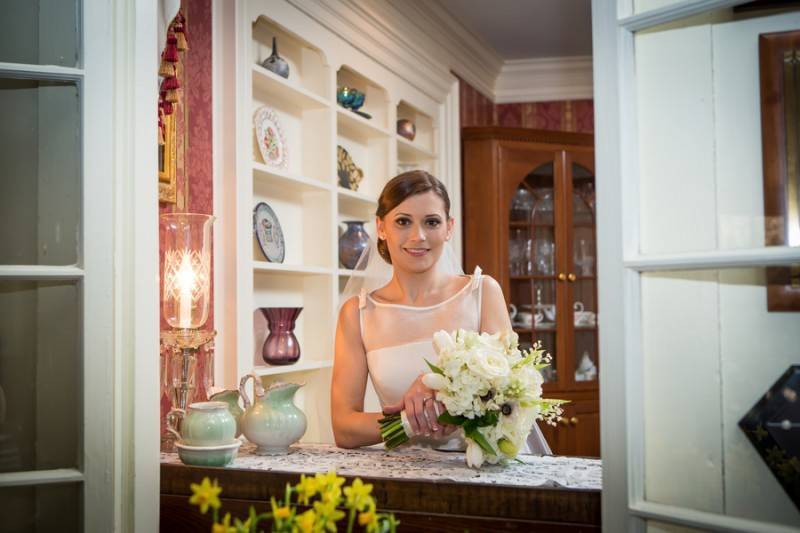 Money Matters
Approximately $20,000 was the wedding budget. And we saved so much on the flowers! I had a professional do the bouquets and church arrangements, but I bought all peonies for the reception in bulk and our coordinator arranged them in the vases for us. However, we sent much on the rentals, foods, and drinks.
The Guest List
We invited around 110 and had around 85. If we hadn't spoken to the guest in years, we didn't invite them. We also asked ourselves: "Could I picture getting married without this person here?"
The Songs
I love baroque music, so many selections from Bach and Vivaldi were played during the prelude. I didn't want anything that sounded pompous or had too much fanfare, so for my walk down the aisle, I selected Rhosymedre by Ralph Vaughan Williams. For the recessional we chose Presto from G Major Concerto by Bach.
The Honeymoon
We went to Punta Cana in the Dominican Republic. It was amazing! Beautiful turquoise waters, coconut palms, and the nicest people.
The Next Step
There isn't one thing in particular that I am excited about. I am just truly excited to see what is in store for us and feel so blessed that whatever it is, I get to have the most wonderful husband by my side.
Planning Advice For Couples
Pay as you go. We were able to space it out so it wasn't as harsh on our bank account. It also saves you from owing a huge amount at the very end (when you will be very stressed as it is).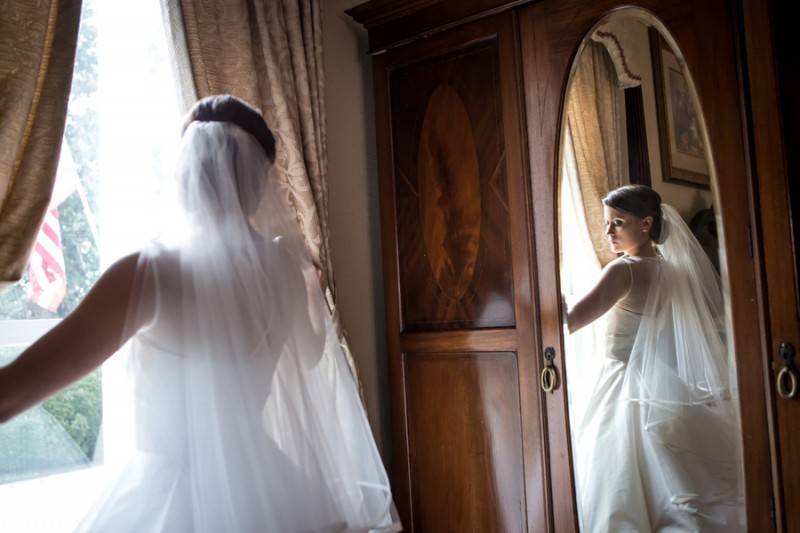 The Album Story
A preppy, Southern, and timeless day filled with joy.
Highlights from the Ceremony and the Reception
The highlight from the ceremony was as soon as I heard our pastor say that we were husband and wife. I just felt like I'd been waiting for that moment forever.
Our first dance was my favorite moment at our reception. Swift Creek did such a fabulous job on the song, "Real Love" by John Lennon. Another highlight was listening to the Kentucky Derby over the speakers as it was happening. The table that was named after California Chrome got to take some airplane bottles of bourbon with them.
Favorite Part of the Day
My absolute favorite moment was when they opened the doors to the sanctuary and I got to see Julian's face. I will never forget that moment. Was there any Do it Yourself
A Memorable Moment
The Porchetta food truck made the most amazing food and the dessert table was filled with pies, cupcakes, and cake. We also had some very fun games of corn hole going on and dancing.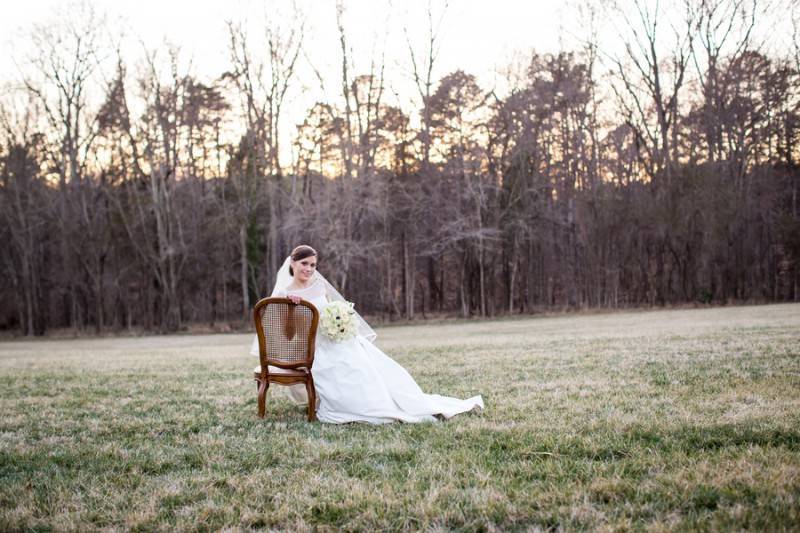 VENDORS
Photographer:  Red Bridge Photography
Ceremony Location: Arrowhead Inn Bed and Breakfast
Other Location: Ayr Mount
Dress Store: Bellissima
Floral Designer: Ninth Street Flowers