Black and gold, a combination you can never go wrong with. It may seem non-traditional as a wedding motif, but it is elegant. It depends on how you really perceive things. And speaking of non-traditional, Jaimee strayed away from the immaculate white dress and fell in love with this lovely champagne ball gown. This quirky couple wanted a unique wedding complete with DIY touches. It was truly a wedding made to be the reflection of their personalities. Congratulations, Jaimee and Jesse or should we say Khaleesi and Khal Drogo?
Our Story:
Jesse and I met in college, where we lived three dorm rooms down from each other. We became good friends and remained so during all four years of school, even becoming roommates senior year. By the end of senior year, we were dating, and chose to continue the relationship after graduation. When Jesse took a job in Northern Virginia, I remained living in a Philadelphia suburb, working at a local newspaper, making the three-hour trip to visit him just about every weekend (DC was WAY more interesting than my town).
We always had so much fun visiting the monuments, attending sports events, and just generally enjoying each other's company, that leaving to come back home became harder and harder. After about six months of living long-distance, we decided that it was crazy, and that I should just move down there with him. So almost a year after graduation, I made the move from Philadelphia to Alexandria, VA, and we haven't looked back since.
We Are A Perfect Match:
We balance each other out. After a frustrating day at work, the only person I really want to see is him.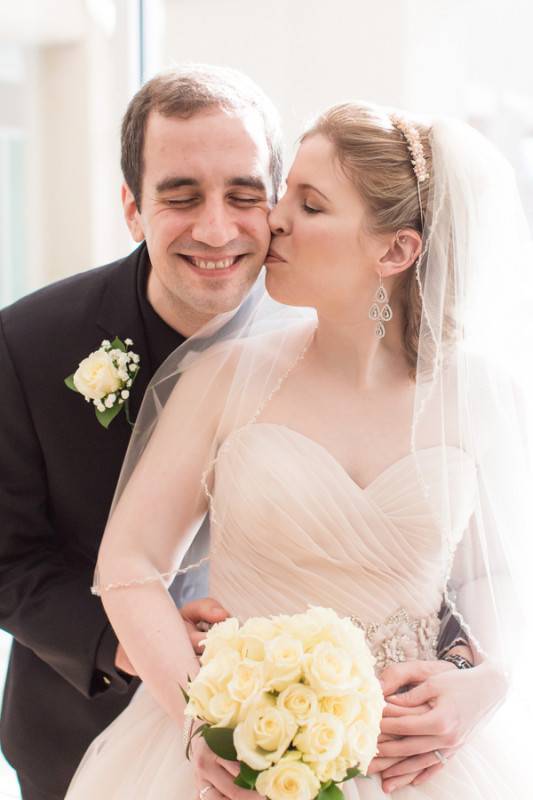 The Planning Process:
We gave ourselves a year to plan everything, and we used that entire year. Honestly, we could have done it in less time, but having this much time really cut down on our stress and made it so that all of our decisions were well thought-out and were ones we would truly be happy with.
Tips & Tricks For Future Brides:
Get your thank you note cards in advance! I know it's nice to have a picture from your wedding on them, but we used one from our engagement shoot and had them printed and sent to our house two weeks before our wedding. As soon as we got back from our Honeymoon, we cranked out all the thank yous across two weekends. It felt so nice to have them completely done and sent not even a month after our wedding!
Wedding Decor Inspiration:
We had already been together 8 years by the time our wedding rolled around, so we really wanted this to be a fun celebration of our relationship and a way to get everyone together and "make it official" even though it technically had been for 8 years, 5 of those involving owning a home together. We wanted to keep it classic, but still include some of the things that make us, us.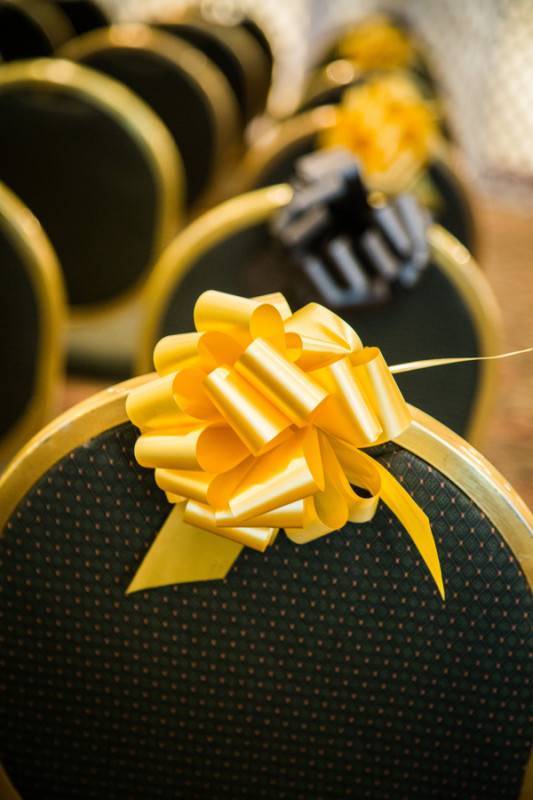 We chose black, gold, and white as our color palette because again, it was classic, and we figured it would be really easy to find things in those colors. Also we're big Pittsburgh sports fans, so we had a little shout out there. A shared hobby of ours is gaming, of both the board and video varieties, and it's something that we've grown to love together, so we wanted to incorporate that somehow into the wedding without hitting people over the head with it. The biggest way we did this was with the invitation suite, which we designed ourselves using Adobe Illustrator. We also incorporated game elements into the escort cards and favors.
Saved Our Money On:
Neither of us had strong feelings about flowers. When picturing my wedding, I was never picturing myself holding a specific flower or being surrounded by large arrangements. We really cut some corners here by only having my bouquet, boutonnieres for the groom and groomsmen, and a few "centerpiece" bouquets scattered around for table decorations. We also decided to use a chain store since again, we didn't really care. Wegmans offered us a great package that was in our budget and allowed us to get a couple extra boutonnieres for the dads and corsages for the moms, as well as a toss bouquet. For the bridesmaids, I bought them custom made gold and white clutches as their present, which they carried down the aisle instead of flowers.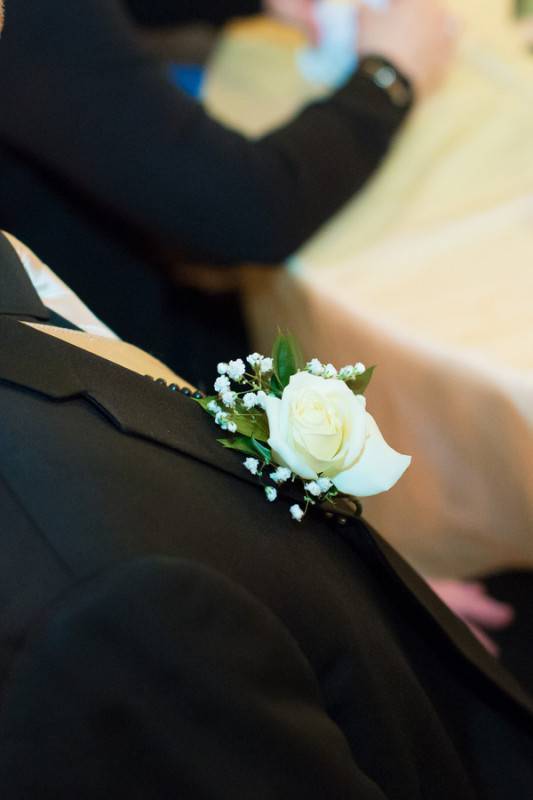 Biggest Expense:
Definitely our venue. Since most of our guests were coming from out of town, we wanted an all-in-one venue: ceremony, reception, and accommodations all in one place. We didn't want to have to provide maps to 95% of our guests and hope that no one got lost on I-66.
Now to be fair, our venue included ceremony fees, rental fees, all tables and chairs, lighting, linens, all food, all alcohol, and an amazing day-of coordinator. It was our biggest expense, but it saved us a lot of hassle not having to coordinate all of those separate pieces.
Number Of Guest Invited:
We invited a little over 100 (I think the count was 106), and 80 RSVP'd yes, with 78 actually showing up the day of.
Narrowed The List Down By:
We knew we wanted a small wedding to begin with. About 90% of the people invited would be traveling 2 or more hours to get to us, so we wanted to be sure that whoever made the trip felt welcomed and like they actually got to see us and spend time with us. We wanted to be able to talk with everyone, dance with everyone, and take pictures with everyone. It was also important to us that we knew everyone in the room.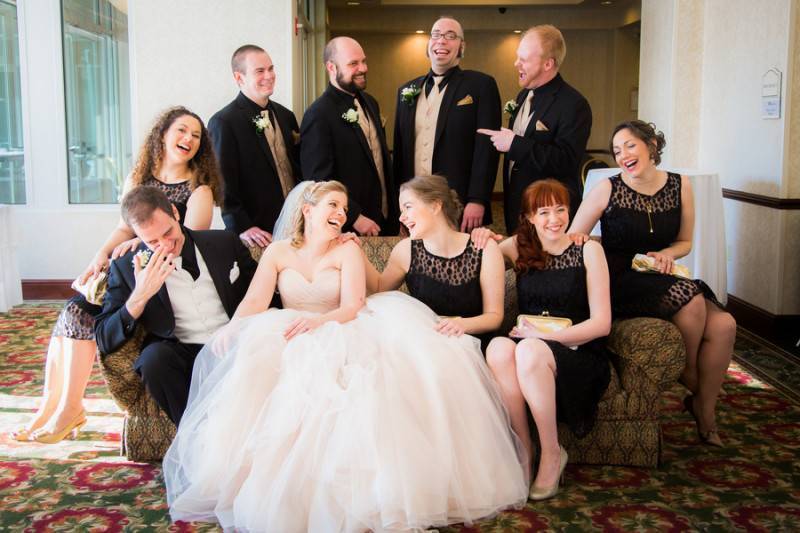 The Songs:
We had some classical music playing as guests were seated. My bridesmaids walked out to a Vitamin String Quartet cover of The Cure's "Pictures of You". I walked out to a Vitamin String Quartet cover of The Cure's "Just Like Heaven". We exited to Queen's "You're My Best Friend".
The Honeymoon:
We were both pretty much through planning anything by the time it came to honeymoon planning, so we decided to just drive a couple hours to Williamsburg, VA and hang out there for a week. The important thing was that we didn't have to go to work, so we could relax. We'll be celebrating our one year anniversary this year in Punta Cana, Dominican Republic.
Excited For Our Future:
Redoing our house and spending as many years as possible in it! We've owned it for 5 years and have been making small renovations and improvements along the way, but we're both looking forward to sitting down with professionals and really making it ours. We love talking about what we want it to look like and what it will have, knowing that it's probably where we'll end up living most of our lives. Redoing the house has always been something we've talked about, but knew wasn't going to be a thing until after the wedding, and now it's starting to be an actual thing, and it's really exciting!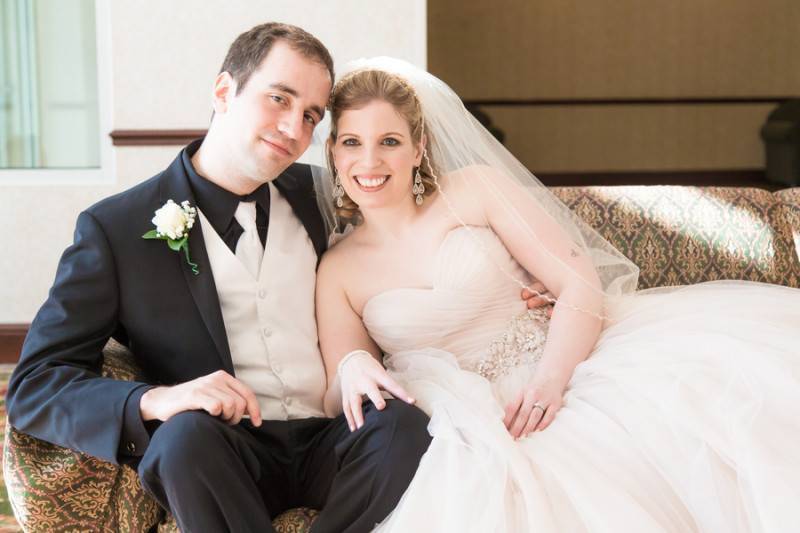 Advice For Couples On The Planning Process:
Take your time, breath, and ask for help if you need it. We were lucky to have a group of amazing friends who lived near us that really jumped in and helped us get through the last month of crafting and organizing. Also, if you pretend like something was supposed to look that way or go that way, then everyone else will think that too.
The Album Story:
We'd been together for 8 years, and neither of us is really romantic. This was the first time we'd ever seen each other like this or ever been in professional photos together (besides engagement photos). I really love our first look photos. Those smiles are 100% genuine, and it's just so cool to see how ridiculously happy we were at that moment. I mean, you feel it at the time, but it's so cool to actually see it captured. I think those really set the tone of our wedding and the album.
Wedding Outfit Inspiration:
I knew I didn't want to wear white. It scares me as a color. I'm pale and clumsy with dark liquids. Not a good combination. The color of my dress was initially what drew me to try it on. It was the exact opposite of the style I wanted. I was thinking lace, a-line or dropwaist, short train. But the second I tried it on, I was like "Oh! Oh ok! Or this works!" I bought it shortly after trying it on. Nothing else I tried on even compared.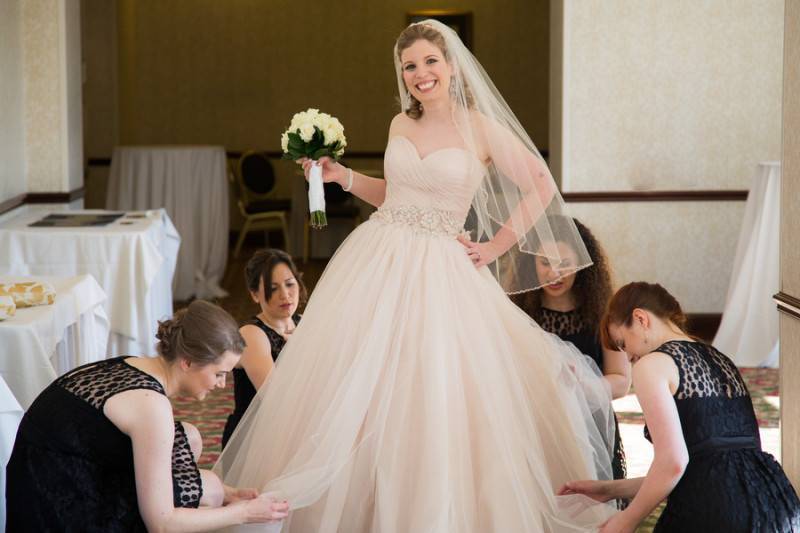 Jesse's look (and the groomsmen in general) came about sort of randomly. We knew we wanted mostly black, to match the bridesmaids' dresses, but wanted gold for the ties and vests. The question then came, how would Jesse stand out from the groomsmen. That's how we chose a white tie and vest for him. Once we saw it all together at the shop, we knew it would be a good choice.
Favorite Part Of The Day:
Oh man, I had two favorite parts. I loved our first look. I could actually see relief and happiness and awe in his face when we saw me, it was so cool. Those photos are some of my favorite photos. I also loved our receiving line. We knew we wanted a small wedding, and we wanted to make sure we got to talk to everyone, thus the receiving line. It was so great to hug everyone right after the ceremony ended and to see everyone so happy for us. We got some great photos out of that as well!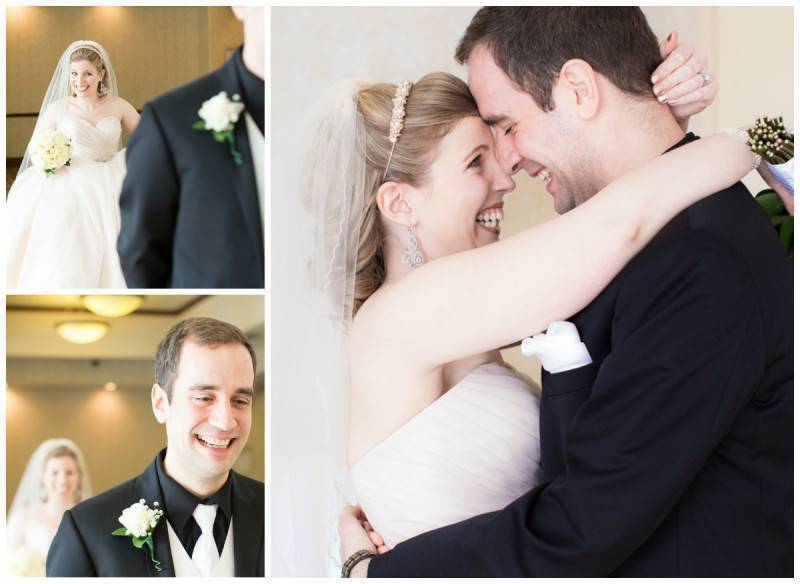 The Do-It-Yourself (DIY) Projects:
We had a few DIY projects, most at the very basic level. The biggest DIY was our invite suite. We designed it ourselves using Adobe Illustrator and had them printed using Vistaprint. We were both graphic designers at previous jobs, so that was easy for us. Plus this was an opportunity for us to put the gaming aspect into our wedding like we wanted.
We assembled hotel welcome bags for guests including water and snacks for after the reception. We folded 100 small boxes and stuffed them with chocolate 20-sided die, courtesy of Dice Candies. These were our favors and were waiting for people at their seats.
Instead of a guestbook, I created "glitter state art" in the shapes of Pennsylvania and Virginia and had them framed so everyone could sign the mat inside the frame. The states were gold and the mats were black. We'll hang these up once we find space.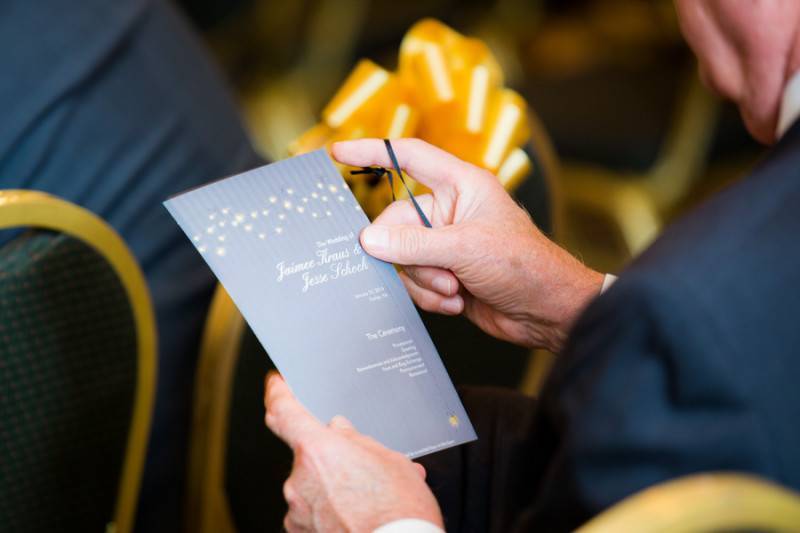 We used black place cards and gold embossing materials to create our escort cards. Instead of just writing the table number, we used 12-sided die to indicate what table a couple was sitting at. This was another subtle way for us to incorporate gaming.
My mother-in-law surprised us by using gold and black ribbon and extra jingle bells to create little bell rings that people could shake as we were exiting the ceremony. On our RSVP's we had given the option "Yes, with bells on," so literally people had bells on at our wedding. It was a cool surprise.
The Highlights From The Ceremony & Reception:
For the ceremony, we did what everyone tells you not to do: write your vows the night before. But honestly, that's us, and it worked out. We both unfolded hotel stationary up there and read brief, but very heartfelt words to each other as we both tried not to laugh knowing that we wrote them sitting next to each other the night before. As for the reception, I really think we struck gold with the cake and food. Both were delicious, and my only regret is that I didn't eat more of both.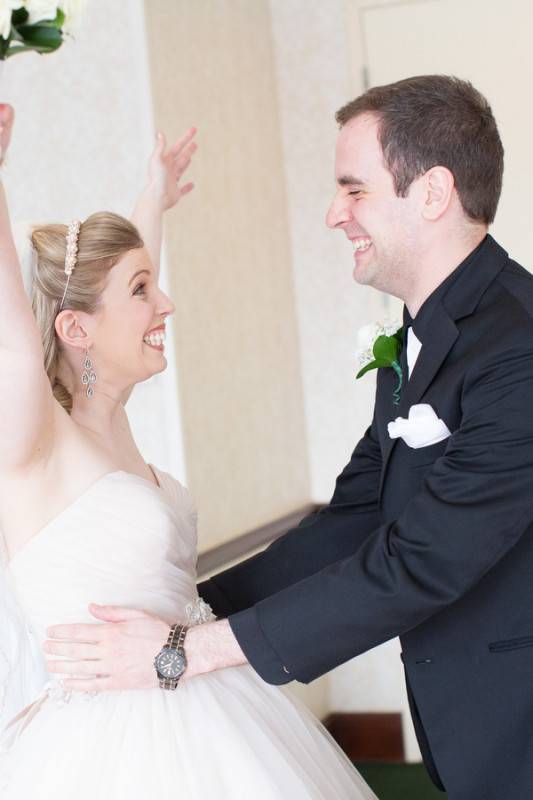 Most Memorable Moment:
The best choice we made for the ceremony was having a good friend of ours be the officiant. Jesse and I do not belong to any religious organization and really wanted someone who knew us as a couple be the one up there marrying us, instead of some stranger. We asked a good, mutual friend of ours if he would do the honors, and he did an amazing job! We worked with him to outline a ceremony and then gave him free reign at the end to say what he felt. His words were so nice to hear, and it reaffirmed our decision to have him up there with us.
VENDORS
Photographer: Ginny Filer Photography
Event Venue: Hilton Garden Inn Fairfax*
Floral Designer: Tres Belle Beauty