Venice is known for it's architectural beauty and history, and of course, gondola rides! And right now, we're going to experience these picturesque sights through our featured wedding today. Andreana & Enrico, mom and dad to two daughters, had their intimate ceremony all around this beautiful city. The incomparable structures were the background throughout their special day. It was the perfect setting to complement this family's elegant styles. Enjoy this wedding feature – slash – pseudo tour readers! And to our couple, congratulations!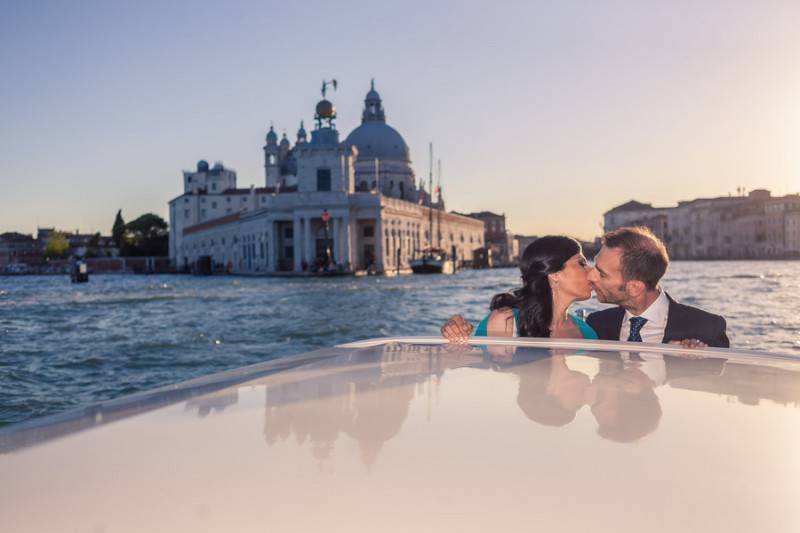 Photographer
Andreana and Enrico are both Italian and live in Ferrara, a lovely city but for their wedding chose to give themselves a dreamlike experience and got married in Venice.
Images start at their hotel while Marcela (the make up artist) takes care of the bride and the groom takes care of their two daughters.
Then we go to the wedding place (palazzo Cavalli) by gondola
Very nearby there is the restaurant they chose (AL Remer, one of my favorites for a glass of wine in the late afternoon) that is as well very nice for the small square in front of it facing Canal Grande.
The make up artist took care of the bride once more around sunset and we then finished the photo session with a tour on a watertaxi (speedboat). I typically recommend clients to avoid disappearing from their guests in the middle of the day but rather to enjoy their company during the day and then have the portrait session when the light will be better.

 Vendors
Photographer:  Luca, Wedding Photographer in Venice
Restaurant:  Al Remer
Pre Ceremony Location:  Locanda Ca' Le Vele
Makeup Artist:  MB MakeUp