Having lived and met in America for almost all their life, Juhi and Sudi remained and stayed true to their traditions. So, in their wedding, they inspirited the rituals and pre-events of a Hindu wedding. And to be more authentic they travelled to India for their ensembles. Even their invitations were printed and made in India. While the whole wedding ceremony is all Indian, their reception was simply contemporary. If you were there, you would feel the transition from modest to hyped. With the peacock colored decorations, electric blues, and teals — colors that'll surely make for a great party. They even had a jar of gummy bears as their wedding favors which said to enjoy the gummies from Mr. & Mrs. Gummis! So adorable! Congratulations, Juhi and Sudi!
Our Story
We met In Pittsburgh, Pennsylvania while attending orientation weekend for our MBA program at Tepper School of Business at Carnegie Mellon University. There was an immediate interest in meeting each other as we were both making the decision to brave the cold winters and leave California for the first time. Coincidently we both attended UC San Diego for our undergrad, at different years however, and grew up about 30 min from each other, but ended up meeting for the first time in Pittsburgh! We surrounded ourselves with the same friend circle in the first few months of our MBA, and it was not long before we started dating!
We enjoyed the adventure of Pittsburgh and attending the Tepper School of Business together, and arranged for our full time jobs to be in San Francisco following graduation so that we could continue growing personally and professionally together.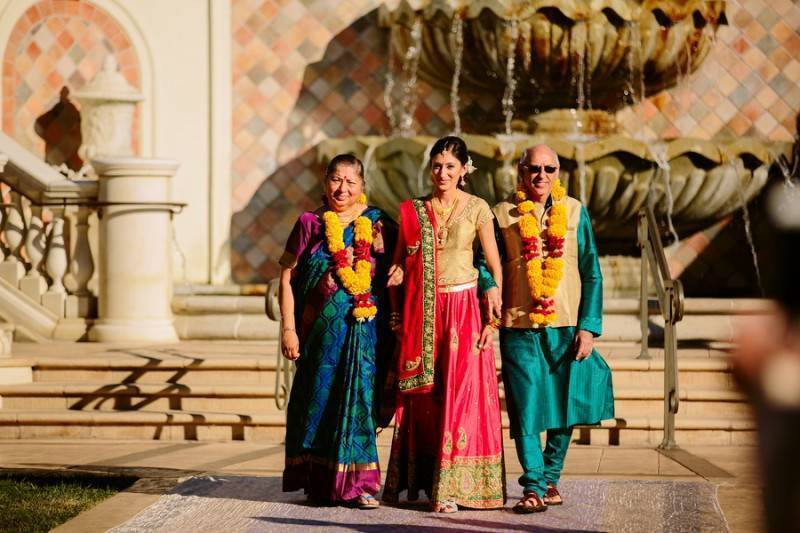 We Are A Perfect Match
He thought he was too cool, but I knew he was a momma's boy. I fell in love with his laid back nature, open mindedness and genuineness. You can tell him anything and he will always be supportive. He has a strong sense of duty and will always do what his heart tells him.
I thought she would be a snobby, spoiled girl from Orange County. But she was the total opposite to my surprise. She's so smart and on top of everything. Then, I noticed her good looks and personality.
The Proposal
Sudi, as the perfectionist he is, spent months shopping around and designing the perfect ring. Juhi had not given him any hints as to what she liked, and for the most part is indifferent about these kind of decisions. On a typical Sunday morning hike near the Golden Gate Bridge, Sudi planned to propose on a new trail that we had not hiked on before. After finishing our hike and him not finding the perfect spot to propose, we headed to Chrissy Field which is a park/beach with great views of the bridge.
We set up a picnic in the sand and after people watching and talking about growing old together, Sudi fumbled in his backpack to pull out the ring! He got down on one knee and asked her to fulfill their dream of growing old together. Sudi surprised Juhi with a bottle of their favorite champagne that he had in his backpack and we celebrated while calling our family on Facetime to tell each of them the news and to show them the beautiful spot this took place! Immediately the Indian engagement ceremony and party plans begin as the two families coordinated the upcoming Thanksgiving weekend in 2013.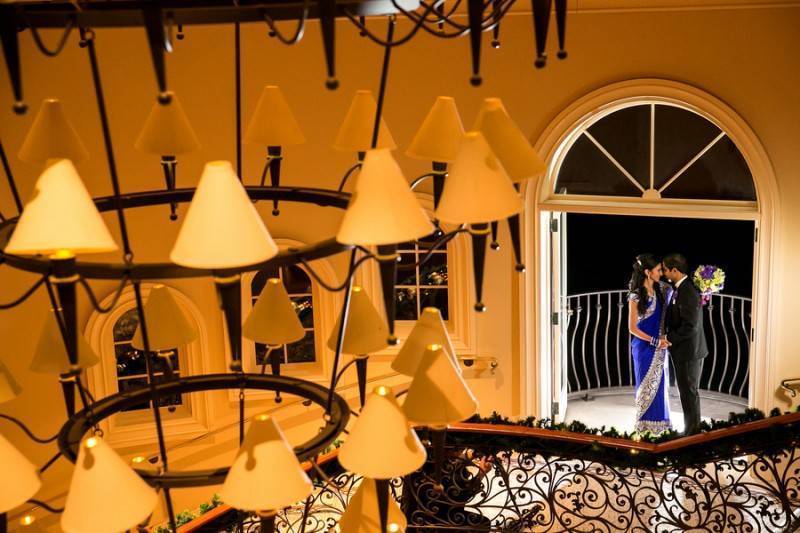 The Planning Process
I don't think any wedding planning can be easy, however ours was as "smooth" as we could have hoped for. Both families were very involved, so needless to say most decisions were involving 4 parents and Sudi and I. We both had a vision for "creating an experience" for our guests. Most decisions revolved around how we could make it memorable for those attending. Also we wanted to make them all a part of the process and not just simply attending the wedding on the day of. i.e. AppyCouple – an app that kept our guests updated during the year of our engagement with pictures of the planning process as well stories about our relationship.
Once we selected St. Regis as our wedding venue, all the other events for the wedding week fell in to place. Sudi and I wanted to keep this wedding as traditional as possible, we got our invitations printed in India, we had live classical Indian music playing during the ceremony and we followed all the rituals for the pre-events. Sudi and I were a wedding planning team. He was just as involved in each part of the process and took an active interest in the food tasting, music linup, floral design, and color/décor details.
We took frequent trips from SF to Orange County to visit our vendors and to work on the finer details with our parents. With our supportive family, we did not have any logistical issues planning a wedding in southern California and living in northern California. Juhi took a quick 10 day trip to India to purchase all of her outfits for the wedding week as well as the outfits for all of her friends that would be wearing a Sari for the first time, outfits for both the groom's and bride's families, as well as the groom's wedding Sherwani. She shopped with her dad in the heat of summer time in India with her long list in hand.
The groom's outfit was the most difficult to choose! One of the most interesting parts of the process was deciding on Sudi's entrance. Typically a horse is used in the Baarat for the groom to ride in on. In keeping with our wish to make this an unforgettable experience for our guests, we decided to rent an elephant for Sudi's entrance. That was the most talked about aspect as the wedding was approaching, and definitely still told in every story about our wedding today.
The Best Advice We Received
Listen to everyone's opinions and advice, but in the end think about who the decision will impact and then make your final choice. We chose certain aspects based on our guests and certain things that the two of us knew we wanted for sure.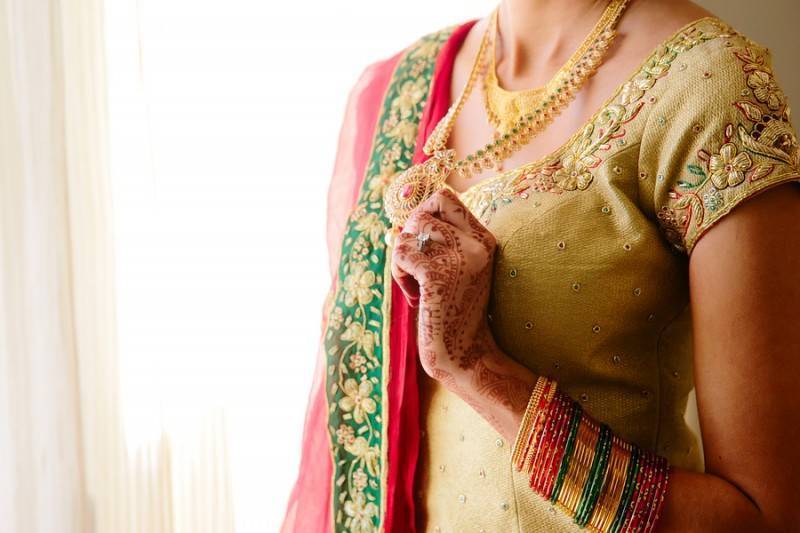 Tips & Tricks For Future Brides
One tip I have for all future brides, don't spend too much time on smaller details. With our large guest count I realized the day after that many of them did not get to see or enjoy the small details i spent so much time planning and preparing for. They enjoyed the day and left with memories that were the main attraction!
Wedding Decor Inspiration
Food: Cocktail hour – traditional Indian snacks in a bite sized fashion, spicy tomato soup shots and Indian vegetable Pav Bhaji bruschetta. Dinner – traditional menu, from the salads to chutneys, entrees and desserts. A variety of south and north Indian menu. Spiced just enough to remind the guests they are at an Indian wedding! The variety and taste fulfilled the newly wedded couple's foody needs.
Décor: Peacock color themed, focusing on the bright electric blue and teals. Teal iridescent table cloths, with a mix of rounds and family style rectangle tables. Centerpieces were modern looking glass vases with bright purple, green and white orchids and lilys standing tall. The head table had a 6ft long trough of orchids weaved and floating in water and a teal sequince table cloth. Tea lights surrounded the room. The cake table was on a riser, again surrounded by hundreds of tea lights. The peacock colored cake was topped with a bride and groom doll custom painted to match their reception outfits. In the spirit of our name, we had a gummi bear jar with a sign that said "Enjoy some gummis from the Gummis".
Escort table: Plexi glass sheets with guests names hand written in a bright blue ink. Tables were arranged by "relationship characteristics" such as trust and share. Each table name was hand made with a peacock sketch and backed on teal and purple paper. On each guest table, the table name was displayed with the meaning of the characteristic to the couple.
Ambiance: It was an informal family friendly reception. We wanted the ambiance to portray how important family was to both of us, and that their needs came first that night. We tried to create a feeling of nostalgia as we looked back at what and who formed us to be the people we are today. Our DJ was a close family friend of Sudi's. He had a great balance of Indian and American music, oldies and pop, and also remembered to make shout outs to the family throughout the night, even if it was at their expense!
Wedding Outfit Inspiration
Bride wore her mom's wedding outfit. It fit her perfectly and had traditioal gold and silver hand word that was still shinning! Groom had a custom tux made. The rest of the outfits we wore throughout the Indian wedding week was hand picked in India by the bride.
Money Matters
There was no specific budget, but with each decision we looked at each option until we were satisfied with the value and cost. One of the expenses that was a "splurge" was the elephant. It wasn't the largest expense, but it was definitely one of those decisions that was out of our comfort range. The other large expense was the decor. To fill up a ballroom for our large guest count took a lot of resources and I continued to look for cheaper options.
The Guest List
We invited about 350 guests and had 300 attended. We didn't narrow down too much, it was important to have all of our loved ones with us.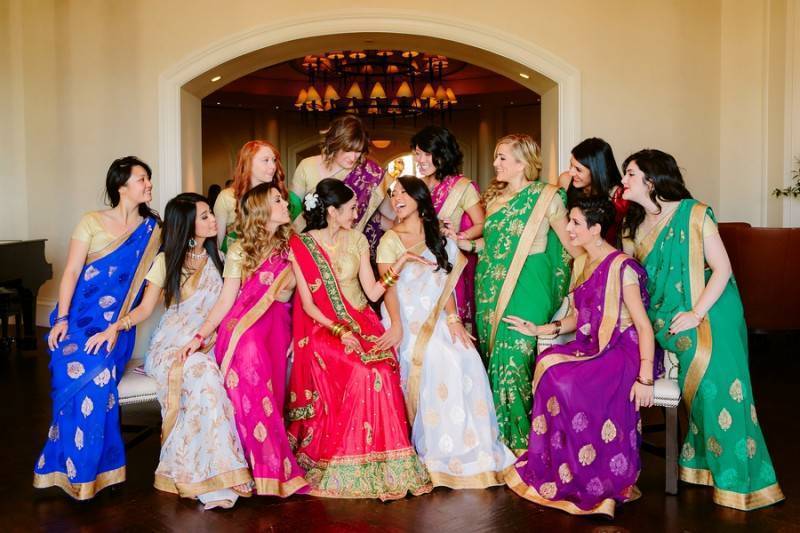 The Songs
During the ceremony we had traditional classical Indian instruments being played during the entrance and ceremony. Our grand entrance at the reception was to the original "You're All I Need" by Marvin Gaye and a remix of the song (a mix of the two).
The Honeymoon
We went to India to visit family and we also spent some time on the Indian Beach in Goa. We then spent 10 days in Bali.
The Next Step
We are most excited to grow up together and to help each other develop into the people we wish to be. Since we both have similar professional goals, we hope to own and run a business together some day!
Highlights from the Ceremony and the Reception
Flash Dance: The cousins from both sides prepared a surprise flash dance during the reception. About an hour before the night was over, they entered with sunglasses on and the entire dance floor filled with cousins and friends that were a part of this flash dance.
Both of us genuinely felt that our new family had whole heartedly welcomed us and was so happy that we were taking the next step in our relationship. It is safe to say that we all had wedding week withdrawals as we looked back at pictures soon after. There were video clips and photos being passed around after the wedding so we could re-live the special moments from the week.
Our parents received endless phone calls from our guests to share the perfect experience they had and how well organized the week was. Our family and friends were thrilled that they played a special role in the day and that Sudi and I took the time to thank each one of them for attending. It was a good idea to have our wedding on a long weekend (Thanksgiving 2014) so that our guests would have some time to recover before returning their lives on Monday!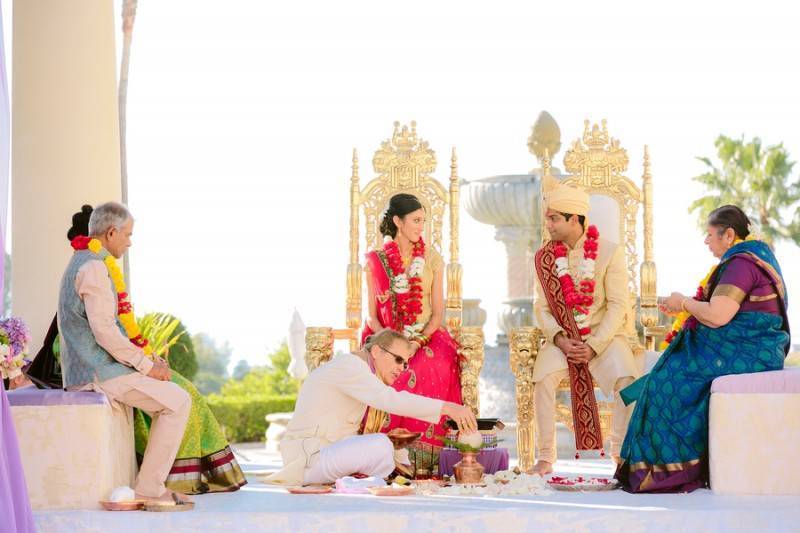 Favorite Part of the Day
We were lucky to have been upgraded to the Presidential suite at the St. Regis. Given that Sudi and I wanted to be surrounded by our closest friends and family that morning, which was about 50 people total!, this suite was a blessing as we were able to each have half of the suite that day to entertain our loved ones and enjoy the last moments of single life.
Sudi went to the gym before his guys arrived to get his blood flowing for the dance floor later that night. Juhi enjoyed tea and her favorite chocolate bar donut with her 2 month old nephew.
After the rituals of getting ready and taking pictures, the guys and girls met on the lawn where the elephant arrived to take first look pictures. We had our own version of first look pictures, though, as we had decided not to see each other until the actual ceremony (to keep to the Indian tradition). While guarded by our cousins and friends, we held hands under the elephant's trunk but kept our eyes closed! Sudi continued from there to start the party officially as the guests arrived and danced with him in the Baarat.
Sudi sat on top of the elephant, with a hesitant face at first, while the party led him to the alter where the Bride's family would be waiting to greet him. The bride's parents and groom's parents met at the altar, or Mandap, to join families for the first time. Traditionally this would be the first meeting of the families. Juhi's parents then went to walk her down the aisle. Both fathers gave tear jerking speeches and Juhi's sister even shed an unexpected tear while sharing her stories of the two of them growing up.
A Memorable Moment
It is a tradition for the sisters/girls from the bride's side to steal the groom's shoes once he takes them off at the Mandap. Sudi took his shoes off and as they sat at the stairs of the Mandap the girls from Juhi's side began to plot their strategy. As a few girls began to approach the Mandap, Sudi's cousins realized and quickly ran to snatch the shoes from the girls' hands. During the ceremony, the stealing of shoes continued in the background until one of Sudi's friends brought him his shoes as we were signing the marriage license. And of course, the girls had not given up. They were there as he put his shoes on to steal them right from under his feet. The day ended with one shoe in the bride's hand and the other lost!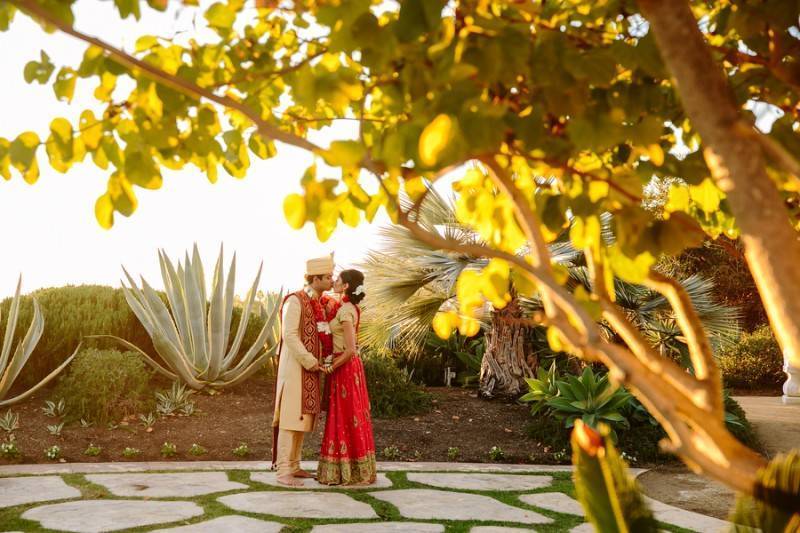 VENDORS
Photographer:  Kevin Le Vu Photography
Event Venue: The St. Regis
Transportation: Have Trunk Will Travel
Reception Venue: St. Regis Resort Monarch Beach