Snowflakes fell gently to the ground as Amber and Dustin took their vows inside a rustic-embracing venue. The fairy-lights all over the place reflected beautifully against the bridesmaids' long magenta dresses and the groomsmen's gallant suits. And dear me, I fell in love with Amber's brooch bouquet that she and her mom made. Everything came together beautifully! Congratulations, Mr. and Mrs. Karraker!
The Album Story
Theirs is a sweet love- a love that grew over time and years. Amber and Dustin are the perfect blend to one another- she is outgoing, driven, full of emotion and detail oriented. He is quieter, kind-hearted and very steady. Their wedding day was gorgeous winter wonderland wedding with beautiful elegant details- all that still reflected the country-loving, rustic-embracing feel and style of this couple.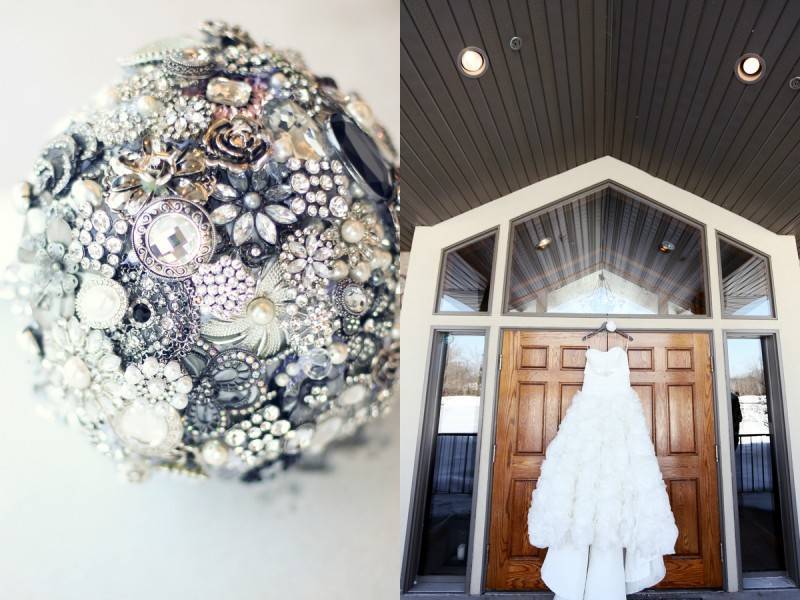 The Theme
We wanted a winter, elegant-meets-rustic wedding. We had everything from diamonds to light pink shot gun shells for the place card holders. It all came together so beautifully!
Wedding Outfit Inspiration
We wanted the wedding day outfits to be simple but also elegant. We also wanted the bridal attire to be different, sophisticated but yet have that rustic, elegant flare to it. It all came together so beautifully!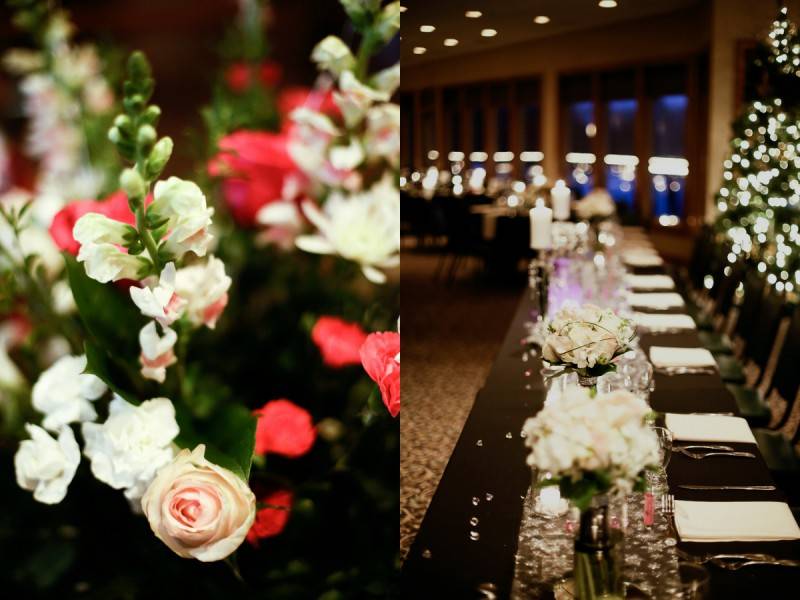 Our Do-It-Yourself (DIY) Projects
Yes, we did a lot of DIY projects. My favorite was creating the brooch bouquet. I had a lot of help from my mother, in which we travelled to a lot of stores and had a lot of brooches handed down from generation to generation. It took several days to create, and a lot of time and energy twisting, cutting and gluing, but it was worth it for the end result. We had so many compliments and it was something nobody has ever seen before.
Another favorite was creating the veil and diamond sash with my mother-in-law. We had travelled to a lot of expensive boutiques and couldn't justify the prices they were selling them for. We decided to take a couple of designs, put a different flair to it, and create something beautiful and unique. All of the diamonds on the edge of the veil were hand glued on, sewed and stitched together. The entire diamond belt was handmade and custom pieced and stitched together by the grooms mother – what an artist!
Highlights from the Ceremony and the Reception
Highlights would be that we had such amazing friends and family throughout the entire day. Our favorite moments were Musical Chairs for the bridal party's first dance. We had the entire room on their feet and standing in a circle to join in the laughter and fun. We also did the Harlem Shake where everybody on the dance floor stood still and one of the groomsmen wore a dirt bike helmet. The entire day was filled with fun-filled highlights that will never be forgotten.
Favorite Part of the Day
From the Bride:
Every part of the day was our favorite. The most surreal was waking up and realizing that I was going to be Mrs. Karraker. It finally hit me that I was going to be marrying the love of my life, and I couldn't believe that the day had finally arrived. I just kept asking myself how I deserved to find such a loving, caring and kind soul mate. I had to pinch myself a few times throughout the emotional (happy) rollercoaster to realize February 1st, 2014 had finally arrived.
From the photographer:
For me, the favorite part of the day to photograph was their first look. In my interactions with Dustin, he was strong, stoic and unemotional. The moment he saw his bride, he broke down in tears of joy and happiness- it was one of the most moving first looks I have ever had the honor of photographing! His love for Amber moved him so much.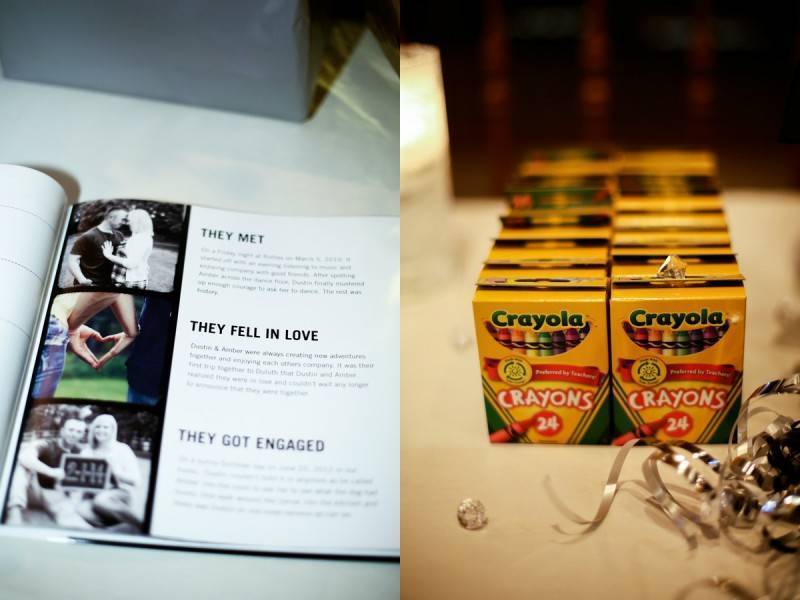 A Memorable Moment
We have 2 – Our "First Look" with the photographer was so amazing. It was the first time throughout the crazy, fun-filled day that we were all alone together. We were standing outside in the 0 degree freezing, Minnesota winter weather. As I tapped him on his left shoulder, he turned around and we instantly both started to cry. We were so taken back from the beauty and the moment that it was so breathtaking. I can't describe the moment, but it was simply beautiful.
Our second most memorable was when they flipped the ceremony room into the reception. We had over 100 candles lit and the room just glowed from the lights on the 2 – 20ft tall Christmas trees along with lights/fabric draping from the ceiling. We walked through the room together and alone. It was so magical and we both were just shocked how beautiful it turned out. That was all of our hard work pulled together with the help of friends, family and the staff at Blackberry Ridge. It was another moment throughout the day where it was complete silence and it just felt so magical.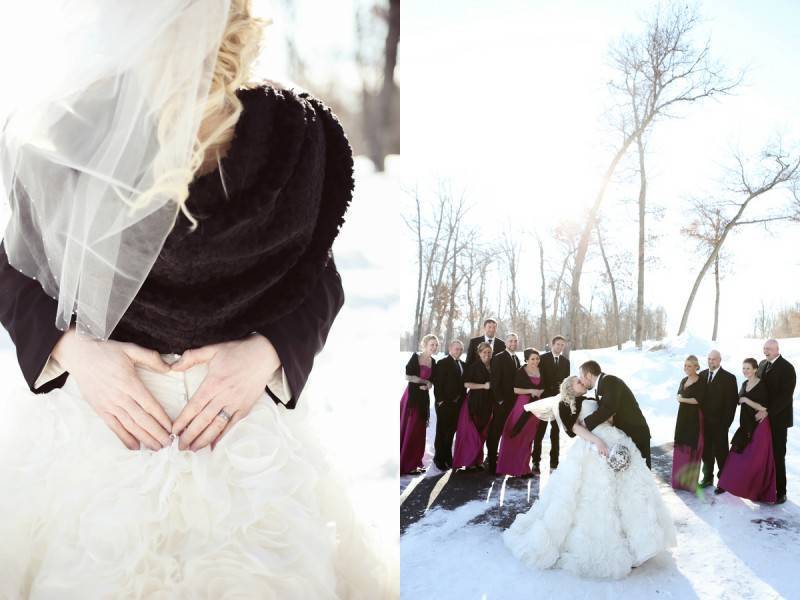 VENDORS
Photographer:   Kate Wenzel Photography
Event Venue:Blackberry Ridge Golf Course