Five wedding planners from the Wedding Services Guild (WSG) flew to Florence, Italy to create a styled wedding shoot in November 2015. Guess it was considered a break after an extremely busy wedding season.
"We wanted to do an artist styled theme that would invoke new ideas and trends and where better to base an inspirational shoot then in Florence, which was the home to many of the greatest artists and sculptors in history and a city filled with love and passion", says Dyana Dessar Simmons of The Weddings Company. Thus, the creation of this styled shoot.
Today's feature is an obvious application of the quote "Whatever the mind can conceive and believe, it can achieve." So for all the brides out there, whatever in mind you have for your wedding, believe that you can achieve it. May this creativity bring you inspiration!
Extra Special Details
The table plans. The team used a small canvas for each table which they named after a famous artist. This can be easily and affordably replicated for an art themed wedding.
The centerpieces.  Those were inspired by still life paintings especially 'Fruit Still Life with Roses and Honeycomb' by Robert Spear Dunning and 'A Still Life with Flowers and Fruit' by Helen Augusta Hamburger. Fruit and vegetables are great alternative centrepieces to flowers and candles, they are rich in colour and complemented our dual-toned colour palette beautifully. They are literally works of art and edible too!
The highlight. Consisted of black calla lilies, devils blush, devil's paintbrush, eucalyptus, varieties of orchid, one of the most significant aspects of the shoot was the bouquet; It was designed by the very talented Fiori Belluomini to embody the creativity of our artistic bride-to-be.  It is time for the cascading bouquet to make a comeback!
The bridal style. It was intended to be representative of her imagination; a little wild and unconventional at times.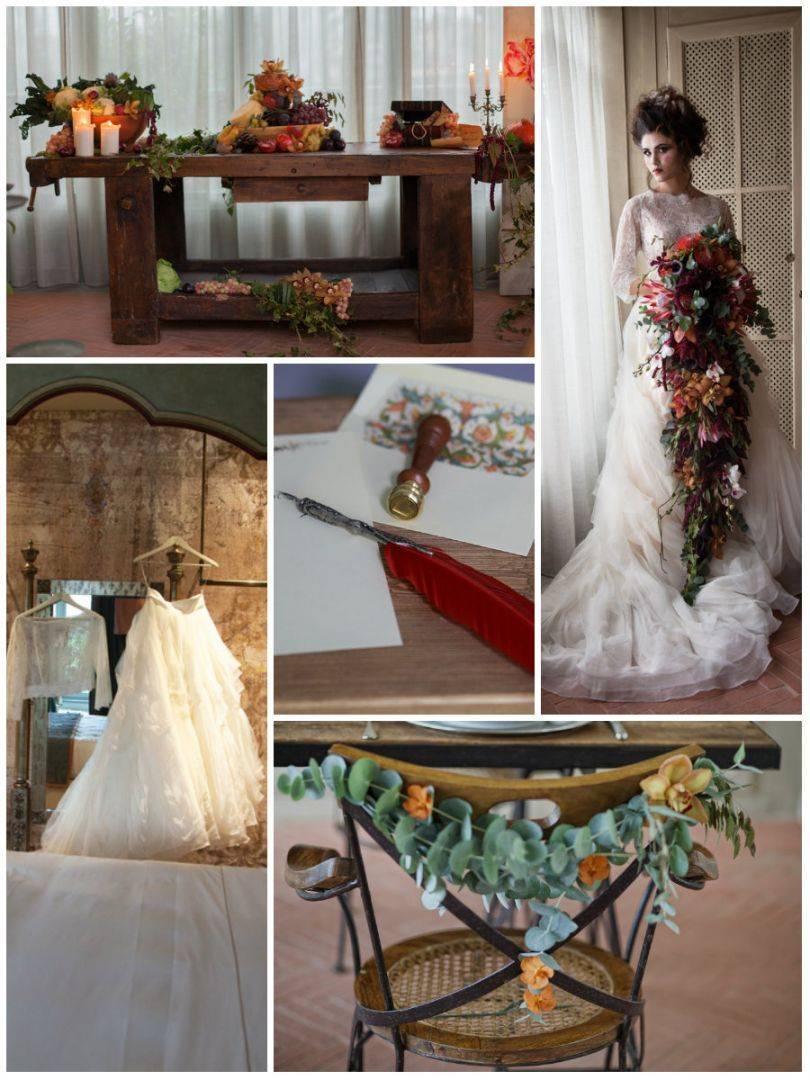 Tips From The Photographer
If you choose a theme for your wedding day, WSG recommends sticking to it throughout. Your guests will be impressed with your attention to detail. -Rosie
VENDORS
Photography: Rosie Meleady of Rosie Photography
Planner/Coordinator: Wedding Services Guild
Venue: Hotel Ville Sull Arno
Flowers: Fiori Belluomini
Model: Alessandra from Look Now
Hair & Make-up: Silvia Gerzeli
Dress Designer: Augusta Jones
Dress and Lingerie Stockist: White Mischief
Stationery: Emmevu
Shoes: Christian Louboutin