Connie ♥ Long
In a shade of large surrounding trees underneath a beautiful floral archway, these two said their vows. They thanked each other for putting in 110% into their relationship, for always being around to carry groceries, and for pushing one another to be better people. Another heart-melting event – Connie and Long's parents joined hands and danced together in a circle joyously. Love indeed flourished as this day was filled with more awesome moments. Best wishes, Mr. and Mrs. Nguyen! May your days be filled with joy and blessings and heaps of sweet love to nurture forever!
Details That Made This Wedding Extra Special
The DIY projects. The wedding guest book and Hello Kitty Envelope box.
The first dance. The crowd went silent, as the music to their first dance started. It said "19:00-19:10 – Bride+Groom Waltz", so everybody expected a waltz. To everyone's surprise, there were backflips, breakdancing, and all sorts of acrobatics! It had an incredible amount of personality. There were themes of rejection, then flirting, and then cuddles – ALL TO MUSIC and it was so good.
The fun games. No Asian/Western wedding would be complete without a wedding game! Getting the guests involved with the hugging game was Connie and Long's way to get everyone to participate. It made the reception a lot more fun!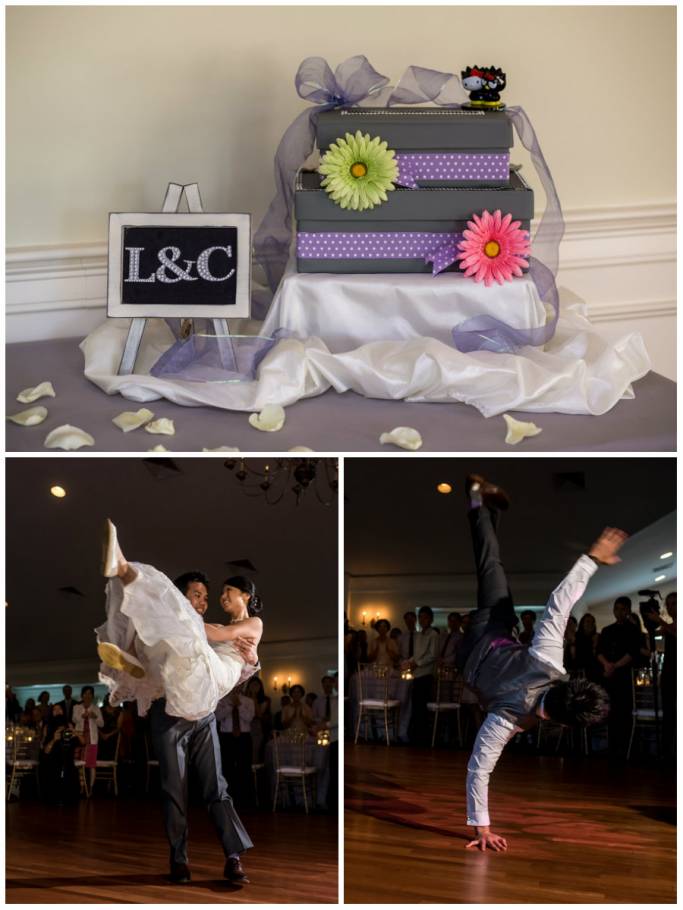 Tips From The Bride
♥ If there are certain things that you can do yourself then you should do it! Making your own wedding book or envelope box feels a lot more satisfying than buying a cage or a book from a store!

♥ Try not to stress too much when planning overall, since you will have plenty of time! We had a relatively short engagement (9 months) and were able to plan everything out really quickly. Once we got our venue picked out, everything else fell into place real quickly.

♥ Make sure you get a very good photographer. You will be very busy on your day and having someone there that is able to capture all the little beautiful candid moments that you may have missed is essential!
Money Matters
Wedding Budget: $20,000 – $45,000
VENDORS
Reception Venue: Butternut Farm Country Club
Caterer: Butternut Farm Golf Club
Film: Lexus Studios
DJ: Locomotion DJ Productions
Tuxedo and Mens Attire: Men's Wearhouse
Cake Designer: Montilio's Bakery
Hair Stylist: Tammy Tan Glam
Bridesmaid Dresses: Watters Wtoo