Andrew and Alexis' wedding is sure making me super giddy and excited for Christmas. Their wedding occurred right after Christmas, hence the decors, and decided just to go with it. I say it was beautiful because everything worked to their advantage — the decorations gave a warmth feeling that the season brings to people. Alexis looked cozy and stunning in her wedding dress that was very appropriate for winter. Comment below if you are excited about more Christmas weddings cause we know we are!
Our Story:
We started dating 2.5 years ago after meeting at the local gym. We were both taking the same cycling class for six months before we started dating. I was friends and the co-worker of the instructor, and she would always try to get us together after or during class and tease me about him at work. She thought we would make a cute couple, but I was too shy to ask his name, so she did it for me, casually asking him questions about himself and starting our conversation with each other.
The Theme:
The vision we were going for was rustic luxe. We wanted it to feel luxurious and comfortable at the same time while putting the spotlight on the beautiful historic ranch venue. Since it was right after Christmas, we also took advantage of Christmas decorations and the warmth of the season with the use of the fireplaces in each room and outside during our ceremony.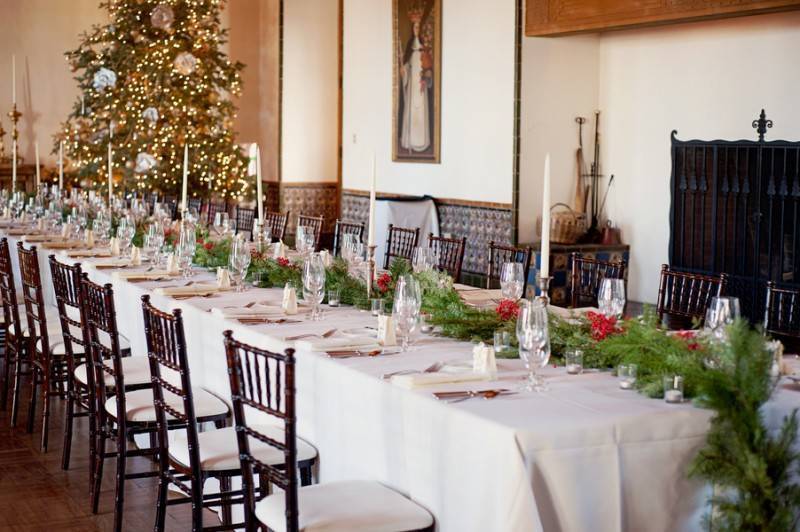 The Ceremony Details:
We chose every detail of our ceremony. I think my favorite part was when we joined hands, and the minister said the words of the hand ceremony. It felt like we were the only two people there, and the idea of growing old with each other and still reaching for each other's hands to hold was very touching. We had a fairly traditional ceremony with traditional vows and ring exchange that is exactly what we wanted.
The Reception Details:
Our reception was so comfortable! With such a small number of guests, we got to spend quality time with each person. We were able to spend a little time at the cocktail hour and enjoy the string quartet play and sample some of the wine we chose. The dinner was amazing! Several guests have commented that the prime rib was the best piece of meat they had ever eaten, and I would have to agree. After dinner and delicious chocolate/salted caramel cake, we all went back into the library for relaxing and visiting with each other. I loved being able to enjoy the time with all of our guests! After everyone had left, we had our first dance together and enjoyed some quiet time just being with each other and enjoying the end of the evening.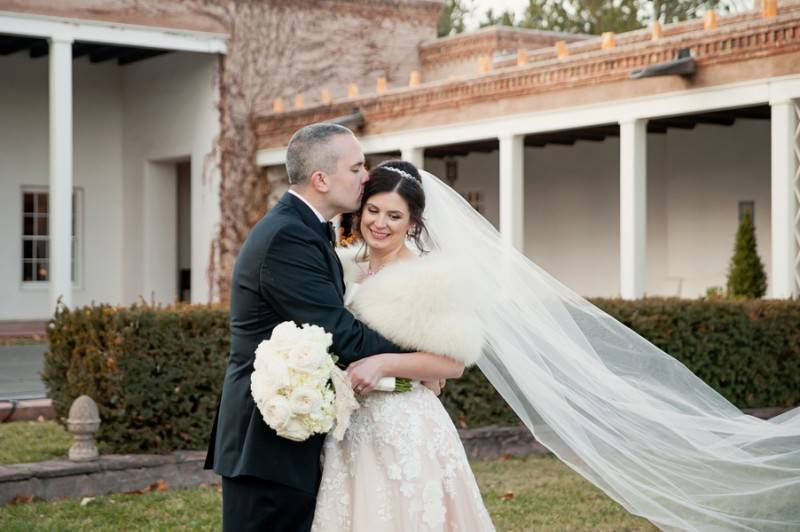 VENDORS
Photographer: Maura Jane Photography
Dress Store: Ann Matthews Bridal
Floral Designer: Apple Blossom
Musicians: Giovanni String Quartet
Caterer: Los Poblanos Inn & Organic Farm
Event Venue: Los Poblanos Inn & Organic Farm
Invitation Designer: Pennysmiths