As a little girl, Katie dreamed of having a pink and sparkly wedding (I mean, who hasn't?). Katie wore glittering accessories, shoes, garter, and earrings — she was dazzling as she walked down the aisle. The reception was very vibrant as pink dominated the whole room. They definitely stuck to the 'sparkle' theme as gems and bling adorned the venue.
And I saw a lot of personalize stuff that calls for a DIY! "The Here Comes The Bride" and "Happily Ever After" banners held by flower girls, as well as the table napkins that were printed with the wedding date and the names of the couple. And the most personalized of them all were the cookie favors that were printed with their engagement photo. The day was  truly one the two had imagined it would be. Congratulations, Katie and Adam!
Our Story:
Adam and I met 6 years ago while working at the same restaurant. I had just gotten out of a bad relationship and was happy to go to work and see him. Once, he wrote me a little note on the back of a receipt and put it with my food. I didn't even realize he was trying to flirt with me. My mom had to tell me! A week after he gave me that note I put one in his car. Shortly after, we started dating. Adam even moved away after only 3 months of dating. He was gone for 6 months before he came back. We stayed together the entire time. I knew I loved him the first time he came back to visit me. I just had never felt anything so strong!
We Are A Perfect Match:
Adam and I are always trying to make each other laugh! We have very similar interests. We both love animals and enjoy having them around. We can talk for hours about pretty much anything. Adam also treats me amazingly he would do anything for me and I would do anything for him!
The Proposal:
Adam had planned to propose outside, but the weather was pretty bad. He decided to take me to a nice restaurant instead. He waited until the end of dinner and asked me to try and stay as calm as possible. I'm a very emotional person so staying calm is not easy! Shaking he put the ring on the table and said "Katie Elizabeth Lehouillier, will you marry me?" I cried out "YES, OF COURSE I WILL!" when I looked at the ring I realized that this was in fact my Great Grandmother's ring the same exact one I would put on my finger as a child! It was such an honor to me! I can remember praying as a child that one day I would have a ring as beautiful as hers! My parents had offered it to Adam when we started to get serious and when the time was right, Adam asked for it. Her ring is over 100 years old and has only seen beautiful happy marriages – I'm so honored to have it!
The Planning:
We had about 11 months to plan. I felt like we had plenty of time to get everything done but we did have some amazing help from my mom!
The Best Advice We Received:
To not care about everyone's opinions!
Tips and Tricks for Brides:
Try not to stress things will work out in the end and if it doesn't you won't even remember.
Planning Challenges:
I didn't have many issues because I was very picky with vendors and did a lot of research before I picked people. Any issues I did have I can barely remember because the day ended up being perfect to me.
The Theme:
I had always dreamed of a fairytale wedding with a lot of bling I think we did a pretty good job of that!
Wedding Décor Inspiration:
I absolutely love sparkles and bling! I decided at a young age I wanted a wedding that had a lot of bling so when the time did come we decided we should go with an elegant bling theme. I had gone to a bridal show and met our decorator for the first time, she had these absolutely amazing centeRpieces with her and I told her I wanted to use those and decorate around those! For our colors I picked pink and Adam picked green.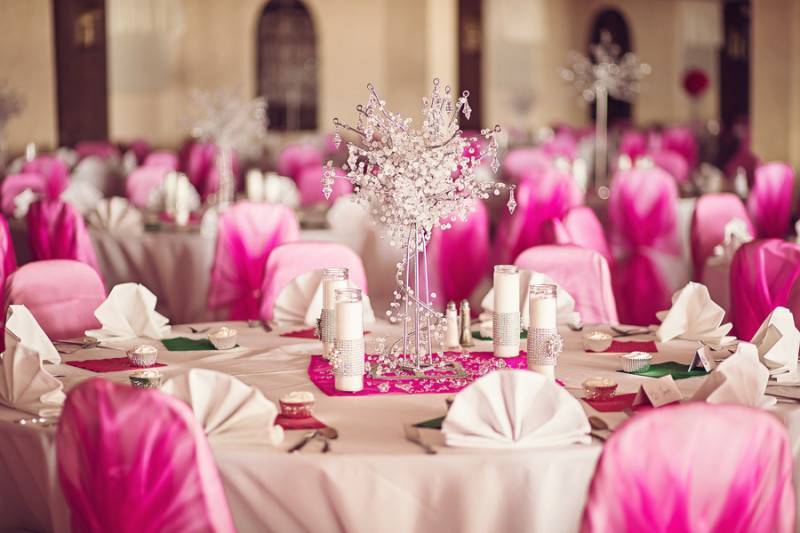 Money Matters:
Our wedding budget was $15,000. A big part of that went to the food.
You Are Cordially Invited:
We invited 300 people and about 250 came. We were able to fit most everyone we wanted!
Our Do-It-Yourself (DIY) Projects:
We did make a few of the decorations. My mom is very crafty and came up with a lot of ideas. She made centerpieces that she used glass candle stick holders and glass bowls to make a tall holder for flower balls. She also found plain candles and wrapped them in bling wrap and put beautiful broaches on each one we had 4 on every table.
The Songs:
My bridal party walked down to an instrumental cover of Christina Perri's "A Thousand Years" by The Piano Guys. I walked down to Canon in D. We walked out to Colbie Caillat's "I Do".
The Honeymoon:
Adam and I decided to wait to take our honeymoon because we wanted to buy a house! We are just now looking into what we would like to do.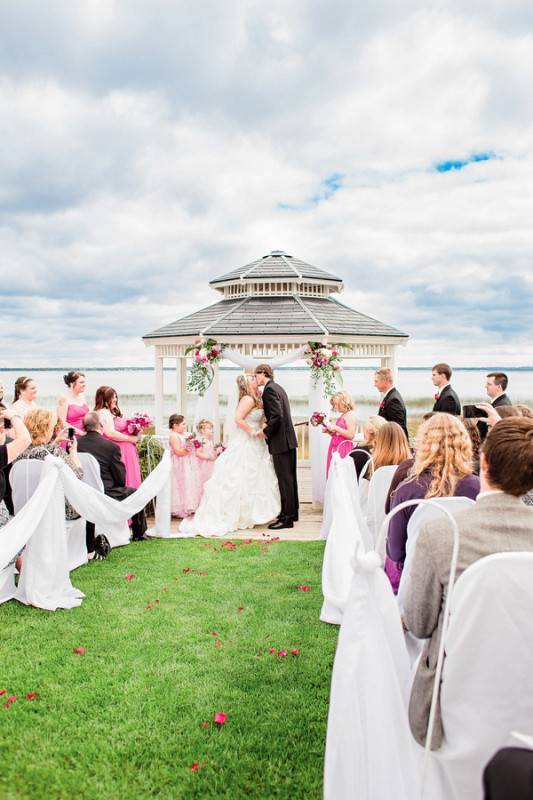 Advice For the Couples:
Do not care about others opinions always remember this day is about you and the one you love most in the world!
Favorite Part of the Day:
My absolute favorite part of the day was when Adam saw me for the first time. I will never forget the look on his face and the way I felt looking at him!
Highlights From the Ceremony & the Reception:
Walking down and seeing Adam's face when he saw me for the first time it was hard to hold it together. We also wrote our own vows they were so caring and of course I had to put a little humor in mine. My maid of honors speech was one of my favorite moments. When we were kids we used played with a cheetah mask and pretended to be cheetah brides and she gave me that mask at the end of her speech. The father daughter dance song was a surprise for my dad who had always said the day I got married he wanted "daddy's little girl" to play and I made sure he didn't know ahead of time that I had picked that song.

VENDORS
Photographer: Melanie Bess Photography
Bakery: Bon Appetit
Event Designer: Ever After Decorating
Beauty: Salon West & Spa
Event Venue: The Terrace Bay Inn