It's magical when you see the fruits of a long year's planning and effort. But in the year and a half when Kristen and Rich were engaged, it wasn't all about meetings with vendors, scouting venues, and arranging seating charts. I completely agree with them in their idea that the engagement period shouldn't just be about planning the wedding; it should be a time for you to grow as a couple, as well. And look what they came up with in that time! A beautiful wedding with memories to last the ages. Something to look back to as you spend even more years with the love of your life. Congratulations, Kristen and Rich!
Their Story:
When you aren't looking, life has a way of offering the best surprises. That's how it worked out for Kristen and Rich, who were roommates first before they started dating. Kristen's friend had a male roommate and since they seemed to get along great, she decided to give it a try. That's when Rich walked into her life. "It definitely was not the way I expected to meet my husband, but these things seem to happen to you when you aren't looking," says Kristen.
They got engaged in December of 2012. "Rich proposed to me on Goose Rocks Beach in Kennebunkport, Maine, which is where my family has been vacationing since my great-grandparents' generation. My grandparents actually met there when they were 15 and Rich proposed to me about 40 feet away from where my Papa Dave proposed to Grandma Jean over 60 years ago!"
"I started planning the wedding the morning after I got engaged," bubbles this happy bride. They worked in a lot of details from their favorite spot: the beach. "Our cake toppers were two Adirondack chairs. We put sand dollars on our wine glass favors because we love looking for sand dollars on our walks at Goose Rocks beach. We usually compete to see who can find the most!"
Family is very important to this couple, who made sure to include cousins and brothers in the wedding party, and asked the bride's brother's boyfriend and the bride's sister-in-law to read at the ceremony. A few months before the ceremony, Kristen's father became very sick. "We weren't sure if he was going to be able to walk by my wedding day, but with physical therapy, rehab and a lot of effort, he was able to walk me down the aisle and do our father-daughter dance!"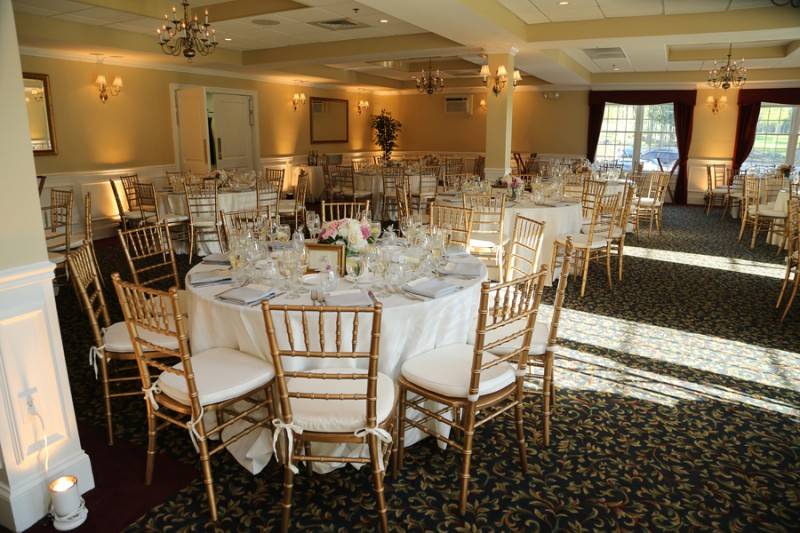 Kristen has some unusual advice for brides-to-be. "Consider a longer engagement," she says. "Having almost a year and a half to plan made it so that the wedding was way less stressful, and also, it made it so our engagement wasn't just about planning a wedding. It made it more about us as a couple!"
Wedding Outfit Inspiration:
I got my dress at Confetti and Lace, a little bridal shop in my hometown of Littleton. I must have driven by this boutique a million times and never thought I would end up getting my dress from there. It was a Maggie Soterro, and it was the last dress I tried on. It had all the best parts of all the dresses I tried on. We chose the color of the bridesmaids' dresses because I like the classic look of that particular shade of purple (Victorian Lilac).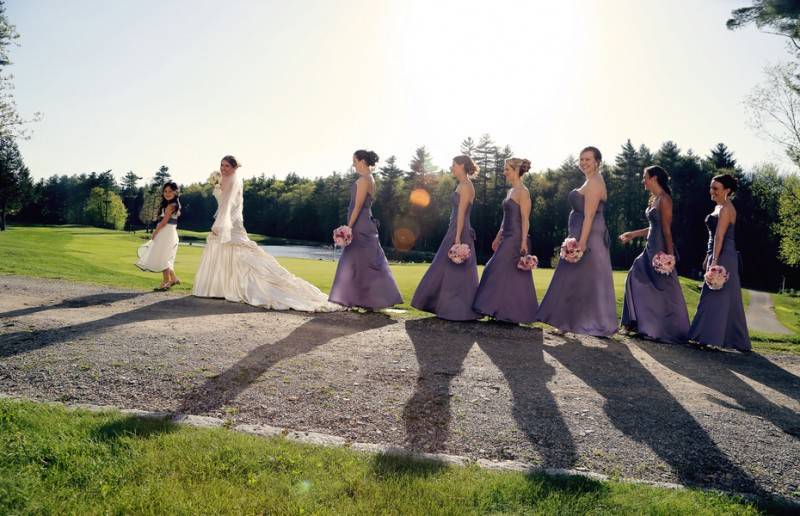 Favorite Part Of The Day:
My dad walking me down the aisle. A few months before, he became very sick and was in intensive care for a month. We weren't sure if he was going to be able to walk by my wedding day, but with physical therapy, rehab and a lot of effort, he was able to walk me down the aisle and did the father-daughter dance with me.
The Do-It-Yourself (DIY) Projects:
I'm not very good with DIY! However, I printed the menus on my own and put together my hotel gift bags. I used Etsy a lot for the "home-made look.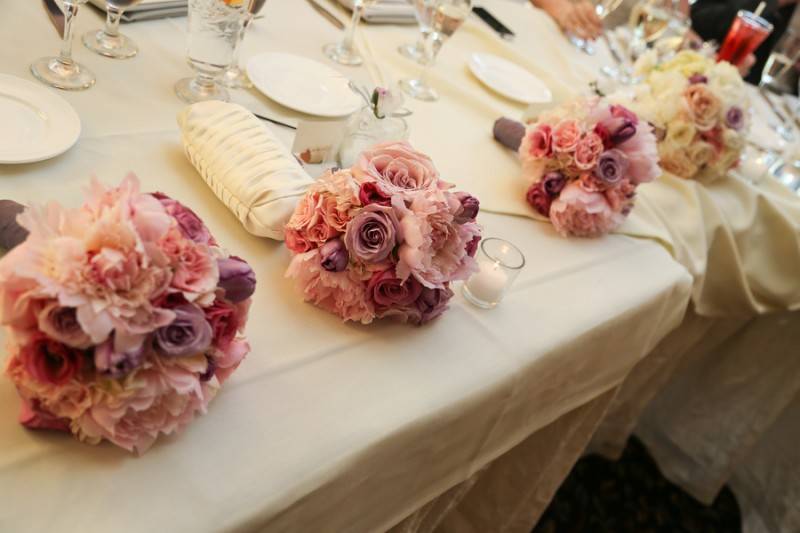 The Highlights From The Ceremony & Reception:
The top two things guests complimented us on was our DJ's choice of music and the late night snack of white chocolate chip cookies and milkshake shooters.
The Theme:
Purple, classic, elegant. Beach theme, since they worked in memorable things about them as a couple (beach chair cake toppers for their favorite vacation spot and as a nod to where they got engaged), sand dollars on the invitations and favors, etc.
VENDORS
Photographer:   Kristin Griffin Photography
Makeup Artist: Blushing Brides
Dress Store: Confetti and Lace
DJ: Jeff Rockwell DJ
Transportation: Sir Charles Limo
Floral Designer: The Frugal Florist
Cake Designer: The Icing on the Cake
Event Venue: Wedgewood Pines Country club