Joe and Alma had a quaint DIY wedding with a vintage flair and to stay true to the vintage theme their photographer used a Polaroid 195 camera to shoot their wedding. What an amazing photographer right? Their gallery is truly beautiful — the camera effect went well with the theme and all! The decors and outfits of their entourage were charming that added to the character. I'm giving it to Joe and Alma; it was an inspiring wedding. Congratulations!
Alma and Joe's vintage wedding at Whitmore Mansion in Ceres, California was fun and beautiful! There were some snags in the plan, such as the bride and groom breaking down on the freeway on the way to the reception, and a timeline that ultimately fell apart, but so what!? In the end, everything came together beautifully – delicious wood-fired pizza, gorgeous location, perfect wedding dress, fun bridal party, yummy desserts, and an excellent bride and groom dance. On their first date, Joe knew Alma was "the one." They are SO sweet and cute together; there is no doubt they are best friends who are in love.
The Theme:
Mexican-Italian-American Vintage/rustic.
The Do-I it-Yourself (DIY) Projects:
There were many DIY projects:
My youngest sister did my bouquet, bridesmaids bouquets, groomsmen's boutonnieres, centerpieces, and flower girls headbands. She did such a great job, and my bouquet was so beautiful. She hand made some of the details on the bouquet, but my favorite part was the succulent.
My husbands cousin did our invitations – she did such a great job at capturing my ideas.
My maid of honor (sister), did the bells rang at the end of the wedding, she help with the favors as well (Mason jar, with a thank you note, and jelly beans).
I did most of our signs, bows for the post, Photo booth, and one of my friends made two trees for the wedding.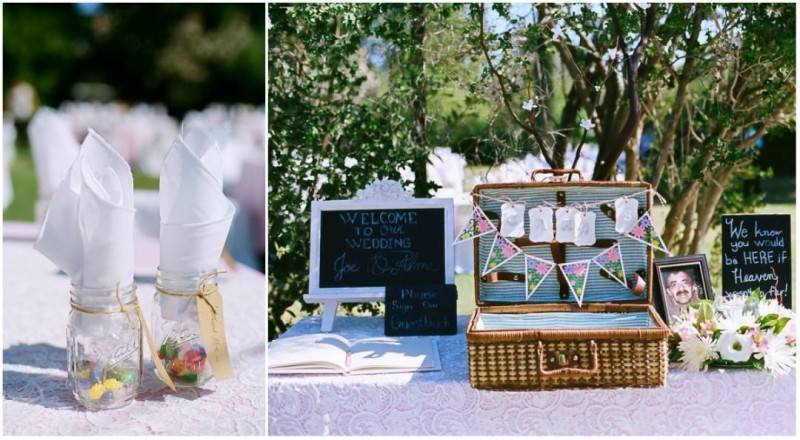 The Outfit Inspiration:
Joe: A combination of relaxed, cool (for those hot Modesto nights), and vintage. Alma: We also wanted to save money, I did not want to make my bridesmaids spend a lot of money on a dress that they were only going to wear once. So, with the help of my bridesmaids, we found the perfect dress. A light shade of pink, long, and beading on the neckline. The best part about it is that the bridesmaids spent around $40 on their dress (Forever 21), and another $40 on their shoes and accessories. Our groomsmen spend about $150 (shoes, pants, vest, shirt, and tie). My husband shopped a lot at Men's Wear House, so when we decided the colors for the wedding we went to them, and they emailed him whenever they had a deal.
The guys were able to keep their outfits so it could be worn again someday in the future. My husband's vest was a little darker than the groomsmen to set him apart. I liked the idea of having a nice outfit yet comfortable and inexpensive. Finding my dress was hard. I had set a budget for myself of $1000. However, after trying on so many dresses, I found my dress at Mira's Bridal. I heard that they were having a Black Friday sale, and I just went to see if there was anything I liked. My dress had lace, beading, and beaded jewels as a belt, and with the 80% sale they were having I got it for $800. Of all the dresses I tried on, I fell in love with this one because it was vintage, classy, and I felt like a princess.
Favorite Part of the Day:
Joe: It was seeing my beautiful bride coming down the aisle, of course. When I first saw her, everything and everyone else just simply went away.
Alma: My favorite part was walking down the aisle as husband and wife, I couldn't hide my happiness. When I look at my wedding pictures, the picture of us walking down is the one I look for. The second best part was having all our family and friends with us. Joe's family flew in from New York, so it was extra special. We opted for having a smaller wedding, so we only invited our closest family and friends. It made our wedding extra special.
The Highlights from the Ceremony & Reception:
Joe: The church was beautiful, and the bride was amazing! We loved the traditional Mexican mixed with Italian American. Things couldn't have gone more wrong, but we loved it! Our "after the ceremony truck" broke down on the way to the reception, none of the tables were set up as planned, and the priest called me by a different name. But in the end, it was a fantastic time. The only thing that went right was our photographer. She went above and beyond and made this special day even more so with her talents!
Alma: The ceremony was perfect, following my cultural traditions was a dream come true. Listening to our wedding singer was amazing and listening to Father Ernesto's advice. I love the way Joe and I kept looking and smiling at each other throughout the whole ceremony. Most of all I enjoyed when Father Ernesto presented us as Mr. and Mrs. As Joe mention above all the things that could go wrong went wrong. When our truck broke down, I couldn't help, but laugh. While we waited for my dad to come to the rescue all of our family and friends were finishing setting up. When we arrived Dawn (our photographer) was waiting for us, and she did her very best to move us along and get back on schedule. Joe and I had been practicing our first dance for six months, as I am not the best dancer. As we were dancing, he was counting on me, even though everyone thought he was counting for himself. I love that we had gourmet pizza and a dessert table with different types of pastries. Dancing the night away was perfect, all the beading on my dress was shining with the light, and I couldn't feel any happier.
Most Memorable Moment:
Joe and Alma both were grinning ear to ear while she walked down the aisle. I'm so glad they elected not to do a First Look because that moment of seeing each other for the first time was incredibly powerful.
VENDORS
Photographer: Dawn Kelly Photography
Beauty: Daisy Ruiz
Beauty: Lush Locks
Dress Store: Mira Bridal Couture
Ceremony Location: St. Stanislaus Church
Floral Designer: Vanessa Castillo
Cake Designer: Village Baking Company
Event Venue: Whitmore Mansion