Fairytale – a word that comes to mind looking at Ann & Chris' wedding. A match of magenta and white of the bridal entourage couldn't be more lovely and soft. The bridal ball gown that Ann wore was so beautiful it fit for a Princess. Ann is so sweet she gifted her bridesmaids pretty matching bracelet that matched their glittery shoes. Everything at their wedding was so dreamy, the beautifully decorated ballroom accented with pink's and white's glowed as the couple had their first dance. Let's swoon over this lovely gallery.
Click image to enlarge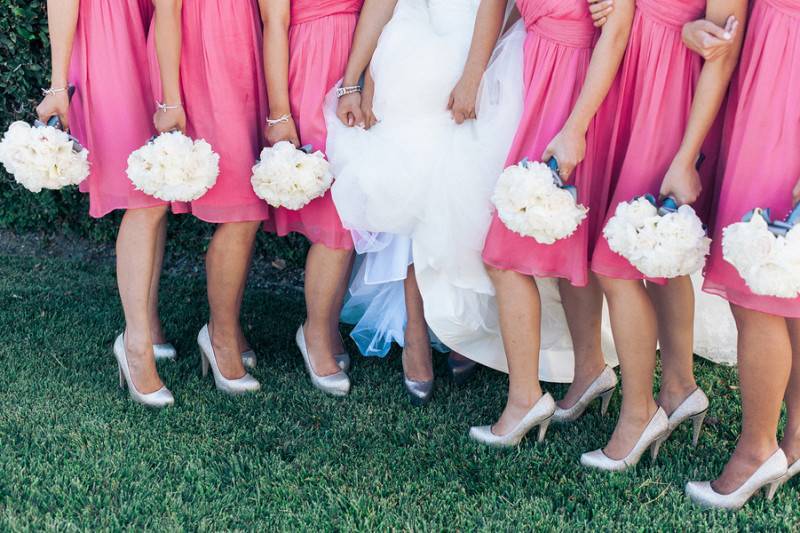 Like. Click to Vote
>
Oh! How wonderful they looked! Wearing a flowing gorgeous Vera Wang white dress and a suit that was sleek and accented with cuffs, shining new shoes, as well as a bowtie – there was no denying that these two were incredibly stunning and excited for their day! Having an outdoor ceremony and reception at Skirball Cultural Center in Los Angeles, it was the perfect setting for this grand occasion! Everything was decorated beautifully. From the ceremony to the reception, there were many twinkling lights accenting everything. Adding an element of romance, it went perfectly with the petals and flowers that adorned the tables. Smiling all the while and always finding time to share some affection, Ann & Chris captured the essence of love. Everyone could see the beautiful connection that they shared, and it was great to be able to spend the day celebrating it! Mingling with guests and having a great time, I couldn't have been happier for these two!
VENDORS
Photographer: Melvin Gilbert Photography
Equipment Rentals: Baker Party Rentals
Linens and Coverings: Fusion Linens
Event Planner: Mele Amore Events
Reception Venue: Skirball Cultural Center
Cake Designer: Vanilla Bake Shop
Dress Store: Vera Wang
Linens and Coverings: Wildflower Linen*